Nothing embraces the fall season quite like pumpkin, maple, and cinnamon flavored foods! We have collected over 40 of the season's best recipes for fall you'll want to make again and again.
You can simply enjoy them throughout this fall season or make them all year long! From warm and hearty fall soup recipes fall to delicious fall dessert recipes, you and your family are going to love all of these comfort foods. They are absolutely the best fall recipes.
When Should You Cook Fall Recipes?
Before you dive right in and start preparing one of these recipes on a hot summer's day, you should know that these recipes are best enjoyed once the weather begins to cool down. This is because they contain ingredients that can be hard to find during the summer and will be a little heavy to eat during the heat.
Generally, fall begins at the beginning of September, but if you live in an exceptionally warm place, you may want to wait on your fall recipes until late September. You can continue to cook fall recipes all the way until the beginning of winter.
What Are Some Popular Ingredients in Recipes for Fall?
The hardest part about cooking isn't the actual cooking part, but rather it is making sure that you have all the ingredients you need before you begin! Below are some of the most common ingredients you should pick up when you are planning to cook a few (or all) of the fall recipes on this list.
Common Fall Recipes Ingredients:
Pumpkin
Squash
Pumpkin Spice
Cranberries
Peanut Butter
Cinnamon
Sweet Potatoes
Flour (There's lots of baking to do in the fall!)
Marshmallows
Apples
Sunflower Seeds
Sugar
Vanilla
Oatmeal
Fig
Now you may not use all of these, depending on the recipes you choose. But before you embark on some fall cooking, you should definitely have a few of these staples on hand and ready to go!
What Are the Most Famous Food in Fall Recipes?
Just like anything else in life, there are always some favorites when it comes to fall cooking. These recipes rise above all the others, and will definitely bring a smile to your guests faces when you include them on the menu for your next event!
Famous Recipes for Fall Foods:
Apple Strudel
Pumpkin Cake
Pumpkin Cookies (With Frosting!)
Cinnamon Rolls
Pumpkin Oatmeal
Roasted Brussel Sprouts
Roasted Carrots
Sweet Potato Casserole
But of course, besides just foods, the fall comes with lots of favorite drinks! Most of them are served warm to combat the changing outdoor weather, so consider grabbing a warm drink server next time you are at the store if you plan to serve hot fall drinks with your fall recipes.
Famous Fall Recipes Drinks:
Hot Chocolate
Pumpkin Spice Latter
Spiced Chai Tea
Mulled Wine
Hot Apple Cider
What Fall Recipes Do You Serve at a Luncheon?
Planning a luncheon is a lot of work! Whether you are putting one together for friends and family, or perhaps for a work function, you will want to consider all the foods you put on your menu very carefully!
A luncheon is generally seen as a fancy occasion, so you will likely want to plan a menu with multiple courses. The cool thing with fall foods, is that they can easily be mixed and matched because they all have similar ingredients! For best results with your luncheon, you'll want mix and match, selecting one menu item from each category!
Fall Recipes Appetizers:
Pumpkin Cranberry Bites
Pumpkin Peanut Butter Yogurt Dip
Slow Cooker Pumpkin Soup
Pumpkin Pie Spice Candied Almonds
Apple Fritter Pull Apart Bread
Recipes for Fall Main Dishes:
One Pot Cheesy Pumpkin Pasta
Pumpkin Waffles
Spicy Pumpkin Pasta
Pumpkin Risotto
Pumpkin Black Bean Chili
Skillet Turkey Tetrazzini
Turkey Melt with Pumpkin Mayo
Fall Recipes Side Options:
Twice Baked Sweet Potatoes
Cornbread Stuffing
Cherry Hazelnut Rice Pilaf
Cheesy Mashed Potatoes
Oven Roasted Carrots
Sauteed Brussel Sprouts
Sausage Stuffing
Fall Recipes Desserts:
Pumpkin Spice Cookies
Fall M&m Cookies
Sweet Potato Pie
Pumpkin Sugar Cookies
Pumpkin Spice Meringue Pumpkins
Pumpkin Swirl Brownies
No Bake Pumpkin Cheesecake
Pumpkin Chia Seed Pudding
Fall Recipes Beverages:
Warm Red Sangria
Boozy Pumpkin Pie Milkshakes
Pumpkin Spice Hot Chocolate
Pumpkin Spice Latte
Is your mouth watering already? Ours too! Keep reading so you can learn just how to make all of the amazing foods you choose for the menu of your fall luncheon!
The Best Recipes for Fall
1. Pumpkin Chocolate Chip Pancakes
There is nothing quite like starting your day off with some tasty Chocolate Chip Pumpkin Pancakes! This recipe is no more difficult to make than normal pancakes, so feel free to switch it up on your family next time you cook breakfast. You'll need a few extra spices, and some pumpkin of course, but the flavor of these is well worth it!
2. Pumpkin Spice Sugar Cookies
Baking is a huge aspect of cooking during the fall season! After all, going out and about in the cold weather burns enough calories that you deserve a little treat.
Make these Pumpkin Spice Sugar Cookies, complete with frosting, and take them to your next event. Everyone will love them and be asking for your favorite fall recipes by the end of the night!
3. Pumpkin Risotto
Risotto is a fall favorite, warm and hearty, it will stick to your bones even on the coldest days! Since it's fall, why not go with the theme of the season and make your risotto pumpkin flavored? Just follow this easy recipe for Pumpkin Risotto and you can have a dinner your family will love on the table in just 25 minutes.
4. Warm Red Sangria
Sangria is a beverage that is normally associated with summer, but have you ever tried it warm? It's a game changer!
Make this delicious Warm Red Sangria for your next event, by mixing juices, red wine, and some fruit in a pot on the stove. Not only is it easy to make in bulk, but it only takes 20 minutes from start to finish, making this the perfect last minute cocktail idea.
5. Caramel Pecan Blondies
Have you ever heard of a Blondie? It's a brownie, except it's made with caramel and vanilla instead of chocolate. They're the perfect dessert to place out at a party.
They take a little bit of preparation (you will need to unwrap all those caramels) but they are well worth the work. Sound delicious? Follow this recipe to make some of the most amazing Carmel Pecan Blondies you've ever had!
6. Pumpkin Black Bean Chili
Chili is one of the favorites of fall recipes because the dish is the perfect food for a chilly day. This recipe for Pumpkin Black Bean Chili won't disappoint!
Plus this recipe is made in the slow cooker, meaning you can prep it in the morning and have a hot meal waiting for you when you return from work. Now the recipe does contain sausage, but you can simply leave this out for a great vegetarian chili recipe.
7. Pumpkin Cranberry Bites
Fall is the perfect time to throw a party, even if you are just throwing it to celebrate the season. But when you throw a party, you'll need some appetizers to serve.
These Pumpkin Cranberry Bites are the perfect finger food to set out on a platter, or have passed around at a fancier event. They're sweet, salty, and easy to prepare—what more can you ask for!
8. Skillet Turkey Tetrazzini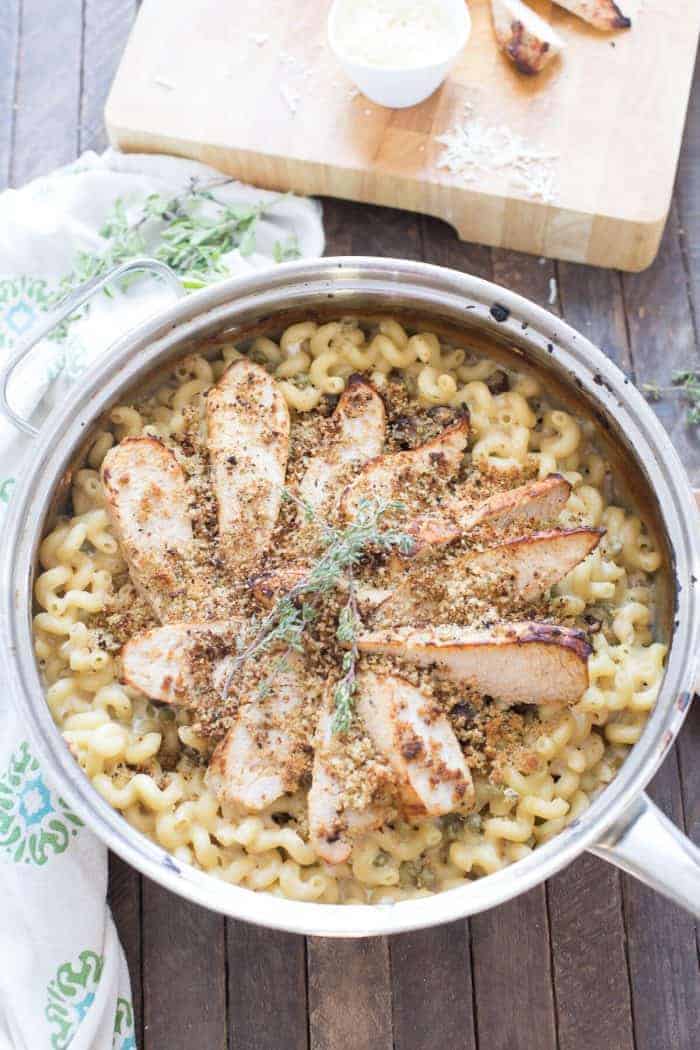 Fall wouldn't be complete without a couple of holidays, one of those being Thanksgiving! Whether you love or hate the holiday, there is nothing like a turkey dish to keep the hunger at bay.
Check out this recipe for Skillet Turkey Tetrazzini which can be made with pre-packaged turkey breast, or the leftovers you've got left after turkey day!
9. Pumpkin Peanut Butter Yogurt Dip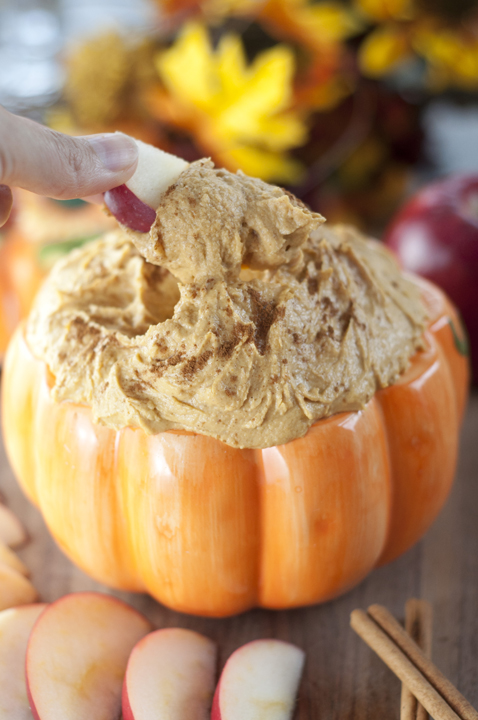 Looking for a healthy dip to keep the kids occupied after school? Or maybe something low key to set out as an appetizer while you prepare the main dish? Take a peek at this recipe for Pumpkin Peanut Butter Yogurt Dip.
This dish is loaded with the protein needed to keep your kids full for hours, while still being a good dip for fruit! But you don't just have to slice apples for this dip, you could also serve it with crackers, grapes, or even bread!
10. Cornbread Stuffing
Stuffing is a special side dish in that it typically only makes an appearance during the fall season. Maybe because it's a bit heavy for the spring and summer.
Either way, it doesn't need to be restricted to just Thanksgiving, and you should feel free to make stuffing as a side anytime during the fall months. For those looking for a fresh take on an old classic, try out this Easy Cornbread Stuffing recipe.
11. Fall M&M Cookies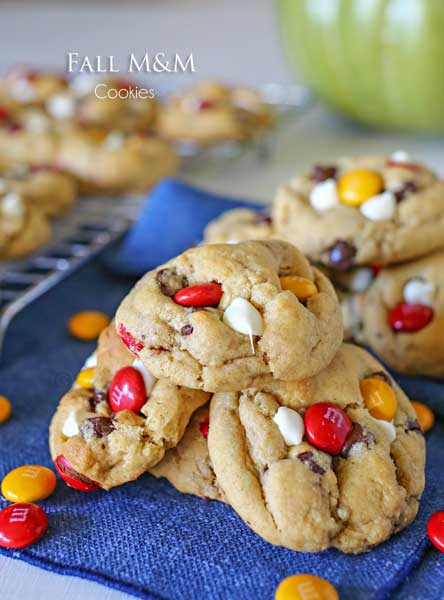 Cookies are one of the best desserts. They are easy to bake and even easier to eat! Not to mention that they can fulfill several roles, from being set out at a party or given as a gift for neighbors.
When you are looking to increase the variety of your cookie jar, pull out this recipe for Fall M&m Cookies. Made similar to chocolate chip cookies just with a few extra ingredients, your kids will absolutely love helping you make these tasty treats!
12. Cherry Hazelnut Rice Pilaf
Another big aspect of the fall season is all the nutty flavors that make their reappearance now that the weather is cold! From pecans to hazelnuts, nut lovers are in heaven for the entirety of the fall season.
This recipe for Cherry Hazelnut Rice Pilaf is no exception and it will make the perfect side dish for any main dish you have in mind. For those feeling exceptionally brave this year, consider bringing this dish to your Thanksgiving dinner!
13. Sweet Potato Pie
Although many people have tried the popular sweet potato casserole that ends up on the table most Thanksgivings, there are quite a few that haven't tried the just as tasty chiller alternative, Sweet Potato Pie.
If the thought of potatoes in a pie scares you, don't let it, because this dish actually tastes quite similar to pumpkin pie and it contains sugar—so you'll hardly know the difference!
14. Boozy Pumpkin Pie Milkshakes
These Boozy Pumpkin Pie Milkshakes have it all, the taste of pumpkin, the comforting taste of milkshake, and a little bit of booze to take the edge off! These only take 5 minutes to make and are a great idea for a date night at home (not to mention a good way to use some extra pumpkin puree you've got lying around).
Just make sure the kids are in bed before you pull out the ingredients, otherwise, you'll have to make them a non-alcoholic version!
15. One Pot Cheesy Pumpkin Pasta
Need a simple dish that will please everyone? Make this One Pot Cheesy Pumpkin Pasta.
You'll just need some pasta, onion, garlic, pumpkin, vegetable broth, cream cheese, butter, and some spices and you can have this prepared and ready to go in 25 minutes. Plus it's vegetarian and easy to make vegan if you swap the butter and cream cheese for the vegan varieties!
16. Cheesy Mashed Potatoes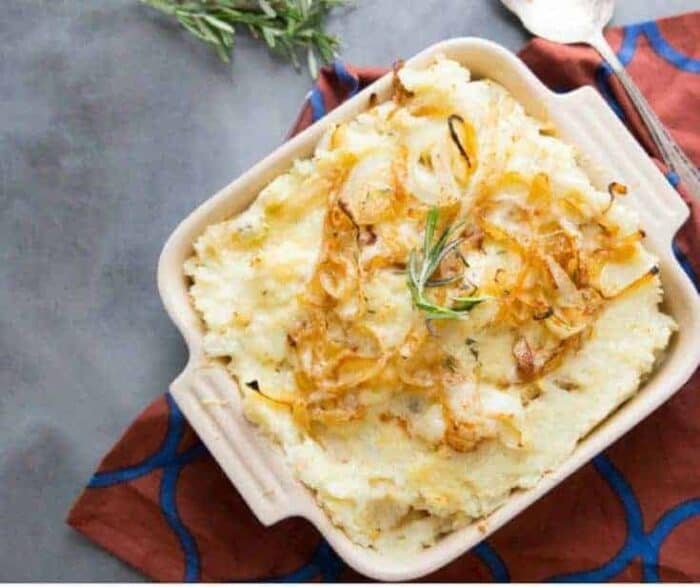 Ready for another twist on a fan favorite? Mashed potatoes are a favorite come fall time when people start putting away the pasta salads and pulling out the potatoes! Instead of the same boring old recipe, this year try these Cheesy Mashed Potatoes with Gruyere and Caramelized Onions and watch your family quickly devour the whole bowl!
You'll make this dish the same way you will make normal mashed potatoes—meaning you can have them on the table in 15 minutes!
17. Pumpkin Waffles
Hosting a fall luncheon or brunch? Then these Pumpkin Waffles should definitely make the menu.
Just toss some canned pumpkin in with your normal waffle batter recipe (or use a pre-made mix like Bisquick) and you can have this pumpkin flavored gem ready to go. No brunch planned? No problem, these also work great for an at home breakfast or a fun lazy dinner idea.
18. Oven Roasted Carrots with Garlic and Parsley
Roasted carrots are one of the famous fall recipes and they're pretty awesome because they will have your kids eating their veggies without complaint! If you want to make them a little fancier than just sticking some carrots in the oven, follow this recipe for Oven Roasted Carrots with Garlic and Parsley.
They do take 40 minutes to make, which is a bit long for a side, but these tasty veggies are well worth the wait!
19. Pumpkin Sugar Cookies
Still working on making enough cookies to fill those gift plates? Toss this recipe for Pumpkin Sugar Cookies into the mix!
They're simple to make, and don't have frosting—so there is no need to worry about the mess when putting them in a container or on a plate. Just be sure you make a few extra because you will definitely want some of these to snack on yourself!
20. Sauteed Brussel Sprouts with Fig Glaze
This recipe for Sauteed Brussel Sprouts checks all the boxes, it has the fall flavor of fig, as well as Brussel sprouts for optimal health! You'll also need some bacon, salt, garlic, and blue cheese to make this recipe complete so grab those next time you are in the store.
The recipe only feeds six, so for those planning to take this to a big dinner or luncheon, you'll probably want to double the recipe.
21. Pumpkin Spice Meringue Pumpkins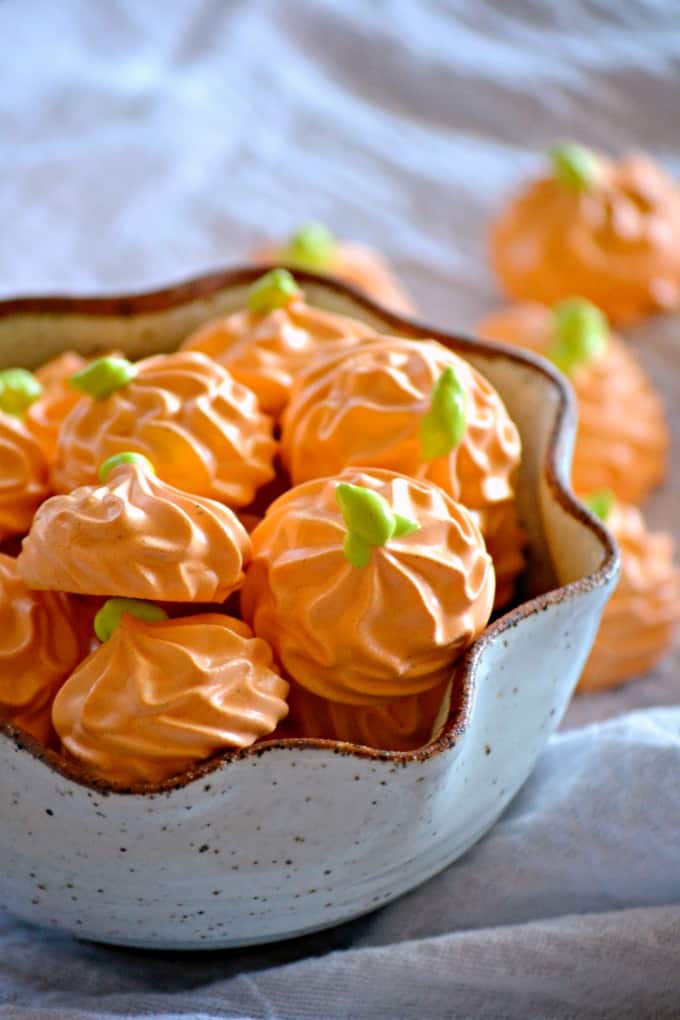 Meringue is a unique and tasty treat that can both be used as a table direction or served as a dessert! Be aware, however, that If you've never worked with Meringue before that it can be a bit complicated.
Consider trying this recipe for Pumpkin Spice Meringue Pumpkins in advance of your large event so you can get an idea of what you will need to do in order to make the adorable pumpkin shapes! And if nothing else, at least they will taste good if they don't turn out!
22. Pumpkin Spice Hot Chocolate
Do you know the only thing better than a hot cup of hot chocolate on a fall day? One that is flavored with pumpkin! This recipe for Pumpkin Spice Hot Chocolate is easy to follow and is sure to be a hit for kids and adults alike.
Have an event coming up? Make a few batches of this stuff and put them in a drink warmer, then place them next to a hot chocolate toppings bar—your guests will love it!
23. Pumpkin Swirl Brownies
As you can see by the previous recipe, clearly pumpkin and chocolate go well together! Test this theory and make these Pumpkin Swirl Brownies.
You'll need all the ingredients for regular brownies, as well as a cup of pumpkin puree and some pumpkin pie spice. It's recommended that you use fresh pumpkin puree for this recipe, but canned pumpkin could work just as well.
24. Sausage Stuffing
No list of fall foods would be complete without a recipe for sausage stuffing! Check out this Easy Sausage Stuffing recipe and consider making it for your next family dinner.
While you can cook it in the bird come Thanksgiving day, you don't have to, meaning you can have sausage stuffing any time during the fall season that your heart pleases!
25. No Bake Pumpkin Spice Cheesecake
Need a last-minute dessert on the fly? You've found it with this recipe for No Bake Pumpkin Spice Cheesecake.
As long as you have all the ingredients on hand, you can have this ready to go in 15 minutes, meaning you should probably have these ingredients on hand all fall long just in case! Be aware though, it's best served chilled, so be sure to leave it in the fridge while everyone eats the main course.
26. Pumpkin Pie Spice Candied Almonds
Almonds are the perfect snack. They are tasty, crunchy, and packed with health benefits. But who wants to serve boring old almonds to your guests?
Follow this recipe for Pumpkin Pie Spice Candied Almonds that will get everyone in the fall mood as they snack! Just don't leave out the dish unattended, because you will come back to find them eaten!
27. Easy Pumpkin Muffins
Want a fall pumpkin treat but without all the sugar that comes with the pumpkin cookies and cakes? Try making these Easy Pumpkin Muffins, which are just enough to curb your craving for something pumpkin without sending your blood sugar through the roof.
Make them with Truvia for a truly sugar free treat (or use regular sugar if that's more your style).
28. Pancetta Blue Cheese Buttermilk Mashed Potatoes
Want to make your mashed potatoes more savory? This recipe for Pancetta Blue Cheese Buttermilk Mashed Potatoes is perfect.
Not only does it have some blue cheese and cream cheese to add some creaminess, but it also contains pancetta to give your tongue the salt it has been craving. This recipe does take a little longer than the aforementioned cheesy mashed potatoes recipe, so keep that in mind when you are in a rush.
29. Slow Cooker Pumpkin Soup with Cashew Cream
Many people think that cooking pumpkin soup is difficult, and thus, they usually leave it off the menus for their fall events. But the truth is, for those with a slow cooker, this Pumpkin Soup with Cashew Cream is one of those fall recipes that actually couldn't be any easier!
You'll need quite a bit of pureed pumpkin, but you'll be making a bunch to cook these recipes anyway so just set aside 20 ounces in advance for this amazing soup. Your taste buds will rejoice!
30. Turkey Melt with Pumpkin Mayo
Sandwiches are always a favorite lunch staple, and why shouldn't they be? They're easy to make, easy to eat, and can be made in many different varieties. When you want a fall twist on your favorite lunch item, make this Turkey Melt with Pumpkin Mayo.
The flavor of the pumpkin goes perfectly with the turkey and cheese! Better yet, save this recipe and make it after Thanksgiving with all of the leftover turkey you are sure to have in your fridge.
31. Pumpkin Caramel Pecan Naked Cake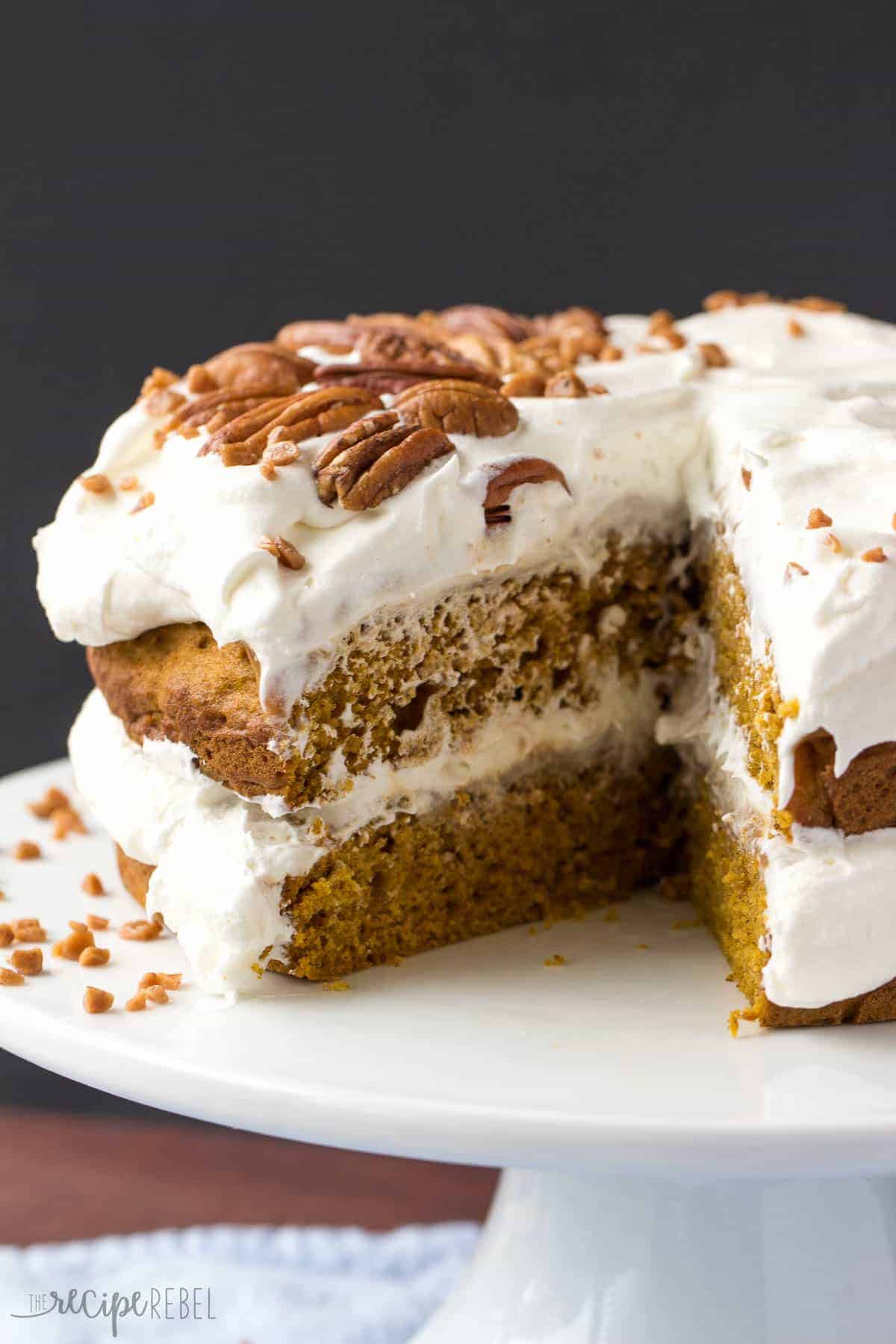 This recipe is called Pumpkin Caramel Pecan Naked Cake, but it should really be called the ultimate fall cake because it truly has everything! Beyond just pumpkin and pecans, this cake also has vanilla, cinnamon, nutmeg, cloves, and toffee.
Talk about fall flavors in a cake! Rather than frosting, this cake calls for whip cream, giving it a much lighter, albeit messier, feel—so this probably isn't the cake to enter into a contest!
32. Pumpkin Chia Seed Pudding
Chia seeds are an awesome super food that can be used to make a simple and healthy pudding in minutes. Pumpkin Chia Seed Pudding is generally considered to be a dessert, but don't be afraid to make this for a breakfast treat as well, or serve it as a side for a fancy luncheon.
Honestly, it only takes 20 minutes to make from start to finish, and there is no cooking involved, so you should probably additionally make this your go to snack from now on.
33. Pumpkin Cheesecake Flourless Chocolate Cake Roll
Have someone coming over who can't have gluten? This Flourless Pumpkin Cheesecake Chocolate Roll is the perfect dessert for you to serve. Instead of making a traditional cake, you'll be combining eggs, sugar, and cocoa powder to make the "cake" portion.
Besides shopping for a long list of ingredients, you'll also need to allow 3 hours to prepare this dessert, so hopefully your friends and family inform you of their dietary restrictions in advance!
34. Skinny Pumpkin Spice Latte
The pumpkin spice latte is one of the most popular drinks nationwide. It's so popular in fact, that people will often pay extra at Starbucks for early access to the beverage.
Skip the lines (and lower the cost) this fall season by making your own Pumpkin Spice Lattes at home following this recipe. Allergic to dairy? No problem, this is one of those recipes for fall that you can adapt for special dietary restrictions, as this particular pumpkin spice latte is made using almond milk.
35. Spicy Pumpkin Pasta
Do you crave spicy food? Curb all of your cravings in one with this recipe for Spicy Pumpkin Pasta. Loaded with sausage, cheese, pumpkin, and chipotle pepper, this meal will definitely keep you full for hours to come.
Don't like spicy foods? No problem, simply leave out the chipotle pepper for a nice creamy pumpkin pasta dish.
36. Twice Baked Sweet Potatoes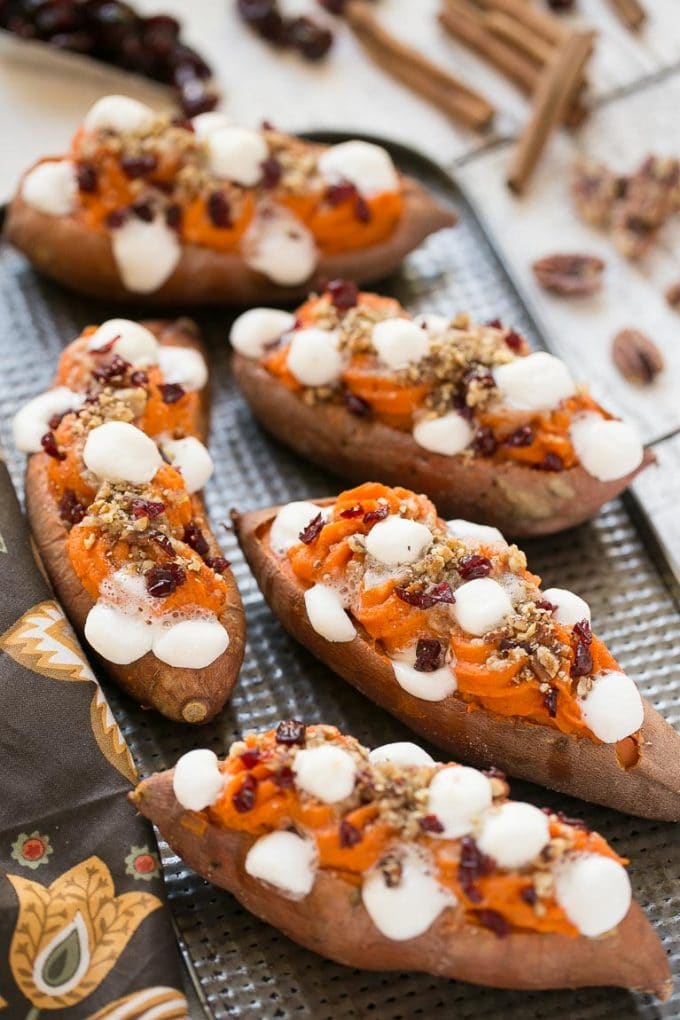 You've had sweet potatoes, and you've had twice baked potatoes, but what you haven't had is this combination of the two. Make these amazing Twice Baked Sweet Potatoes by scooping out the insides of some sweet potatoes and mixing them with some sweet seasonal ingredients.
Then you'll reload the potatoes with the insides and slip them in the oven for 20-35 minutes to create the perfect side dish.
37. Caramel Topped Pumpkin Cheesecake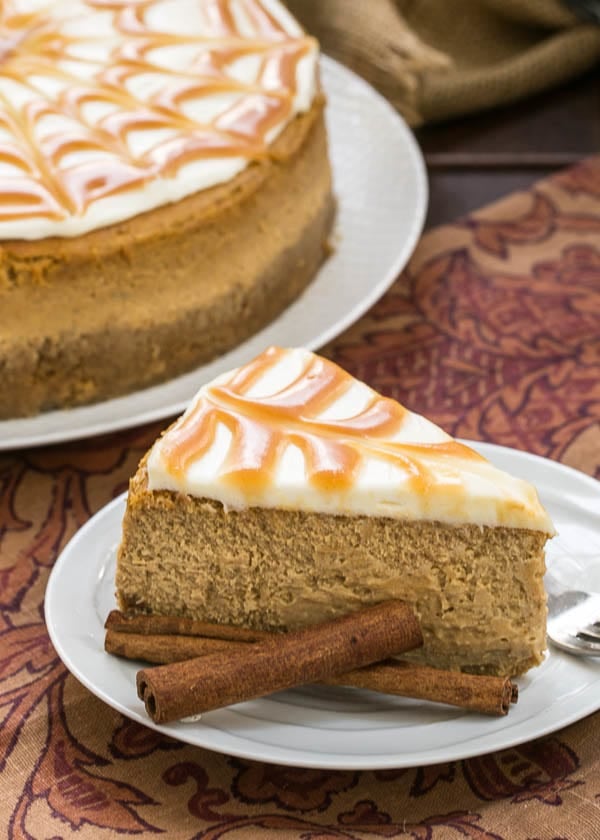 For those that still haven't decided on the perfect fall dessert, here is another variety of pumpkin cheesecakes that will have you salivating. This Caramel Topped Pumpkin Cheesecake is one of those recipes for fall that is a culinary delight that will surely take home the prize at your next event.
It does require a bit more work than the no-bake cheese cake above, but you can still have this sweet treat ready in under two hours.
38. Easy Apple Fritter Pull Apart Bread
Pull apart bread is one of our favorite appetizers/desserts. It's got lots of sweet and savory flavor while being easy to eat and serve. This recipe for Easy Apple Fritter Pull Apart Bread is no exception and it tastes just like apple pie!
You'll make it using pre-made Pillsbury dough, so no need to waste hours in the kitchen making this dish. Combine all the ingredients, bake, then drizzle on a glaze and this tasty fall dish is ready to be devoured!
39. Oatmeal Chocolate Chip Pumpkin Cookies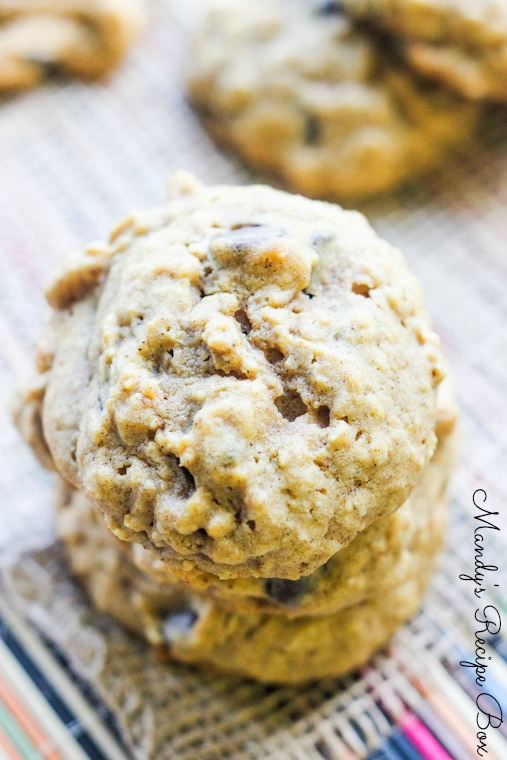 Do you know what goes with oatmeal really well? Why pumpkin does! (Though you've probably realized by now that pumpkin goes with almost everything!)
Combine these two ingredients to make these awesome Oatmeal Chocolate Chip Pumpkin Cookies. This is one of the fall recipes that requires all of the usual cookie ingredients, plus some oatmeal and pumpkins—and don't forget the secret ingredient—the pumpkin pie spice!
40. Cranberry Orange Shortbread Cookies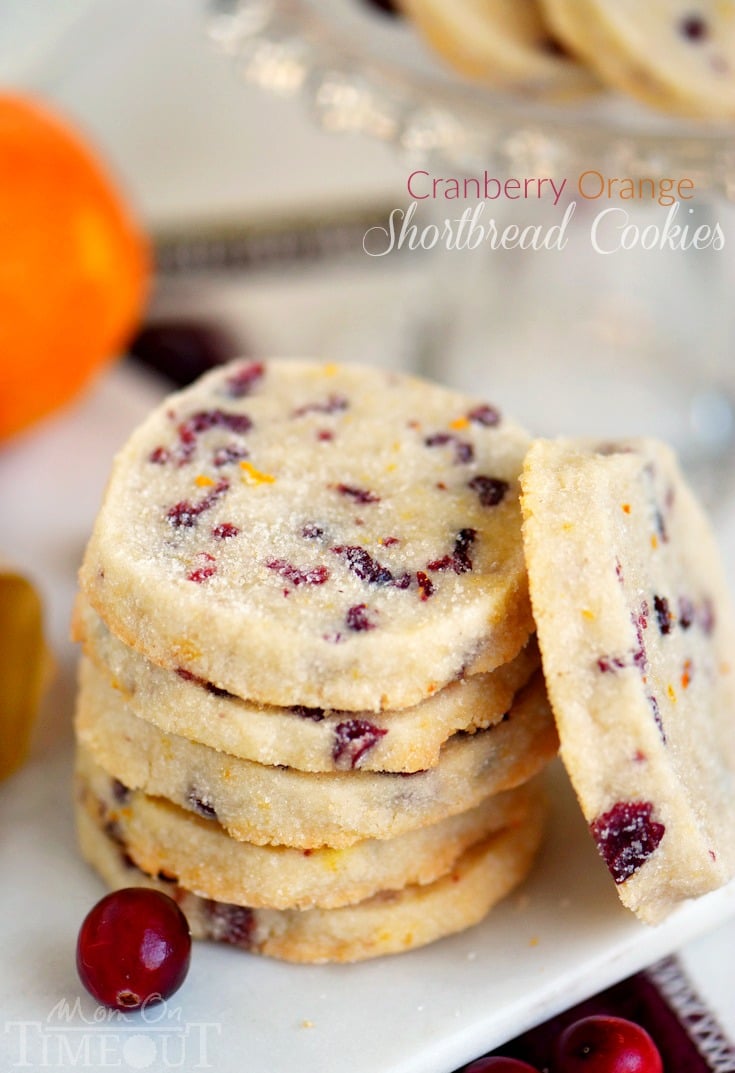 This recipe for Cranberry Orange Shortbread Cookies is the perfect way to end our list of fall recipes. It's got all of the non-pumpkin flavors of the season wrapped into one and is ideal for that individual in the room that may not be a huge fan of pumpkin.
They do unfortunately take some time to make, almost 2.5 hours, so set aside an entire afternoon to make these delectable morsels!
Fall Recipes FAQs
Can I Used Canned Pumpkin in Recipes for Fall?
While it may seem easy to grab some cans of pumpkin at the store, this will only work for some fall recipes. Other fall recipes require pureeing your own pumpkin, or roasting pumpkin you have cut up yourself. For best results, look at the recipe you have in mind before you head to the store.
What Are the Recipes for Fall Flavors?
The fall flavors are generally considered to be pumpkin, pecan, apple, walnut, hazelnut, cinnamon, chai, and maple.
Should I Serve a Meal with a Pumpkin Dish in Every Course of Fall Recipes?
Although most people like pumpkin, not everyone does, and too much pumpkin can be overpowering. Consider serving one or two pumpkin dishes at your meal and making the rest non-pumpkin dishes.
What Are the Fall Recipes Fruits?
There aren't many fruits that bloom in the fall, but this is the perfect season to cook with apples, pears, and dates.
What Are the Fall Vegetables?
Fall is the ideal season for harvesting vegetables, especially pumpkins, squash, Brussel sprouts, broccoli, and turnips, as they are all ripe right as the weather begins to cool down.
Final Thoughts on Fall Recipes
Overall, there is nothing quite like putting a delicious fall recipe on your table after a long day of work. The best recipes for fall are hearty, tasty, and some of the most famous dishes out there! And if you're looking to try something new this fall season, hopefully, you found the perfect recipe on this list for your family to try out. Chances are, you won't be disappointed because all of these recipes are amazing!