This bow tie pasta salad might be a little overdressed for the BBQ but it'll fit right in thanks to the vibrant summer colors and tangy refreshing taste in every bite.
Serve up this easy pasta salad recipe at your next BBQ, get-together, or party. This pasta salad recipe is too good not to share. m=preppare din just a matter of minutes and always ready to go, this side dish can complete any occasion. We love serving it up with Summer Sangria or Grilled Tilapia with Basil Aioli. You're going to love this healthy pasta salad!
What is bow tie pasta salad?
This summer bow tie pasta salad is a tasty recipe made of simple ingredients and a homemade vinaigrette dressing on top. It's like an Italian bow tie pasta salad but instead of Italian dressing and cheeses, we use a homemade vinaigrette made of olive oil and vinegar. It doesn't get much easier or healthier than that!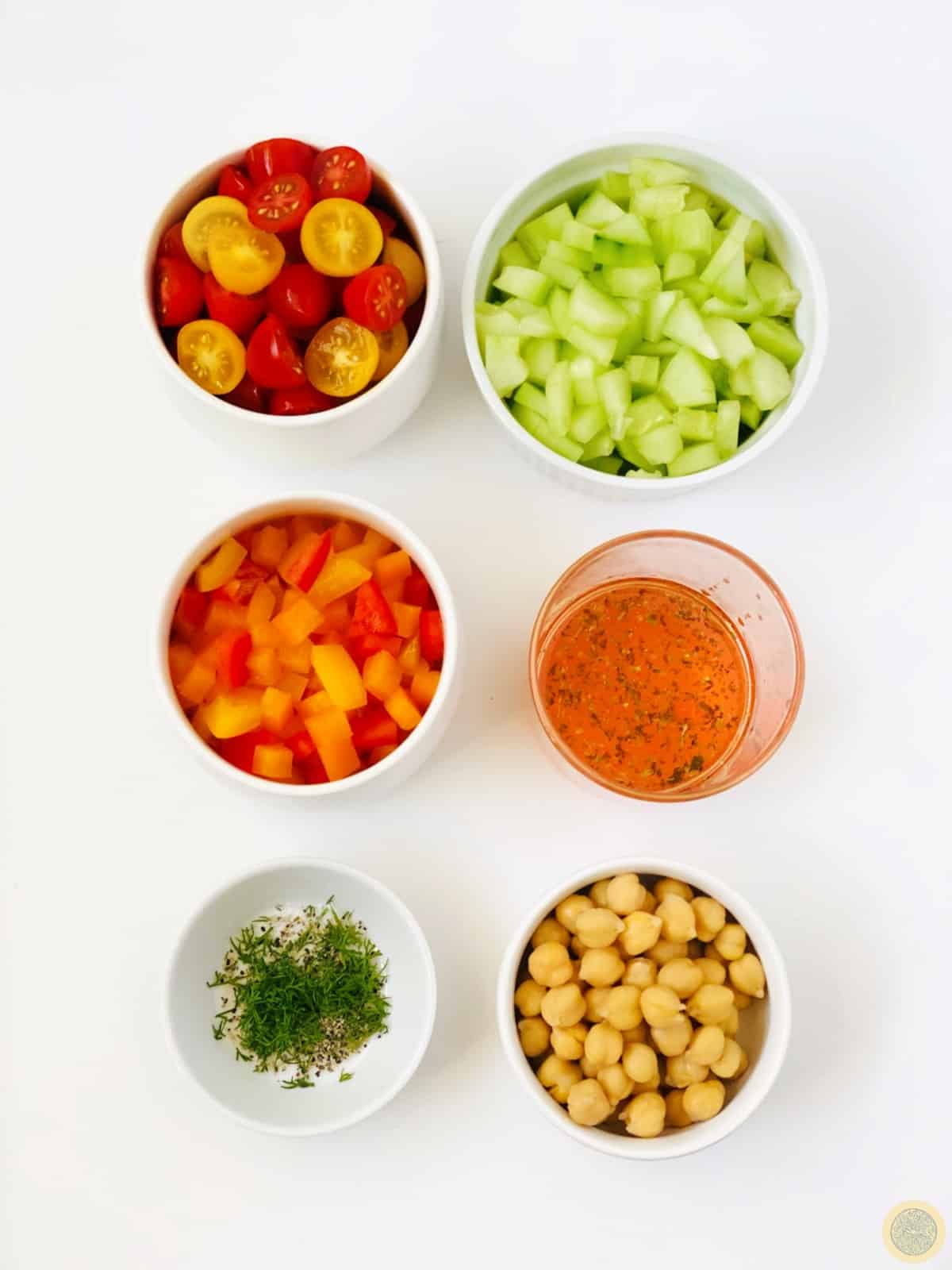 Ingredients you'll need for Bow Tie Pasta Salad:
Cooked pasta
Tomatoes
Cucumber
Bell peppers
Chickpeas
Fresh dill
Salt
Pepper
Olive oil
Vinegar
Oregano
For the exact amounts needed, please see the recipe card below.
How to make bow tie pasta salad
Boil your pasta for 20 minutes on medium heat and then drain. Let cool in the fridge for 15 minutes.

Chop your tomatoes, cucumber, bell peppers, and fresh dill into small bite-sized pieces and add them to your cooled pasta.

Add in the seasonings and chickpeas.

To make the vinaigrette, mix together the ingredients until blended and pour over the top of the pasta.
Toss to combine and coat the pieces well.
Serve chilled.
Recipe Tips
Tomatoes. You can use cherry tomatoes, grape tomatoes, or even finely diced Roma tomatoes for this recipe but I recommend sticking with the smaller tomatoes as they hold up better when tossed around and aren't as "wet" as a large tomato. Which means they hold together and look nice without getting seeds all over the place.
Cucumbers. Peeling the cucumbers before use is optional. The skin of the cucumbers will add a little more texture and crispness to the dish but the skin is still thin enough that it shouldn't be a problem to bite into unless you have very large pieces.
Bell peppers. You can use any color bell pepper that you may have on hand but remember that the seeds and membranes inside the peppers are what make food spicy so you'll want to rinse the cut peppers well before using unless you want to purposefully add heat to this pasta salad.
FAQs
How long before pasta salad goes bad?
Pasta salad can be kept stored in the fridge in an airtight or well-covered container for up to 4 days. I recommend eating the salad within 48 hours for the best tasting results. Keep in mind that that the flavors may taste even better the day after the salad has been made because they will have had more time to develop and blend together.
What type of pasta should I use for pasta salad?
In this recipe, we are using bow tie pasta (farfalle) this is because it looks cool, feels fun, and has nooks and crannies that can help to hold the flavor of the vinaigrette to the noodle. If you want to use a different type of noodle, go right ahead. Just make sure to grab one with lots of nooks and crannies like a curly rotini or even a penne pasta.
How do you refresh pasta salad?
If your pasta feels dry when you go in for another bowl you can refresh the dish by adding in a little more olive oil to help rehydrate the dish. You won't need much (about 1-2 tablespoons should be fine). If needed, add more salt, pepper, or oregano to the pasta to help add more flavor.
Need more? Check out these great pasta salad recipes
Yield: 1
Bow tie pasta salad
Ingredients
Recipe:
3 cups cooked pasta
1 cup tomatoes
3/4 cup chopped cucumber
1/2 cup chopped bell peppers
1/2 cup chickpeas
1 tsp fresh dill
salt + pepper
vinaigrette:
1/4 cup olive oil
1/4 cup vinegar
1/4 tsp: salt, pepper, and oregano
Instructions
Boil the pasta for 20 minutes on medium heat. Drain the pasta and let it cool in the refrigerator for 15 minutes.
Chop the tomatoes, cucumber, bell peppers, and fresh dill.
Add onto the pasta with the seasonings and chickpeas.
For the vinaigrette, mix the ingredients together and pour on top of the pasta salad.
Nutrition Information
Yield
3
Serving Size
1
Amount Per Serving
Calories

638
Total Fat

30g
Saturated Fat

4g
Trans Fat

0g
Unsaturated Fat

24g
Cholesterol

0mg
Sodium

376mg
Carbohydrates

76g
Fiber

9g
Sugar

7g
Protein

16g