This antipasto salad is perfect for those warm summer nights when it's too hot to cook!
This vibrant salad has lots of olives, bell peppers, artichokes and is topped with a tangy feta vinaigrette!
This is the best antipasto salad recipe and I'm sure it's not hard to see why. Packed with so many great tasting ingredients and a feta chees dressing this salad really has it all. The dressing for antipasto salad may just be my favorite because I love the way that the feta cheese helps to compliment and highlight the other flavors in this dish.
Serve this salad up for a light meal or as a side dish to your next summer BBq and watch how fast it disappears. this salad is always an instant crowd pleaser and never lasts long so make sure that you make enough for everyone and hope that there's enough for you to get second servings.
Easy Antipasto Salad
This antipasto salad starts with romaine lettuce that is mixed with salami and pepperoni. Added to that are olives, artichokes, bell peppers, and capers. The best part of this salad just might be the dressing. I took briny feta and made a tasty vinaigrette! Toss everything together so that the fragrant vinaigrette coats each component of this salad and you have antipasto that's worthy of being called dinner!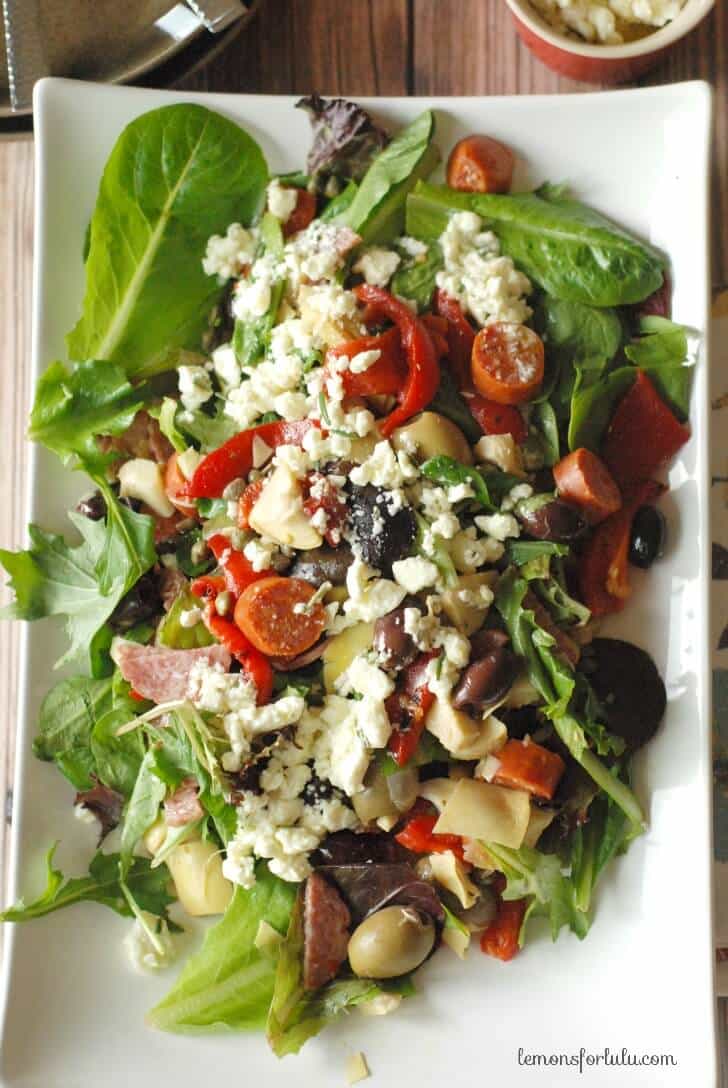 Ingredients
Romaine lettuce
Sliced salami
Sliced pepperoni
Whole green olives
Whole black olives
Whole roasted red pepper
Marinated artichoke hearts
Capers
White wine vinegar
Granulated sugar
Fresh rosemary
Olive oil
Crumbled feta cheese
For the exact amounts needed, please see the recipe card below.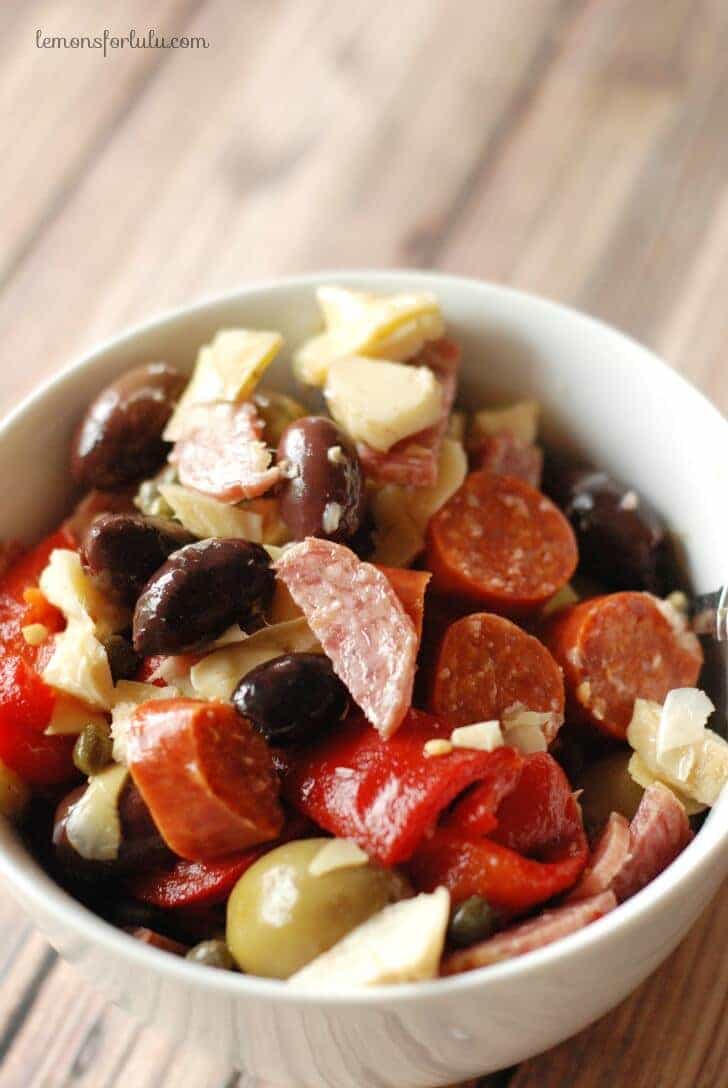 How to Make Antipasto Salad with Feta Vinaigrette
Combine the salami, pepperoni, olives, roasted red peppers, artichoke hearts, extra marinade, and capers in a bowl.
Toss together with the vegetables and lettuce.
In a small bowl, combine the vinegar, sugar, and rosemary.
Slowly whisk in the oil.
Stir in the feta cheese.
Pour the dressing over the top of the salad and then toss together well to combine.
Serve immediately.
Recipe Tips
I do not recommend prepping this antipasto salad with artichoke hearts too soon before you're ready to serve because the dressing will cause the lettuce to wilt with time. It's best to make the salad and dressing separately and then to combine just before serving for the freshest tasting results.
Antipasto is traditionally served as a "before pasta" meal meaning it's a first course meant to be served before your actual main meal. that said, this salad is pretty filling and packed with so many things that it can easily be considered a meal in its own rights. Serve it however you want and it's sure to be loved just the same.
FAQs
Is antipasto salad healthy?
This salad could be considered pretty healthy when you think about all of the yummy veggies inside and the lighter dressing option. Of course, the salad can be made less healthy by adding in too much dressing or loading up on the saltier and higher carb items.
Here are some more great tasting salad recipes you may enjoy:
Yield: 4 side salads
Antipasto Salad with Feta Vinaigrette
This antipasto salad is perfect for those warm summer nights when it's too hot to cook!
Ingredients
2 cups Romaine lettuce
3 oz salami sliced
3 oz pepperoni, sliced
1/2 cup whole green olives
1/2 cup whole black olives
1 whole roasted red pepper, sliced
1 6 oz jar marinated artichoke hearts, chopped (reserve 2 tablespoons of marinade)
2 tablespoons capers
2 tablespoons white wine vinegar
1/2 teaspoon sugar
1 teaspoon fresh rosemary, chopped
1/4 cup olive oil
4 oz crumbled feta cheese
Instructions
In a bowl, combine salami, pepperoni, olives, roasted red peppers, artichoke hearts, plus extra marinade and capers. Toss vegetables with lettuce.
In a small bowl, combine vinegar, sugar and rosemary. Slowly whisk in oil. Stir in feta cheese. Pour over salad and toss together.
Nutrition Information
Yield
4
Serving Size
1
Amount Per Serving
Calories

520
Total Fat

47g
Saturated Fat

14g
Trans Fat

1g
Unsaturated Fat

32g
Cholesterol

68mg
Sodium

2069mg
Carbohydrates

12g
Fiber

5g
Sugar

4g
Protein

15g