Every cookout and potluck needs some good summer salad recipes! Whether it's a creamy pasta salad or a fresh fruit salad, summer salads go with every type of meal and are ideal to serve during the warmer summer months.
No matt what you may be craving, we have a collection of delicious salads that will be perfect to share on any occasion! Read on to find out more about summer salad recipes and the best ones to make this season.
6 Types of Salads
Before you can start making some amazing summer salad recipes, you need to know the 6 different types of salad.
Green Salad
Green salads are the type of salad most people think of when they hear the word salad. Comprised mostly of leafy greens and topped with other vegetables and fruit, these salads can have a variety of different looks and tastes.
Fruit Salad
A fruit salad is a mixing of cut fruits. Sometimes these salads can have a dressing, but more often than now they are served without, as the fruit tastes amazing as is.
Pasta Salad
A pasta salad is a type of salad that is made by cooking pasta, then letting it cool and mixing it with different vegetables and a dressing. Unlike a fruit salad, you can't really serve a proper pasta salad without a dressing, as it will just be dry noodles with veggies.
Bound Salad
A bound salad is a hearty salad made from anything that is not pasta, fruit, or vegetables. However, the salad can contain any of the above. Examples of a bound salad include chicken salad, egg salad, and potato salad.
Dinner Salad
A dinner salad is a type of salad that is meant to be served for the entire meal. Typically a green salad with more substantial toppings, such as meat or beans, a dinner salad is filling enough on its own that you don't need to serve a side dish with it.
Dessert Salads
Believe it or not, there is such thing as dessert salads, and you've likely had one before. While they are called salads, these are usually made of something sweet like Jell-O, whip cream, and fruit. The most common dessert salad is Jell-O salad followed closely by pistachio salad.
Essential Summer Salad Recipe Ingredients
Now that you know the six different types of salads, it's time to look at some of the ingredients you should have on hand before you look at creating some summer salad recipes.
Below are the most common ingredients found in summer salad recipes:
Leafy greens
Strawberries
Blueberries
Blackberries
Mayonnaise
Grapes
Cucumber
Tomato
Celery
Onion
Cheese
Lemon
Olive Oil
Do you already have some of these ingredients on hand? Then you are ready to start making some delicious summer salads.
Healthy Summer Salad Toppings
No summer salad recipe is complete without something crunch or crispy on top, whether it's a green salad or a pasta salad. Here is our list of some of the best healthy summer salad toppings.
Almonds
Walnuts
Green Onions
Pistachios
Chia Seeds
Sesame seeds
Dried fruit
Quinoa
Tortilla chips
Pita chips
Corn salsa
Olives
Edamame
For best results, these ingredients should be cut or broken as small as possible and sprinkled on top of the salad. The individual consuming the salad can then mix it up as they see fit to add a little crunch to each bite.
50 Best Summer Salad Recipes to Try
Pasta Summer Salad Recipes
1. Mediterranean Orzo Salad
Orzo pasta is pasta shaped in long grain-like shapes that are so similar to rice, people get the two confused. While it isn't made of rice, making a pasta salad with Orzo can help lighten up a traditionally heavy pasta salad and give it a summery flair.
Follow this recipe by Let's Dish to make a Mediterranean orzo pasta salad you'll be eating all summer long.
2. Chicken Souvlaki Pasta Salad
Chicken Souvlaki is a popular Greek dish that is typically served at festivals and holidays. With this recipe by Lemons for Lulu you can transform the traditional dish into a delectable pasta salad to serve at any summer event. Made with tomatoes, cucumbers, chickpeas, and fresh feta cheese this salad will steal the show.
3. Brown Rice and Apple Salad
We know that technically brown rice isn't pasta, but when you want to cool down on a summer day and can't have gluten, this brown rice and apple salad from Bread, Booze, and Bacon is the next best thing.
All you have to do is mix cooked rice with apples, peppers, onion, and parsley, then drizzle a little lemon juice, oil, and apple cider vinegar over the top.
4. Jalapeno Popper Macaroni Salad
Ready to kick up the heat? While it may seem strange, eating spicy food in the summer actually helps to keep you cool. So next time it's an especially hot day consider making this jalapeno popper macaroni salad by The Chunky Chef to help your family keep cool.
5. Parmesan Ranch Pasta Salad
Sometimes it can be hard to get kids to eat a pasta salad, after all, they aren't as sweet as hot pasta sauces. If you've got a picky eater on hand, make this parmesan ranch pasta salad from Taste of the Frontier, and your children will definitely devour it.
The best part is, from start to finish it only takes 20 minutes to make.
Summer Fruit Salad Recipes
6. Honey Lime Fruit Salad
For a twist on a family favorite, make this honey lime fruit salad from That Skinny Chick Can Bake. It's made by combining chopped fruit with honey, lime juice, vanilla, and poppy seeds to add a little crunch while also helping the fruit stay fresh. Simply mix all the ingredients together, chill, and serve.
7. Pina Colada Fruit Salad
Are you craving a pina colada? While this salad from Lemons for Lulu won't quite be the same thing, it will come very close. It's made by tossing fresh fruit in pina colada mix and orange juice, and then is topped with tasty toasted coconut.
8. Watermelon and Feta Salad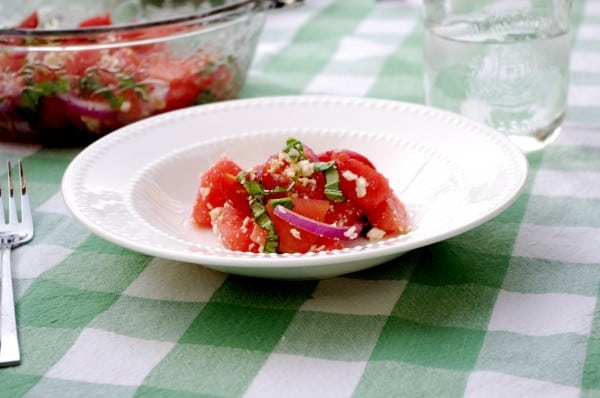 Watermelon and feta may not sound like two ingredients that go together, but they do in this salad by Nutrition in the Kitch. Start by chopping your watermelon, then toss with tomatoes, basil, feta cheese, onion, and a few spices. Sounds a bit odd but we promise it's amazing.
9. Easy Melon Ball Salad
Looking for a kid friendly fruit salad? Look no further than this melon ball salad from Lively Table which involves making melon balls of your favorite melons and tossing them together. Serve as is and let kids eat their portion with their hands.
10. Stone Fruit and Burrata Salad
Strone fruit and burrata salad by Amy's Nutrition Kitchen is an upscale fruit salad ideal for serving at a dinner party or other fancy mid-season event. Simply slice the fruit like peaches, cherries, and tomatoes, then place with burrata and drizzle with balsamic vinegar.
Healthy Summer Salad Recipes
11. Creamy Broccoli Salad
Everyone knows Broccoli is a superfood, but it can get boring to each just fresh or just steams broccoli all summer long. Switch it up with this creamy broccoli salad recipe from Yummy Healthy Easy.
The dish will have you tossing broccoli with bacon, onion, cranberries, sunflower seeds, and mayo to make a salad you won't be able to put down.
12. Roasted Potato Salad
During the summer season is when most people pull out their creamy potato salads, which while tasty, are loaded with oils and calories. If you are looking for a healthier alternative, make this roasted herb potato salad from Culinary Ginger.
The recipe calls for roasted potatoes, mustard, white wine vinegar, and some spices.
13. Shaved Brussels Sprouts Salad
Brussels sprouts are by far the most hated vegetable. But when you shaved them and toss them in this fresh summer salad recipe with almonds and apples as toppings by My Suburban Kitchen, you'll find a whole new love for this misunderstood vegetable.
14. Cucumber Salad
Have you ever heard the saying, simple is better? That's certainly the case with this healthy summer salad from Lemons for Lulu which is made by combining cucumber with onion and a little Greek yogurt.
Of course, there are some spices in there too but we bet you've already got everything you need to make this salad in your pantry.
15. Classic Crunchy Vegetable Salad
Classic crunchy vegetable salad is made by combining broccoli with cauliflower, bell pepper, tomatoes, corn, carrots, and celery, then tossing the whole mix in a special marinade reminiscent of the old-fashioned Italian salads. Sound delicious? Find the recipe on Nutrition in the Kitch.
Recipe For Summer Corn Salad
16. Black Bean, Corn, and Avocado Salad
Summer is the season for savory vegetable salads. Make this black bean, corn, and avocado salad by Lemons for Lulu, which is both healthy and deliciously sweet. Set it out with chips for dipping, or use it to top tacos, the choice is yours.
17. Fresh Vegetable Salad
Technically, this is a recipe for a mixed vegetable salad, but seeing as the main ingredient is corn, consider it a new take on a corn salad. Simply toss corn, tomatoes, celery, cucumber, and a little of the homemade mayo-based dressing outlined in the recipe by Bread Booze and Bacon and enjoy.
18. Elote Corn Salad
Elote corn salad is a southern twist on the popular corn salad dish that you won't be able to resist. Made by mixing corn with mayo, Greek yogurt, lime, chili powder, and some cojita cheese, you can have this dish ready in just 15 minutes. Find the full recipe on Lemons for Lulu.
19. Summer Grilled Corn Salad
Chances are, you've already got the grill out and ready for all the amazing BBQs you will be having this summer. Next time you plan to use it, toss some cobs of corn on as well and make this summer grilled corn salad from Nutrition in the Kitch. It's sweet, flavorful, and absolutely delish.
20. Peach Corn Tomato Salad with Miso Vinaigrette
A bit of a catch-all salad, this peach corn tomato salad with miso vinaigrette from Lively Table is corn salad mixed with fruit. It's the best of both worlds because you get the sweet peaches mixed with the savory corn and tomatoes. Don't forget the miso, which is the best part.
Summer Green Salad Recipes
21. Detox Salad
During the busy summer months, it can be difficult to stay on a healthy diet. Whether it's a birthday party or following a family BBQ, this detox salad from Lemons for Lulu is the perfect green salad to help you get back on track. It's got everything healthy on a bed of power greens.
22. Wedge Salad with Blue Cheese
Nothing quite hits the spot like a blue cheese wedge salad, and they're so simple to make. Take a head of iceberg lettuce, chop it into wedges, top with your toppings, and serve.
Check out this recipe from Domestic Superhero which will walk you through the process of making a homemade blue cheese dressing to take your wedge salad to the next level.
23. Antipasto Salad
Just because you want to make a green salad doesn't mean you can't add some fun ingredients. Check out this antipasto salad from Dinner at the Zoo which features lots of leafy greens but is topped with all the ingredients you would find on an antipasto platter.
24. Chicken Waldorf Salad
While you may know chicken Waldorf salad as the popular chicken salad recipe when you aren't looking to make a sandwich, make this green salad version from Lemons for Lulu instead. It has all the same ingredients, but you'll be tossing them with bibb lettuce instead of mayonnaise.
25. Strawberry Spinach Salad
Not only are berries in season during the summer, but so is spinach, which probably explains why these two together are the perfect combination. Don't believe us? Make this strawberry spinach salad from LifeFamilyFun which has a homemade lemon dressing with an irresistible tangy flavor.
Summer Steak Salad Recipes
26. Black and Blue Steak Salad
Steak is a such a tasty summer treat, but you probably don't want to pair it with heavy mashed potatoes when you are already feeling a bit warm. When that's the case, make this summer steak salad recipe from Lemons for Lulu to curb your craving without breaking your diet.
27. Steak Salad Boats
Want to make steak salad into an appetizer? It's easy with this recipe from Nutrition in the Kitch. Grab some butter leaf lettuce and stuff it with steak, potatoes, peas, and tomatoes, then drizzle a little of the dairy-free ranch on top and these are ready to serve.
28. Raspberry Chipotle Grilled Flank Steak Salad
Raspberry Chipotle Grilled Flank steak salad from Lively Table is a must-try this summer. You will use the dressing both as a marinade for the steak, as well as a topper for the salad, giving the steak unique sweet undertones. Plus, it's gluten-free, making it an ideal dish to serve when you are having guests over.
29. Grilled Steak Cobb Salad
Cobb salads are just so delicious there isn't a meat they don't go with. For steak, try this recipe from Cupcakes and Kale Chips where the steak is tossed in a fresh marinade and paired with corn, asparagus, tomatoes, and cheese then your pour a savory red wine vinaigrette on top.
30. Steak Taco Salad
Taco salad is a quick and easy dinner that kids and adults can enjoy together. For those nights where you want to step things in the kitchen up a bit, grab this recipe for steak taco salad from Lemons for Lulu.
Topped with seared steak, fresh pineapple, and smooth avocado once you eat this salad you will never go back.
Summer Chicken Salad Recipes
31. Mini Ranch Chicken Salad Rolls
There are quite a few variations to the popular chicken salad recipe. We recommend trying this particular variation from Lemons for Lulu which includes tossing some ranch dressing in the bowl with the mayo. Scoop it on rolls as the recipe suggests and this will be your new go-to summer lunch.
32. Chicken Salad Sandwich
Not all summer salads have to be served in a bowl with a fork. When you want a salad to take with you on the go, make this chicken salad sandwich from Bellyfull. Served on a delicious croissant this one salad you will love so much you'll forget it's even a salad.
33. Avocado Chicken Salad Crostini
A crostini is one of the best ways to turn a summer salad recipe into an easy appetizer for your next event. It's light, crispy, and much easier to eat with your hands. Follow this recipe by Wishes for Dishes to make a chicken salad crostini complete with avocado mash.
34. Skinny Chicken Waldorf Salad
Chicken salad, with its globs of creamy mayo, isn't necessarily known for its amazing health benefits. For those on a diet, try this skinny version of the classic salad by Nutrition in the Kitch.
You'll be halving the mayo content and adding some coconut yogurt instead, keeping this dairy-free while lowering the calorie content.
35. Rotisserie Chicken Salad
Want chicken salad but don't have time to bake some chicken? Don't worry, this rotisserie chicken salad recipe from Lemons for Lulu is here to save the day. Simply grab a rotisserie chicken next time you are at the store, mix it with fruit, mayo, and a few spices and this chicken salad is ready to spread.
Summer Seafood Salad Recipes
36. Cobb Salad with Lobster
Cobb salad is a green salad that is topped with a variety of toppings in a unique wheel shape. While named after the man who invented it, the best thing about a Cobb salad is that you can put whatever you want on yours.
Try this version by Cupcakes and Kale Chips which replaces the chicken with mouthwatering lobster.
37. Grilled Caesar Salad with Shrimp
A new take on an old classic, this grilled shrimp Caesar salad from Lively Table will make your mouth water. Start by skewering the shrimp and tossing them on the grill, then place your entire head of romaine on there too.
Pull them off and toss them together with a little grilled onion and some homemade grilled croutons.
38. Grilled Po Boy Potato Salad
Although it may sound a little strange, this grilled PO boy potato salad by Lemons for Lulu is a delicious combination of a seafood and a potato salad. Ideal for a summer BBQ, this salad combines the flavorful Cajun-style seafood with filling potatoes to make a great side for any BBQ main dish.
39. Shrimp, Orange, and Avocado Quinoa Salad
Quinoa is surprisingly easy to make and great to add to any salad to give it a little more sustenance. Check out this summer seafood salad recipe from Lively Table in which you will be mixing quinoa with chicken broth, fruit, and avocado to make a nice sweet, yet savory salad.
40. Watermelon Shrimp Avocado Salad
Clean Cooking with Caitlin has this amazing watermelon, shrimp, and avocado salad that is sure to be a hit at your BBQ this summer. All you have to do is chop the ingredients, mix them together, then drizzle with some lime and salt and pepper and this dish is ready to go.
Summer Grilled Chicken Salad Recipes
41. Couscous Chicken Salad
During the summer season, dropping a few chicken breasts on the grill then slicing them and tossing them into a salad is a simple pleasure. But when you aren't sure exactly what salad to place beneath your grilled chicken, try this recipe from 365 Days of Baking to make a leafy green, yet hearty couscous salad that is a meal all by itself.
42. Mojito Prawn Zucchini Salad
Seafood salads don't always have to be creamy. When you are craving something a little fresher, choose this mojito prawn zucchini salad from Nutrition in the Kitch which is dressed with a homemade mojito marinade.
Toss on some prawns, zucchini, onion, bell pepper, and avocado, and this salad will take you to a whole new world.
43. Berry Chicken Salad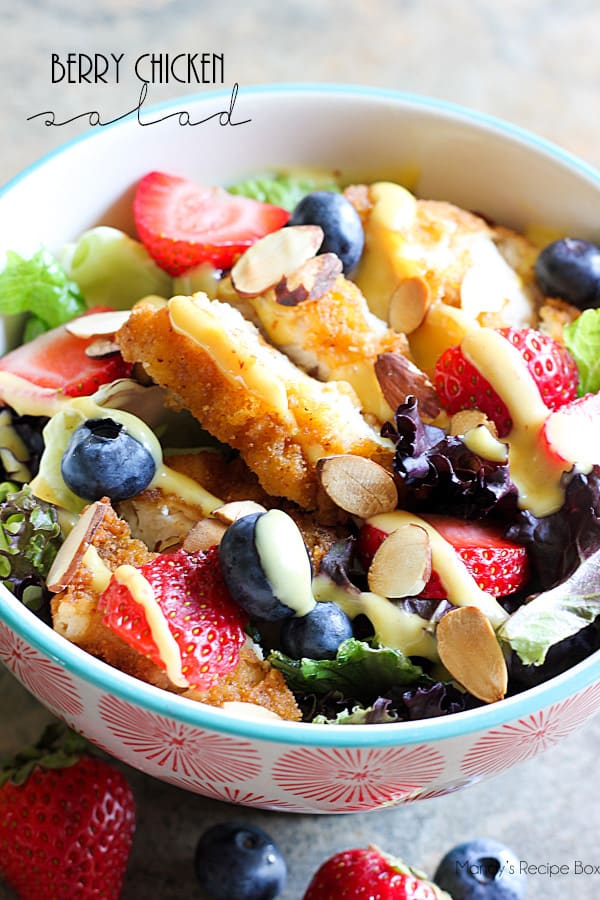 Berries are best eaten in the summer when they are in season, so why not make a salad out of them? Adding fruit to your salad not only sweetens it but also diversifies the flavor profile. Check out our favorite berry salad recipe that you can top with grilled chicken from Mandy's Recipe Box.
44. Jacked Up Monterrey Chicken Salad
The jacked-up Monterrey chicken salad by Love Bakes Good Cakes will give you everything you are craving, crispy bacon, fresh cheese, and a little bit of sweetness from the BBQ sauce you will be tossing the chicken in. Drizzle some ranch on the top for the perfect summer grilled chicken salad.
45. Thai Cashew Chicken Salad
Thai salads, with their unique combination of savory, sweet, and spicy, are a favorite when the weather starts to head up. Consider making this Thai cashew chicken salad from Lemons for Lulu which is made by tossing fresh greens with cashews, chicken, and a homemade peanut dressing.
Summer Dessert Salad Recipes
46. Strawberry Pretzel Salad Bites
These strawberry pretzel salad bites by Lemons for Lulu are to die for—and they really shouldn't be labeled as a salad. Made by mixing pretzels with sugar, butter, and cream cheese. Then the bites are topped with whip cream and strawberries. These are salty and sweet and definitely won't stay on the table for long.
47. Pistachio Fluff Salad
Even though this dish says salad in the title, it is anything but. Made by mixing pineapple with pistachio pudding, whipped cream, marshmallows, and pecans, this sweet treat should be served at the end of the BBQ to round out everyone's pallets. Find the detailed instructions on Encharted Cook.
48. Orange Pretzel Jell-o Salad
Another take on the pretzel salad, this orange Jell-O version from Bellyfull has all the same ingredients as the strawberry version, but with some added Jell-O. Make it in a large pan and slip it in the fridge, then pull it out and serve as a no-bake pie. Quick, easy, and it will hit the spot.
49. Cherry Pineapple Fluff
Have a nut allergy in the house? Make this nut-free alternative to pistachio fluff by We Dish it Up. It's the same concept but made with cherry pie filling and condensed milk instead of pistachio pudding and whip cream.
50. Cherry Jell-o Salad
Serving regular fruit salad for dessert is great, but it can also get overdone as the summer comes to an end. Switch it up with this cherry Jell-o salad from It Is a Keeper where you will prepare a fruit salad, then let it sit overnight in Jell-o.
FAQ
What Are the Most Popular Salads?
The most popular salads in America are the Chinese chicken salad, potato salad, coleslaw, and ambrosia which is a type of fruit salad.
What is the Healthiest Salad?
The best salads for your health are those with have an oil-based dressing like vinaigrette and that is topped with grilled meats as opposed to fried ones.
What is the Worst Salad for Your Health?
The worst salad for your health is one that is drenched in a creamy dressing like ranch or blue cheese. Cream-based salads, like pistachio salad, also have no nutritional value.
Conclusion
Overall, no matter what events you have coming up this summer, there is a summer salad recipe on this list that is made for that event. Whether you need an appetizer chicken salad crostini, or perhaps a dessert salad like pistachio fluff, you can't go wrong when you pick one from this list. If you have time this summer, you should set a goal to try them all.