On a hot summer's day, there is nothing better than a traditional Spanish gazpacho. Made to serve cold, gazpacho can let you serve soup even during the hot summer months.
But this isn't just any soup that you serve cold. It's a unique combination of foods that taste good served cold while also in a broth. Read on to learn more.
What is Traditional Spanish Gazpacho?
Traditional Spanish gazpacho is a tomato-based soup that originated in the Andalusia region in Spain and was typically served during the hottest summer months. There is also a fruit version of this famous dish made with a watermelon base.
How to Eat Traditional Spanish Gazpacho
Gazpacho was meant to be eaten without silverware, so put down your spoon and pick up the bowl, and sip.
Traditional Spanish Gazpacho Ingredients
Before you can make a traditional Spanish gazpacho you have to know what goes in it! Below is a list of the ingredients.
Tomatoes
Green Bell Pepper
Cucumber
Garlic
Onion
Olive Oil
Wine Vinegar
Salt
Cold Water
Croutons
Shredded Serrano or Parma Ham
Step-by-Step Instructions on How to Make a Traditional Spanish Gazpacho
Have all the ingredients you need to make a Spanish gazpacho? Below are step-by-step instructions you can follow.
Step 1: Prep Ingredients
Wash your vegetables then peel and chop the tomatoes, cucumber, garlic, and onion.
Step 2: Blend
Using a food processor, blend all of the vegetables with olive oil, salt, vinegar, and water to create a soup-like consistency.
Step 3: Chill
Let this mixture chill in the fridge for two hours.
Step 4: Prepare Toppings
The best part of a soup is the toppings, prepare these while the soup cools. You can use bits of the vegetables you used in the soup as well as croutons, olive oil, and the ham.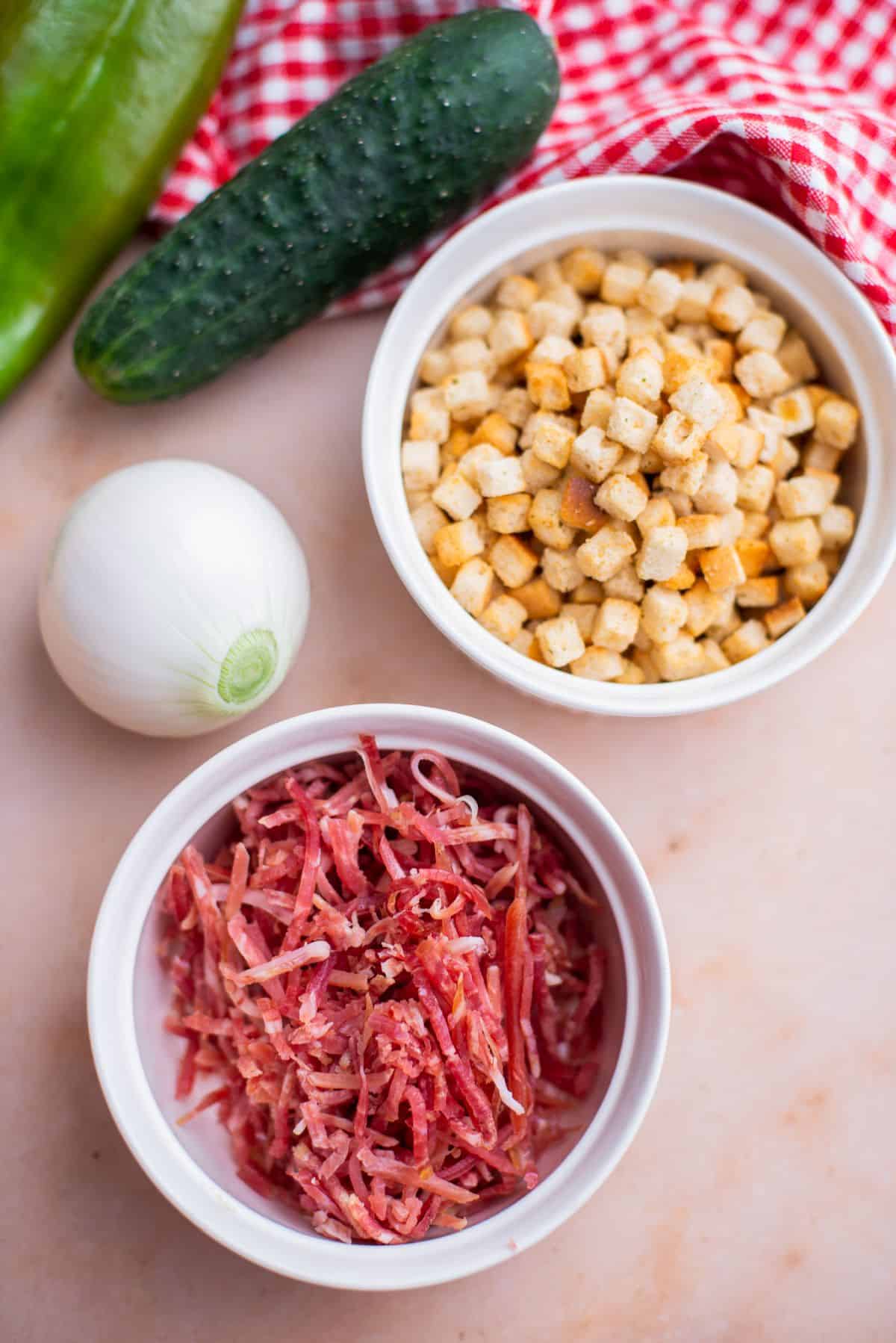 Step 5: Serve
Remove the soup from the fridge, top with toppings, and serve.
What to Serve With Spanish Gazpacho
As you can see, making gazpacho is easy. But what do you serve it with?
While gazpacho can be the main dish, it typically needs a hearty side to complete it. We recommend serving it with crab cakes, pasta salad, a Spanish tortilla, or a nice roll of rustic bread.
Traditional Spanish Gazpacho Expert Tips
Nervous about making your first gazpacho? Below are some tips from the experts.
If you are in a hurry, skip peeling the tomatoes. It will still taste great and will save you time.
You can add other vegetables like beets, zucchini, and corn to your gazpacho.
Add spice. A good spice like basil, rosemary, or chives goes great in a gazpacho. You can also add jalapenos if you want it spicy.
How to Keep Gazpacho From Separating
Did you make gazpacho earlier only to come to the fridge and find it separated? Don't panic, this is normal.
Simply shake or stir the gazpacho to get it back to its original consistency.
How to Serve Gazpacho
Because gazpacho is supposed to be served without silverware, you should serve it in a wide-mouth glass or a soup bowl that is easy to drink from.
But for those who are less adventurous, you can also just serve it in a bowl with a spoon.
How to Store Gazpacho
Gazpacho must be stored in the fridge. It should be stored in an air-tight container easy for pouring, like a carafe or pitcher.
FAQ
What Part of Spain Does Gazpacho Come From?
Gazpacho comes from the southern part of the Andalucian region.
What Does Gazpacho Mean in Spanish?
Gazpacho means 'tomato soup' in the Spanish language.
Can You Freeze Gazpacho?
Gazpacho can be frozen and will save for 6-8 months when stored in an air-tight container. Just be sure to let it thaw before you serve it or toss it in the blender to get rid of any remaining chunks.
How Long Does Gazpacho Last in the Fridge?
Gazpacho will keep fresh in your fridge for 4-5 days.
When Should Gazpacho Be Eaten?
Gazpacho is best enjoyed during the warmer summer months as a light dinner.
Is Gazpacho Healthy?
As long as you don't top your gazpacho with too many croutons or too much fatty ham it is made from vegetables and is considered to be a healthy dinner.
Conclusion
Overall, traditional Spanish gazpacho is an easy-to-make dinner that you should consider consuming during the hottest days of summer.
While the base is the same, don't be afraid to customize the toppings or mix in an extra spice. Whether you serve it with bread, or maybe a crab cake, you simply can't go wrong when you enjoy gazpacho this summer.
Yield: 4
Traditional Spanish Gazpacho
The authentic Spanish gazpacho recipe, a delicious cold raw vegetable soup, is perfect for summer lunch or dinner. 
Ingredients
1 pound of tomatoes (any kind, just choose them ripe and juicy) 
1 green pepper
1 cucumber
1 clove garlic
1 sweet onion 
1/3 cup olive oil (extra virgin if possible) 
¼ wine vinegar 
2 teaspoons salt
3 cups cold water
Instructions
Wash all the tomatoes, pepper, and cucumber.
Cut the tomatoes in quarters and remove the stem. You can also peel them, but I don't find it necessary. Set aside.
Peel the cucumber and chop it roughly, set aside.
Peel and chop the white onion. Set aside.
Peel the garlic and remove the central stem. Set aside.
In a food processor or a bowl if using an immersion blender, add all the veggies and the olive oil, salt, and a bit of the water and process until a fine consistency is achieved.
Add the vinegar and the rest of the water if you find you'd like the gazpacho to have a lighter consistency.
Once it's done chill in the fridge for at least 2 hours.
While the gazpacho is chilling, chop the "tropezones" to serve it with. Chop them very finely. Store in the fridge.
Serve very cold with a few veggie tropezones, some garlic croutons and some Serrano or Parma ham, and a drizzle of olive oil.
Notes
To serve it: (What we call "tropezones")
Chopped cucumber, pepper, and onion (thinly) 
Garlic croutons
A drizzle of olive oil 
Shredded Serrano or Parma ham
 If you don't have enough time to let the gazpacho rest and chill, make sure to at least use cold veggies and cold water. You can also add some ice cubes to it to chill it. But the resting time will also help develop the flavors. 
Some original recipes use day-old bread in the mixture, but I don't like it, also by not using bread, it remains naturally gluten-free. 
This should be made with raw vegetables, never roasted or cooked by any means. 
You can substitute the wine vinegar with rice vinegar or apple cider vinegar although not traditional. 
The Gazpacho can be stored in the fridge for up to 6 days in a sealed container or crystal water. 
Nutrition Information
Yield
4
Serving Size
1
Amount Per Serving
Calories

229
Total Fat

18g
Saturated Fat

3g
Trans Fat

0g
Unsaturated Fat

15g
Cholesterol

0mg
Sodium

1079mg
Carbohydrates

15g
Fiber

3g
Sugar

9g
Protein

2g