Whether you're actually visiting the spectacular country of Spain, or you simply want to take your tastebuds on a one-way flavor destination, Spanish drinks won't disappoint.
Dive into the country's drinking culture with some of these favorite beverage flavor combinations.
Guide to Drinking in Spain
When in Spain, one thing to note is that even though the country is known to have some exciting party destinations, binge drinking isn't a pass time locals partake in, that's left to the tourists usually.
Keeping this in mind, you might encounter some great tips and tricks from the locals if you keep your drinks to a minimum and rather savor the flavors.
When to Drink Rebujito in Spain
Rebujito is very simply put as a wine spritzer and is enjoyed most commonly during the day since it is so easy to drink. Each bar or restaurant has its own recipe for a Rebujito.
However, it is usually white wine mixed with some lemonade or lemon-lime soda, served with ice and occasionally a sprig of mint. Enjoy this with lunch or on its own, and when the sun goes down, you can switch to something more complex and stronger.
When to Drink Beer in Spain
When you ask for a beer in Spain, you will most likely be served beer in a caña, a small glass just below half a pint. If you want a larger serving, you would have to ask specifically, or just have a few more cañas of beer.
Beer is found everywhere throughout the country and is always served cold. Most beers are on tap, but some restaurants or bars will have bottles of beer available. Beer is usually enjoyed after midday and with a small meal or tapas.
When to Drink Wine in Spain
When visiting Spain, don't skip out on the high-quality wines readily available at affordable prices. You could order some wine when having lunch, but the locals prefer it over dinner.
So why not try a Rebujito or Cubata at lunch, and save your wine for when the sun sets? Wine is less commonly enjoyed on its own by locals and is always ordered with a meal.
When to Drink Cubatas in Spain
Cubatas is not a specific drink, but rather a range of drinks. Any liquor mixed with soda or mixers is usually categorized under cubatas.
At most bars, cubatas take the place of fancy cocktails since the Spaniards like to keep their drinks simple to make and easy to drink. Enjoy a cubata when the sun goes down, either at your favorite bar, at home, or even at a local park.
Most Popular Spanish Liquors
Spain has its own range of liquors unique to the country to send your tastebuds on a gastronomical journey. You can find some more readily in specific regions of Spain than others but most places will stock these exciting liquors for you to try.
Herbero – As the name suggests, this is a herbal liquor and originates from the Serra de Mariola mountain range. It is made from Anise and various herbs such as sage, lavender, and thyme amongst many others. It is enjoyed neat in a shot glass, at room temperature, or slightly chilled.
Cafe Liquor – A strong and potent liquor that is coffee-based and can be anywhere from 25% ABV to 35% ABV.
Brandy de Jerez – A brandy made in Spain from the Airén variety of grapes.
Spanish Spirits
Chinchón – An anise-based spirit that comes in three variations, special dry, dry and sweet.
Hierbas De Mallorca – Another herbal spirit, hailing from Mallorca. It has three variations, from dolces meaning sweet, mesclades, and dry seques. The three variations range from 20% ABV to 25% ABV. It is enjoyed as a digestif.
20 Best Spanish Drinks to Quench Your Thirst
Spain is a colorful country with drinks to match. There are drinks for every palette, whether you like your drinks sweet or a bit more savory, alcoholic, or non-alcoholic.
Spanish Alcoholic Drinks
1. Sangria
Sangria is a drink you might have heard a lot of, or not at all. If you haven't heard about it yet, it is something you have to try and make, and the authors over at AllRecipes have an easy and diverse recipe for you to try.
2. Kalimotxo
You may have never considered mixing wine with any mixer other than soda, but this drink is a blend of coca-cola and red wine and it totally works. Delish shows you just how easy it is to make this Spanish drink.
3. Clara con Limon
You've mixed spirits and soda, but have you ever considered mixing beer with a soda or mixer? The recipe by AGFG uses lemonade if you don't want it bubbly, or lemon soda if you want it with bubbles. It is considered a more feminine drink but loved by most who try it.
4. Tinto de Verano
The Spanish like to keep their drinks easy, and easier than this recipe by TheSpruceEats it can't get. It is a blend of red wine and lemon-lime soda, and the result is a delightfully refreshing drink enjoyed any time of day.
5. Sangria de Cava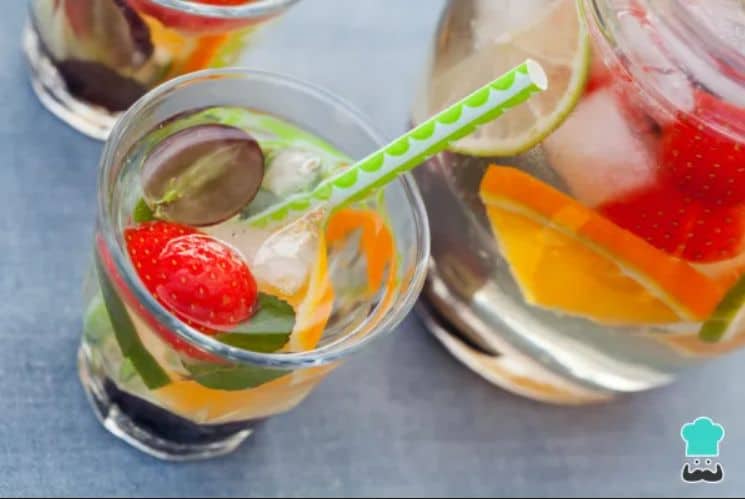 Cava is a Spanish sparkling wine, made only in Spain. TheFoodNetwork shows you how to make this easy drink which is a great replacement if you're not feeling like a mimosa. Try using real Cava if you can, else a local sparkling wine works well too.
6. Agua de Valencia
Agua de Valencia is a drink from the Valencia region in Spain and is similar to a mimosa, but just a bit stronger since some spirits are added to the sparkling wine and orange juice blend.
OhTheThingsWe'llMake has an easy-to-follow recipe for you to try next time you want to spice up your morning mimosa.
7. Rebujito
Sherry and lemon-lime soda are all that it takes to make this delicious cocktail. It is enjoyed all over Spain and every region has its own take on the drink. Difford's Guide shows you a great recipe to mix the two ingredients in the best way.
8. Queimada
Bring on the flames if you dare. This drink involves some flames and your drink that needs to be set alight. This is a show stopper at any party so be prepared to wow your guests.
TheSpruceEats shows you step by step how to make this drink and set it alight, just beware of the burn risk and enjoy.
9. Sidra House
Sidra is a cider that is made from pear or apple juice and can be used in a cocktail that calls for a cider, like the Sidra House from Liquor.com. It is a spicy drink best enjoyed in colder weather when you need to warm up.
10. Sketches of Spain
Spain is considered to be the home of vermouth, the main ingredient in this cocktail that has three Spanish liquors in it. Punch has a recipe that will tingle your tastebuds and make you feel like you are on a beach in Spain with every sip.
11. White Sangria
If classic Sangria made with red wine doesn't taste good to you, try white sangria. It is much lighter in taste than the classic recipe and you can use seasonal fruits available in your area to make it easier to make.
AMinimalistBaker shows you exactly how to make this sweet summer drink.
12. Asiatico
If you're feeling like you need a coffee and a drink at the same time, an Asiatico is your answer. The drink consists of espresso and Liquor 43 which mixes into a perfect symphony of flavors.
FullCoffeeRoast has a slightly modified recipe from the original that incorporates some modern ingredients.
13. Ratafia
Ratafia is a blend of fruits and brandy, and different restaurants have different recipes for their own take on the drink. LosAngelesTimes has a tangerine version of the recipe which is delightful in any season and time of day.
In fact, it is the preferred method of getting your serving of fruit in for most Ratafia-lovers out there. Make it with grapefruit if you can't find tangerines.
14. Zurrocapote
Proceed with caution with this drink, as it drinks as easily as Sangria but is much more potent than it might seem. It is another wine and lemon-lime soda blend but with aromatic ingredients that make it delightfully Spanish. Find the recipe over at NYTCooking.
Non-alcoholic Spanish Drinks
15. Horchata
You could go out and buy syrup to make horchata. But what would be fun about that? TheSpruceEats shows you how to make your own batch of authentic rice horchata.
Once you've tasted the real homemade version of the popular beverage, you will understand why everyone loves this drink. While the drink does require a few hours, it's worth every minute.
16. Blanco y Negro
The name of this drink means black and white because it resembles the coffee and vanilla ice cream it is made with. But it's not quite like the affogato which some confuse this recipe with.
Blanco y negro is made with 'meringued milk' and the difference is clear when you taste this drink. The Telegraph shows you how to make it at home.
17. Leche Merengada
This dessert is served in ice cream shops all over Spain and is a twist on a milkshake you know and love. It is made with egg whites and cinnamon which results in a dreamy feel-good drink people of all ages can enjoy. The recipe by TheSpruceEats uses only a handful of ingredients.
18. Hibiscus Lemonade
Delicious Obsessions has an easy-to-follow recipe for this very floral and refreshing drink the Spanish love. It might be difficult to get your hands on hibiscus flowers though. But if you have the chance, don't forget about making a batch of Hibiscus Lemonade. '
19. Watermelon Granizado
Granizado is a Spanish slushy or shaved ice dessert, which is usually found in an array of flavors. Food52 has a great recipe that elevates the normal lemon granizado usually found and incorporates some delicate flavors from elderberries and watermelon.
20. Virgin Sangria
If you need to make a sangria non-alcoholic for any reason, you have to have a recipe that still reminds you of the real thing, and SpanishSabores has one of the best virgin Sangria cocktail recipes out there.
How to Make a Sangria
Knowing how to make a Sangria is one of the best skills you can have, and it's easy too. Not only can you choose how much you want to make, but it is also great at any party.
Ingredients
(4 servings)
½ medium apple, cored but not peeled, chopped into cubes
½ medium orange, unpeeled, sliced
3 tablespoons sugar, white or brown. Add more if you need it sweeter
¾ cup orange juice
⅓ cup brandy
750ml dry red Spanish wine
1 cup ice to chill
Instructions
Step 1. Mix ingredients
Muddle the sugar, orange, and apple together in a large pitcher for a few seconds.
Step 2. Add in juice and liquor
Add orange juice and brandy to the muddled mix, and muddle again.
Step 3. Add wine and adjust to taste
Stir in the wine and adjust anything you'd like at this point.
Step 4. Chill and serve
Chill in the fridge if you aren't serving it immediately, or add the ice if you will be serving it right away.
Spanish Drinks FAQ
What Is the Most Popular Drink in Spain?
Sangria is the most popular drink in Spain. The beverage is a blend of fruits and spices steeped in white or red wine, and in some regions even Cava, a sparkling wine from Spain.
Since the drink is usually made in large quantities and is available at most restaurants, bars, and even parties, it is a beverage of choice in the country.
What Are Spanish Soft Drinks?
There are a few unique soft drinks in Spain in terms of flavors and brands. Some popular sodas in Spain include Kaz, a brand of orange soda made in Spain, as well as La Casera.
La Casera is a soda similar to 7 Up or Sprite, except it is not consumed as is. But rather the soda is mixed into drinks to lower the alcohol levels.
What Are the Top Spanish Drinks for Kids?
Horchata or Tiger Nut milk is a caffeine and alcohol-free drink enjoyed by adults and kids alike. Granidazo is another popular beverage among kids. It is a shaved-ice drink that comes in a variety of flavors with the most popular being lemon flavored.
Conclusion
With the beverage list above, you don't have to travel to Spain to enjoy a wide variety of Spanish drinks. You can simply make your own at home.
But if you do find yourself in Spain, don't miss the opportunity to drink some of the unique beverages the country has to offer. Whether it is an alcoholic drink at a bar or a Granizado at a street vendor, your tastebuds will thank you.