Chicken souvlaki is mixed with pasta and all the fixing of a good Greek salad!  This pasta salad will be the perfect side to any bbq, potluck or cookout.  It's also an amazing meal all on its own.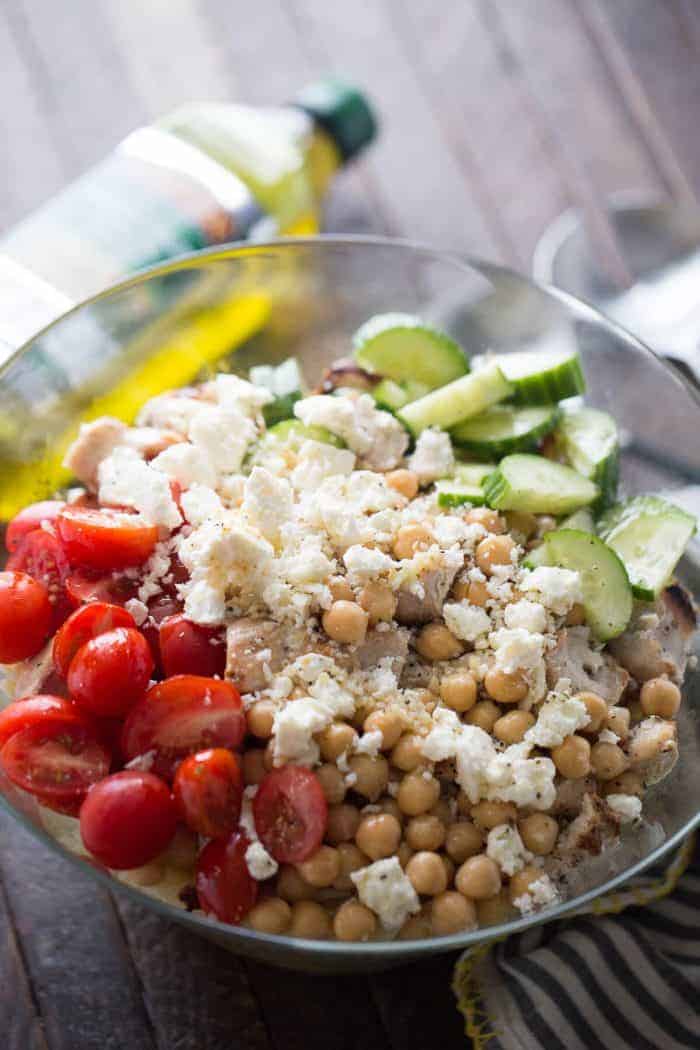 The local Greek church held it's annual "Panegyri" festival over the weekend.  This festival always draws a huge crowd, mostly because people know that the food is so good!  The women in the congregation start cooking and baking weeks in advance.  Everything is homemade, and everything is extraordinarily good.  From the gyro sandwiches, the pastitsio, the grape leaves and the baklava; everything is authentic and full of traditional Greek flavor.  No other festival boasts eats quite like this.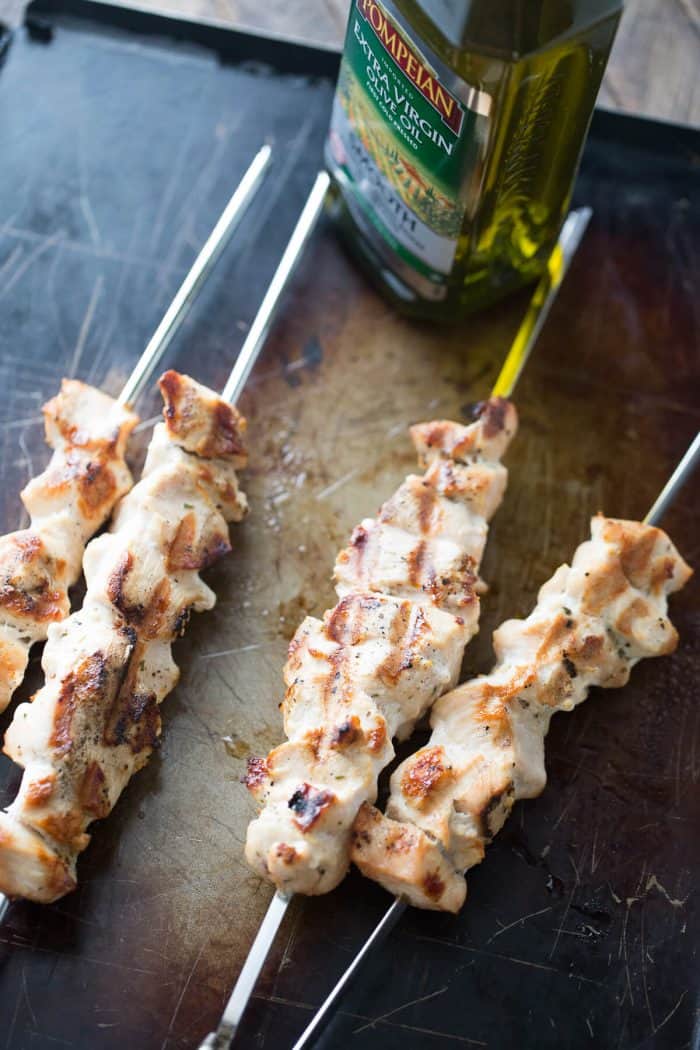 Despite my Greek heritage, my family and I do not attend the festival.  The church is far for one thing.  Second the festival is set up on a blacktopped parking lot.  Without fail, the festival seems to be held during the hottest weekend in June.  Finally, I can make my  own Greek food.  I have figured out how to make my a quick pastitsio and spanakopita.  I even have a super quick and easy take on baklava.  The best part is I can eat this all in my air-conditioned kitchen.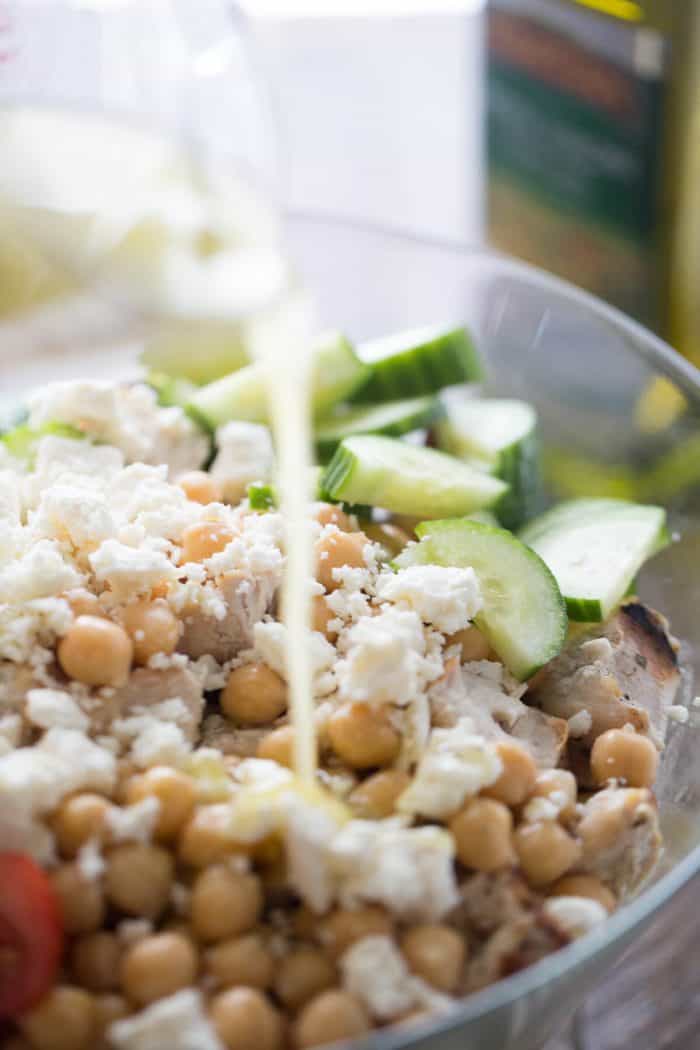 Chicken Souvlaki is always on the menu at the Greek festival.  I took my own chicken souvlaki recipe and adapted it to create a simple, flavor-packed, fresh tasting pasta salad.   For the souvlaki, I coated chicken with Greek herbs and Pompeian Smooth Extra Virgin Olive Oil, placed them on skewers and grilled them to perfection.  The seasoned grilled chicken is added to cooked pasta along with all the ingredients you would find in a  traditional Greek salad. A homemade dressing also made with Pompeian Olive Oil coats every savory piece. I use this olive oil because I love the delicate flavor profile, it is a perfect blend that enhances this light, Mediterranean dish.  The velvety olive oil enhances rather than overpowers each every herb, vegetable, and crumble of cheese.
Another festival has come and gone; good thing I can eat my favorite Greek foods all year long!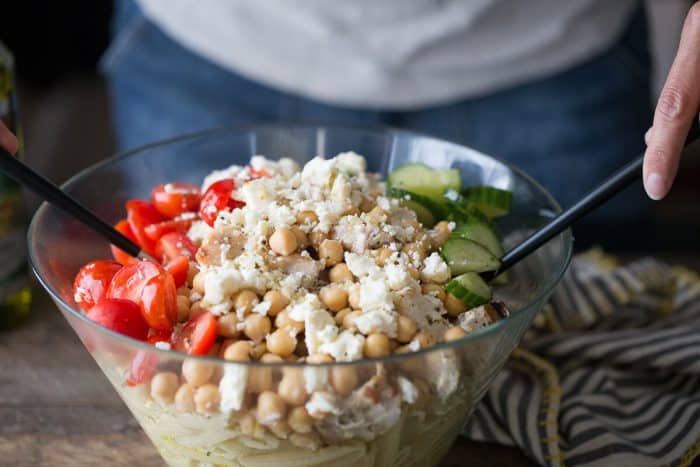 Chicken Souvlaki Pasta Salad
Ingredients
3/4

lb chicken breast

1

tablespoon Pompeian Smooth Olive Oil

1

clove garlic, minced

1/2

teaspoon dried oregano

1/2

teaspoon dried basil

the juice from half a lemon

1

lb penne pasta

1 14

oz can garbanzo beans

1

cup halved cherry tomatoes

1

cup sliced cucumbers

1/4

cup chopped kalamata olives

4

oz feta cheese, crumbled

1/3

cup Pompeian Smooth Olive Oil

3

tablespoons vinegar

1/4

teaspoon salt (or to taste)

1/2

teaspoon dried oregano

1/2

teaspoon dried basil
Instructions
Prepare an outdoor grill over medium heat. Spray grates with non-stick spray.
Cube the chicken breast into bite-sized pieces. Toss chicken with olive oil, garlic, herbs and lemon. Thread chicken onto skewers (soak wooden skewers for 30 minutes prior to using.) Grill chicken for 6-8 minutes per side, or until fully cooked.
Prepare pasta according to package directions. Rinse pasta under cold water.
Remove chicken from skewers and toss with pasta, tomato halves, cucumbers, olives and feta cheese.
Whisk together the olive oil, vinegar, herbs and salt. Pour dressing over pasta salad; tossing to coat.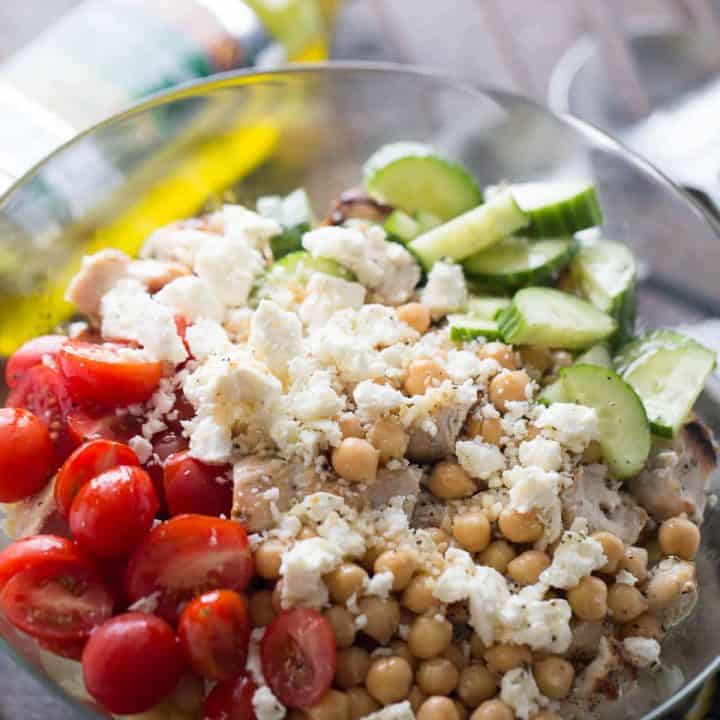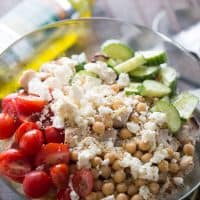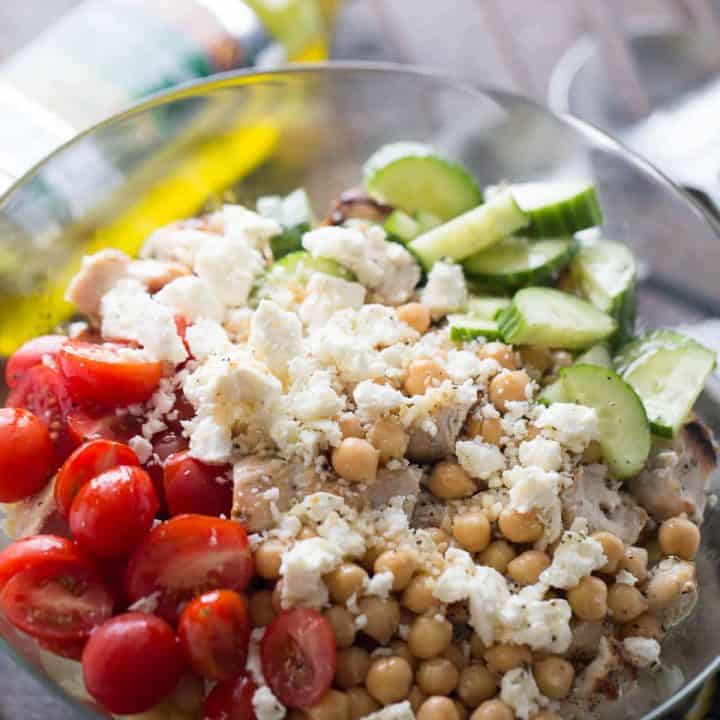 Disclosure: I received compensation from Pompeian Olive Oil for recipe development purposes. All opinions are my own. For more Pompeian recipes, click here.