Spanakopita recipe, made the modern way!
This version still has the buttery, flaky fillo with a cheese and spinach filling, but it takes a fraction of the time to prepare.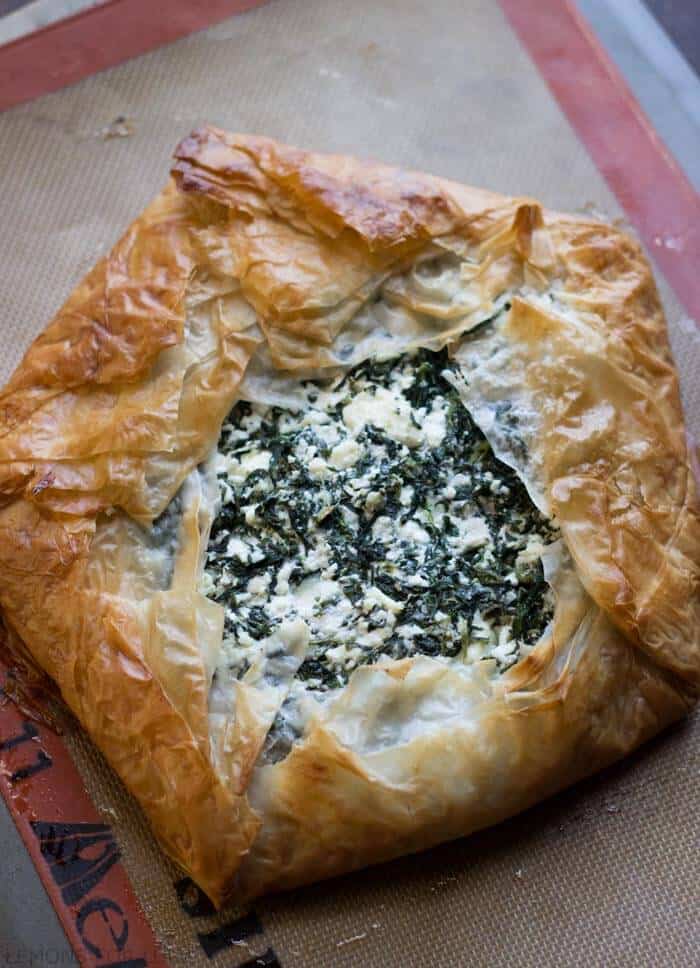 I grew up in a household without a bread basket on the dinner table. Instead, we had mom's spanakopita recipe. As a young kid, I had no choice but to like spinach. My mom would painstakingly make super thin layers of dough for her spanakopita or "pita" as we call it. The entire process would take a good portion of the day with the mixing, the rising, the resting and the rolling. In our house, store bought fillo dough was only used on special occasions.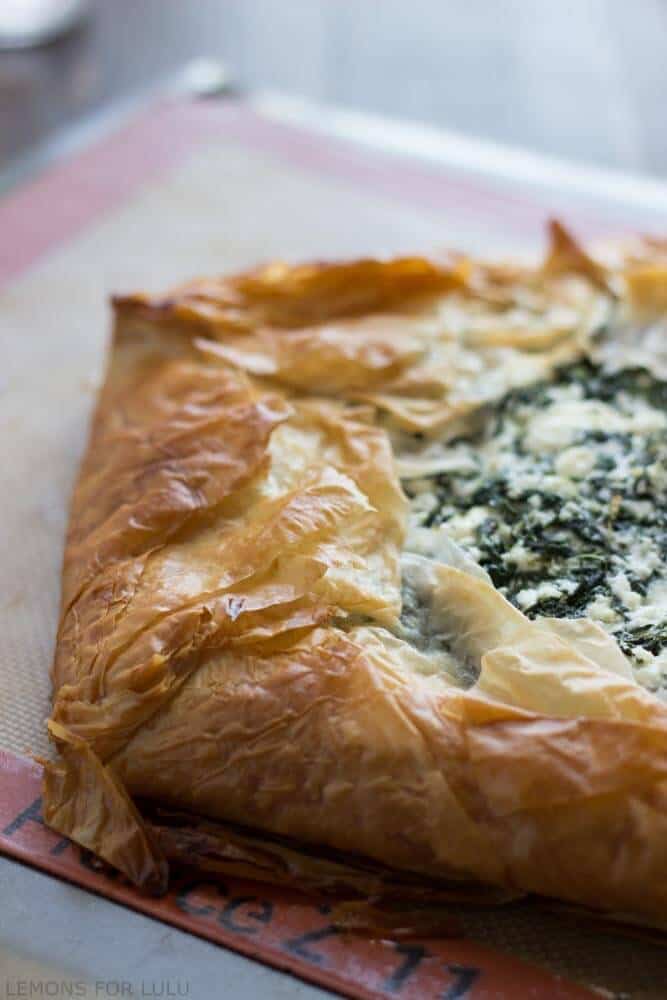 WHERE IS THE SPANAKOPITA RECIPE?
If you'd rather skip cooking tips, suggestions, handy substitutions, related recipe ideas – and get straight to the Spanakopita Recipe– simply scroll to the bottom of the page where you can find the printable recipe card.
What Is Spanakopita Recipe?
Spanakopita's English translation is "spinach pie". Spanakopita recipe is made with fillo dough (a specialty, paper-thin dough that is typically found in the freezer section of your supermarket. The fillo dough is heavily brushed with butter and layered with a spinach, cottage cheese, and feta cheese mixture. It is labor intensive and quite time-consuming. This recipe is none of those. This is my quick and easy version of the Greek classic!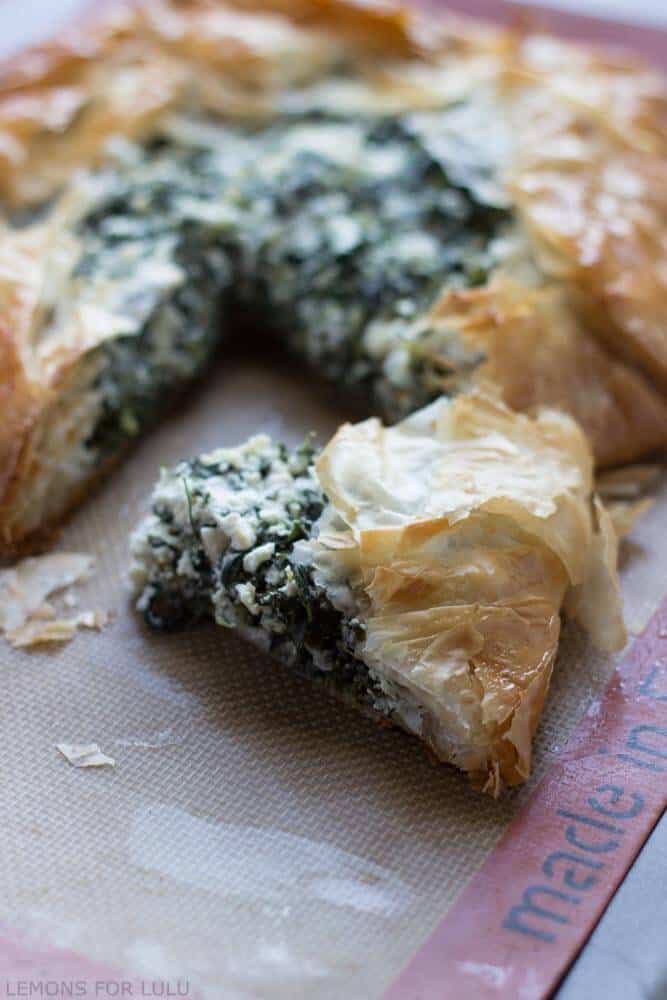 How To Make This Quick Easy Spanakopita Recipe
As mentioned above, this recipe uses and starts with fillo dough. Fillo dough is velum thin dough that tears easily. When buttered and baked it yields the flakiest pastries ever. Arrange your dough on a baking mat. Work quickly with fillo (it will dry out, so always keep it covered with a damp cloth) be gentle, but most of all, be sure to use lots of butter. You will use two sheets of dough at a time and butter them excessively. Rotate each pair of fillo in a clock wise manner until all sheets of dough have been used up. Place your spinach filling in the center, fold over the fillo dough as if you were making a tart and voila! This spinach pie takes less than 30 minutes to bake.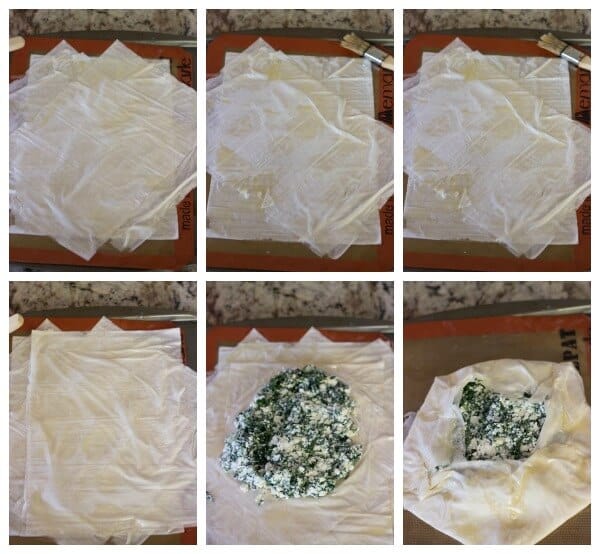 Helpful Tips
I like to keep my fillo dough on a silicon mat next to me while I work. I loosely cover it with plastic wrap and a damp towel. This keeps the dough from drying out.
Work quickly, even the buttered dough can dry out!
For the filling, I use frozen spinach but fresh can be used as long as it has been cooked down and wilted. If using frozen, be sure to drain it completely or else you will end up with a soggy pie
Ricotta cheese can be used in place of the cottage cheese in this recipe.
Serve this spanakopita as an appetizer, side dish or AS the meal. It pairs wonderfully with Avgolemono Soup or this Greek Chicken Souvlaki Salad!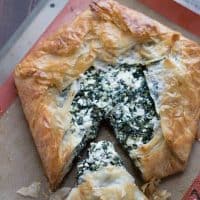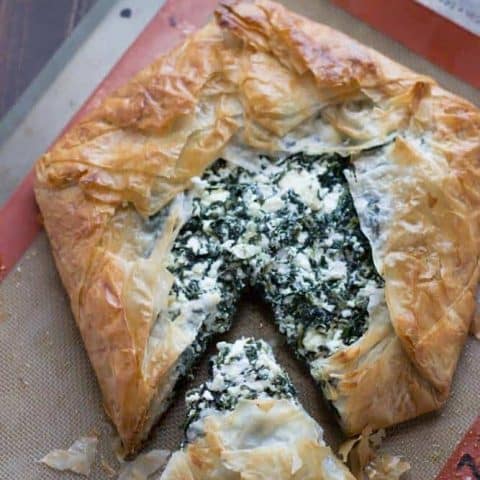 Quick & Easy Spanakopita Recipe
Spanakopita recipe, made the modern way! This version still has the buttery, flaky filo with a cheese and spinach filling, but it takes a fraction of the time to prepare.
Ingredients
1/2 a 16 oz package of frozen Fillo Dough
1/4 cup melted butter
1 teaspoon olive oil
1/2 cup diced onion
1 10 oz package frozen spinach thawed and drained
1 clove garlic
4 oz crumbled feta cheese
1/2 cup cottage cheese
1 teaspoon greek seasoning
1/8 teaspoon nutmeg
1/4 teaspoon salt.
1/4 cup butter, melted
Instructions
Preheat oven to 400. Line a baking sheet with parchment paper and set aside.
Heat oil in a large skillet. Add diced onion and cook until translucent. Add spinach and cook until heated through. Remove and let cool slightly.
In a bowl combine spinach mixture, garlic, cottage cheese, feta, seasoning, nutmeg and salt.
To assemble, lay two fillo sheets vertically on a baking sheet. Brush with melted butter. Take two more fillo sheets and turn them so that they are at the 11:00 and 5:00 positions. Continue to arrange fillo sheets in a clockwork fashion. Butter the tops of each new pair of fillo dough as you go. When all sheets have been used, place spinach mixture in the center and spread out into a circle. Carefully fold fillo over the edge of the spinach mixture allowing a majority of the center to be visible. Butter the edges. Bake for 25-30 or until edges are golden and center is set.
Nutrition Information
Yield

12
Serving Size

1
Amount Per Serving
Calories

231
Total Fat

13g
Saturated Fat

7g
Trans Fat

0g
Unsaturated Fat

5g
Cholesterol

30mg
Sodium

557mg
Carbohydrates

23g
Fiber

2g
Sugar

1g
Protein

6g