This rich and hearty Ragu sauce is total comfort food! Sausage and beef are simmered together with seasoning and beef broth then tossed with hot, cooked spaghetti for an upscale version of spaghetti and meat sauce!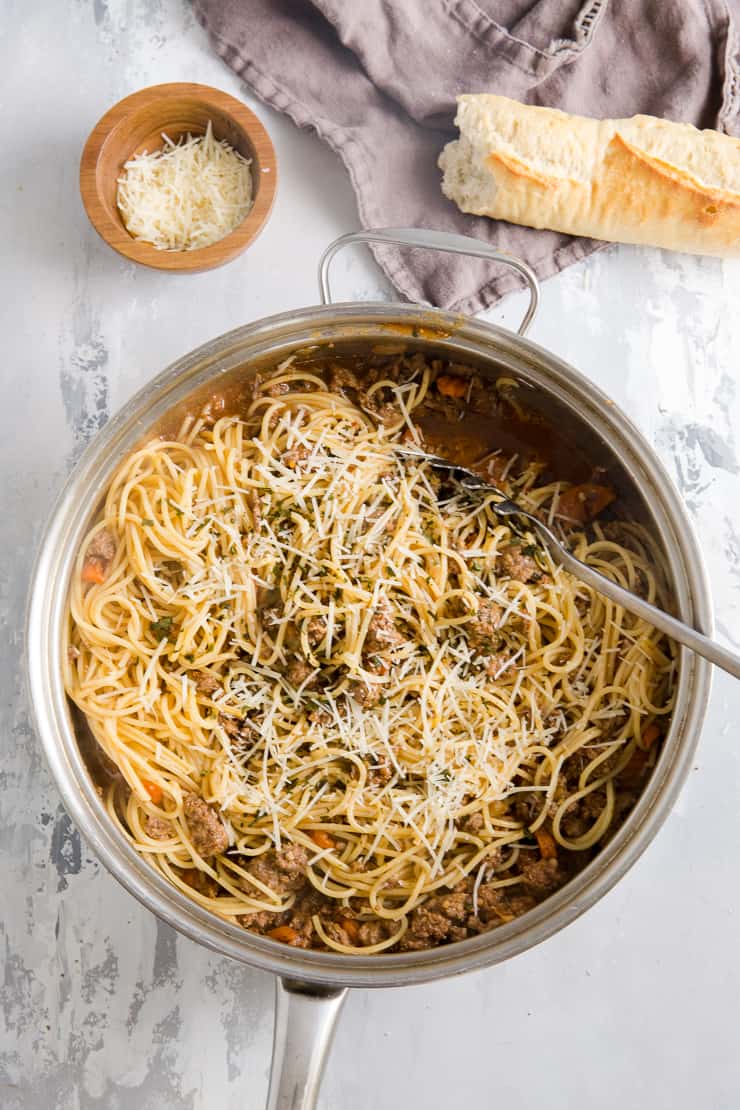 You can have a wonderful homemade Ragu sauce prepared in 20 minutes and then set to simmer for a while longer. The recipe is very simple which makes it perfect for a weeknight dinner, but the layered flavors in this sauce will make it feel like you spent hours painstakingly cooking it to perfection.
You're going to be happy to know that making your own Ragu pasta sauce is about as easy as opening a jar, and tastes WAY better! This sauce is easy and versatile, which is the best kind of comfort cooking! Once you know how to make homemade pasta sauce, you'll never go back to storebought again.
What is Ragu sauce?
Contrary to what the pasta sauce aisle tells you, Ragu is not a tomato sauce! Traditionally, Ragu sauce is a meat-based sauce made up of beef, lamb, pork, or chicken. It uses broth with a hint of tomatoes, a little red wine, and is often cooked with veggies like celery and carrots.
Ingredients you'll need for ragu sauce
Olive Oil
A frozen mix of onions, bell peppers, and celery
Carrots
Garlic
Ground Beef
Italian Sausage
Balsamic Vinegar
Dried Basil
Dried Oregano
Kosher Salt
Black Pepper
Crushed Red Pepper Flakes
Tomato Paste
Beef Broth
Spaghetti
For specific quantities, please see the recipe card below.
How to Make Ragu Sauce
Place a deep skillet or Dutch oven over medium heat and add in your olive oil.
Add in the vegetables and cook until the veggies begin to soften. Add in the finely chopped garlic and cook again for one additional minute.
Add in your ground meat and Italian sausage. Cook until no longer pink, making sure to crumble the meat together as it cooks.
Stir in the tomato paste and balsamic vinegar or add wine. Season the mixture with your seasonings and add in the salt and pepper as well.
Pour in the beef broth and bring the mixture to a boil, stirring occasionally.
Reduce the heat and cook for another 30 minutes.
Toss together with your cooked spaghetti and serve warm.
Garnish with parmesan cheese if desired.
Substitutions
Meats sauces: I used a combination of Italian sausage and lean ground beef for this recipe. Feel free to substitute or stick with all ground beef; also try ground pork, veal, or turkey. I love the saltiness and spice that the Italian sausage lends to the sauce.
Wine: I LOVE adding balsamic vinegar to my sauces. It is an easy way to deepen the flavor of any dish. You can add a little red wine instead. I rarely have a bottle of red open to use, but you can definitely use some if you do!
Beef broth. While beef broth will add a lot of great flavor to this sauce, you can use chicken stock, water, or vegetable broth in a pinch.
Recipe Tips
Want stronger flavor? Cook it longer. This sauce really needs about 30 minutes to come together. However, you can start this sauce early in the day and let it simmer on low. The longer it sits, the more the flavors come together.
If you don't mind prepping and cooking a little longer you can use fresh diced onions, bell peppers, and celery. You'll need about 1 stalk of celery and half a small onion and bell pepper to measure out to the one cup needed. The cooking time should only increase by about a minute or two until softened.
FAQs
What is the difference between Bolognese sauce and Ragu?
A bolognese sauce is a type of Ragu that varies only slightly from Ragu. Bolognese sauce is served with wider shaped pasta whereas Ragu is served with spaghetti noodles. So really you can call this pasta sauce recipe whatever you want depending on how you feel or what you serve it with. I prefer to simply call it pasta sauce because it's just vague enough to describe it and it's always technically correct.
Can You Freeze Ragu Sauce?
Yes! This sauce will freeze really well! Prepare the sauce recipe as directed (do not combine the sauce with the pasta). Allow the sauce to cool completely. Pour the sauce into a gallon-sized ziptop bag and squeeze out as much air as possible. Store the sauce in the freezer for up the three months.
What to serve with ragu sauce
This sauce would be great on any cooked pasta from spaghetti to elbow noodles and penne. Serve it up as a homemade spaghetti and pasta sauce dinner or use it as a base sauce for Italian flavored soups, casseroles, and more. This sauce tastes great over pasta with a side of green veggies like salad or green beans for delicious italian cuisine.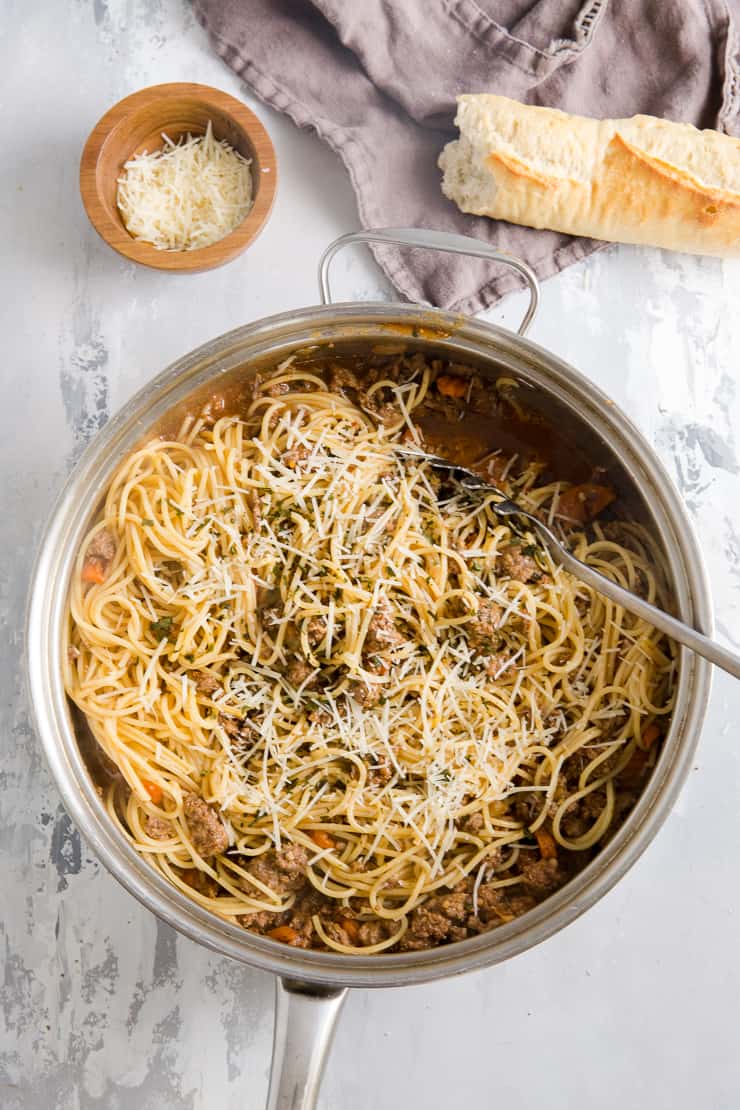 This rich and hearty ragu sauce is total comfort food!  Sausage and beef are simmered together with seasoning and beef broth then tossed with hot, cooked spaghetti for an upscale version of spaghetti and meat sauce!
Ingredients
1 tablespoon olive oil
1 cup chopped frozen onions, peppers, celery mix
½ cup diced carrots
2 cloves minced garlic
1 lb ground beef
1 lb ground Italian sausage
¼ cup balsamic vinegar
1 teaspoon dried basil
1 teaspoon dried oregano
1 teaspoon salt
½ teaspoon pepper
½ teaspoon crushed red pepper flakes
3 tablespoons tomato paste
3 cups beef broth
1 lb spaghetti
Instructions
Place a deep skillet or a Dutch oven over medium heat, add olive oil.
Add vegetables to the hot oil, cook until veggies begin to soften; add garlic, and cook an additional minute.
Add ground beef and bulk Italian sausage to the same pan and cook until no longer pink, crumbling the meat mixture as it cooks.
Stir in tomato paste and balsamic vinegar. Season mixture with seasoning and season with salt and pepper.
Pour beef broth over the mixture and bring to a boil. Reduce heat and cook the ragu for about 30 minutes.
Toss the ragu with al dente spaghetti.
Nutrition Information
Yield
6
Serving Size
1
Amount Per Serving
Calories

654
Total Fat

37g
Saturated Fat

13g
Trans Fat

1g
Unsaturated Fat

24g
Cholesterol

110mg
Sodium

1455mg
Carbohydrates

37g
Fiber

3g
Sugar

8g
Protein

42g
Italian Turkey Sausage and lean ground turkey are the main ingredients in this simple slow cooker meaty marinara!
Skip the jarred stuff, a homemade marinara sauce is the way to go!This simple sauce has many uses and it's incredibly simple to make!
Rigatoni and meatballs are nestled in a flavorful vodka cream sauce! This homestyle meal has old-world charm but is made with modern flair!