Italian Turkey Sausage and lean ground turkey are the main ingredients in this simple slow cooker meaty marinara!
Nothing beats an easy dinner that's ready when you need it!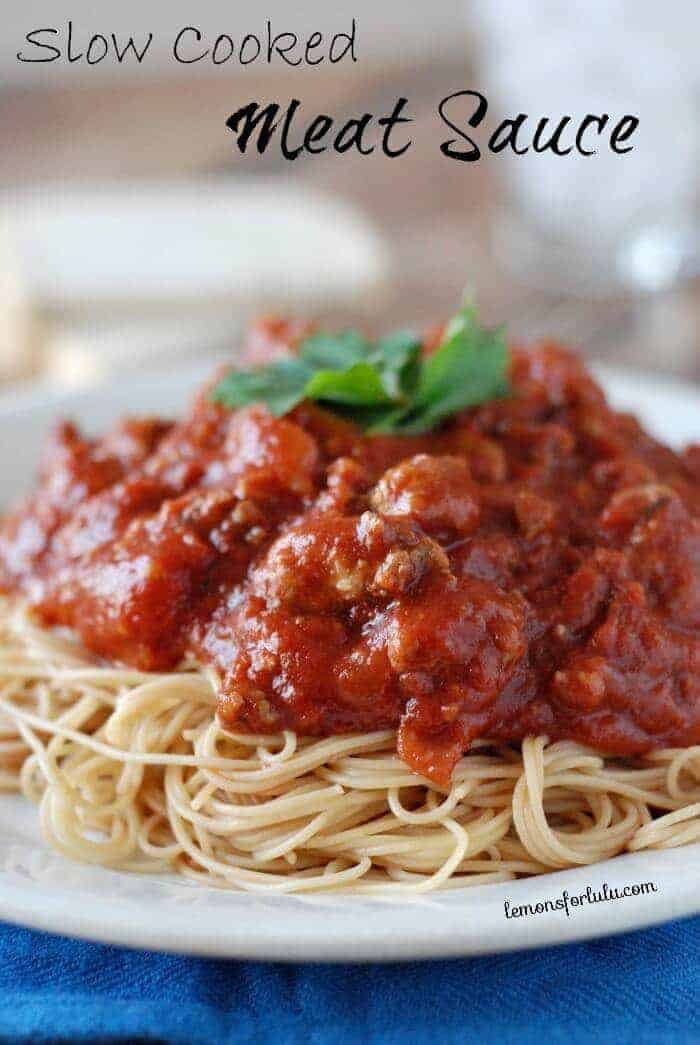 There was a time that I loved to run. I think that time was between the ages of 5 and 10. During that time I ran everywhere! I ran to my friends house, then I ran home. I ran to school and I ran during recess. I ran up the stairs and I ran down the stairs. I ran playing tag and I ran playing chase. I ran and ran and ran and never seemed to tire or get winded. By the time I got to high school, not only did I hate running, but I found it difficult to do. It only got worse with age. Today, the only running I do consistently is to "run errands".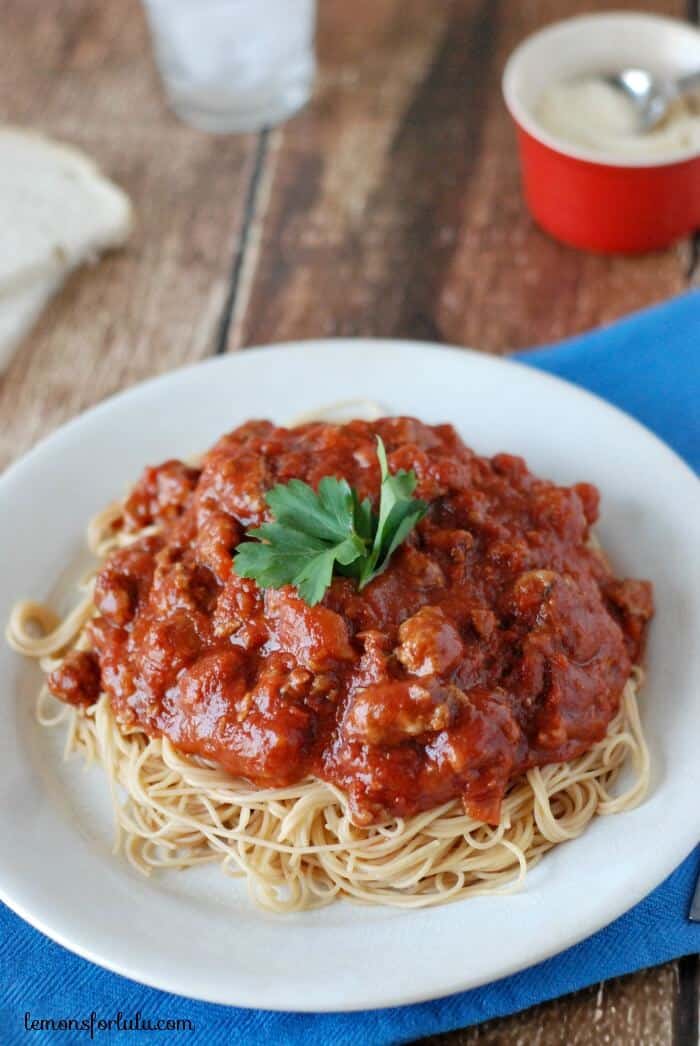 Running seems like the most natural thing to do. After all, it requires no special equipment and it can be done anywhere. Yet, for some of us it feels like the most unnatural thing possible. Giving birth (3 times) is by far an easier task for me than running a mile!! How did this happen? Am I just out of practice? Old lungs? I want to run, I really do. I recently uploaded an app that is supposed to get me to run a 5k in 8 weeks! Sounds easy doesn't it? I'm not actually going to run a 5k (that would be crazy). I just want to experience that exhilarating freedom that comes from running as fast as you can. I want to feel my heart pounding and hear my feet against the pavement. Yes, that's exactly what I want.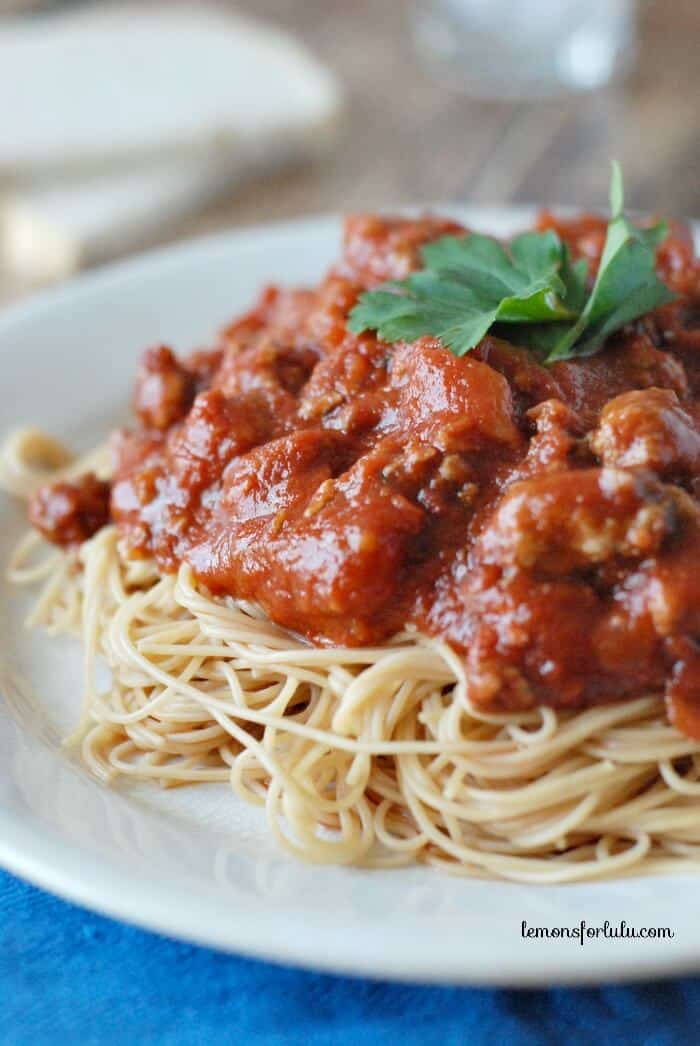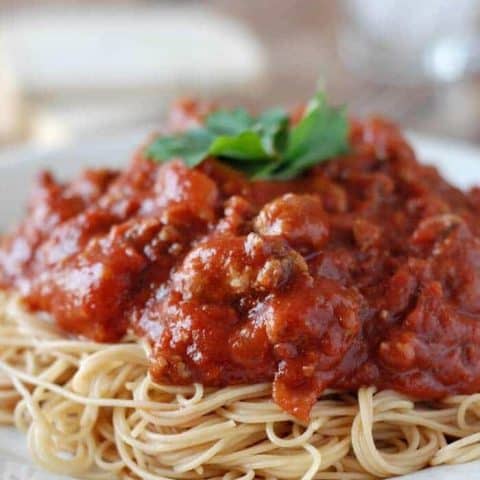 No-Fuss Meaty Marinara
Cook Time:
3 hours
30 minutes
Total Time:
3 hours
45 minutes
Italian Turkey Sausage and lean ground turkey are the main ingredients in this simple slow cooker meaty marinara!
Ingredients
2 tablespoons olive oil
1 small onion, diced
3 cloves garlic, minced
1 lb ground turkey
1 lb Italian turkey sausage
1 teaspoon basil
1 teaspoon oregano
1/2 teaspoon ground thyme
1/2 teaspoon salt
1 28 oz can tomato sauce
1 28 oz can crushed tomatoes
1 6 oz can tomato paste
1 tablespoon balsamic vinegar
1 tablespoon sugar
Instructions
In a large skillet over medium heat olive oil. Add onions and garlic and cook for about 4 minutes or until onions have softened. Remove to slow cooker. In same skillet, heat ground turkey and turkey sausage. Stir in basil, oregano, thyme and salt. Cook until turkey is crumbled and no longer pink. Add meat to onions in slow cooker. To the slow cooker, add canned ingredients, vinegar and sugar. Stir. Heat on high for 3 1/2 hours.
Nutrition Information
Yield

12
Serving Size

1
Amount Per Serving
Calories

250
Total Fat

13g
Saturated Fat

3g
Trans Fat

0g
Unsaturated Fat

8g
Cholesterol

75mg
Sodium

842mg
Carbohydrates

13g
Fiber

3g
Sugar

9g
Protein

21g
While I'm not doing marathons just yet, I can eat dinner like I am right? Since pasta is the meal for us runners, I came up with this flavorful, meat-filled marinara. Nothing is more comforting and satisfying than a big, steaming bowl of pasta smothered in an aromatic tomato sauce! This meaty marinara is filled with Italian turkey sausage, ground turkey (keeping it on the light side), garlic and herbs! Aside from the taste, the best thing about this sauce is how easy it is! Brown your meat and toss everything in your slow cooker! Dinner is ready and waiting when you need it!
LOTSA PASTA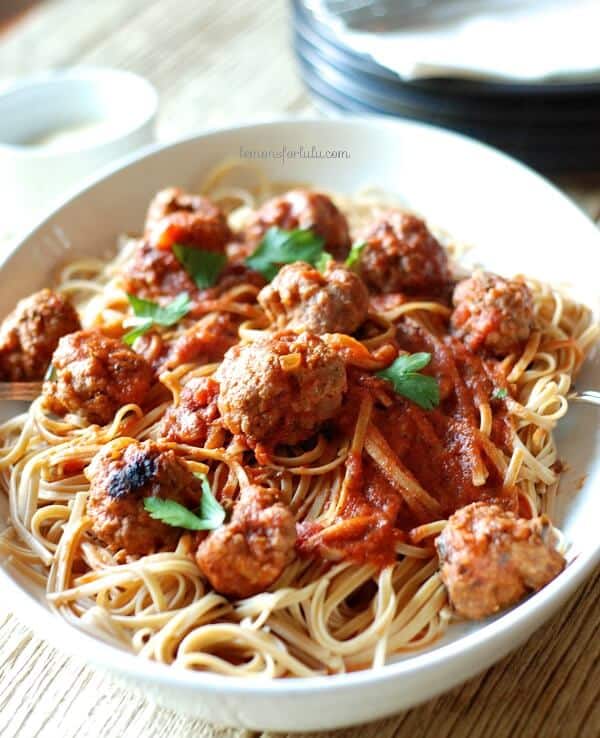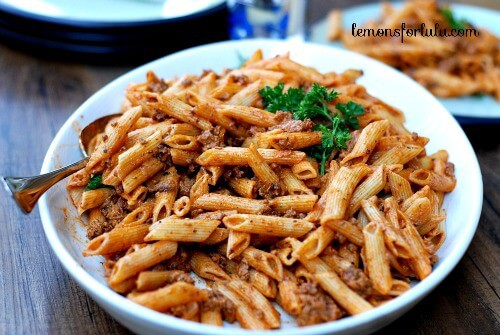 NEVER MISS A RECIPE! SUBSCRIBE TO MY EMAIL TODAY!
FOLLOW ME:
FACEBOOK | TWITTER| GOOGLE +| BLOGLOVIN | INSTAGRAM