This easy crockpot pot roast is hearty and delicious!
It's the perfect belly-warming food for those chilly nights!
It occurred to me recently that I had been imparting my food tastes upon my children. If I don't like a particular food, I assume my kids don't either. Shame on me, I've been sorely mistaken.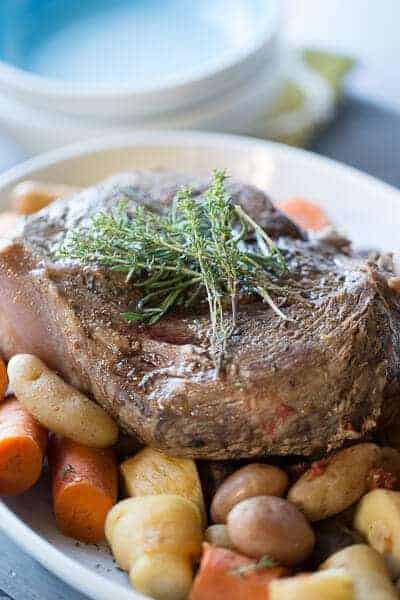 I served the kids their first Brussels sprouts two years ago. Two years ago! I always thought I hated Brussels sprouts until I made them myself. Not only did I fall in love with them, but the kids did too! I was shocked. How could they like Brussels sprouts if I grew up despising them? It hit me: it isn't what I was serving, it's how I was serving them. Brussels sprouts were always good; it was just the way my mom prepared them that I didn't like! This revelation changed everything.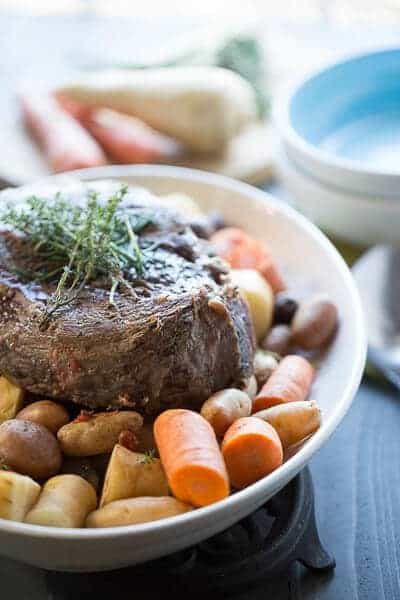 This pot roast was another recipe revival. My mom's pot roast was always bland and chewy. I assumed all pot roasts were like this. Then I made this recipe. I love it; the family loves it, and I'm going to wager that you will love it too!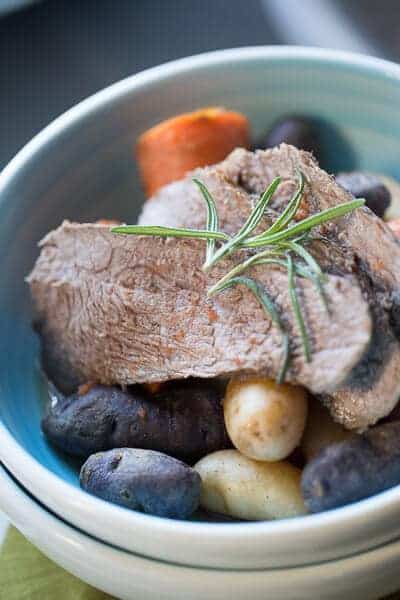 This crockpot pot roast starts with lightly browned chuck roast that rests on a bed of fingerling potatoes, parsnips, and carrots. Crushed tomatoes, beef broth, and seasoning, will help flavor the meat and the vegetables. The result is a robust tasting pot roast with fork-tender vegetables and savory beef. If you like this, then you should try my Guinness Slow Cooker Shortribs Recipe!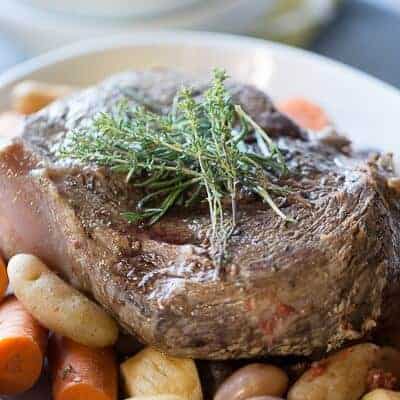 Easy Crockpot Pot Roast
Total Time:
6 hours
20 minutes
Crockpot pot roast set over fingerling potatoes, carrots and parsnips!
Ingredients
1 teaspoon olive oil
salt and pepper
1 3 lb chuck roast
1 1/2 lb fingerling potatoes
2 parsnips
3 carrots
2 cloves garlic
1 cup crushed tomatoes
2 cups beef broth
1 tablespoon Worcestershire sauce
1 tablespoon balsamic vinegar
1 sprig fresh rosemary
a handful of fresh thyme
Instructions
Heat a cast iron skillet over medium-high heat. Season beef with salt and pepper and place in the hot skillet. Brown the meat for about 5-6 minutes per side.
Place potatoes in the bottom of the crockpot. Cut parsnips and carrots into equal size chunks and add them to the potatoes. Place beef over vegetables.
In a bowl, combine tomatoes, broth, garlic, Worcestershire sauce and vinegar. Pour over beef. Toss in fresh herbs and cover.
Cook beef on low for 6-8 hours or until vegetables are tender.
Nutrition Information
Yield

8
Serving Size

1
Amount Per Serving
Calories

530
Total Fat

27g
Saturated Fat

11g
Trans Fat

2g
Unsaturated Fat

14g
Cholesterol

141mg
Sodium

484mg
Carbohydrates

28g
Fiber

5g
Sugar

4g
Protein

46g
More Crocktober Recipes:
Slow Cooker 4-Ingredient Shredded Beef Tacos by A Cedar Spoon
Bloody Mary Pot Roast by Jelly Toast
Slow Cooker Beef and Guinness Pot Pie Soup with Thyme Puff Pastry Croutons
Slow Cooker Honey Sesame Beef by NeighborFood
Slow Cooker Swiss Steak by Tastes of Lizzy T's