This spice cake roll has classic spices folded into a tender cake roll batter.  The filling is a sweet maple buttercream that could be called dessert all on its own!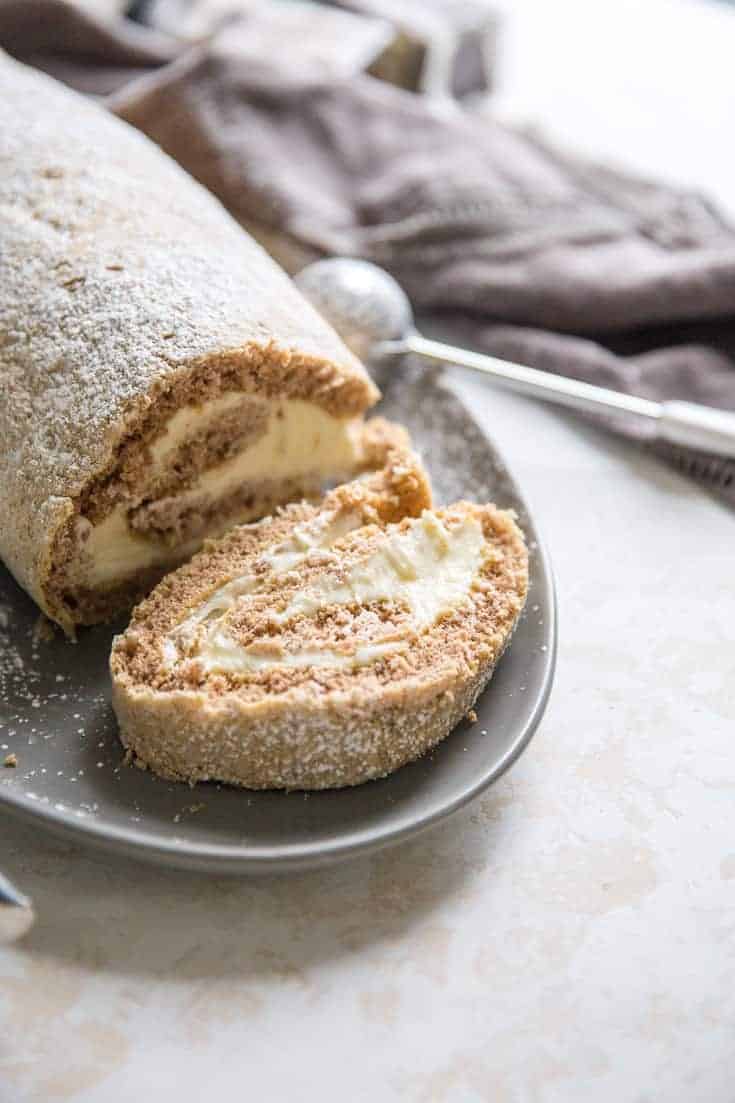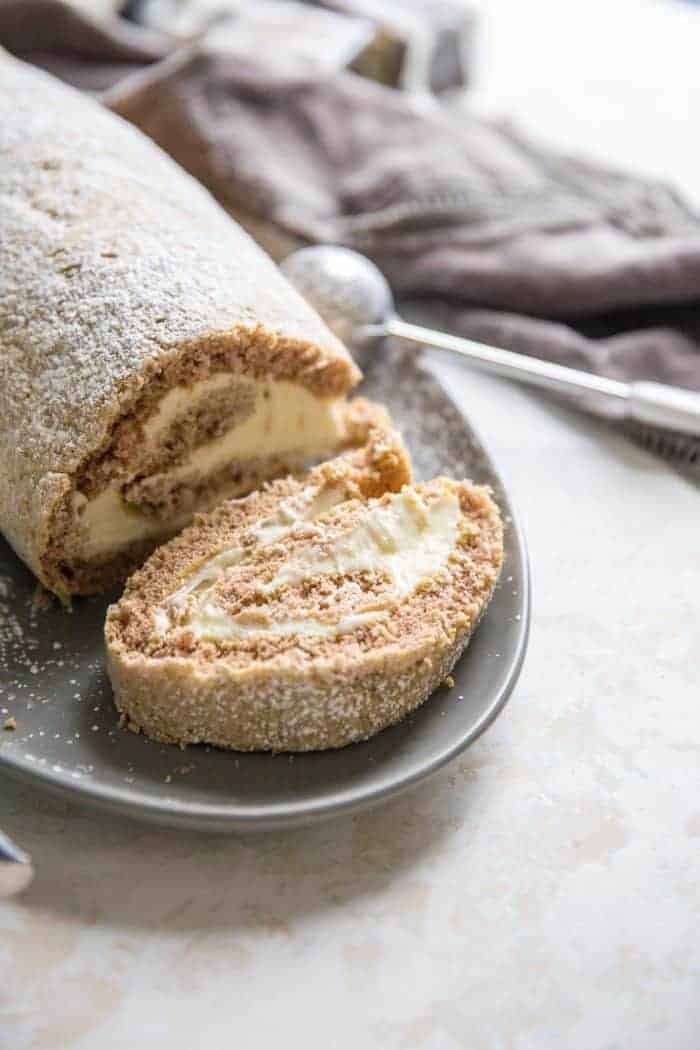 I'm proud to have partnered with Kroger to bring you this recipe.
What is Spice Cake Roll?
This cake takes a classic cake roll and infuses it with warm spices like ginger, cinnamon, cloves, and nutmeg; all the spices that are synonymous with the holidays.  The quantity of each spice can be adjusted to suit your tastes.  Some people like a spice cake that really delivers a kick, while others prefer the spices to be in the somewhere in the background.  I fall into the latter category.  This recipe can handle more of the spice flavor, but taste as you go and do it judiciously.  I used all Kroger Private Selection Label Spices for this recipe.  I find that Private Selections spices are robust and pure and have the added bonus of being economical.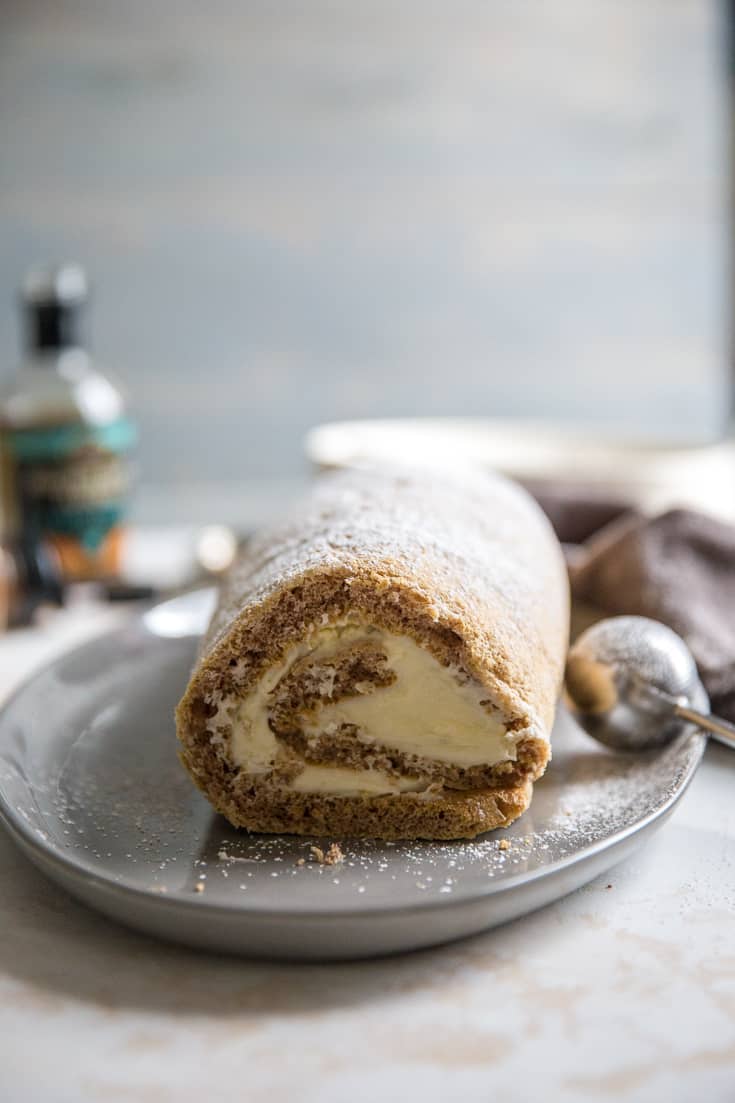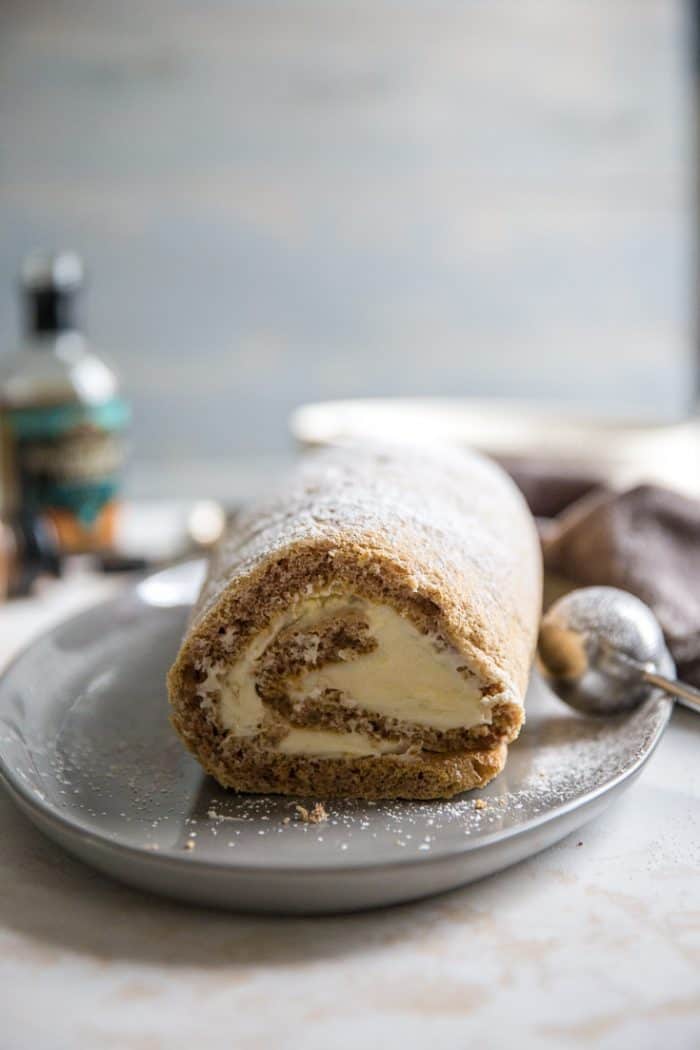 What Icing Goes With Spice Cake?
Much like a pumpkin roll, the frosting most often paired with spice cake is a cream cheese frosting. Spice cakes tend to be a little denser and can handle a sturdy cream cheese frosting.  Since this is a cake roll, the cake itself is thinner and lighter, which is why I wanted to fill this spice cake roll with a lusciously smooth and creamy buttercream.  Now it's not a plain buttercream, of course, I flavored this frosting with Private Selection Bourbon Barreled Maple Syrup.  The maple syrup has the same warm flavor as the spice cake which makes the whole darn thing work so well together!  The syrup flavor is unusual and bold, it distinguishes itself from other maple syrups.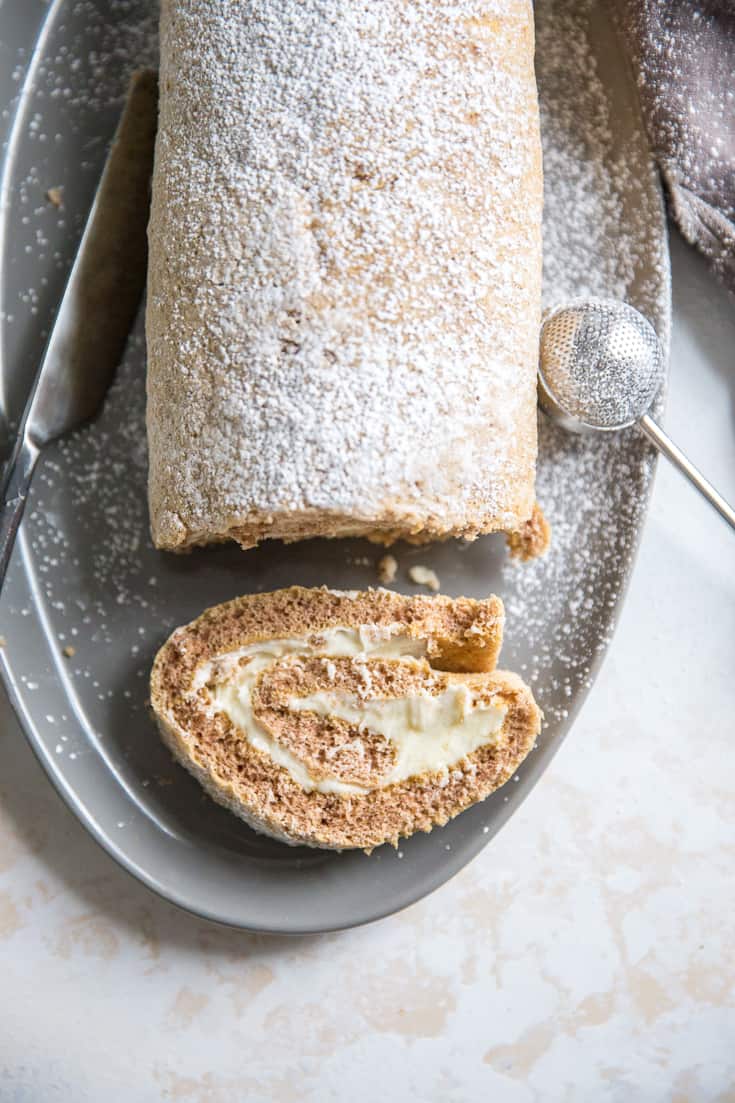 Spice Cake Do's And Dont's
DO spray your jelly roll pan with parchment paper and then spray your paper with non-stick spray before adding the batter.
DON'T overbeat your egg whites; otherwise, the cake will not be light and fluffy.
DO remove the cake from the pan as soon as it comes out of the oven, flip the cake onto a powdered sugar covered kitchen towel and carefully remove the parchment paper.
DO roll your cake in a powdered sugar covered towel immediately to prevent cracking.  Allow your cake to cool completely before filling.
DO use salted butter for your buttercream, the salt balances out the sweetness from the sugar and maple syrup.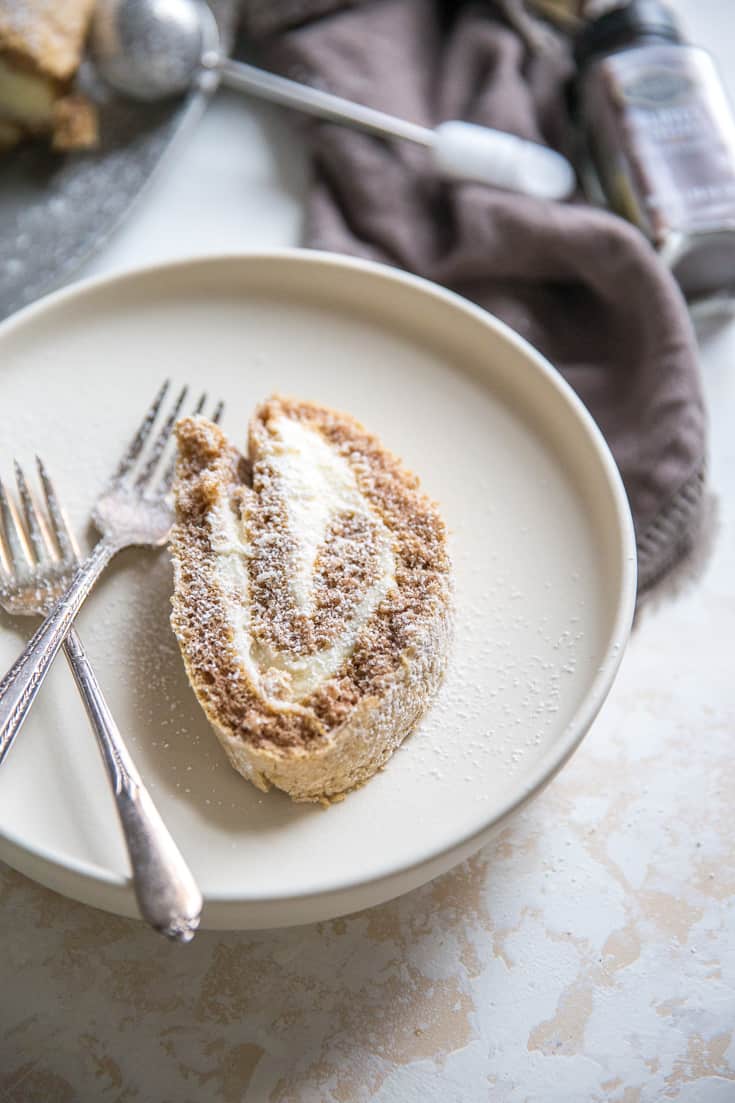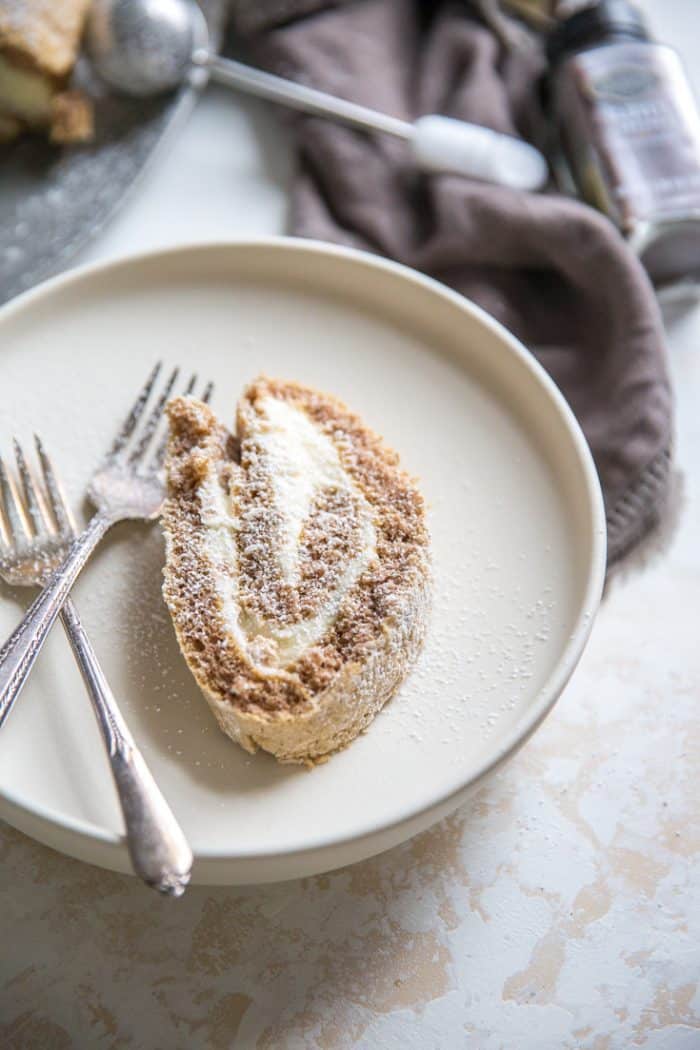 Ready for more fall cakes?  Try the BEST Pumpkin Roll Recipe, Apple Rum Cake, Homemade Carrot Cake,  Brown Sugar Apple Bundt Cake!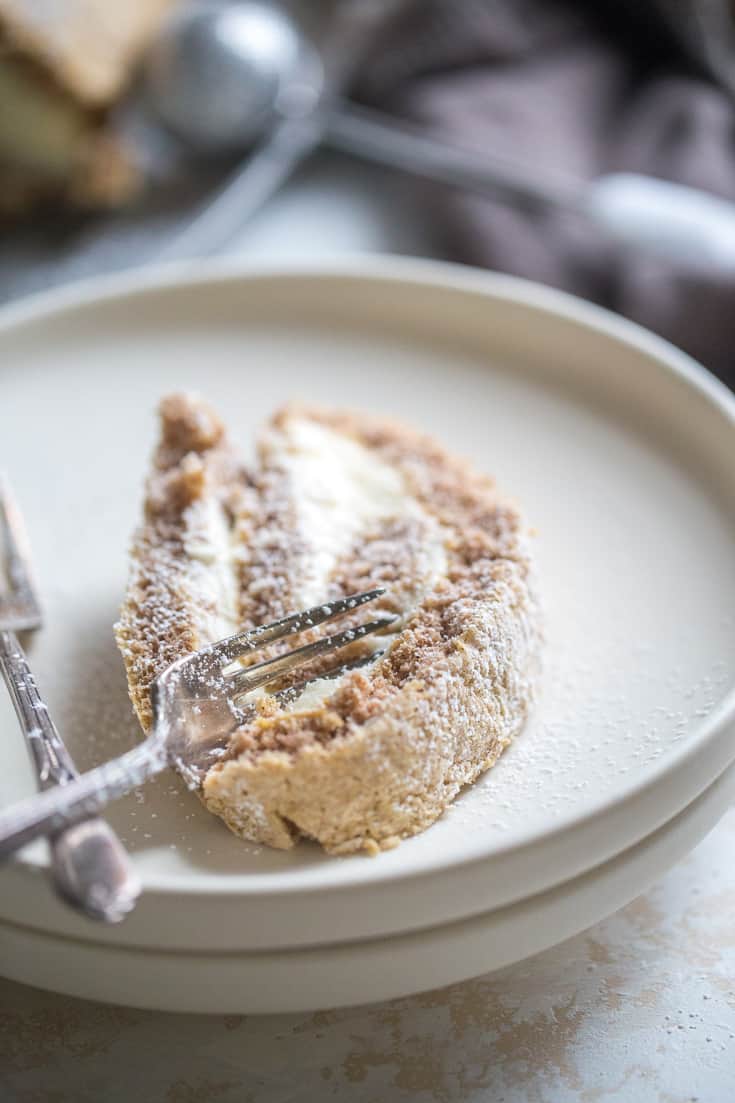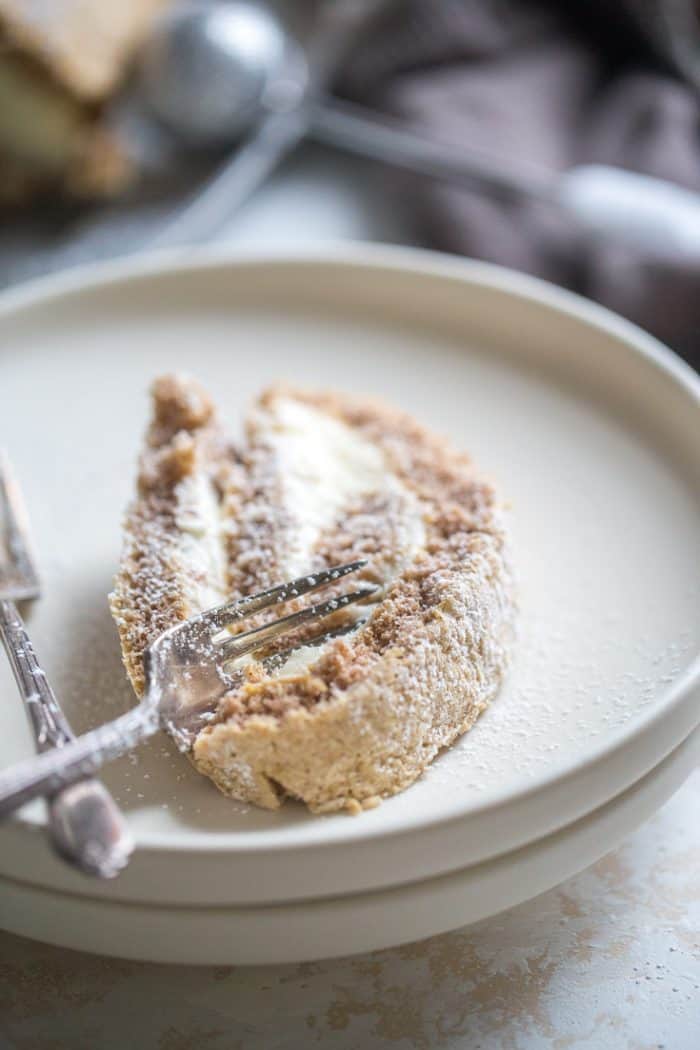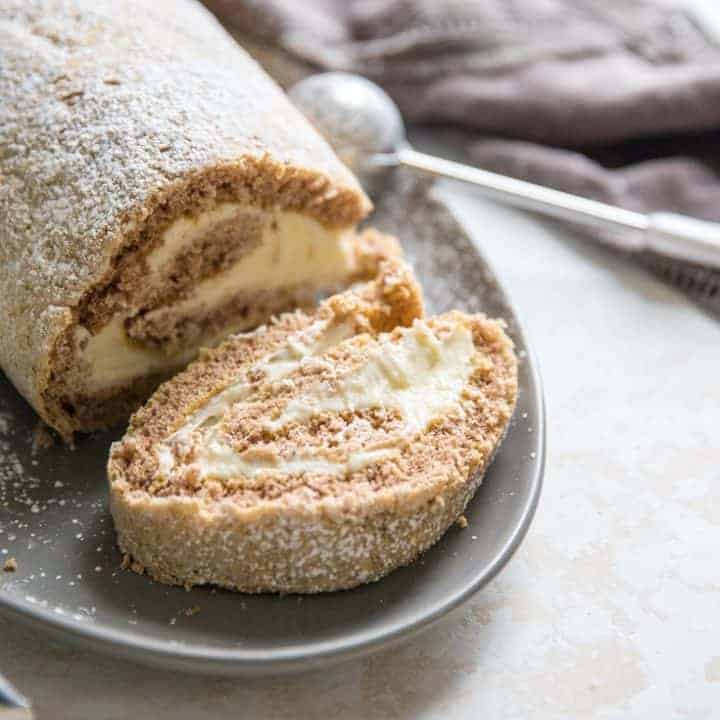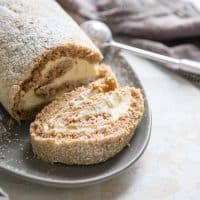 Spice Cake Roll
Additional Time:
30 minutes
Total Time:
1 hour
7 minutes
This spice cake roll has classic spices folded into a tender cake roll batter. The filling is a sweet maple buttercream that could be called dessert all on its own!
Ingredients
5 eggs, separated
1/3 cup sugar + ¼ cup of sugar
2/3 cup cake flour
1 tablespoon brown sugar
1 teaspoon Private Selection cinnamon
½ teaspoon Private Selection ginger
½ teaspoon Private Selection nutmeg
⅛ teaspoon Private Selection ground clove
1/4 teaspoon salt
1 teaspoon baking soda
3 tablespoon melted butter
powdered sugar
1 cup salted butter
3 - cups powdered sugar
2 -3 tablespoons Private Selection Bourbon Barreled maple syrup
1 tablespoon of heavy cream
Instructions
Preheat oven to 375. Spray a jelly roll pan with nonstick spray. Top pan with parchment paper and spray paper with nonstick spray. Set pan aside.

In a bowl, whisk egg yolks until thick and golden in color. Gradually add in 1/3 cup of sugar.

In the bowl of a mixer, beat egg whites with the whisk attachment until semi-soft peaks begin to form. Gradually whisk in 1/4 cup of the remaining sugar and continue beating until stiff peaks finally form. Remove and carefully fold in yolk mixture.

Combine dry ingredients. Fold dry ingredients, followed by melted butter.

Pour batter into prepared pan. Bake cake for 12 minutes or until cake gently springs back when touched. After removing cake from the oven, and immediately sprinkle with powdered sugar. Carefully turn the cake out onto a clean towel that has been dusted with powdered sugar. Remove parchment paper. Roll cake with towel, starting with short end. Let cake cool completely.

While cake is cooling prepare the filling. In the bowl of a mixer cream butter until light and fluffy. Slowly beat in powdered sugar one cup at a time. Add maple syrup and heavy cream. Mix just until buttercream is smooth. You may need to add in more liquid if buttercream is not smooth and creamy enough to spread. Slowly unroll cake. Spread buttercream over the entire cake. Carefully reroll cake and place on a serving plate, seam side down. Trim ends if desired.