This Bailey's Mocha Chocolate Roll is the best way to finish off a meal.  This  tender chocolate cake is wrapped around Bailey's buttercream and topped with Bailey's ganache!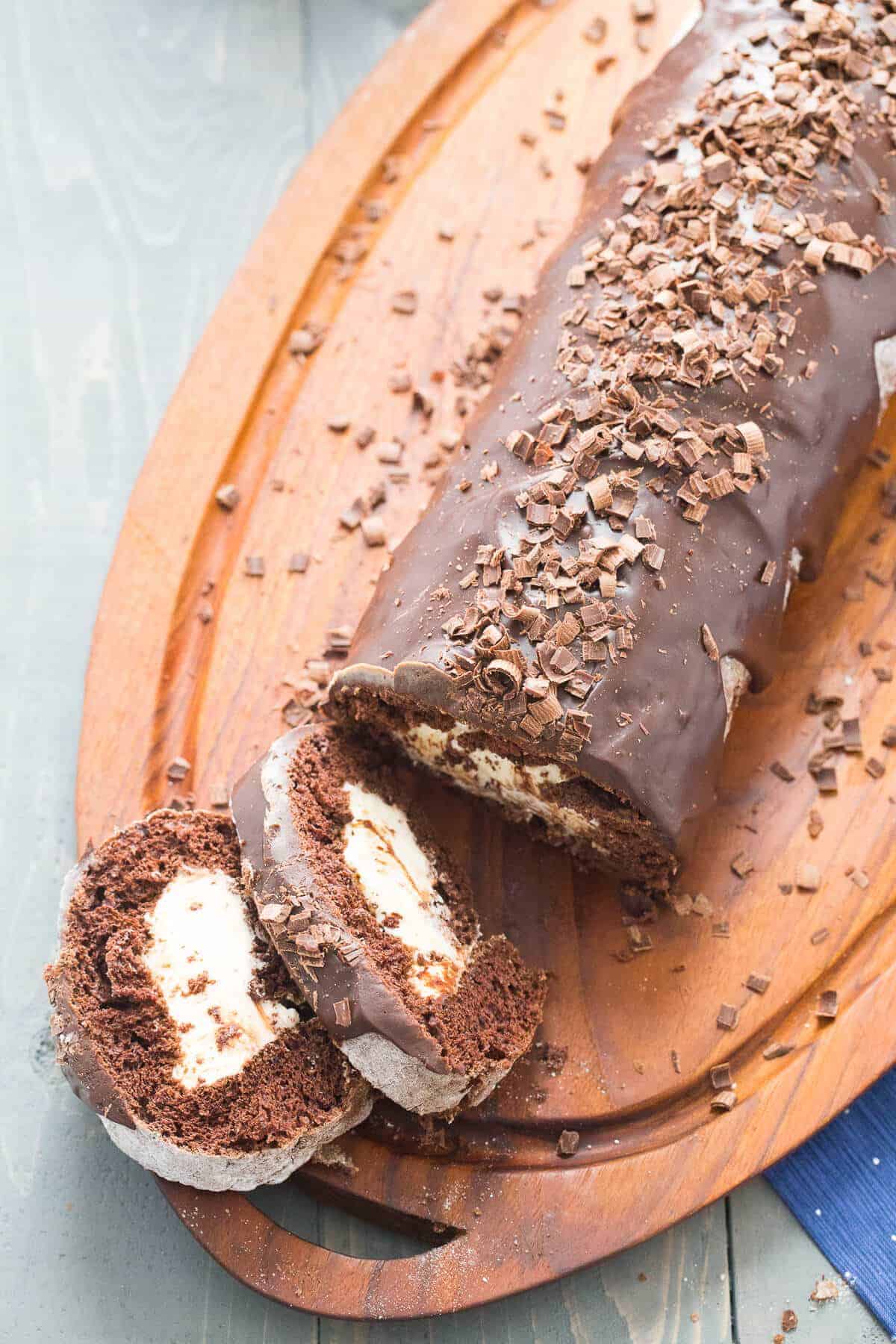 I've been on a roll (sorry, I couldn't resist) with my liqueur laden desserts!  We just polished off the last crumbs of our Bailey's Salted Caramel Brownies, and here I am wooing you with this Bailey's filled chocolate roll!  I make no apologies.  This cake is GOOD!
I am not big on potent potables, contrary to all my cocktail recipes.  My beverage of choice is water.  Not nearly as exciting as, say, sipping on cognac or bourbon!  On the weekends, I like to indulge in an overpriced micro brewed beer or a cheap, inexpensive wines and maybe a Moscow mule (or two), but that's where it ends.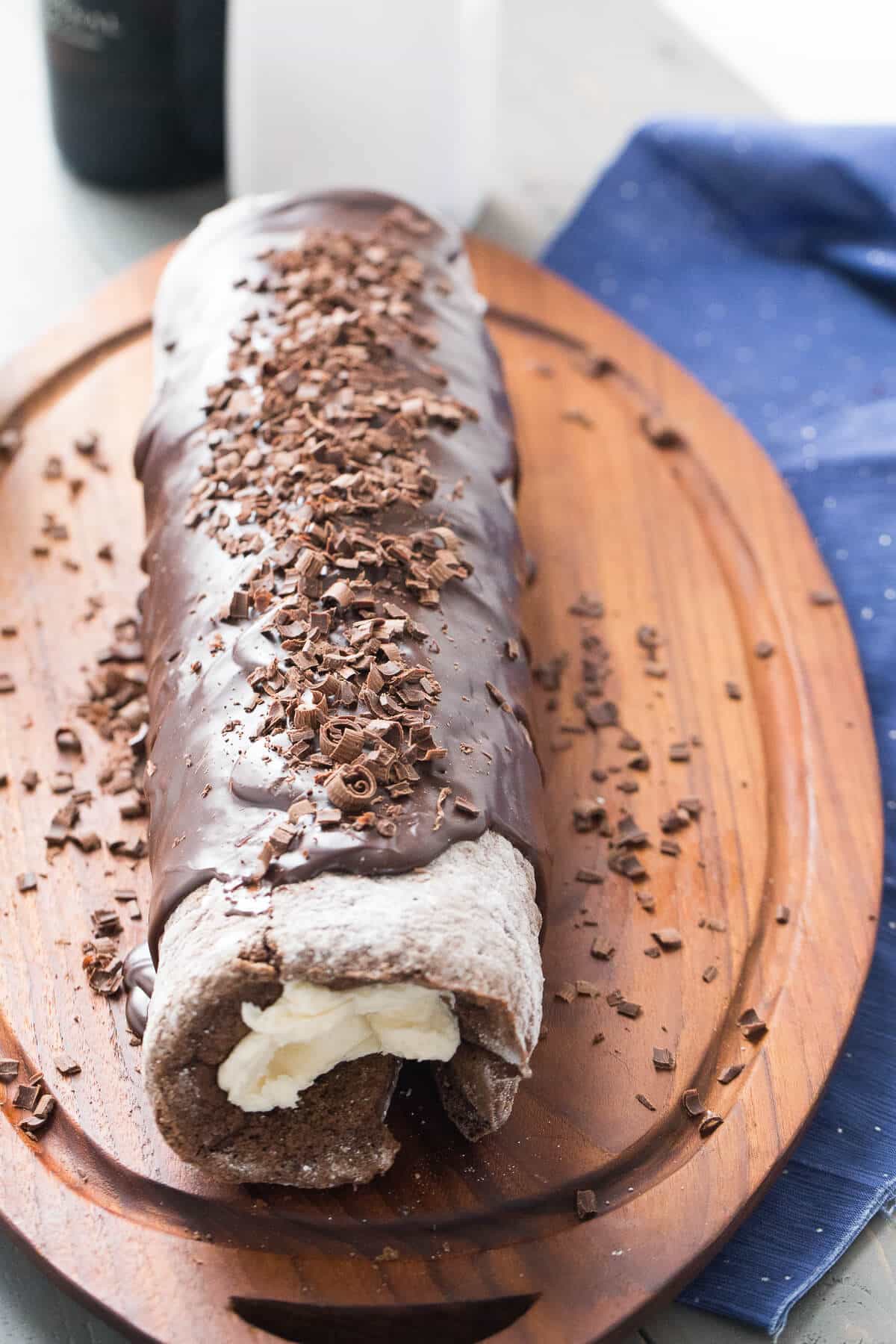 I've only recently decided that I like mixed drinks.  However, when I go out, I never know what to order.  I'd like to branch out, but I only know a few cocktails.  I am secretly a bit envious of those women who can confidently order a mixed drink with a twist of this or a splash of that or ask for a certain brand of Vodka.  It just seems so sophisticated.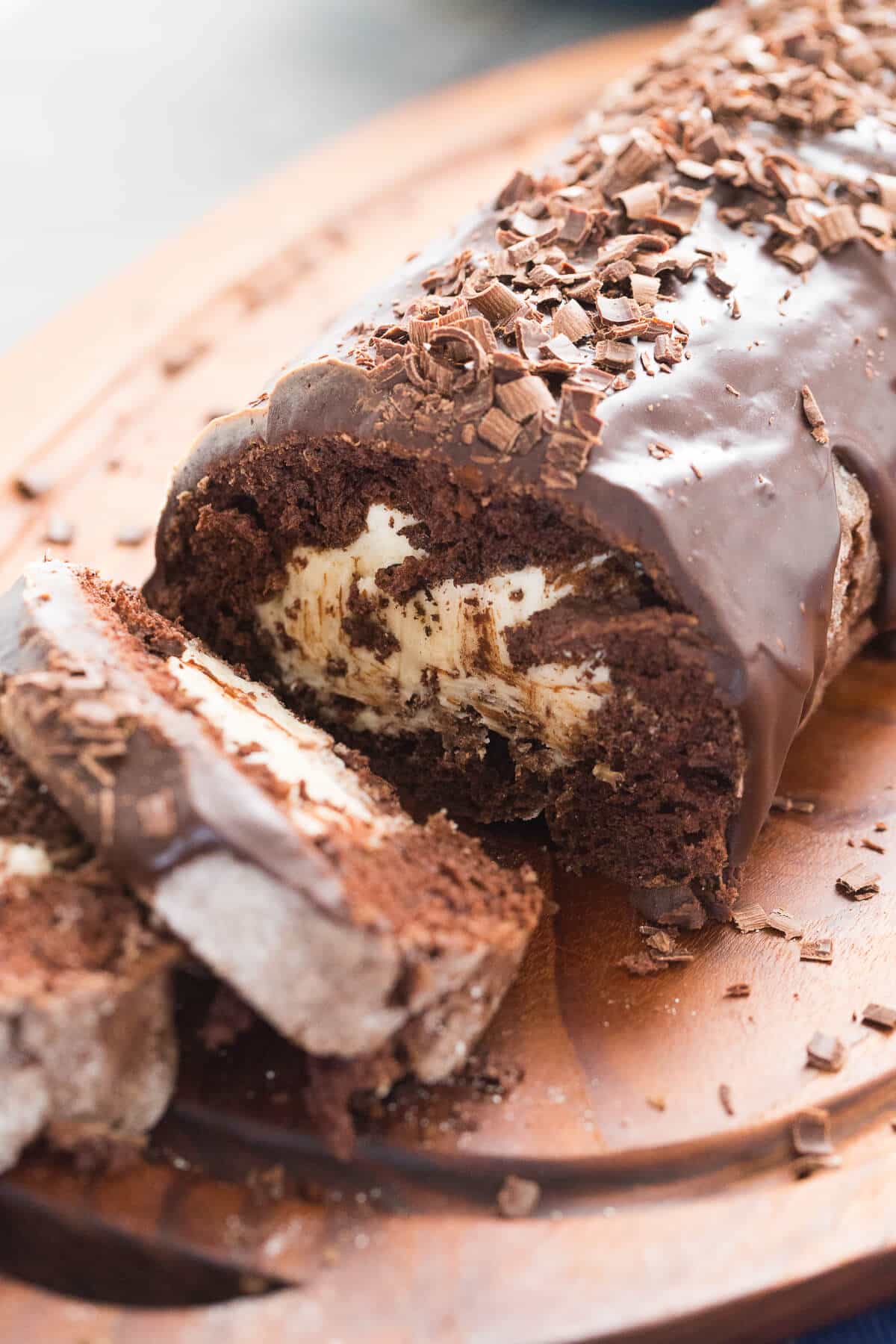 While I may not be a sophisticated drinker, I AM a spirited baker.  So there!  I like to have a stash of the hard stuff because sometimes extracts aren't enough.  Know what I mean?  Bourbon makes really good bars and brownies!  Guinness makes the moistest black bottom cupcakes and Kahlua upgrades your pudding pops like nothing else!    And Bailey's Irish Cream makes a plain vanilla buttercream and turns it into fluffy gold.  The cream filling is a little sweet, which makes this the perfect vehicle for the mocha chocolate cake.   The chocolate roll itself is a very light, genoise-style cake.  It's made mostly with egg whites which keep it from being too dense.  The whole cake is drizzled with lusciously thick and smooth Bailey's chocolate ganache! The combination melts in your mouth!  If you aren't into using alcohol, you could certainly use Irish cream coffee creamer instead!
I consider this chocolate roll my boozy baking finale.  It was just to0 wonderful to top.  I'm going to take a pause from baking with liqueur.  I read that the shelf life for Bailey's Irish Cream is two years.  I have plenty of time to dream up ways to top this chocolate roll!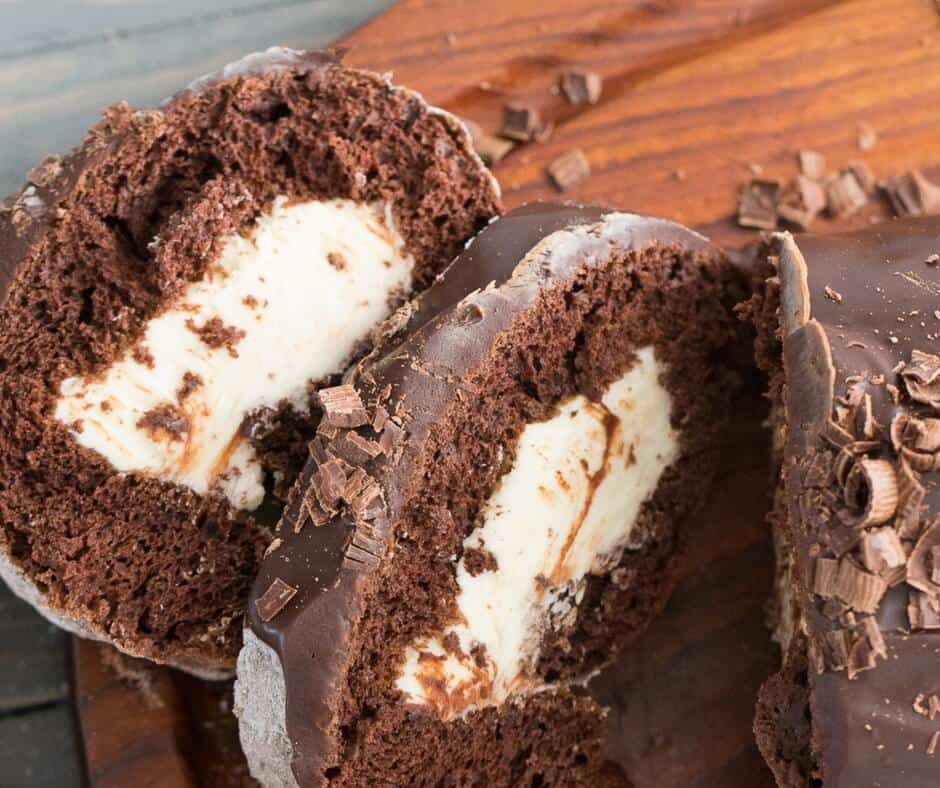 You Might Enjoy These Too:
Bailey's Mocha Chocolate Roll

Prep Time:

1 hour

30 minutes

A simple sponge cake roll filled with an Irish cream fillng!

Ingredients

!Cake
5 eggs, separated
2/3 cup sugar, divided
1 teaspoon coffee extract
2/3 cup cake flour
1/4 cup cocoa powder
1/4 teaspoon salt
1 teaspoon baking soda
3 tablespoon melted butter
powdered sugar

For the filling

1 cup butter
3 cups powdered sugar
3 tablespoons Bailey's Irish Cream
1 tablespoon of heavy cream
pinch of salt

For the glaze

6 tablespoons heavy cream
1/2 cup semi-sweet chocolate chips
1 tablespoon Bailey's Irish Cream

Instructions

Preheat oven to 375. Spray a jelly roll pan with nonstick spray. Top pan with parchment paper and spray paper with non stick spray. Set pan aside.

In a bowl, whisk egg yolks until thick and golden in color. Gradually add in 1/3 cup of sugar and coffee extract.

In the bowl of a mixer, beat egg whites with the whisk attachment until semi soft peaks begin to form. Gradually whisk in 1/3 cup of the remaining sugar and continue beating until stiff peaks finally form. Remove and carefully fold in yolk mixture.

Combine dry ingredients. Fold dry ingredients, followed by melted butter.

Pour batter into prepared pan. Bake cake for 12 minutes or until cake gently springs back when touched. After removing cake from the oven, and immediately sprinkle with powdered sugar. Carefully turn cake out onto a clean towel that has been dusted with powdered sugar. Remove parchment paper. Roll cake with towel, starting with short end. Let cake cool completely.

While cake is cooling prepare the filling. In the bowl of a mixer cream butter until light and fluffy. Slowly beat in powdered sugar one cup at a time. Add Irish Cream, heavy cream and salt. Mix just until buttercream is smooth. You may need to add in more liquid if buttercream is not smooth and creamy enough to spread.

Slowly unroll cake. Spread buttercream over the entire cake. Carefully reroll cake and place on a serving plate, seam side down. Trim ends if desired.

In a microwave safe small bowl, heat heavy cream until hot and bubbly. Whisk in chocolate chips until smooth. Stir in Irish Cream. Allow ganache to set for a few minutes to cool. When chocolate is room temperature, drizzle ganache over cake. Allow ganache to set on the cake. Top with chocolate shavings if desired.

Nutrition Information

Amount Per Serving

Calories

465

Total Fat

26g

Saturated Fat

16g

Cholesterol

130mg

Sodium

216mg

Fiber

1g

Sugar

47g

Protein

4g