One more St. Patty's Day treat for you!  Chocolate Roll with a Bailey's whipped filling!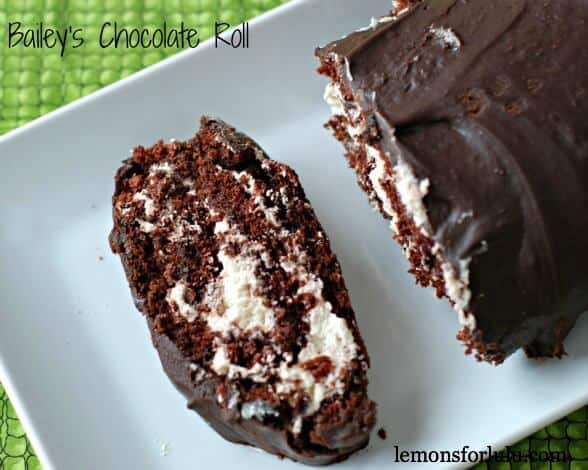 I've been on a roll (sorry, I couldn't resist) with my liqueur laden desserts!  We just polished off the last crumbs of our Kahlua chocolate cookies and here I am wooing you with this Bailey's filled chocolate roll!  I make no apologies.  This cake is GOOD!
I am actually not big on potent potables.  My beverage of choice is water.   Not nearly as exciting as, say, sipping on cognac!  On the weekends, I like to indulge in an overpriced micro brewed beer or a cheap, sweet grocery store Sangria, but that's about it.  I'm not glamorous.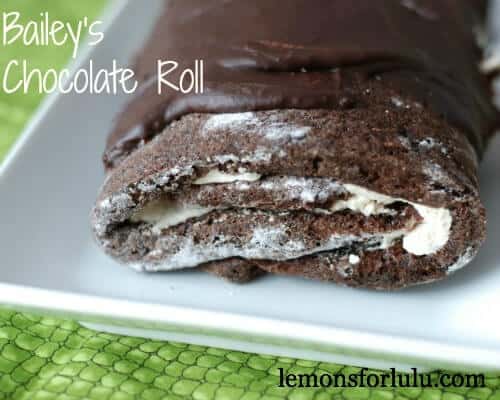 I've never been one for mixed drinks either.  I'm secretly a bit envious of those women who can confidently order a mixed drink with a twist of this or a splash of that or ask for a certain brand of Vodka.  It just seems so sophisticated.   And the honest truth is, I can't handle mixed drinks anyway.  Those  hard alcohol headaches are brutal.    My kids are too loud for that kind of headache.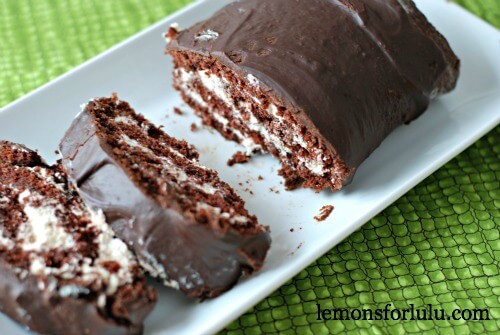 While I may not be a sophisticated drinker, I AM a spirited baker.  So there!  I like to have a stash of the hard stuff because sometimes extracts aren't enough.  Know what I mean?  Bourbon makes really good bars and brownies!  And Guinness makes the moistest cupcakes ever (see below!) and Kahlua kicks your cookies up a notch like nothing else!    And Bailey's Irish Cream makes a plain vanilla whipped cream and turns it into fluffy gold.  The cream filling is not too sweet, which makes this the perfect vehicle for the maple-sweet Irish Cream.   The chocolate roll itself is a very light, genoise style cake.  It's made mostly with egg whites which keeps it from being too dense.  The combination melts in your mouth!  If you aren't into using alcohol, you could certainly use Irish cream coffee creamer instead!
I consider this chocolate roll my boozy baking finale.  It was just to0 wonderful to top.  I'm going to take a pause from baking with liqueur.  I read that the shelf life for Bailey's Irish Cream is two years.  I have plenty of time to dream up ways to top this chocolate roll!
You Might Enjoy These Too: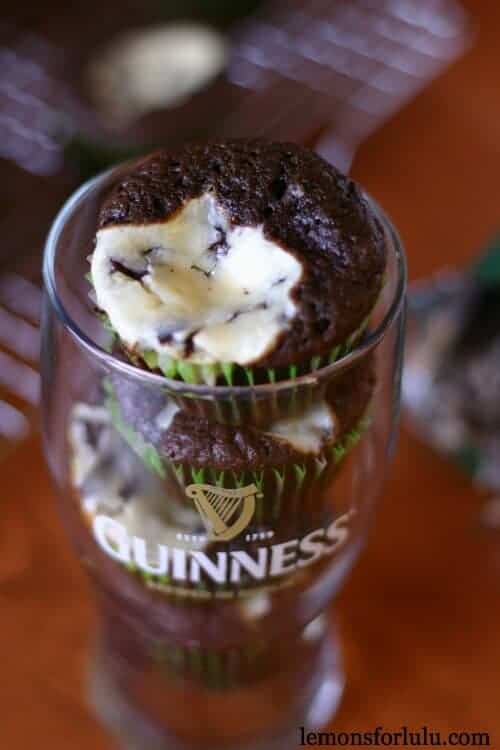 Want more?  Follow me on

Pinterest

!
If you'd like a little Lulu in your life, please subscribe via email | RSS | Facebook | Google + | Bloglovin.
Ingredients
Cake

4 egg whites
2 egg yolks
1 cup sugar
¼ cup butter, softened
2 teaspoons vanilla
¾ cup flour
¼ cup cocoa
1/4 cup water
1 teaspoon baking powder
1 teaspoon baking soda
¼ teaspoon salt

Filling

1 cup whipping cream
¼ cup powdered sugar
2 tablespoons Bailey's Irish Cream

Glaze

½ cup heavy cream
2 Tablespoons corn syrup
1 cup chocolate chips
Instructions
Heat oven to 350. Spray a 15 x 10 x1 in jelly roll pan with non-stick spray. Line pan with parchment paper. Spray paper with non-stick spray. Set aside.
Beat egg whites in a large bowl at high speed until soft peaks begin to form. Set aside.
Combine the egg yolks, sugar, butter and vanilla, beating on medium speed until creamy. Add remaining ingredients and continue beating on low speed until well blended. Gently fold in egg whites just until mixed in.
Pour cake batter onto greased pan and bake for 10-15 minutes or until cake gently springs back when touched. Let cool for 10. Be sure to loosen cake from sides of pan.
While cake is still a bit warm, carefully invert cake onto a dishtowel sprinkled with powdered sugar. Very carefully remove parchment paper. Spray another piece of parchment paper and lay on cake, greased side facing cake. Starting from the short side, roll cake up (with the towel) very slowly. Let set, seam side down until completely cooled.
Meanwhile make filling.
In a chilled bowl, beat whipping cream until stiff peaks form. Gradually beat in powdered sugar and Bailey's liqueur.
When cake has cooled, carefully unroll cake and remove parchment paper. Spread filling over cake. Carefully roll cake again, using the towel to lift and roll. Cake should lay seam side down again.
Prepare glaze by adding all the ingredients in a bowl. Microwave in 1 minute intervals until chocolate has melted and mixture is smooth. Let cool for about 10 minutes. Pour glaze over cake roll.
Serves 10
https://www.lemonsforlulu.com/baileys-chocolate-roll/
Recipe adapted from Land O Lakes