This Oreo Ice Cream Cake is an absolute must!  Oreo ice cream is swirled into the center of a chocolate cake roll for a simple ice cream that will be a hit with kids of all ages!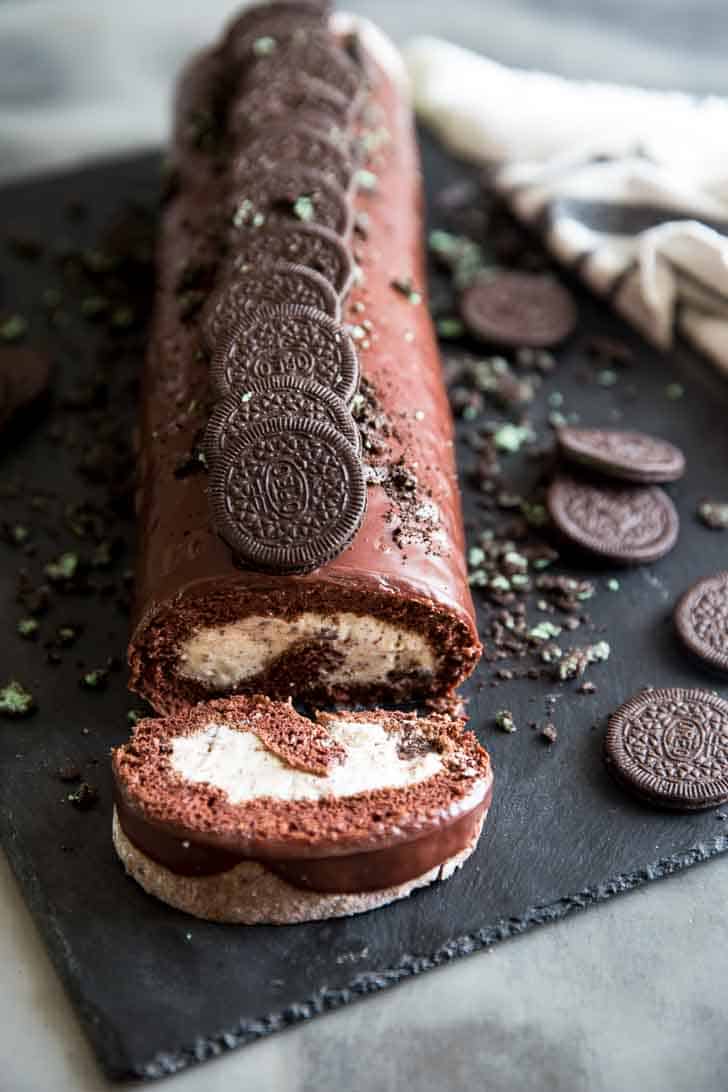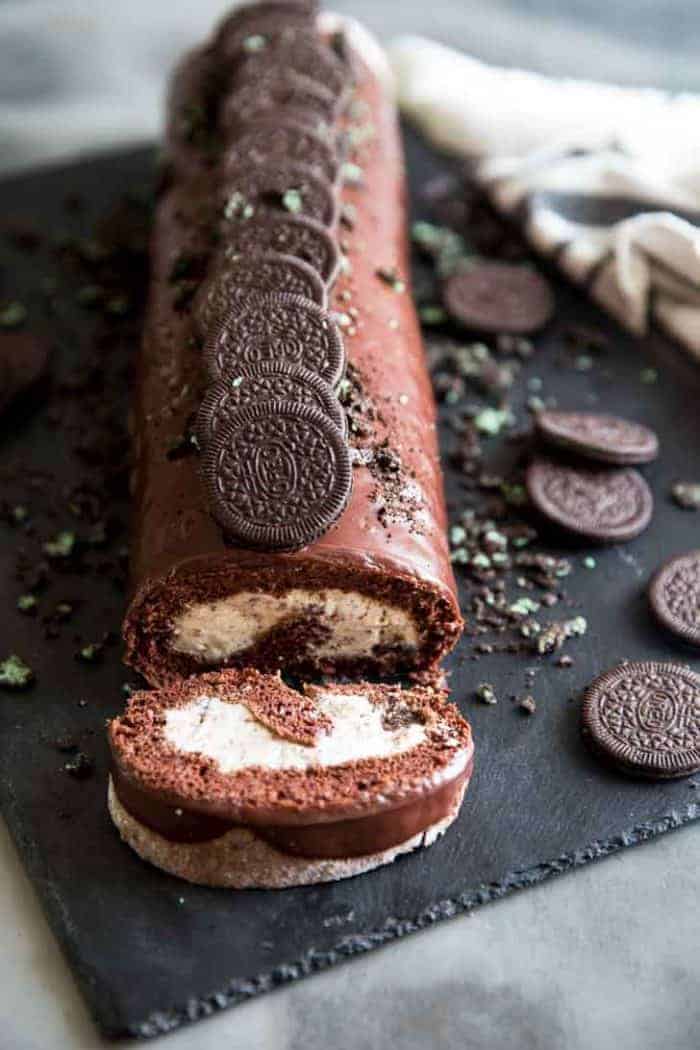 Everyone Will Love This Oreo Ice Cream Cake Roll
I made this Oreo ice cream cake thinking it would be a nice thing to have on the last day of school.  I had visions of me inviting all the neighborhood kids over to enjoy a slice of cake and to make the beginning of summer break official.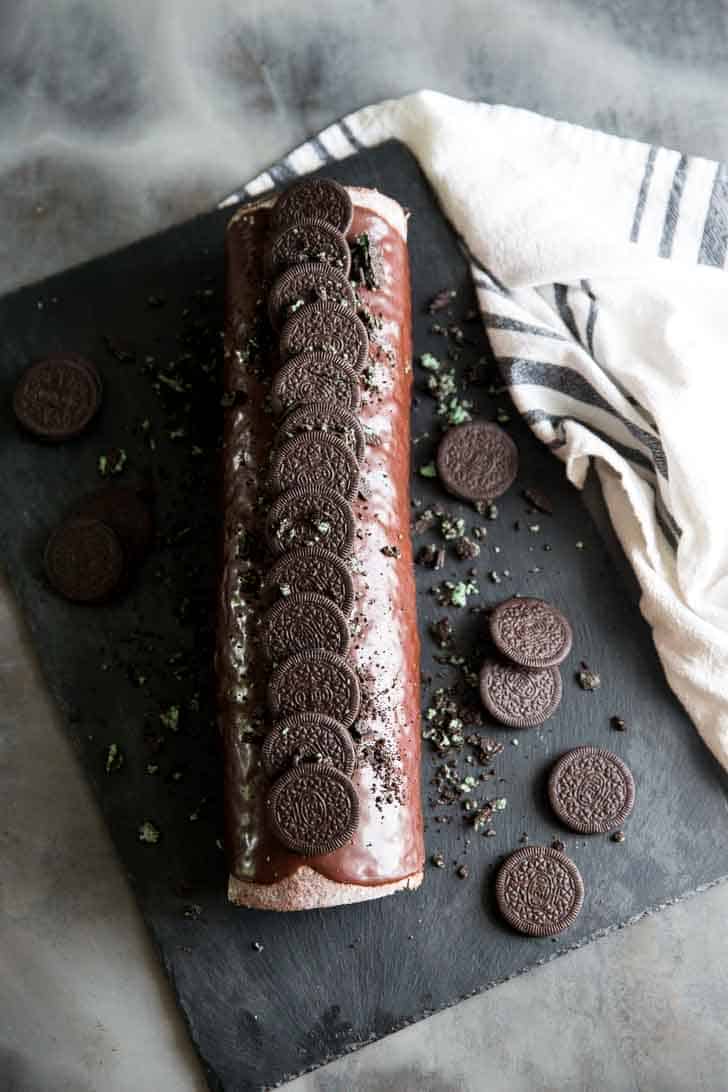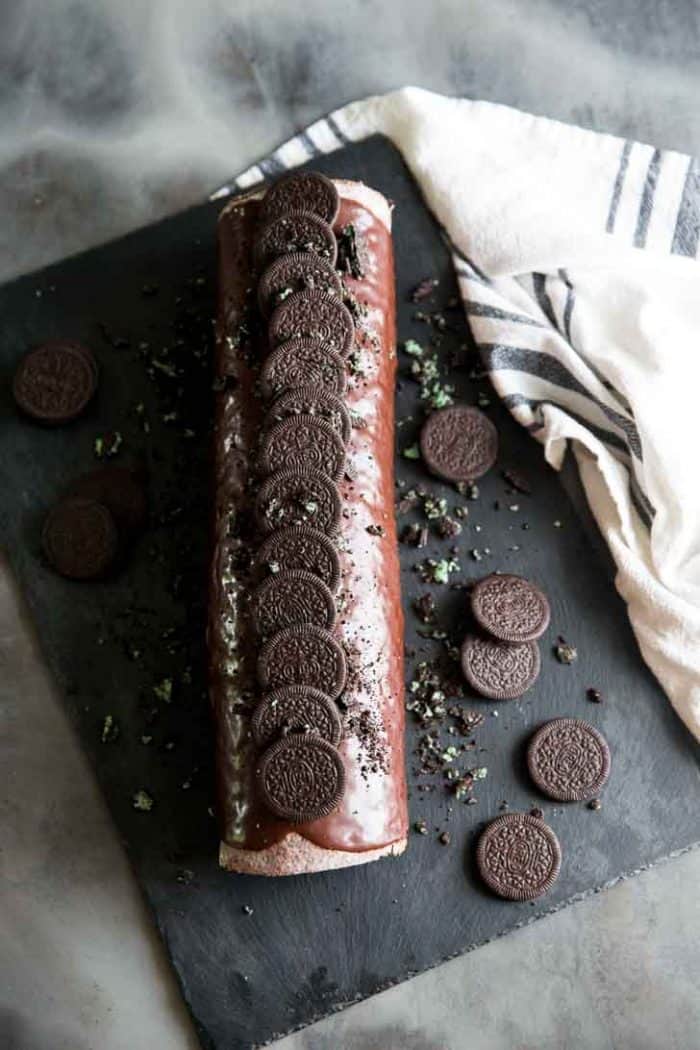 As I was pouring the silky ganache over the chocolate cake it occurred to me that I'm not sure I like all the kids in the neighborhood.  I know of one kid who will take one look at the cake and declare it disgusting, another kid will ask for a giant slice, eat two bites and then walk away and then there will be that one kid who will sneak slices behind my back.  The whole fiasco would be messy and annoying, so I think I should just skip it all.  Perhaps I'm really not that nice anyway.  This Oreo ice cream cake is way too good to be wasted on ungrateful kids.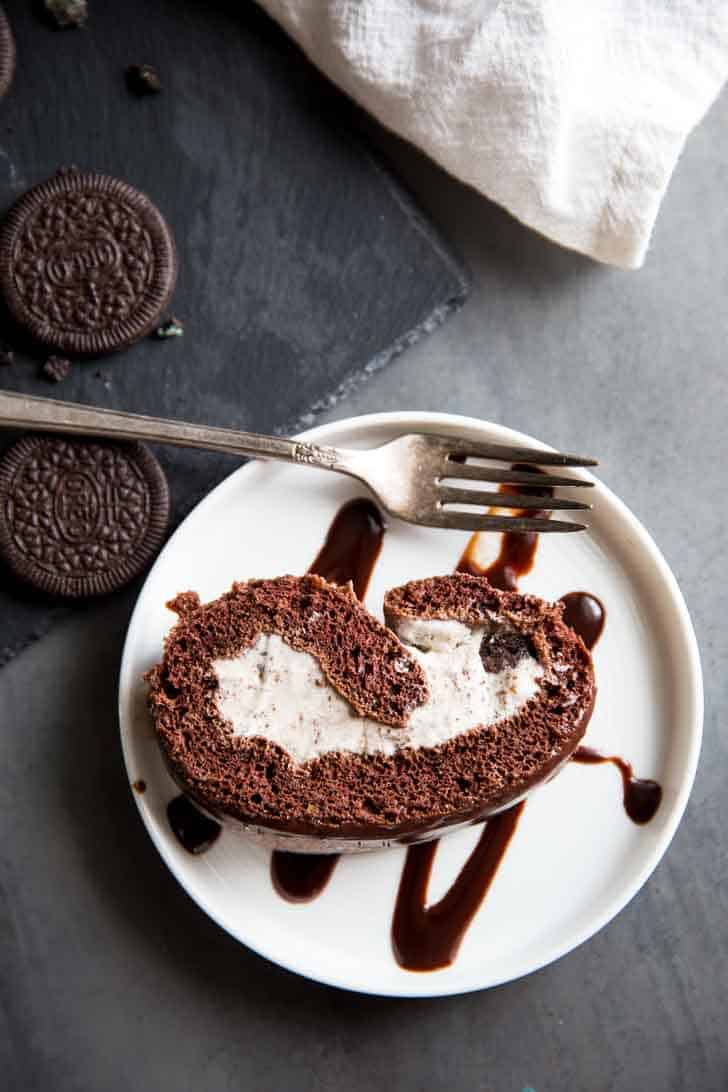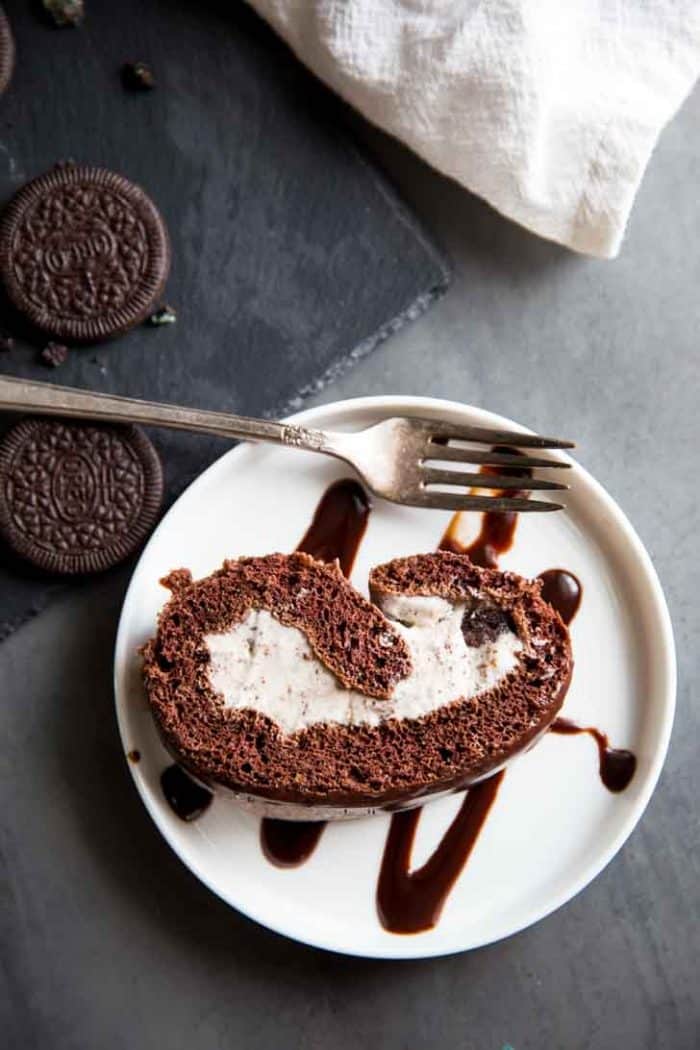 How To Make An Oreo Ice Cream Cake
This cake starts with an easy chocolate cake.  This particular recipe is based on my Bailey's Chocolate Roll Recipe.   The cake is made with little flour yet it is perfectly soft and tender.  Cake rolls take hardly any time to bake.  Roll up the cake and let it cool completely.
Spread your favorite brand of Cookies and Cream Ice Cream (or make your own if you are so inclined)  over the inside of the cake and gently re-roll the cake and freeze.  I covered the cake with a simple ganache and then sprinkled crushed Oreos over top.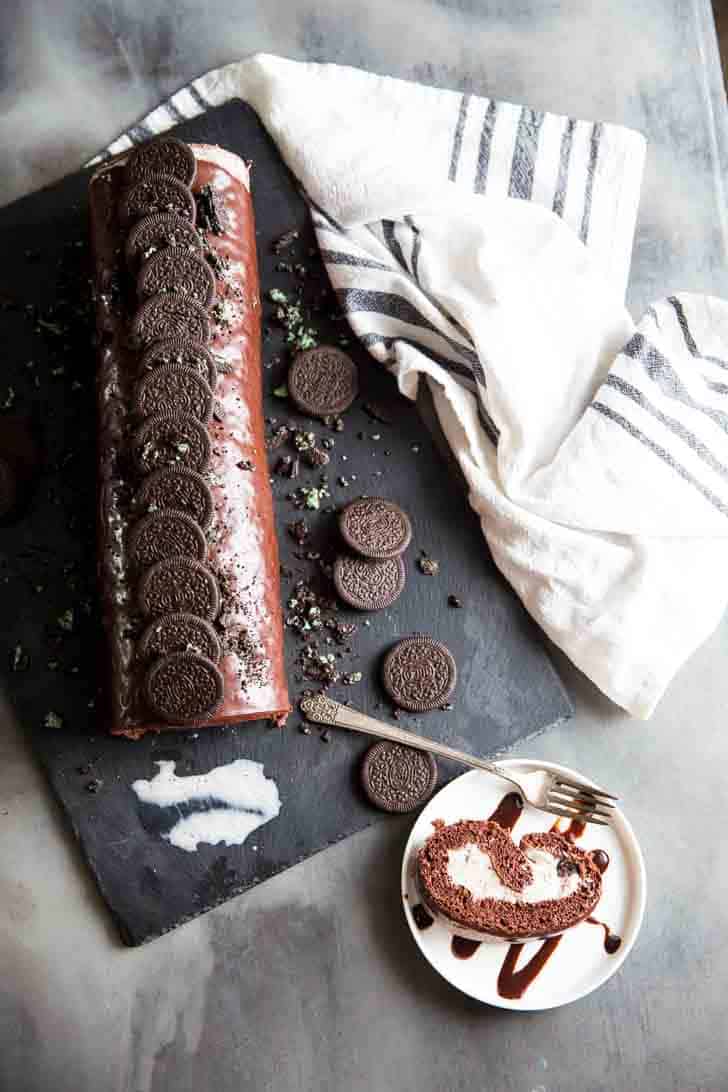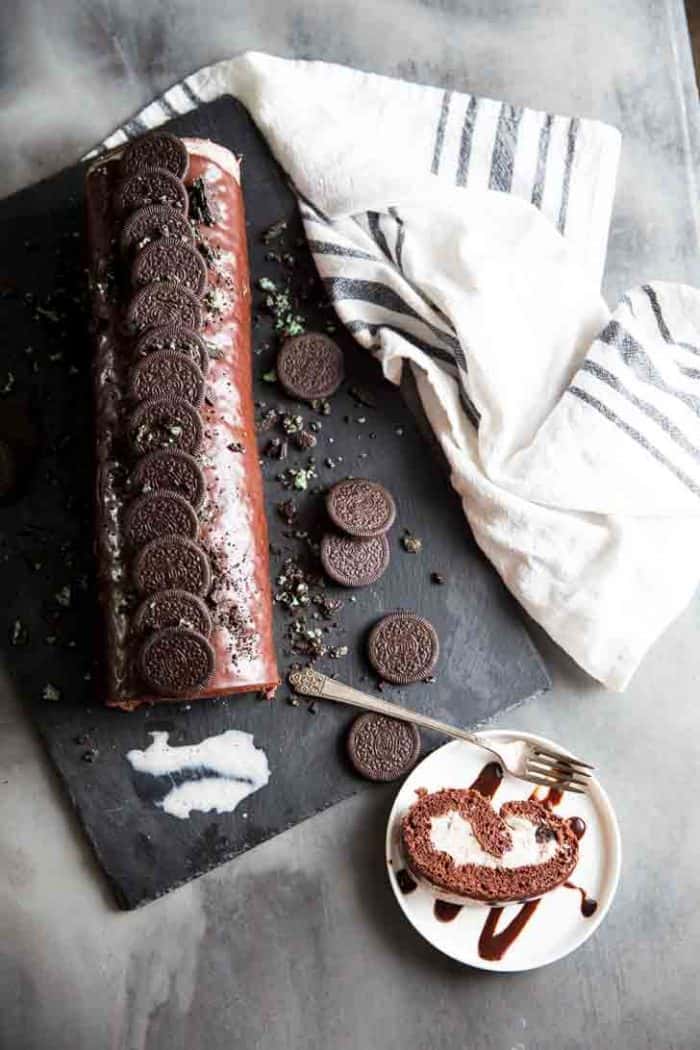 Recipe Tips:
Be sure to grease your jelly roll pan AND line it with parchment paper (spray the parchment paper as well).  You want to be sure the cake comes out of the pan completely.
Once the cake comes out of the oven, sprinkle it generously with powdered sugar; be sure to cover a thin kitchen towel with powdered sugar too!
You want to invert the cake shortly after it comes out of the oven to prevent sticking.  There is no real easy way to do this, I literally let my pan fall face down onto the counter.  Slowly lift off the pan and the parchment paper too.
I like to roll my cake starting from the short end.  Allow the cake to cool completely, seam side down.  When it is time to fill the cake, unroll it very slowly to avoid tearing.
Freeze the cake after it is filled and after you drizzle with ganache.  Keep the cake frozen until ready to serve.  The cake is best when consumed quickly, the cake can dry out as it sits in the freezer.
When you are ready for more ice cream cakes, try this S'Mores Ice Cream Cake, Swiss Roll Ice Cream Cake, and this Reese's Ice Cream Cake.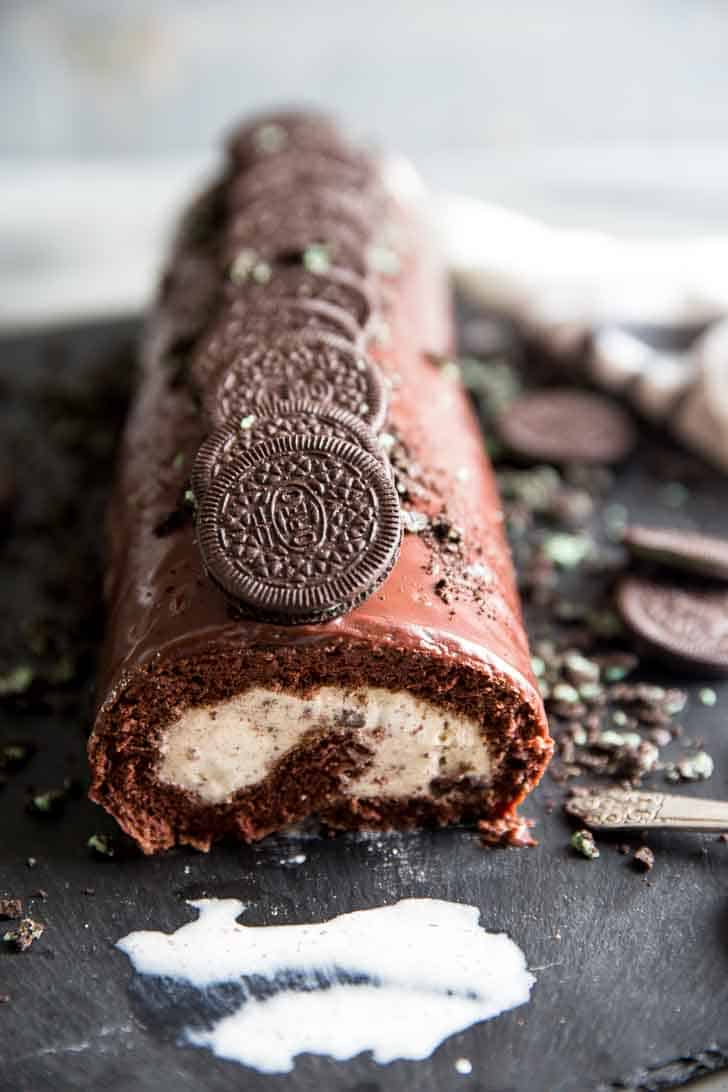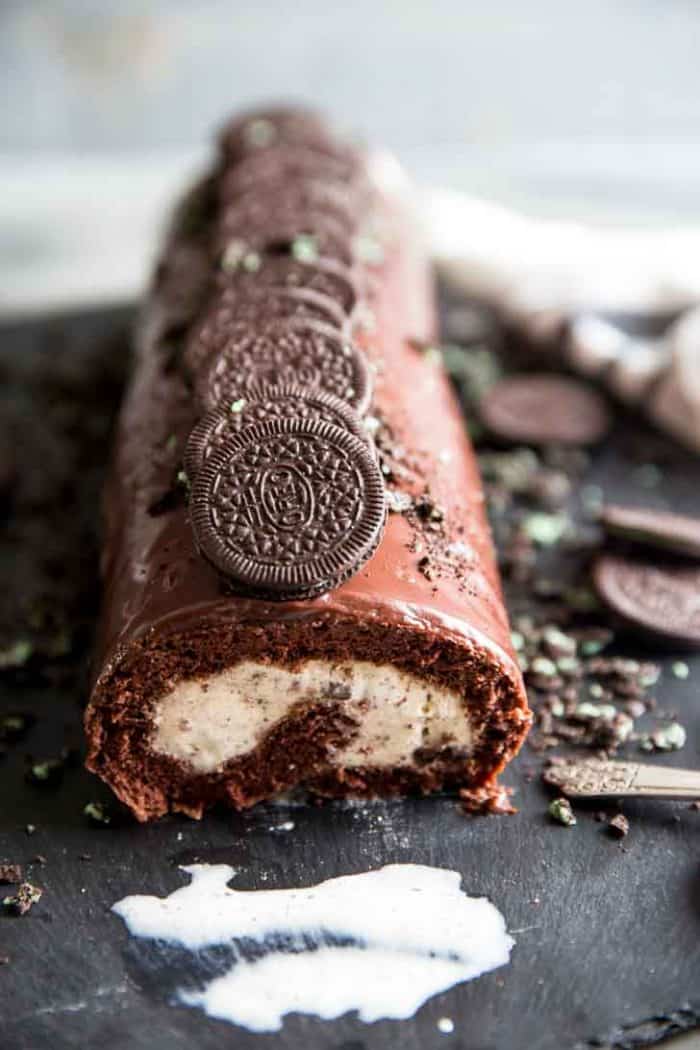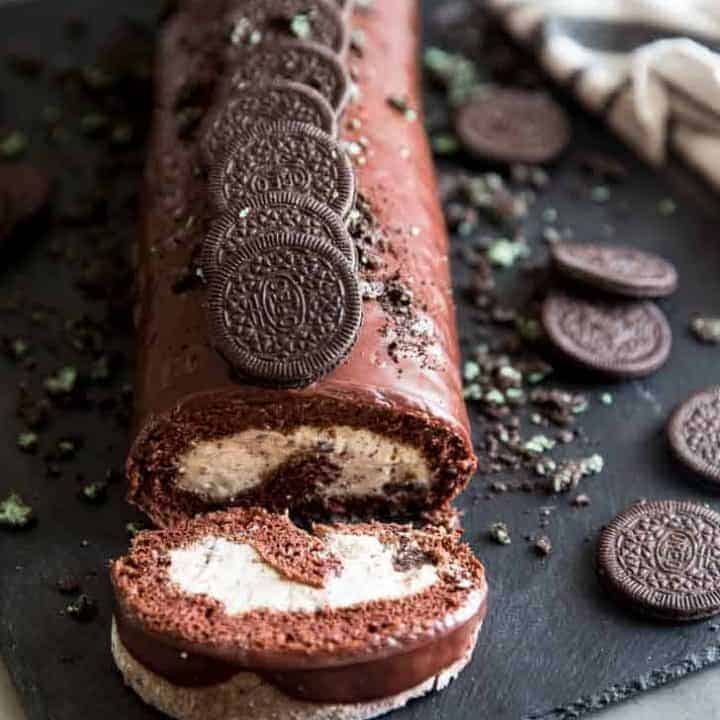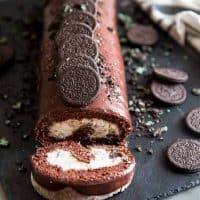 Oreo Ice Cream Cake
This Oreo Ice Cream Cake is an absolute must!  Oreo ice cream is swirled into the center of a chocolate cake roll for a simple ice cream that will be a hit with kids of all ages!
Ingredients
5 eggs, separated
2/3 cup sugar, divided
1 teaspoon vanilla extract
2/3 cup cake flour
1/4 cup cocoa powder
1/4 teaspoon salt
1 teaspoon baking soda
3 tablespoon melted butter
powdered sugar
1-quart Oreo ice cream softened
½ cup heavy cream
¾ cup chocolate chips
2 tablespoons dark corn syrup
2 teaspoons vanilla
chopped Oreos for garnish
Instructions
Preheat oven to 375. Spray a jelly roll pan with nonstick spray. Top pan with parchment paper and spray paper with nonstick spray. Set pan aside.
In a bowl, whisk egg yolks until thick and golden in color. Gradually add in 1/3 cup of sugar and vanilla extract.
In the bowl of a mixer, beat egg whites with the whisk attachment until semi-soft peaks begin to form. Gradually whisk in 1/3 cup of the remaining sugar and continue beating until stiff peaks finally form. Remove and carefully fold in yolk mixture.
Combine dry ingredients. Fold dry ingredients, followed by melted butter.
Pour batter into prepared pan. Bake cake for 12 minutes or until cake gently springs back when touched. After removing cake from the oven, and immediately sprinkle with powdered sugar. Carefully turn the cake out onto a clean towel that has been dusted with powdered sugar. Remove parchment paper. Roll cake with towel, starting with short end. Let cake cool completely.
When cake has cooled completely, carefully unroll cake. Spread softened ice cream over the inside of the cake and reroll. Place filled cake seam side down on a wire rack that is resting on a baking sheet and freeze until set (at least 15 minutes).
Meanwhile, heat heavy cream in a saucepan over medium heat. When mixture just begins to bubble around the edges, add the chocolate chips and corn syrup, whisk until chocolate has melted and the mixture is thick and shiny. Remove the ganache from heat and whisk in the vanilla. Allow chocolate to cool to room temperature.
Remove the cake from the freezer and slowly drizzle the ganache over the cake. Top the cake with reserved Oreos and freeze until ready to serve.
Place the cake on a platter or serving dish when ready to serve. To keep the cake from drying out, cover the cake as it rests in the freezer.
Nutrition Information
Amount Per Serving
Calories

0
Total Fat

0g
Saturated Fat

0g
Cholesterol

0mg
Sodium

0mg
Fiber

0g
Sugar

0g
Protein

0g