This Oreo mug cake is a perfect fast dessert meant for one, so no sharing is required. Perfect for a late-night treat after a long day!
You're going to love this microwave Oreo cake. Made with just 5 ingredients and ready in less than 5 minutes, it's the perfect fast dessert when you want something rich and delicious.
Have you ever been in the mood for cake but didn't want to go through all of the work to make one? This is the simplified version of all of that and the best part is that there's only one serving so you don't have to share.
What is Oreo Microwave Cake?
This Oreo mug cake recipe is a perfect blend of chocolate and gooey warm cake. Made with actual Oreo cookies you get nice cookies and cream taste in every bite.
This mug cake is as simple to make as you could have hoped and it goes great with added toppings like whipped cream, vanilla ice cream, or even sprinkles if you want to add a little fun to every cup!
Ingredients you'll need for Oreo Mug Cake:
Oreos
Flour
Baking Powder
Sugar
Milk
For the exact measurements needed, please see the recipe card below.
How to Make Oreo Mug Cake
Crush your cookies in a food processor or blender until fine crumbs.

In a big microwave-safe mug, add your flour, crushed cookies, baking powder, sugar, and milk.
Mix well until you have a paste.

Microwave on high for 3 minutes.
Add your favorite toppings, if desired, and enjoy!
Fun Topping Ideas For Your Mug Cake
If you want to take your mug cake to the next level try adding in some of these fun toppings to really make it unique and tasty! These are a few of our favorite topping suggestions, but feel free to use whatever you want since it's your cake!
Chocolate Syrup
Chocolate Chips
Whipping Cream
Crushed Cookies
Caramel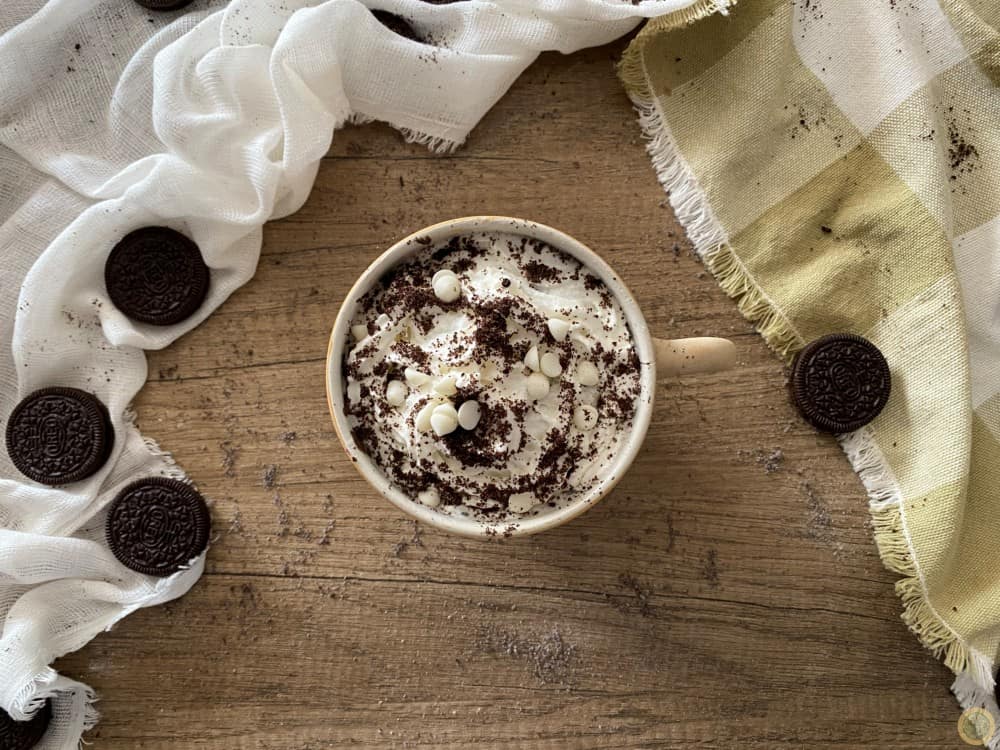 Recipe Tips
Oreo cookies. You can make this mug cake using any Oreo cookie flavor variety desired meaning that you can choose the original chocolate Oreos, golden Oreos, mint chocolate Oreos, and then some. There are so many different flavor options for these cookies that it'll be hard choosing which one to try first! Just think of all of those incredible possibilities!
The right sized mug. You'll want to use a good sized mug for this recipe. A standard 10-12 ounce should be more than fine. Larger mugs mean that the cake won't pop out over the top as it cooks, so there won't be a mess to clean up after your dessert has finished its spin in the microwave.
FAQs
How long is Oreo mug cake good for?
This cake is best eaten when freshly made and still warm. This is a single serving dessert that's perfect for enjoying hot and fresh in one sitting. It can be kept in the fridge for up to a day, but the texture and flavor are best when freshly made.
Is Oreo mug cake vegan?
This recipe can be made vegan-friendly by choosing to use a nondairy milk like soy, almond, or oat. Oreo cookies are naturally vegan and none of the other ingredients required to make this mug cake require animal products.
Why is my mug cake dry and rubbery?
Your cake should be light and fluffy but if it turns out rubbery or dry there are a few reasons why this could be starting with an overmixed batter or too long in the microwave. Not everyone's microwaves run at the same heat so some cook faster than others. I recommend making sure to keep a close eye on your mug cake the first time you make it so that you can get a good idea of how long it actually takes to cook. The top centers should look a little wet while the rest of the cake should look dry. The centers will dry as the cake sits for a minute before eating.
If you love Oreo cookies then these tasty treats are sure to interest you too
Oreo Mug Cake
Ingredients
1 Package Oreos (6 to 8 cookies)
½ Cup Flour
½ Tsp Baking Powder
2 Tsp Sugar
3 Tsp Milk
Optional Toppings:
Chocolate Syrup
Chocolate Chips
Whipping Cream
Crushed Cookies
Caramel
Instructions
Crush cookies in food processor or blender
Add flour, crushed cookies, baking powder, sugar and milk into a big mug.
Mix well until you have a paste.
Microwave for 3 minutes on high temperature.
Add your toppings.
ENJOY!