This Butterfinger cake is two layers of decadence!  A rich chocolate cake is layered and filled with chocolate ganache and topped with Buttercream and Butterfingers!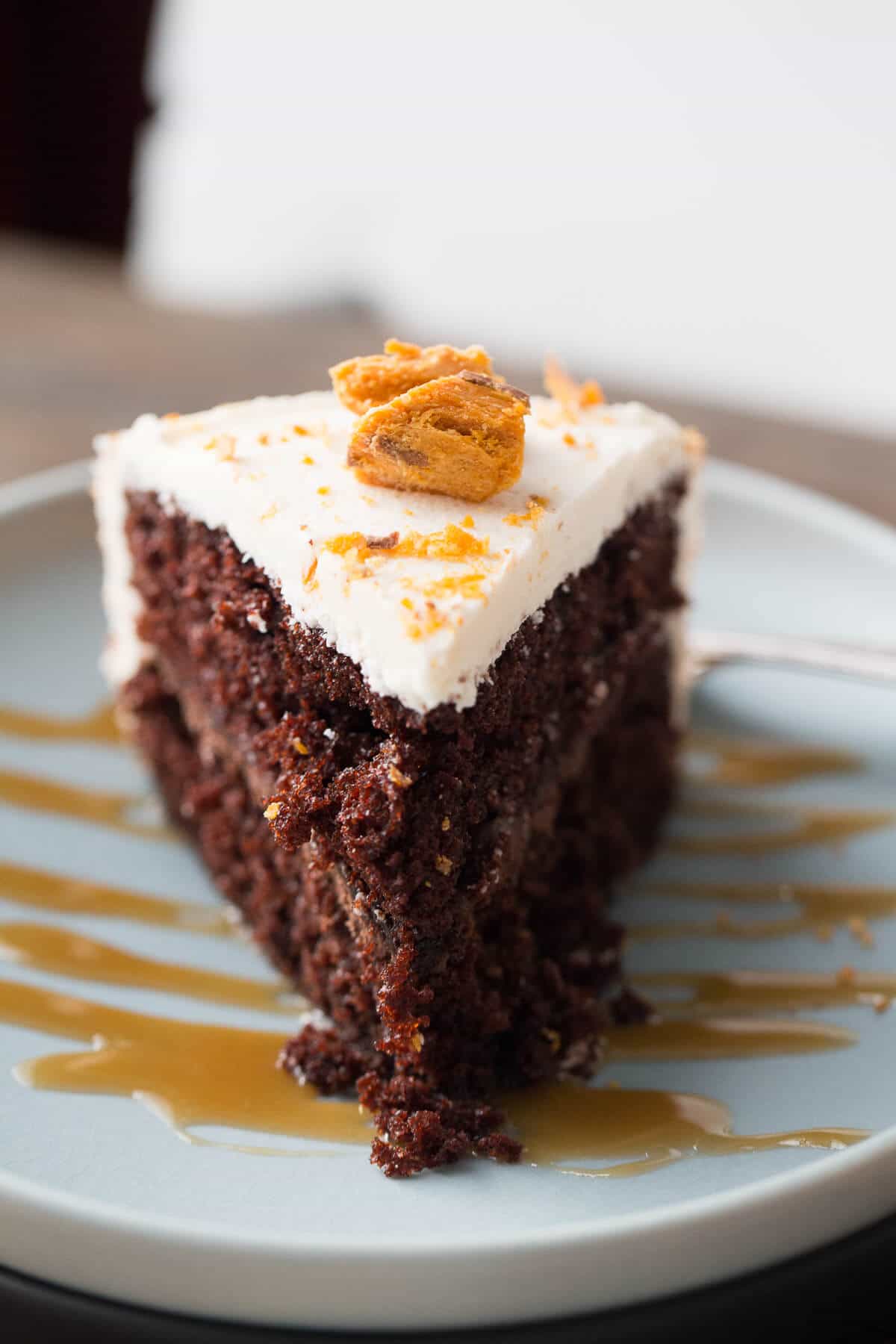 I was a little nervous about making this Butterfinger cake.  I am easily intimidated by layer cakes. I want my cakes to look like this Chocolate Fudge Layer Cake, this Raspberry and Lemon Layer Cake,  or this Triple Layer Key Lime Cake (do you see that, TRIPLE layer!). But somehow my layers crack or slide and end up looking rather pitiful and sad.  It all makes me want to just make pies instead.  The only thing is I don't love pie nearly as much as I love cake.
To avoid the layered cake pitfalls that I fear, I often turn no bake layered cakes like this Pina Colada Ice Box No Bake Cake and this super simple  Red, White and Blue Ice Cream Cake. Or I stick with single layer cakes like this Snickers Poke Cake. Basically, I stick with things I cannot ruin.  I cannot tell you how many times I've made a cake only to have the entire top layer slide off and land in a heap on my kitchen counter.   I suppose when I set out to make this cake, I was feeling adventurous and little determined.  I had something to prove.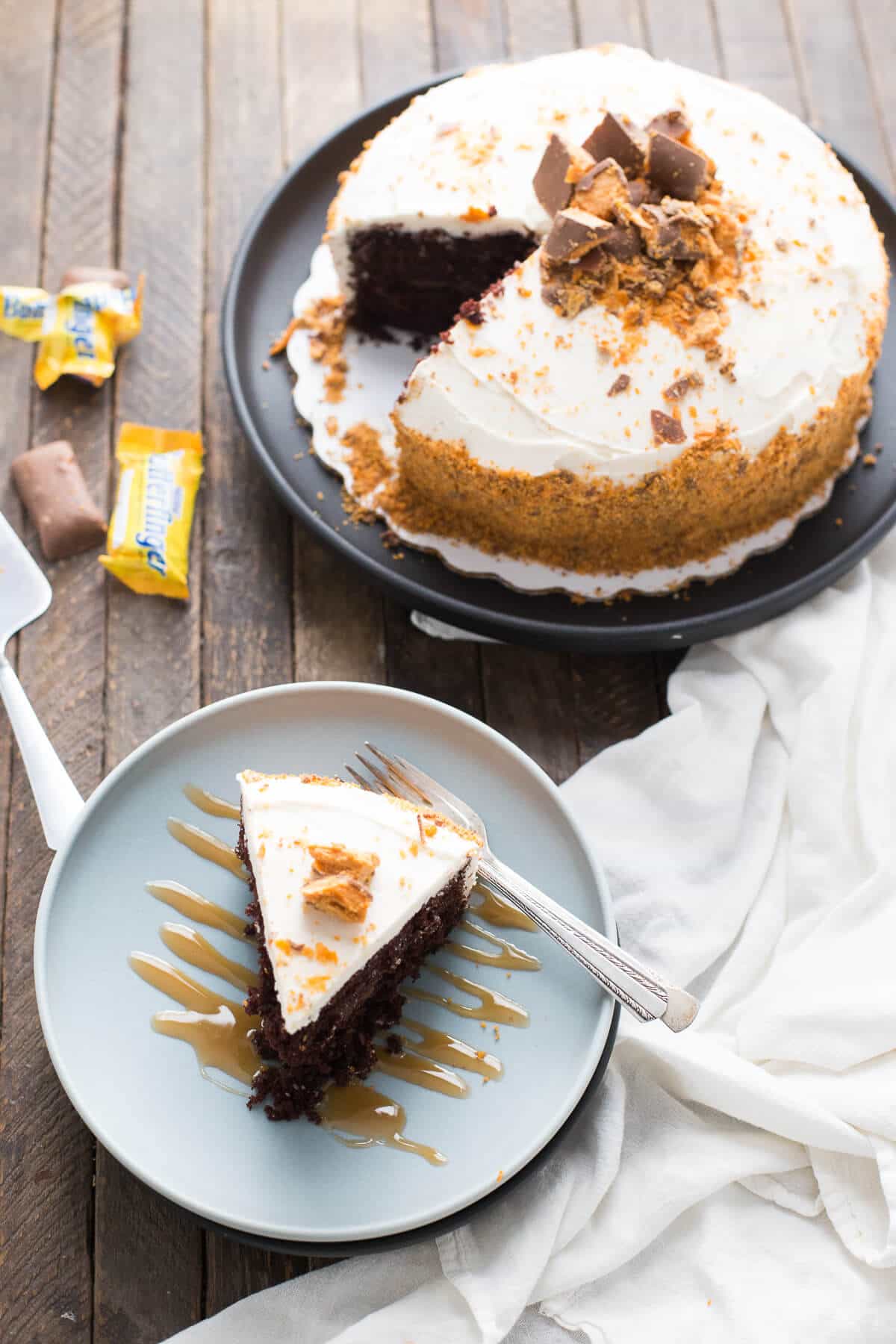 I think I succeeded this time. My Butterfinger cake actually worked (on my second attempt). The first time around I used a box mix and added pudding. This works beautifully in cupcakes, it makes them so tender, but that tenderness does not do well when you need a cake to hold some weight.  This chocolate cake is the best, it is soft yet sturdy enough to hold ganache and buttercream! This Butterfinger cake was a real confidence booster.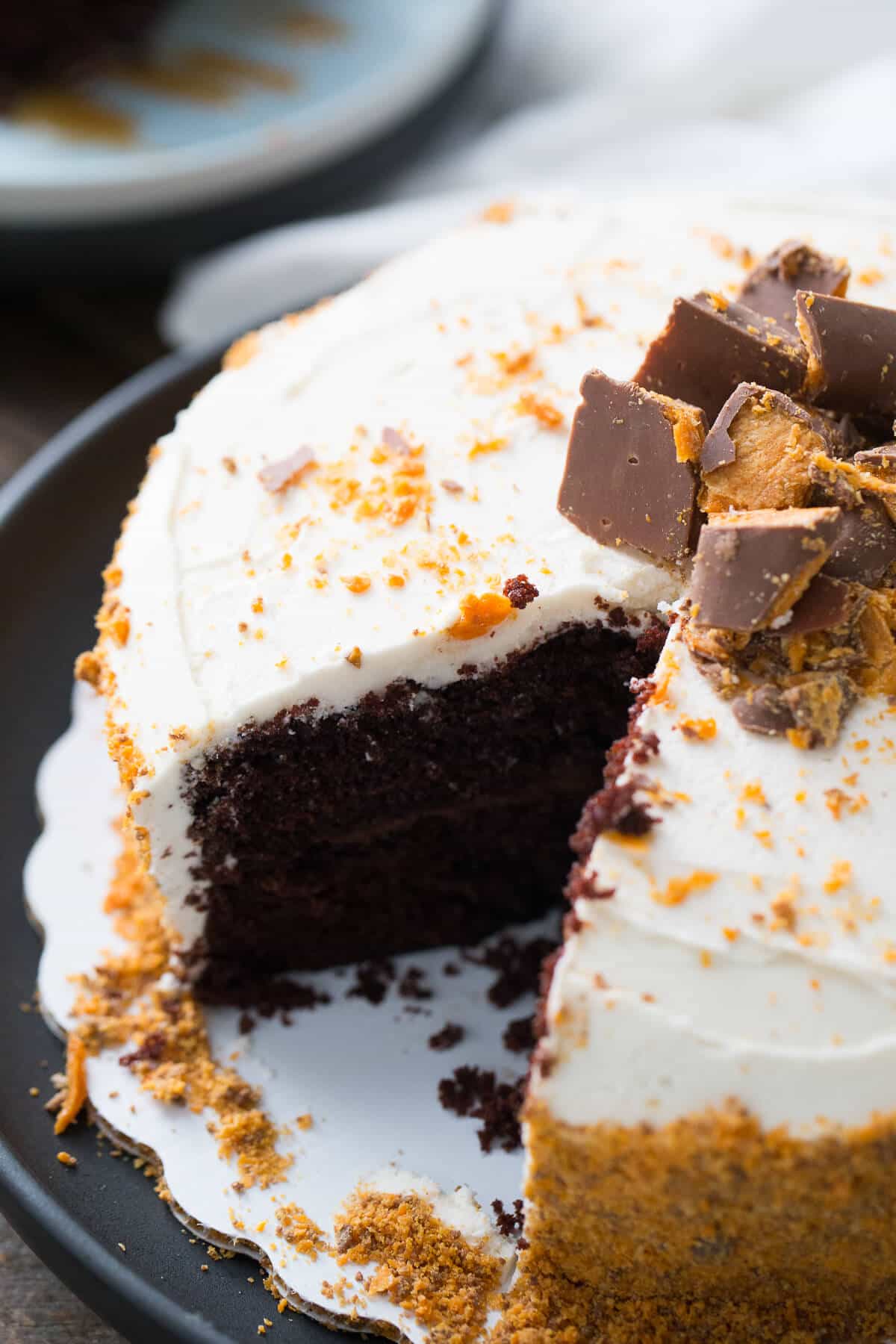 This chocolate cake has three parts.  The cake part, of course.  A silky chocolate ganache filling and a creamy caramel flavored buttercream.  Chopped Butterfinger candies are pressed into the sides of the cake and they also get piled on top. This cake has a presence that works for almost any occasion!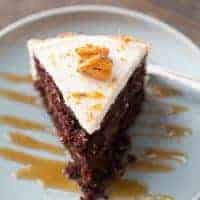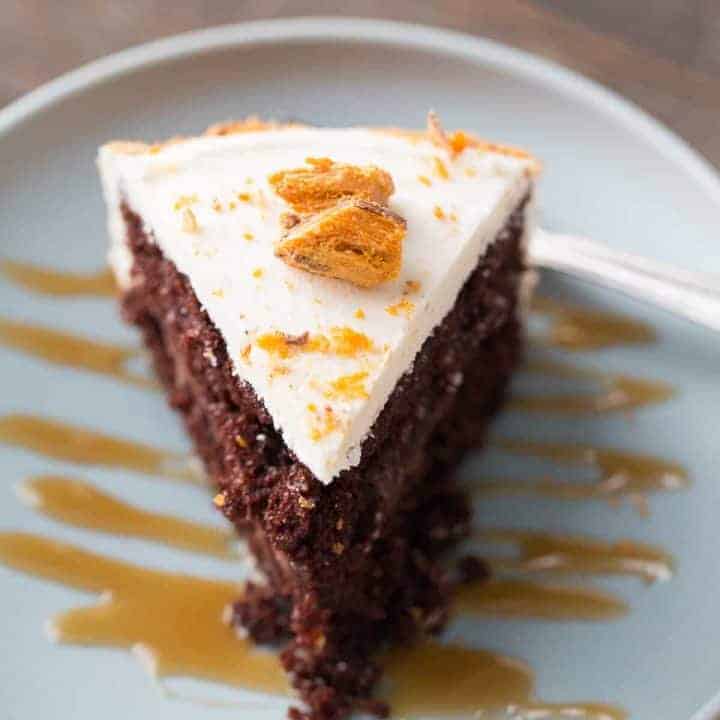 Butterfinger Cake
This Butterfinger cake is two layers of decadence!  A rich chocolate cake is layered and filled with chocolate ganache and topped with Buttercream and Butterfingers!
Ingredients
2 cups flour
1 teaspoon baking powder
1 teaspoon salt
1 teaspoon baking soda
¾ cup cocoa powder
2 cups sugar
2 eggs
1 cup vegetable oil
1 cup coffee
1 cup milk
Ganache
6 oz semi sweet chocolate
5 oz heavy cream
Frosting
1 cup butter
1 cup shortening
6 cups powdered sugar
Pinch of salt
¼ cup caramel ice cream topping
10-12 mini Butterfingers
Instructions
Preheat the oven to 325 degrees. Grease and flour two 8 inch cake pans and set aside.
In the bowl of a stand mixer combine flour, baking powder, baking soda, salt, cocoa powder and sugar. Beat in the eggs. Slowly stir in the oil. Stir in the coffee and the milk. Mixture WILL be runny. Divide the batter between the prepared cake pans and bake for 35-40 minutes or until a toothpick inserted comes out clean. Allow cake to cool.
Place semi-sweet chips in a bowl. Heat the heavy cream in a sauce pan just until bubbles form around the edge. Remove the cream from heat and pour it over the chocolate. Let this sit for a minute; then stir until smooth and creamy. Refrigerate ganache until it is set. It should be firm enough to spread. Do not leave the ganache too long or it will become solid.
When cake has cooled, carefully cut any domes off the top of each cake layer. Place one layer top down on a cake plate. Carefully spread ganache over this layer and then top with second cake layer (top down so that the flat bottom is face up). Place cake in the refrigerator to set while you prepare the frosting.
In the bowl of your mixer, beat together the butter and the shortening until creamy. Slowly beat in powdered sugar one cup at a time, beating well after each addition. Add the salt. Beat in the ice cream topping, adding more sugar if necessary to keep the frosting thick.
Reserve 1-2 candies to chop for the top of the cake, and process the rest in a food processor until you have fine crumbs.
Remove the cake from the refrigerator and spread the buttercream over the cake. Press the candy crumbs on the sides of the cake and top with remaining chopped candies.
Nutrition Information
Amount Per Serving
Calories

1049
Total Fat

62g
Saturated Fat

21g
Cholesterol

86mg
Sodium

408mg
Fiber

3g
Sugar

101g
Protein

6g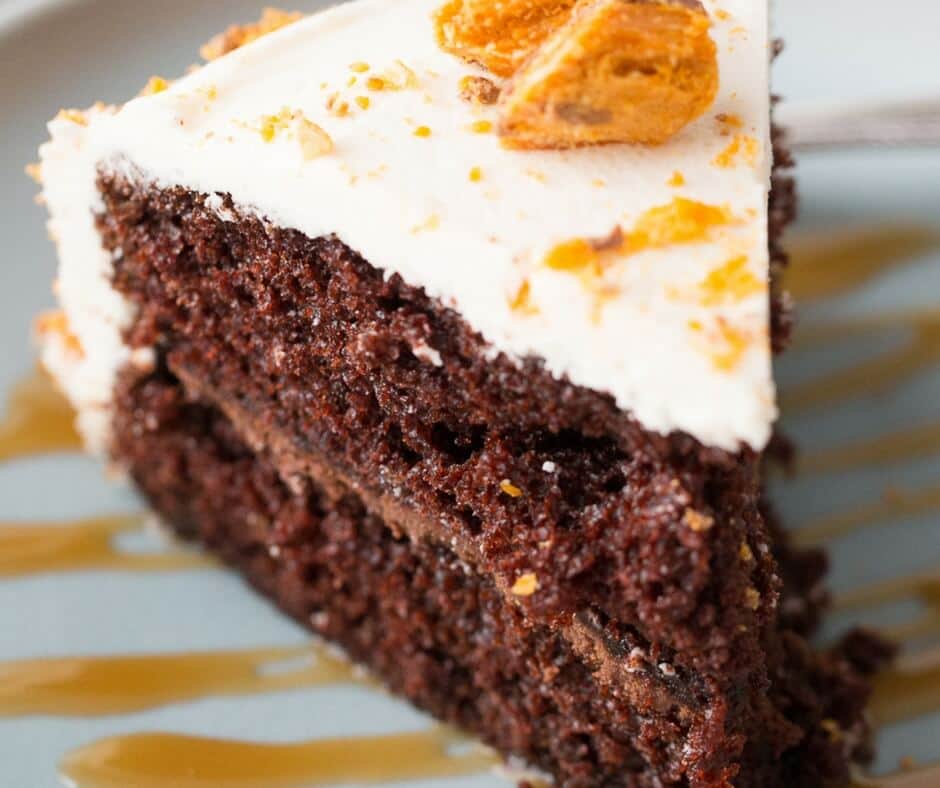 SaveSave
SaveSave
SaveSave
SaveSave