This easy spinach salad is the perfect complement to any meal and any occasion!
Cool and crisp spinach and sweet fruit make this salad taste fresh and delicious!
This version that I'm sharing with you today is a little sweet, a little savory, and a little tangy. It has something for everyone which is why it is a great companion for any meal and any occasion. This crunchy and spinach apple salad is a perfect light meal option or side dish. Wonderfully paired with a simple homemade honey mustard vinaigrette is drizzled over top just before serving.
What is spinach salad?
It's a salad that uses baby spinach leaves as the green leafy base instead of more common salad greens like arugula, romaine lettuce, or iceberg. Spinach is packed full of calcium, iron, and other great nutrients that your body needs so serving it up often in tasty ways (like this spinach bacon salad) is a great way to give your body what it needs while pleasing the stomach.
Ingredients you'll need for a healthy spinach salad:
Fresh Spinach--I like to use fresh baby spinach
Fuji Apple–I used Fuji because I love their crisp, sweet flavor
Dried Cherries–Any dried fruit would work
Chopped Walnuts–I also added walnuts to this recipe because of their meaty crunch and health benefits
Bacon–Crumbled bacon adds a salty element to this salad
Olive Oil
Apple Cider Vinegar
Dijon Mustard
Honey
Salt
For the exact amounts needed, please see the recipe card below.
How To Make Spinach Salad
In a medium bowl, toss to combine the baby spinach and thinly sliced apples along with your favorite brand of dried cherries.
Add your walnuts and bacon. Toss together to combine.
In a small bowl, whisk together the olive oil vinegar, mustard, and honey. Season with a little salt and pepper to taste.
Pour your dressing over the salad and toss to coat.
Enjoy!
Substitutions
Instead of apples–Pears, strawberries, and blueberries can easily be used in place of the apples.
Instead of dried cherries–Dried cranberries can be used in place of the dried cherries.
Different meat ideas--Prosciutto is a natural substitute for bacon. But you could also use chopped salami, pepperoni, grilled chicken, or even hard-boiled eggs. You can certainly use bacon bits if you have them on hand.
Nuts or no nuts. Use your favorite nut for the walnuts (or omit them).
Don't want a homemade dressing? A balsamic vinaigrette can be used in place of the honey mustard, as can a red wine and olive oil vinaigrette. A warm bacon dressing would be delicious!
Cheese pairings. Feta, blue cheese, or goat cheese would be a welcome addition to this salad.
Another great idea. Shallots and red onions may also be added.
FAQs
How do you wash spinach for a salad?
clean your spinach leaves by filling a large bowl with cold water and then swish the leaves of the spinach back and forth in the water to shake the dirt off and into the water. Remove the leaves from the water and place them into a colander. Empty the bowl of water and repeat filling with water and swishing the leaves again to make sure that all of the dirt and debris has been removed from the leaves. Continue this process until the water is clear and no signs of dirt remain. Drain leaves in colander or pat dry with a paper towel before using.
What To Put In A Spinach Salad
There are countless ways of making a spinach salad. You can toss it with chicken, eggs, bacon, and turkey for a sort of cobb salad variation or top it with strawberries and goat cheese for a classic spin.
You can wilt the spinach or serve it with warm dressing (similar to this wilted kale salad). Spinach is a sturdy green that can handle almost anything you decide to throw at it.
What To Serve With Spinach Salad
As I mentioned above, this salad is a great side for any meal. This spinach salad recipe is easy, quick, satisfying, and works for any occasion and any season. This salad is a great healthy way to nourish your body!
Serve this easy salad with balsamic chicken, oven-roasted pork tenderloin, Skillet Beef and Noodles Recipe, Shrimp Alfredo, or Roasted Chicken Recipe.
More Great Salad Recipes:
Yield: 4
Easy Spinach Salad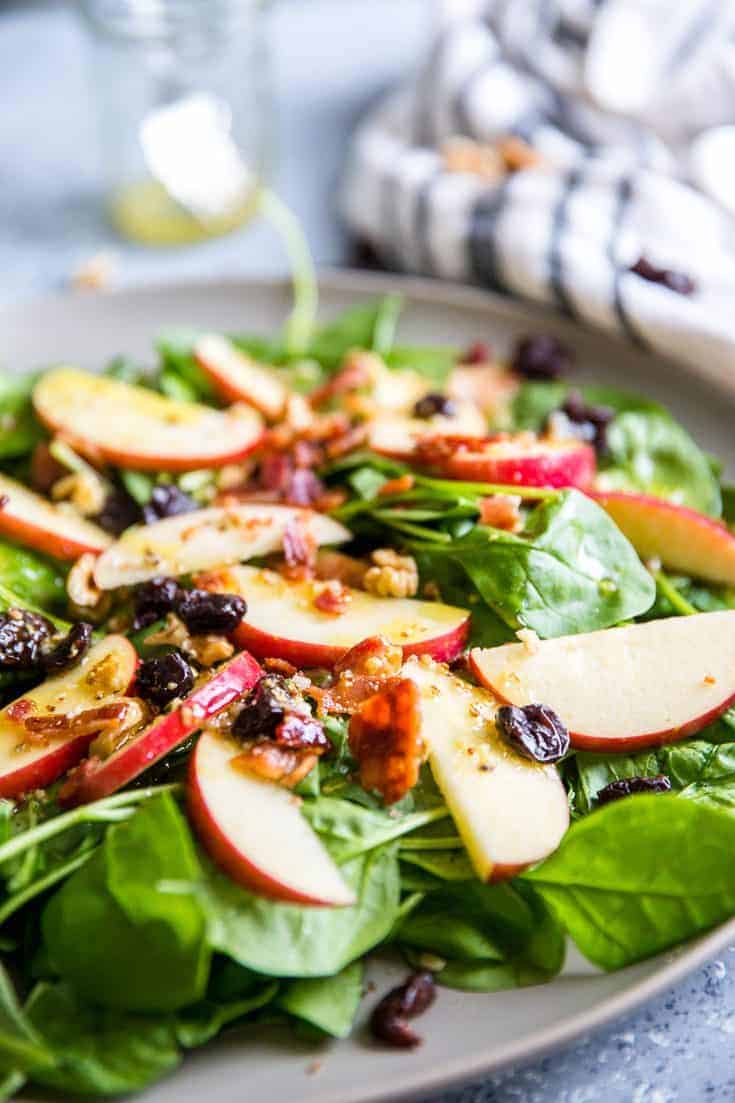 This spinach salad is the perfect compliment to any meal and any occasion!
Cool and crisp spinach and sweet fruit make this salad taste fresh and delicious!
Ingredients
1 bunch of spinach
1 Fuji apple sliced
½ cup dried cherries
½ cup chopped walnuts
3 slices cooked bacon, crumbled
¼ cup olive oil
3 tablespoons apple cider vinegar
1 teaspoon dijon mustard
1 teaspoon honey
Salt to taste
Instructions
Place washed and dried spinach in a bowl,
Top spinach with apples, cherries, walnuts, and bacon
In a small bowl, whisk together the olive oil, vinegar, mustard and honey; season with salt and pepper to taste.
Pour dressing over salad just before serving; toss to coat.
Nutrition Information
Yield
4
Serving Size
1
Amount Per Serving
Calories

324
Total Fat

27g
Saturated Fat

4g
Trans Fat

0g
Unsaturated Fat

22g
Cholesterol

9mg
Sodium

358mg
Carbohydrates

17g
Fiber

3g
Sugar

11g
Protein

7g