Simple oven roasted pork tenderloin with the loveliest balsamic fig sauce you've ever tasted!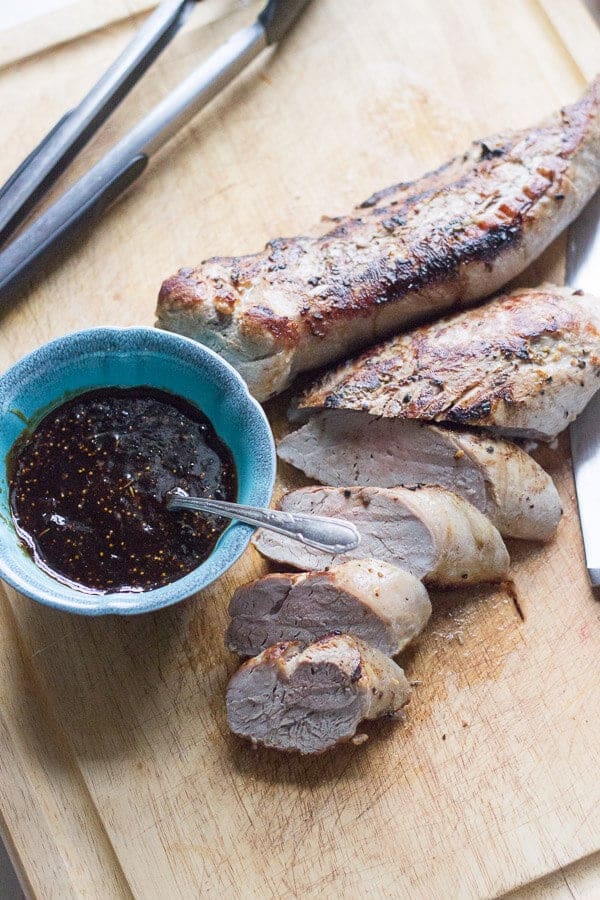 I grew up in a household where dried figs were treated as though they came directly from the gods.  My mom would swoon every time she ate one.  I never shared her enthusiasm.  To me, they always seemed like raisins on steroids.  I have a deep disdain for raisins.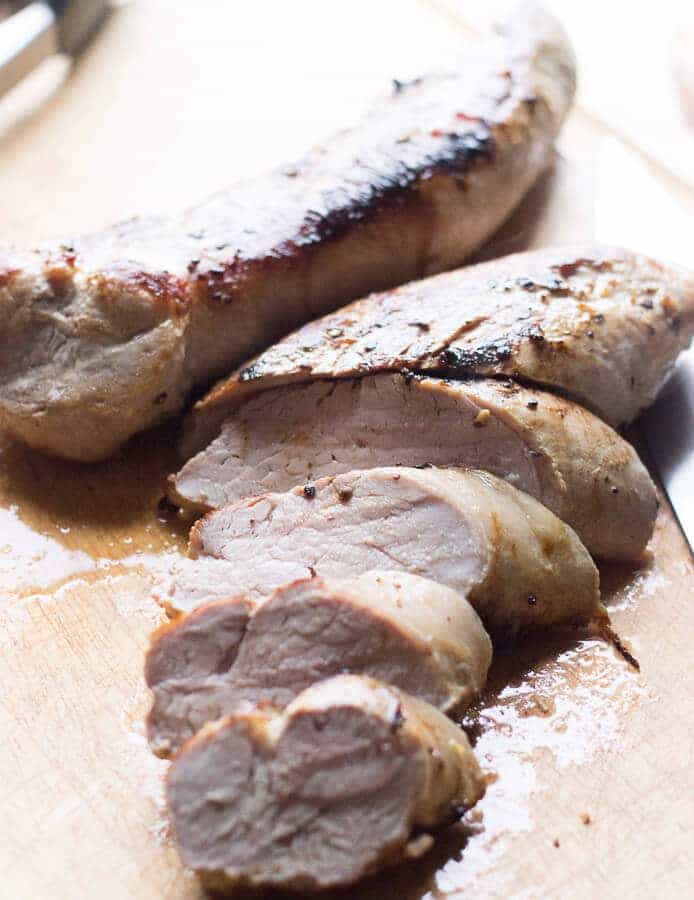 I dabbled in Fig Newtons, that's as close as I could come to eating a dried fig.  But let's face it, Fig Newtons are a lame excuse for a cookie.  I ate them because there was nothing else around, but I never LIKED them.  I never craved a Fig Newton like I would crave chocolate.  When I was old enough to walk to the quicky mart to buy candy I stopped forcing down those darn Fig Newton's.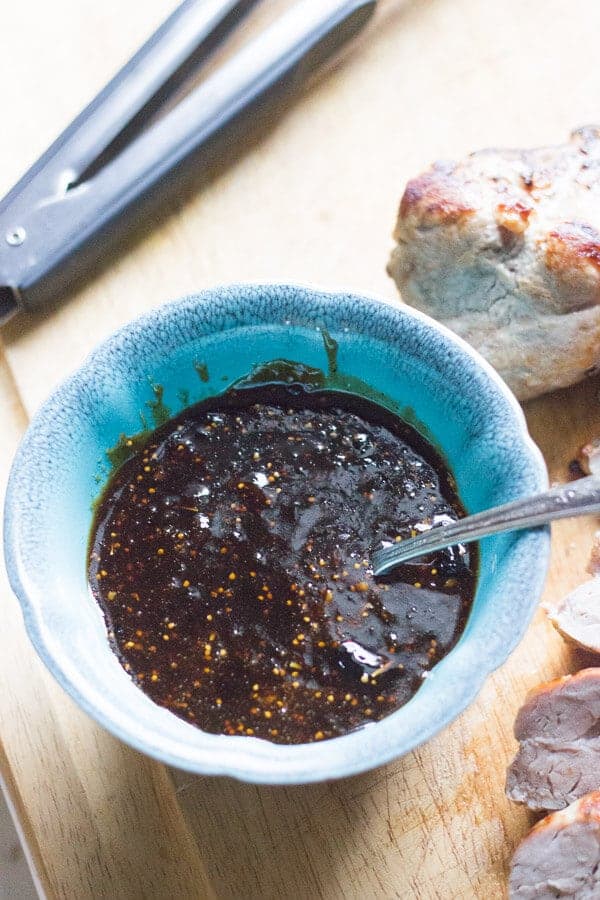 Just this year I decided it was time I revisit the good old fig.  However, this time I tried it in the form of fig jam.  I used it in these little brie cups and fell hard in love.  I still think dried figs are gross, but fig jam is a whole other animal.  It is so perfectly sweet; like thick honey, but deeper and richer.  It is just beautiful.  Which is why when I was dreaming up the perfect Valentine's Day meal, I knew fig jam had to be part of it.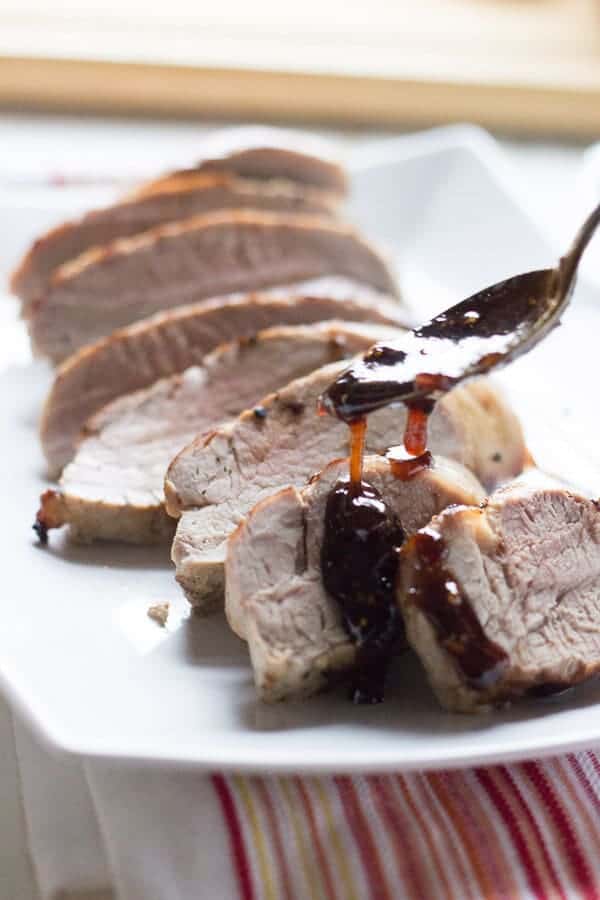 Pork tenderloin is so easy to roast in the oven.  It actually doesn't take long to cook as long as you brown it on the stove top first.  This pork only took about 25 minutes in total.  The lightly seasoned pork was really the perfect vehicle for the tangy/sweet sauce that I've created.  The sweet fig jam is combined with tangy balsamic vinegar and heat just until it is thin enough to be called a sauce.  The flavor combination hits every key taste bud in your mouth.
I'm not ready to pop dried figs like popcorn, but I am ready to indulge in fig jam on a daily basis.  One day I may actually try a real fresh fig.
Pork Tenderloin with Balsamic Fig Sauce
8
adjust servings
Pork tenderloin is oven roasted and served with a tangy and sweet balsamic fig sauce.
Ingredients
For the pork
3

lbs pork tenderloin

2

tablespoons olive oil

2

teaspoons dried rosemary

2

cloves of garlic, minced

1

teaspoon salt

1

teaspoon pepper
For the sauce
3/4

cup fig jam

3

tablespoon balsamic vinegar

1/2

teaspoon salt
Instructions
Preheat oven to 450.
Sprinkle pork with rosemary, garlic, salt and pepper. Heat a large skillet with olive oil over medium heat. Add pork. Cook pork for 10 minutes, turning halfway to brown each side. Remove pork to a baking dish that has been sprayed with non stick spray. Bake pork in the preheated oven for 20 - 25 minutes or until a meat thermometer registers 145 degrees. Remove pork. Let pork stand for a few minutes before cutting.
Meanwhile, add jam to the same skillet. Add vinegar and salt, stir frequently and cook on low heat for 5-8 minutes or until jam has thinned out or until desired consistency.
Slice pork and serve with sauce.