Pork Parmesan is the new favorite substitute for chicken Parmesan!
Breaded pork chops are browned on the stove and finished in the oven.
Each chop is smothered in melted cheese and
 homemade pasta sauce!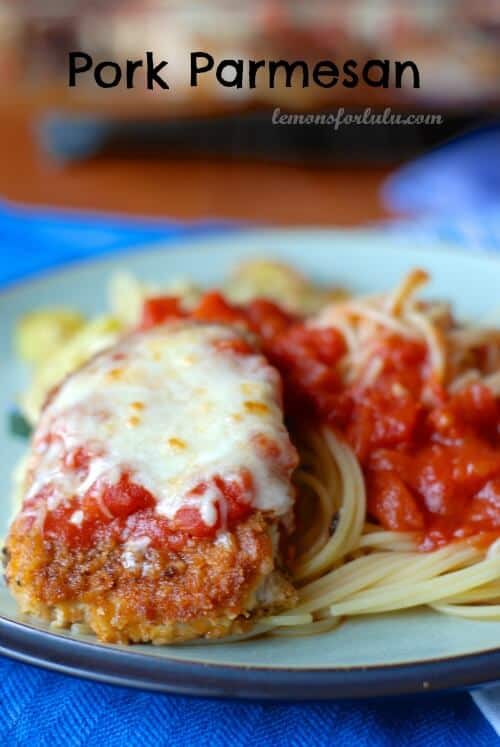 Pork Parmesan Is Comfort Food
Does anything seem more natural than running?  As I kid we ran everywhere, to school, to our friend's house, to the park.  Then when we got to our destination, we ran some more.   We played chase and tag and red rover.  We probably ran the equivalent of a marathon each time we went out to play and we only stopped running because mom called us home.  The next day we'd get up and do it again.
It's funny how as I've gotten older, the body just isn't able to run like it could when I was a child.  How could something so innate be so difficult?  How is it that as adults we have to train our muscles for distance and endurance for marathons or races yet as a kid we just ran as fast and as hard as we could ALL THE TIME!
Today I participated in my second half marathon.  I walked, I'm not Forrest Gump!  But walking was challenging enough.  I came to the realization that marathons do not discriminate based on age or body shape or size.  There were all sorts of people running their hearts out and inspiring me every step of the way.
These are the times that I remember that the body is a natural machine that is meant to be moved.  We are not sedentary creatures by nature.  Our limbs and organs were designed to work in perfect symmetry to carry us and propel us forward.  No equipment required, just our own bodies.  That is extraordinary.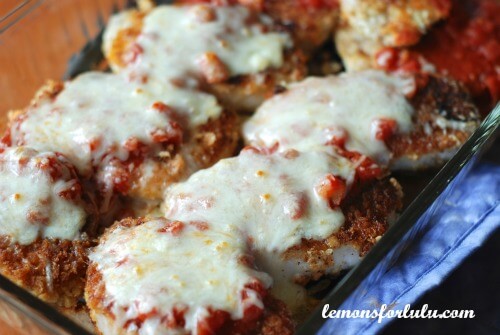 I'll be honest, it was at about mile 6 when I started to get really hungry.  I started fantasizing about what I was going to eat as soon as I finished.  You might think I would have been craving these brownies  or even these chocolate cookies, but you'd be wrong.  I was craving a big bowl of pasta!!  That's all I could think about!  I wanted starchy carbs and a slab of meat, like pork!   I knew today was not the day to be standing around the kitchen.
Luckily the ingredients to make pork Parmesan were already in my pantry and my fridge.  I love a recipe that doesn't require an extra trip to the store!  This pork dish is quick, it's easy, and it's accessible!  The marinara sauce comes together in a snap and could be the star on its own.  But the pork is breaded and seasoned, then baked with a blanket of gooey cheese.  The perfect dish for my hearty appetite!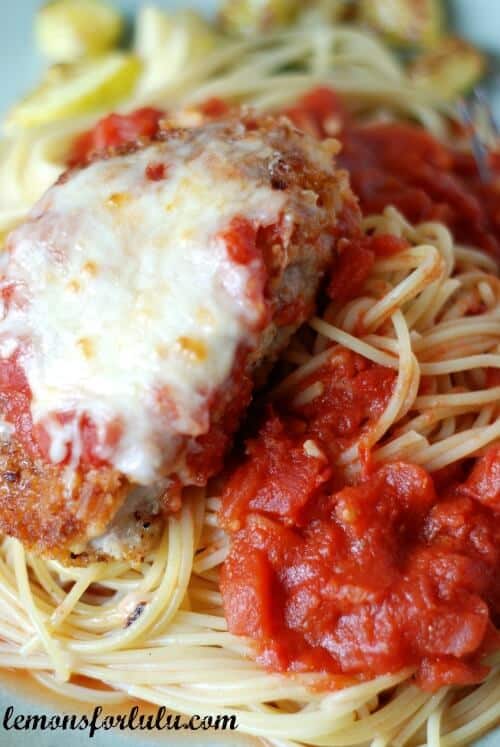 For me, walking these marathons is similar to childbirth: immediately afterward I declare I'm never doing another one.  In about 6 months I'll decide it wasn't so bad and sign up to do it all again.   And if I knew someone would be running in front of me with, let's say a giant box of cupcakes, I may actually be persuaded to run!
Speaking of running, run to your kitchen and make this pork Parmesan for dinner!
Pork Parmesan with Homemade Marinara Sauce
Ingredients
6

Boneless pork loin chops

3/4

cup flour

1 4

oz container egg product

1/2

cup bread crumbs

1/2

cup Panko bread crumbs

1/4

cup grated Parmesan cheese

1

cup shredded mozzarella cheese

3Tablespoons

olive oil divided

2

cloves garlic, minced

1 28

oz can crushed tomatoes

1 14oz

can petite-diced tomatoes

1 8oz

can tomato sauce

2

teaspoons sugar

1/2

teaspoon salt

1

teaspoon Italian seasoning

1/4

teaspoon red pepper flakes

1

lb angel hair pasta
Instructions
Heat a large skillet with 2 tablespoons olive oil. Place flour in a shallow bowl, egg product in a second shallow bowl and breadcrumbs and Parmesan cheese in a third shallow bowl. Season pork chops with salt and pepper. Dip pork in flour, then eggs, followed by breadcrumbs. Cook in skillet about 5-7 minutes or until browned on each side. Arrange pork chops on a casserole dish coated with cooking spray.
Meanwhile, heating remaining tablespoon of olive oil in a small saucepan. Add garlic and cook for one minute. Add crushed tomatoes, diced, tomatoes and sauce. Stir in sugar, salt and seasoning. Cook until mixture begins to simmer. Reduce heat to low and cover.
Preheat oven to 400. When pork chops have finished browning and are arranged in your casserole dish, ladle ½ to 1 cup of sauce over pork chops. Sprinkle chops with shredded cheese. Bake in oven for 15 minutes or until cheese has a completely melted.
Prepare past while pork is in the oven. Serve chops over past and sauce.