Parmesan bread baked pork chops are the new favorite substitute for chicken Parmesan!
Breaded pork chops are browned on the stove and finished in the oven.
Each chop is smothered in melted cheese and
homemade pasta sauce!
How To Bake Pork Chops
Baked pork chops are so easy, super tender and everyone loves them! This recipe features thick pork chops that are coated in bread crumbs and Italian seasoning, then coated in a homemade tomato sauce. A sprinkle of cheese makes them extra flavorful!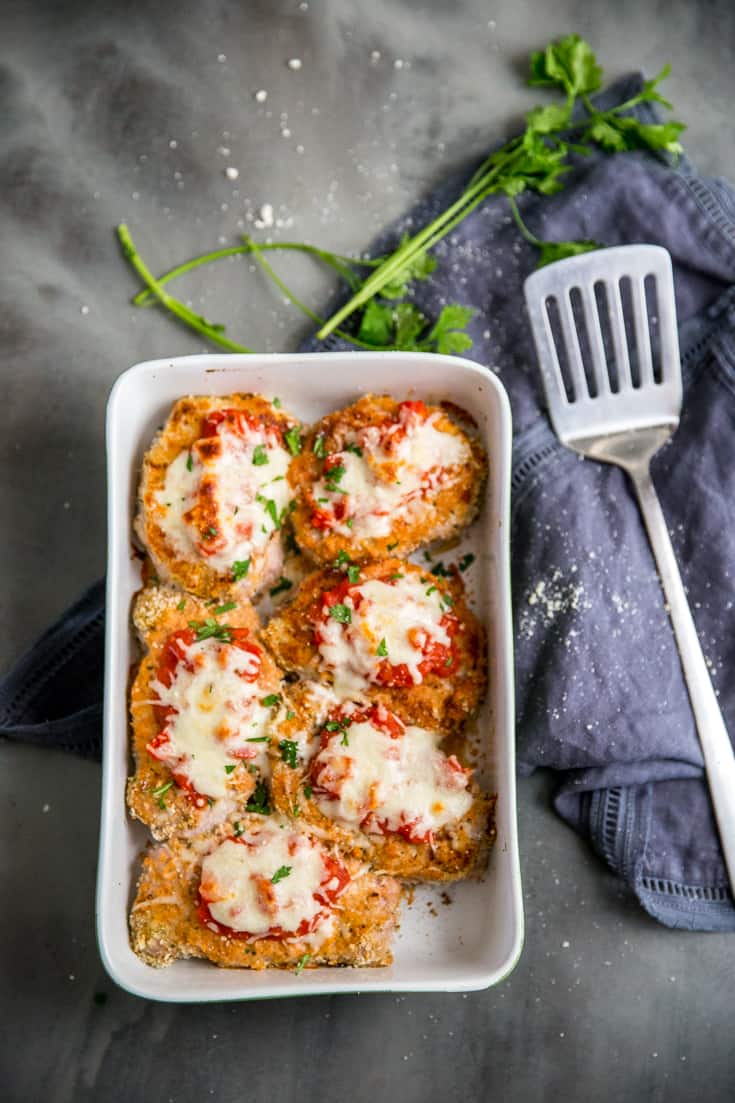 This recipe is very similar to chicken Parmesan. I like using pork because of the flavor. Pork is a great source of lean protein that pairs with so many flavorings. It is quick cooking, tender, versatile.
For this recipe I take thick cut pork chops (boneless) and dredge them in flour, then an egg wash and then finally in seasoned bread crumbs, I brown the pork chops in olive oil in a large skillet. You may need to work in batches. This recipe can easily be halved or doubled if you are feeding a crowd. Once the pork chops have browned, remove them and place them in a greased baking dish and move onto to your sauce.
Homemade Marinara Sauce Is So Easy
I LOVE making my own sauce because then I can control the sodium, seasoning, texture and I can make a big batch of sauce very economically. This recipe can be made while the pork chops brown. The recipe uses a large can of crushed tomatoes, a small can of diced tomatoes, tomato sauce and some seasoning, that is it! It is totally ok if you want to use a jarred sauce, however. It is certainly time-saving and pasta sauce is often a pantry staple.
Ladle a little sauce over each pork chop and then top them with some shredded mozzarella cheese. These pork chops will not take long in the oven. For one thing, they are boneless but also because the skillet has done most of the work already. It is ok for pork to have a little pink inside when they come out of the oven. The pork is ready to come out of the oven when the cheese has melted and the pork registers 145 degrees with a meat thermometer.
What To Serve With Bread Pork Chops
Serve these chops and the homemade sauce with your favorite pasta. Add and Easy Spinach Salad, or Balsamic Green Beans for your side dish!
If you love pork, try this Pork a Sauerkraut Recipe, Oven Roasted Pork Tenderloin with Fig Sauce, and Mediterranean Stuffed Pork Chops!
Pork Parmesan with Homemade Marinara Sauce
Pork Parmesan is the new favorite substitute for chicken Parmesan!
Breaded pork chops are browned on the stove and finished in the oven.
Each chop is smothered in melted cheese and
 homemade pasta sauce!
Ingredients
6 Boneless pork loin chops
3/4 cup flour
2 eggs, lightly beaten
1 tablespoon water
1/2 cup bread crumbs
1/2 cup Panko bread crumbs
1/4 cup grated Parmesan cheese
1 cup shredded mozzarella cheese
3Tablespoons olive oil divided
2 cloves garlic, minced
1 28 oz can crushed tomatoes
1 14oz can petite-diced tomatoes
1 8oz can tomato sauce
2 teaspoons sugar
1/2 teaspoon salt
1 teaspoon Italian seasoning
1/4 teaspoon red pepper flakes
Instructions
Heat a large skillet with 2 tablespoons olive oil. Place flour in a shallow bowl, combine the eggs and water in a second shallow bowl and breadcrumbs and Parmesan cheese in a third shallow bowl. Season pork chops with salt and pepper. Dip pork in flour, then eggs, followed by breadcrumbs. Cook in skillet about 5-7 minutes or until browned on each side. Arrange pork chops on a casserole dish coated with cooking spray.
Meanwhile, heating remaining tablespoon of olive oil in a small saucepan. Add garlic and cook for one minute. Add crushed tomatoes, diced, tomatoes and sauce. Stir in sugar, salt and seasoning. Cook until mixture begins to simmer. Reduce heat to low and cover.
Preheat oven to 400. When pork chops have finished browning and are arranged in your casserole dish, ladle ½ to 1 cup of sauce over pork chops. Sprinkle chops with shredded cheese. Bake in oven for 15 minutes or until cheese has a completely melted.
Nutrition Information
Yield

6
Serving Size

1
Amount Per Serving
Calories

466
Total Fat

17g
Saturated Fat

6g
Trans Fat

0g
Unsaturated Fat

9g
Cholesterol

143mg
Sodium

1060mg
Carbohydrates

43g
Fiber

6g
Sugar

12g
Protein

36g