Pork chops dressed up with a fresh and simple blackberry peach sauce! This easy meal is filled with a fresh, sweet and savory taste!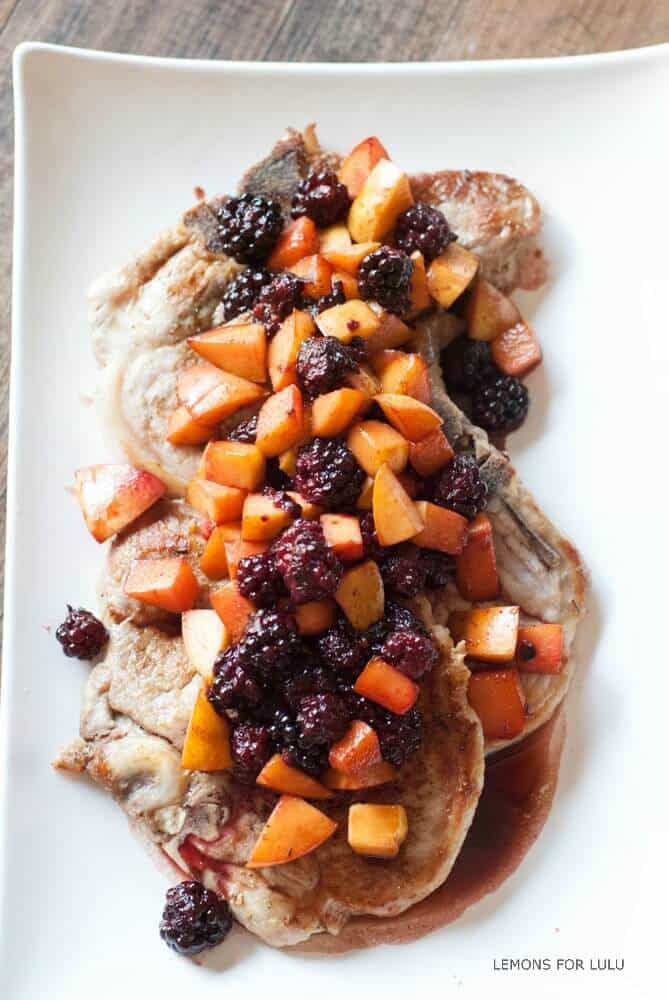 My husband and I are approaching our 15th wedding anniversary.  I was trying to figure out where we should celebrate, and I couldn't help myself from thinking about our last year's dinner.  For this anniversary, we went out to dinner to an upscale steak house.  Now the only reason we chose this place was that we had a gift card leftover from Christmas, I couldn't have imagined spending the money otherwise!  It was too fancy for my taste.

I should have known better than to go to that restaurant. For starters, I'm not that crazy about steak (my husband has never understood this) and secondly I HATE anything formal.  I don't want to get dressed up, I don't want anyone to brush crumbs off the pristine tablecloth, I don't want to sniff the wine before it gets poured, and I don't want the waiter to tell me I made an excellent choice.  I would much rather have a cold beer and simple food.
Pork chops for any occasion
I should have made this pork chop dinner for our anniversary.  Pork chops can be a wonderful blank canvas; they can be paired with so many flavors.  This meal is light and fresh.  The chops are savorily seasoned but get topped with succulent peaches and tart blackberries.  The sauce is also hit with a splash of balsamic vinegar to balance out the sweetness of the fruit.
I love this recipe for the same reason I love this blackberry brisket or this pork loin with cherry sauce; savory foods are enhanced by sweet flavors.  With summer approaching and the availability of fresh fruit expanding, it would be a crime not to take the opportunity to use up as much fresh produce as possible!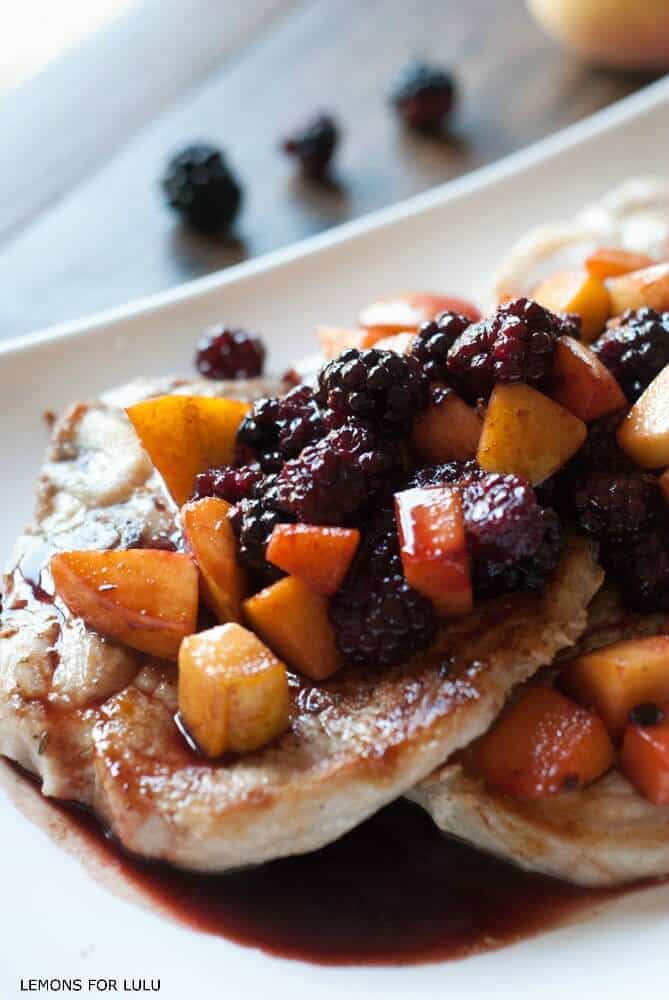 Pork Chops with Blackberry Peach Sauce
Ingredients
4

pork chops

3/4

teaspoon Herbes de Provence

salt, pepper

1

tablespoon olive oil

1

cup blackberries

1

cup peaches, diced

2

tablespoon balsamic vinegar

1/4

cup brown sugar

1

tablespoon honey
Instructions
Season chops with Herbes and salt and pepper to taste. Heat oil in a large skillet. Brown chops on medium heat for 5-6 mintues per side depending on the thickness of your chops. Once browend, remove from pan and keep warm.
In the same skillet, add blackberries and peaches. Stir in vinegar, sugar and honey. Cook stirring often until sauce thickens and peaches are soft, about 6-7 minutes. Serve over pork chops.