Peach cake made with fresh peaches and cinnamon and topped with the most perfect brown sugar frosting! This peach cake is a wonderful way to enjoy the season's best!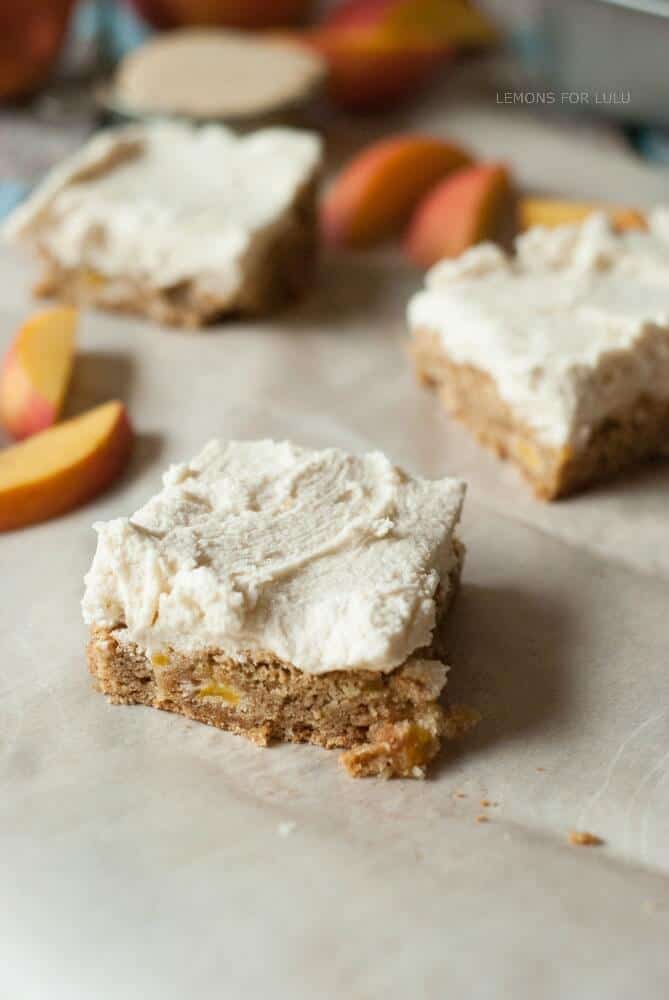 Peaches remind me of vacation. I remember a few years ago me and my family took a short trip to Michigan. Our last night there, we stopped at a local farm stand and bought bags of nectarines, cherries, plums and peaches. When we got home we ran to the kitchen, rinsed our fruit and promptly began feasting. Our wrists and arms were speckled with fruit juice. Peels and pits littered the table as we gorged ourselves on plump, fresh fruit. I will never forget how wonderful all those bags of fresh fruit tasted.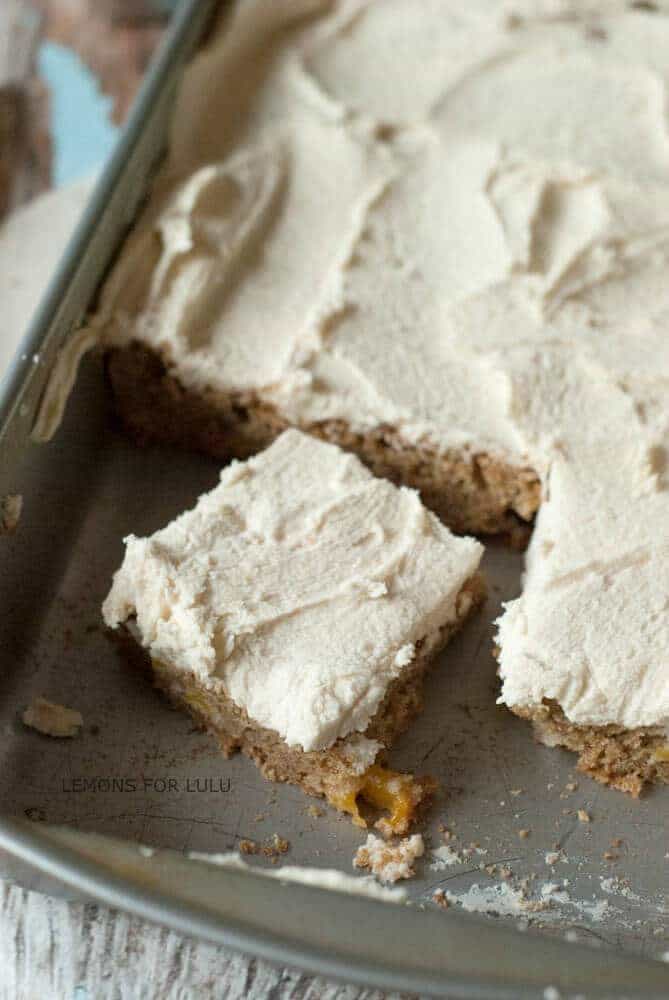 The following summer we took a trip to South Carolina. We decided to take a break from the beach and go for a little day trip. We stopped along the country roads to patronize a family farm with fresh peaches. After our Michigan trip, we knew that these farm stands yield the sweetest treats. This little stand did not disappoint. Our brown bag was busting with fragrantly ripe, juicy peaches! Being the impatient bunch that we are, we dug right in.
You haven't lived until you've had fresh peach juice dribbling down your chin. Those peaches were so incredibly fresh and delicious. They practically ruined peaches for us! We feared that no other peach could possibly compare to those fuzzy sweet road side treats.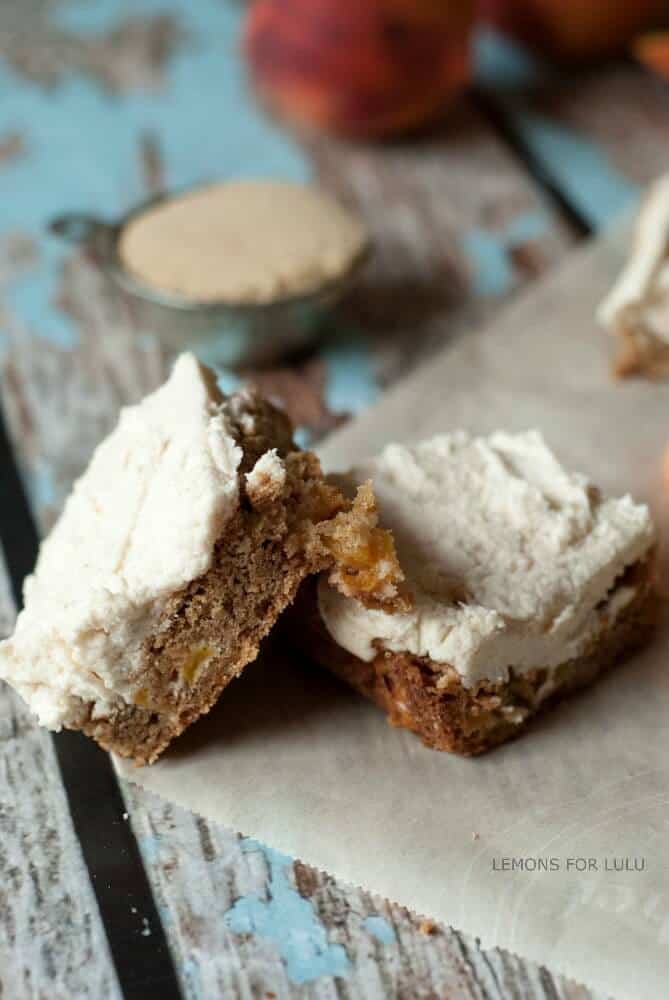 This time of year I cannot resist buying farm fresh peaches as often as possible. They are so succulent and tender. Usually we just eat them plain. This year, I couldn't resist baking with peaches just once. Peach cake is the perfect dessert to showcase the season's best fruit!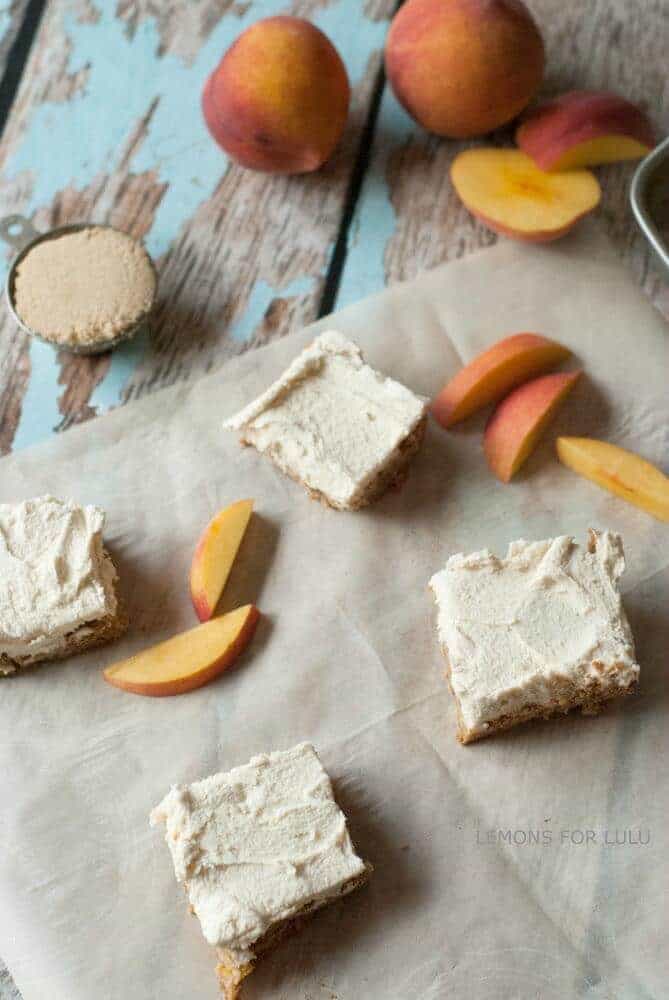 I used only the freshest peaches for this cake that I found at my local Walmart. I then tossed those peaches into this cinnamon laded cake. The aroma reminds you a bit of fall with the blend of cinnamon and brown sugar, but the flavor is all peach! I made a very simple brown sugar frosting to spead over this caramel colored cake. The peach cake almost has a crust on top, but one bite reveals the tender cake underneath.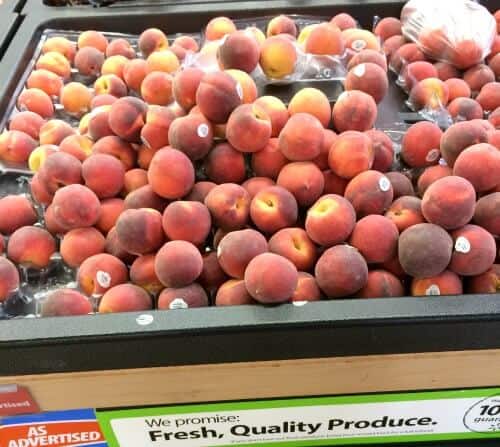 Peaches will always hold a special place in my heart. They will always make me think of those times we strayed off the beaten path. Now they will always make me think of this peach cake!
To learn more about why you should choose Walmart Produce (aside from their 100% money-back guarantee) please visit their website.
Frosted Fruit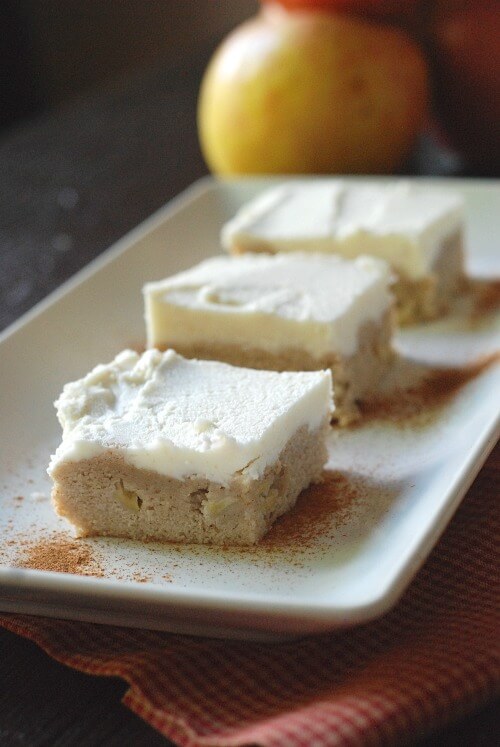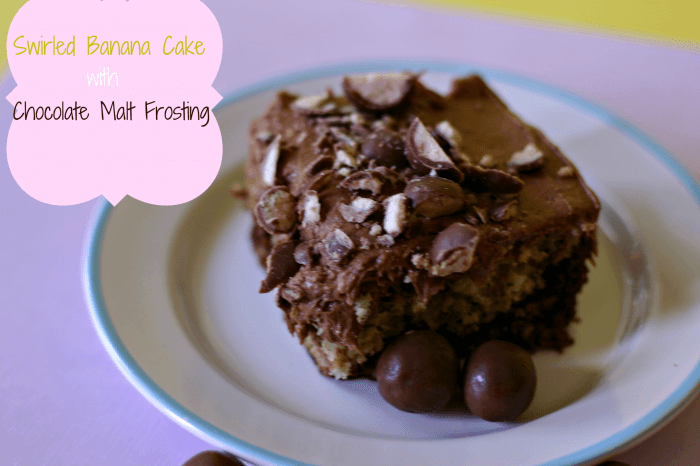 NEVER MISS A RECIPE! SUBSCRIBE TO MY EMAIL TODAY!
FOLLOW ME:
FACEBOOK | TWITTER| GOOGLE +| BLOGLOVIN | INSTAGRAM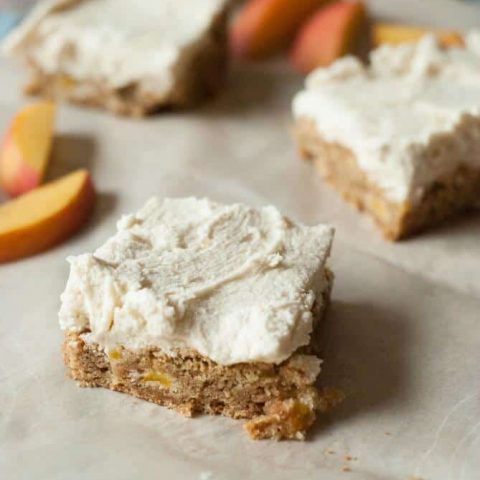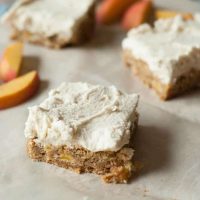 Peach Cake with Brown Sugar Frosting
Total Time:
1 hour
5 minutes
This peach cake is a wonderful way to enjoy the season's best!
Ingredients
1/2 cup butter melted
2 cups sugar
2 eggs
2 teaspoons vanilla
2 cups flour
1 1/2 teaspoons cinnamon, divided
1 teaspoon baking soda
1 teaspoon salt
2 pounds diced peeled peaches
1 cup butter softened
1/3 cup brown sugar
1/8 teaspoon salt
1 teaspoon vanilla
4 1/2 cups powdered sugar
3 tablespoons heavy cream
Instructions
Preheat oven to 350. Spray a 9-x13 inch pan with cooking spray and set aside.
In a mixer, combine the melted butter and the sugar. Beat until blended. Beat in the eggs and the vanilla.
In a small bowl, combine flour, 1 teaspoon cinnamon, baking soda and salt. Slowly add to butter mixture.
Combine peaches and ½ teaspoon cinnamon. Add to batter and stir just until peaches are incorporated into the batter. The batter will be very thick. Spread batter into greased pan.
Bake for 45-50 minutes or until a toothpick comes out clean. Let cake cool completely.
For the frosting, combine butter and brown sugar and beat until creamy. Add powdered sugar one cup at a time. Mix in salt and enough cream until you get your frosting to a spreadable consistency.
Nutrition Information
Yield

24
Serving Size

1
Amount Per Serving
Calories

323
Total Fat

13g
Saturated Fat

8g
Trans Fat

0g
Unsaturated Fat

4g
Cholesterol

48mg
Sodium

250mg
Carbohydrates

52g
Fiber

1g
Sugar

43g
Protein

2g