The classic Peach Bellini cocktail is now a sweet little dessert!
These sugar cookies are soft, chewy and covered in a peach frosting that is good enough to devour
all on its own!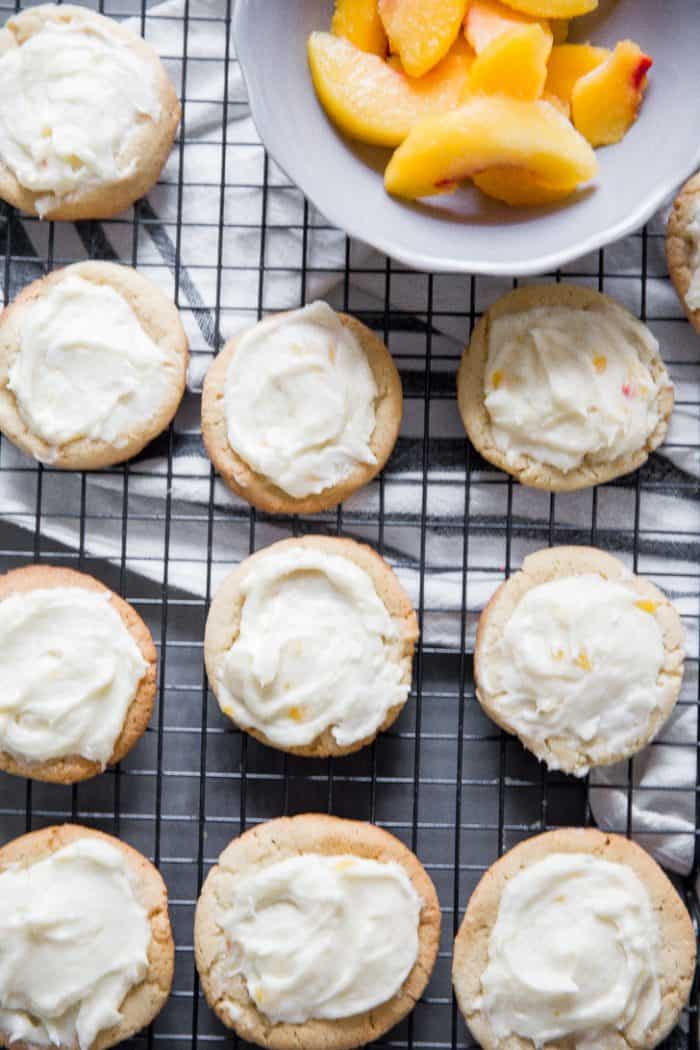 Peach Bellini Cookies? Yes Please!
I'm feeling old, I am in the graduation party stage of life (and I am not talking kindergarten graduation). I am old enough to have friends with kids who are graduating from high school. I thought it would be years before I arrived here.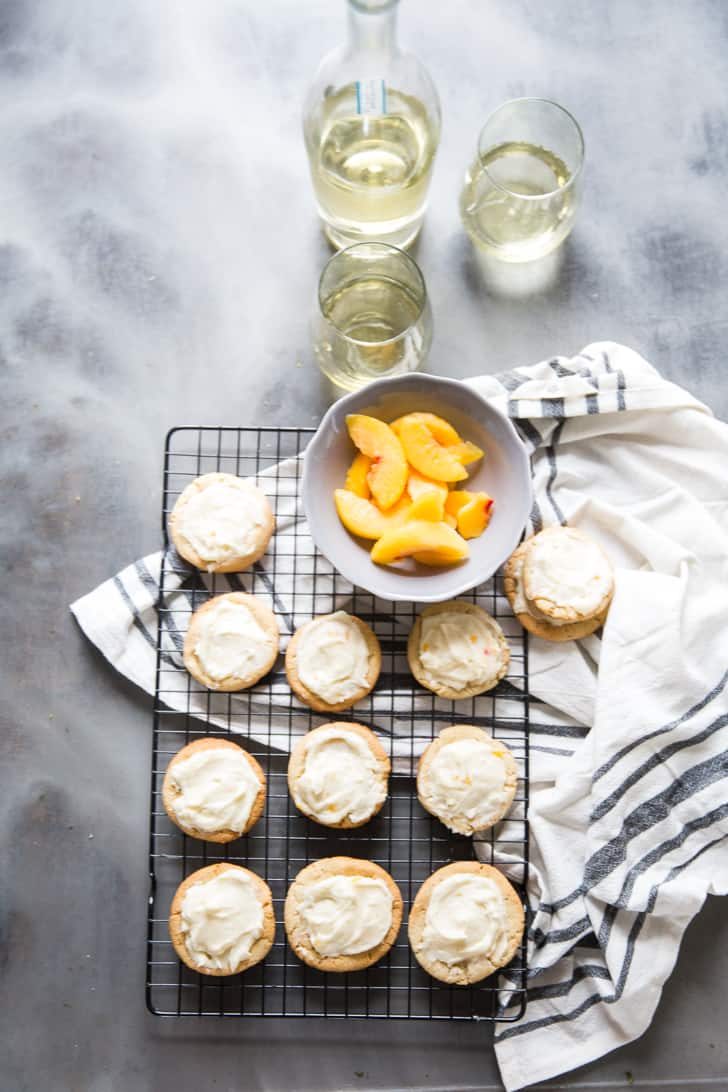 I remember the wedding shower phase. Everyone goes through that time in their lives where everyone you know starts to get married and you go to shower after shower until eventually, those wedding showers transition into baby showers. Your friends with babies start to hang out with other friends who have babies. It isn't until you have your own family that things change again.
Babies and kids have birthdays and so you have to throw them parties. You have zoo parties, gymnastics parties, Star War parties, pottery parties, roller skating parties (yes, kids STILL rollerskate), sleepovers and trampoline parties. Party, party, party, money, money, money. It seems never-ending.
Now here I am with friends who have kids graduating. Those soon-to-be college grads will find themselves cycling through the party phases also. History repeats itself over and over again.
About Peach Bellin Sugar Cookies
One thing I remember from the bridal and baby shower days is the class peach bellini cocktail. Funny, I haven't had one since those days. But with Mother's Day approaching, I figured it was the perfect time to revive the cocktail but in dessert form! These cookies are based on my Maple Bacon Sugar Cookies. and inspired by the peach cake.
Recipe Notes:
These sugar cookies are thin, soft in the middle and are just chewy enough.
I added prosecco to my batter as well as to my frosting (be sure to use the rest of the prosecco for this Bubbly Fuzzy Navel Cocktail Recipe!).
To give peach flavor to my frosting I pureed, thawed frozen peaches, but fresh will work as well. You do not need much and keep in mind that thawed peaches will add moisture. Be sure to drain them really well and pat them dry too!
Feel free to add more or less powdered sugar and heavy cream to get a consistency for the frosting that you like.
The peach bellini sugar cookies can be made and served any time and for any occasion, no need to wait for a wedding, a baby or someone to graduate!
Want more sugar cookies? Try these Key Lime Sugar Cookies, red velvet sugar cookies, old-fashioned Amish Sugar Cookies!
Yield: 40
Peach Bellini Sugar Cookies
The classic Peach Bellini cocktail is now a sweet little dessert!
These sugar cookies are soft, chewy and covered in a peach frosting that is good enough to devour all on its own!
Ingredients
8 tablespoons butter
½ cup shortening
1 ¼ cup sugar
½ cup brown sugar
3-4 tablespoons prosecco
3 egg yolks
½ teaspoon vanilla
1 teaspoon baking soda
1 teaspoon cream of tartar
1/8 teaspoon salt
1 ¾ cup flour
½ cup butter
½ cup shortening
4 cups powdered sugar
¼ cup pureed peaches
2 tablespoons prosecco
3-4 tablespoons heavy cream
Instructions
Preheat the oven to 350 degrees. Line baking sheets with parchment paper and set aside.
In the bowl of a mixer, cream together butter, and shortening. Add sugars and prosecco and beat until light and fluffy. Beat in egg yolks one at a time mixing well after each addition. Add vanilla.
Combine flour, salt and baking soda and cream of tartar. Slowly mix dry ingredients into wet ingredients and mix just until combined.
Scoop or roll a tablespoon of dough and place on a baking sheet. Bake for 12 minutes or until golden. Remove cookies from oven and allow them to cool for 2 minutes on the baking sheet; remove to a cooling rack to cool completely before frosting.
To make the frosting, cream together the butter and the shortening. Slowly beat in powdered sugar one cup at a time. Stir in the pureed peaches and prosecco. Add heavy cream as needed to achieve a spreading consistency.
Nutrition Information
Amount Per Serving
Calories

0
Total Fat

0g
Saturated Fat

0g
Cholesterol

0mg
Sodium

0mg
Fiber

0g
Sugar

0g
Protein

0g