Fresh peach pie starts with a shortbread crust that is topped with a creamy mascarpone filling and then topped with fresh peach slices. This easy pie is light and terrifically simple.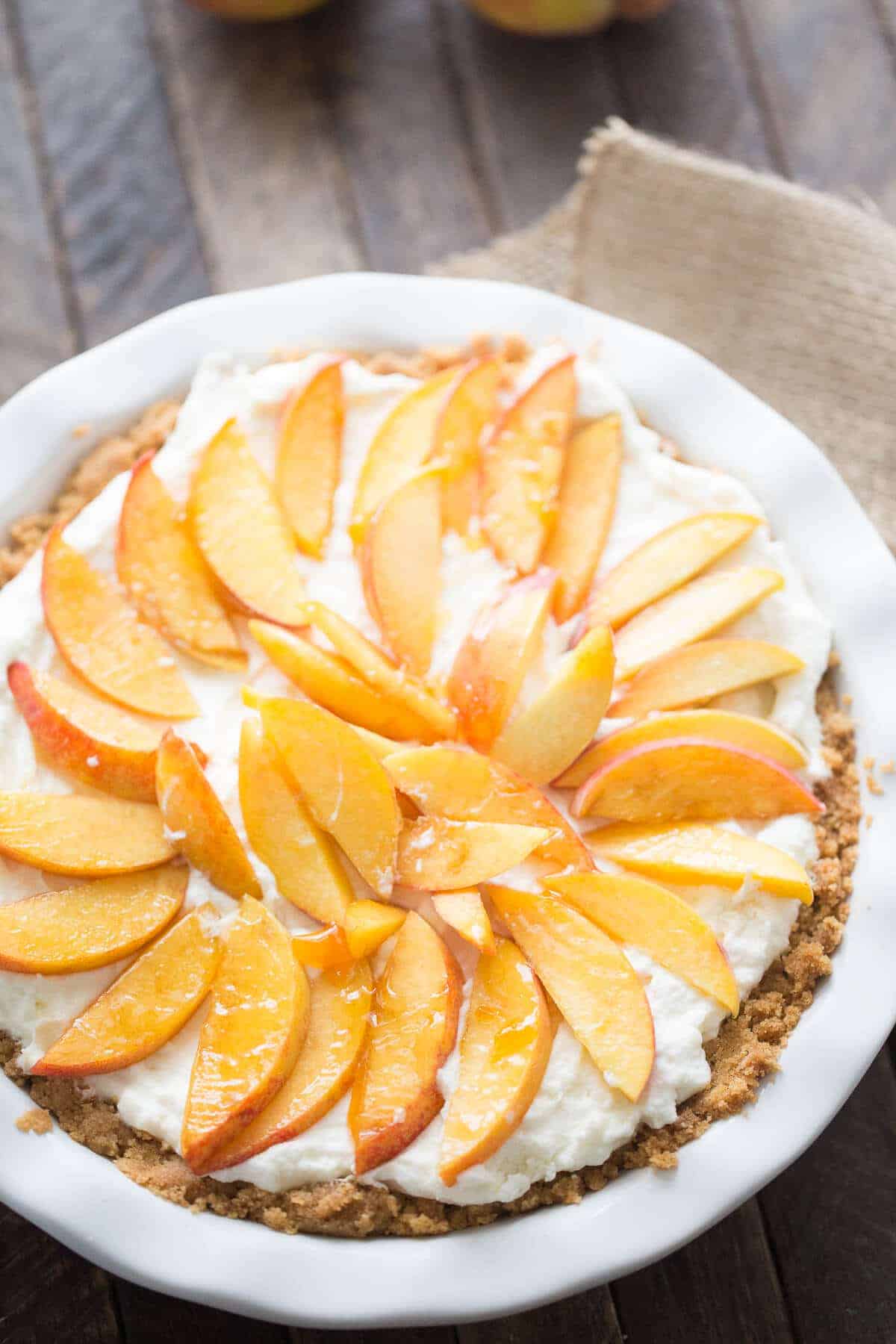 I created this recipe as part of a sponsored series with Socialstars and SPLENDA® Brand; all opinions are my own.
One of my best peach memories took place during an impromptu, no-frills family trip to Lake Michigan. A couple of years ago, my husband and I decided to take the kids on a long weekend getaway. Our destination was a short enough car trip for the kids, but far enough to feel like a travel destination.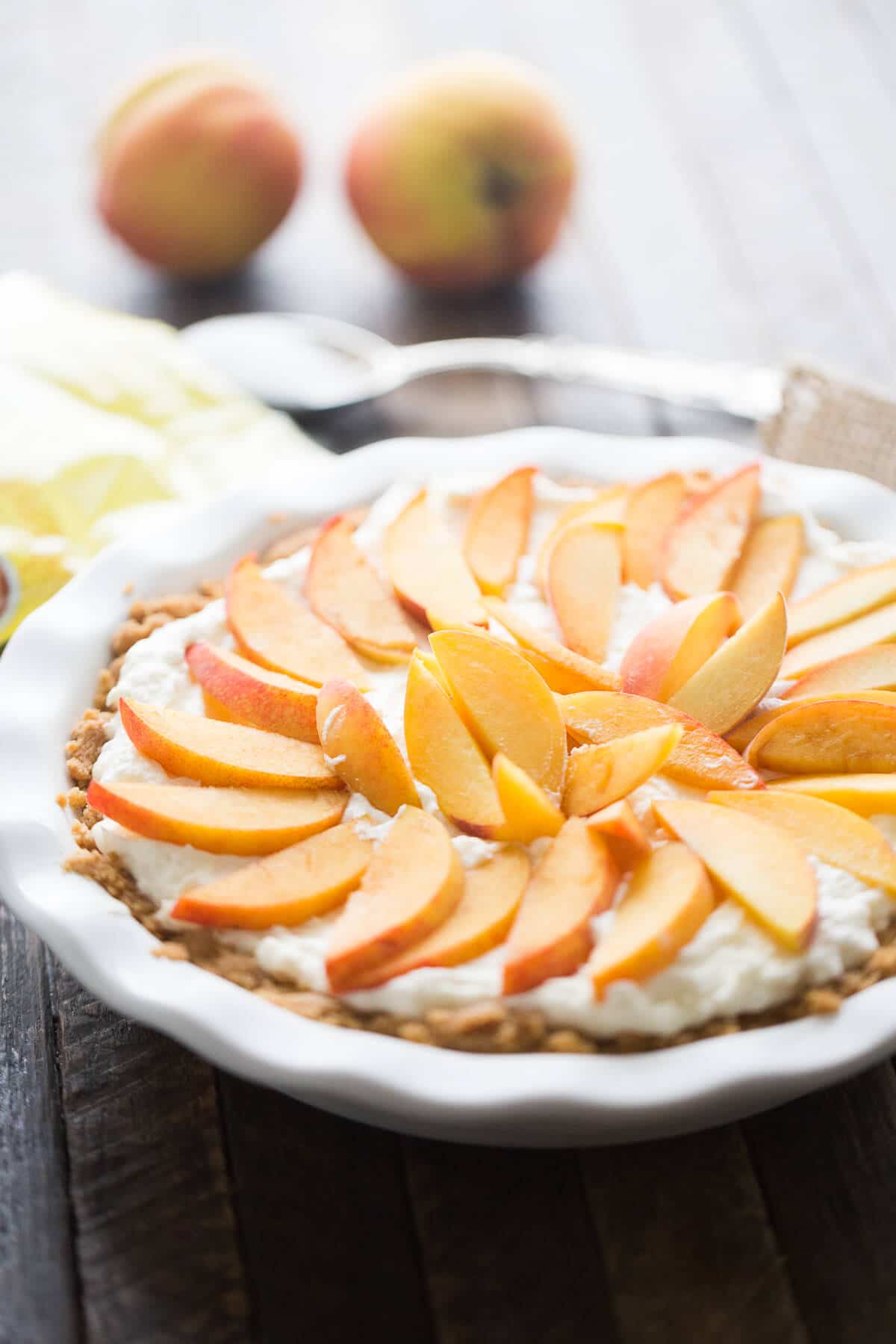 We rented an inexpensive, bare-bones house a few blocks from the lake. We spent most of our time jumping waves and making shapes in the sand. Honestly, that was the whole purpose. We wanted to be lake loving minimalists. To this day it was one of the best vacations we've taken.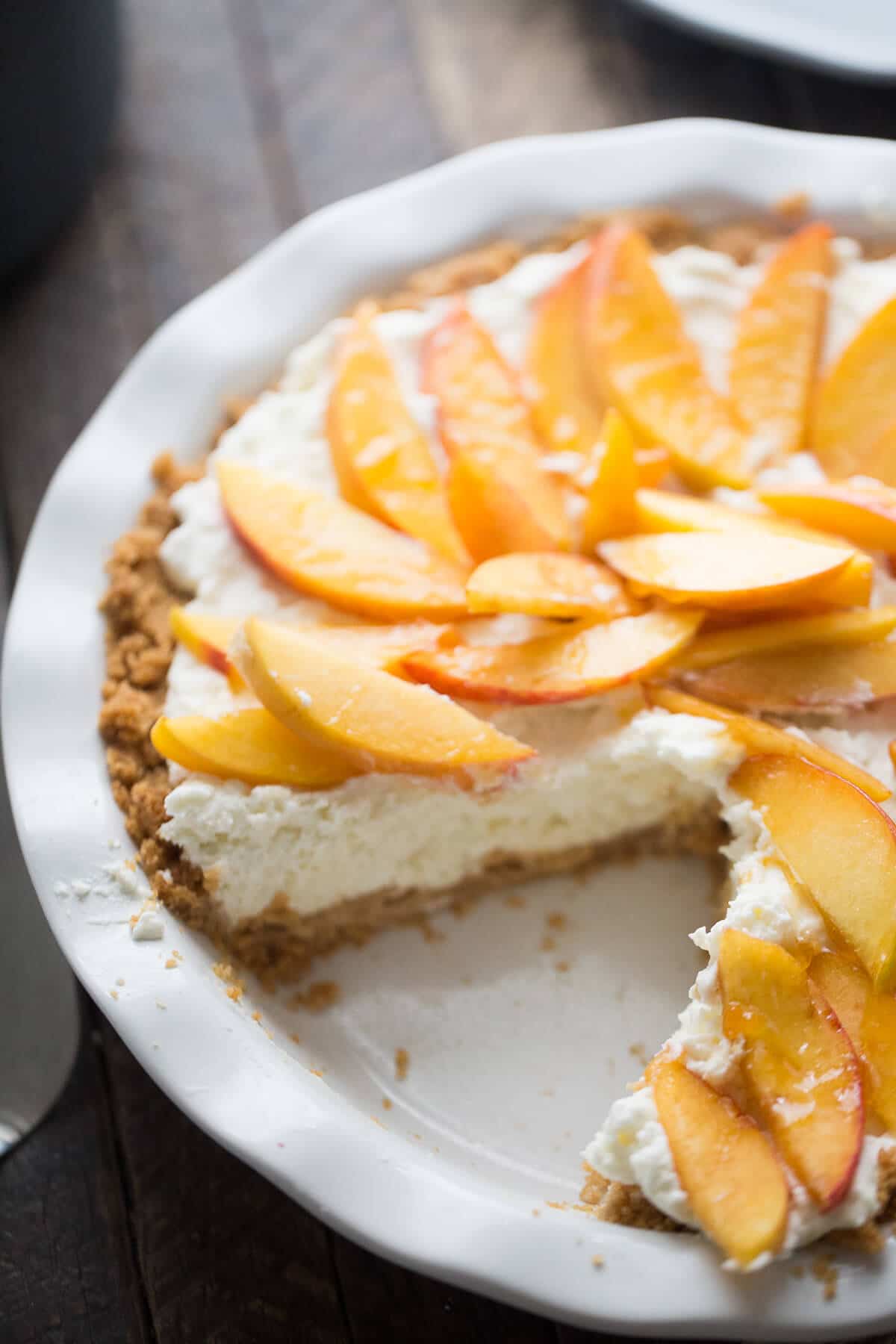 Our last day there, we stopped at a roadside farmers market for fresh produce. We picked up bags of cherries, plums, nectarines, apples and peaches. Those peaches were so incredibly delicious. They were so soft and bursting like water balloons with all their sticky sweet juice.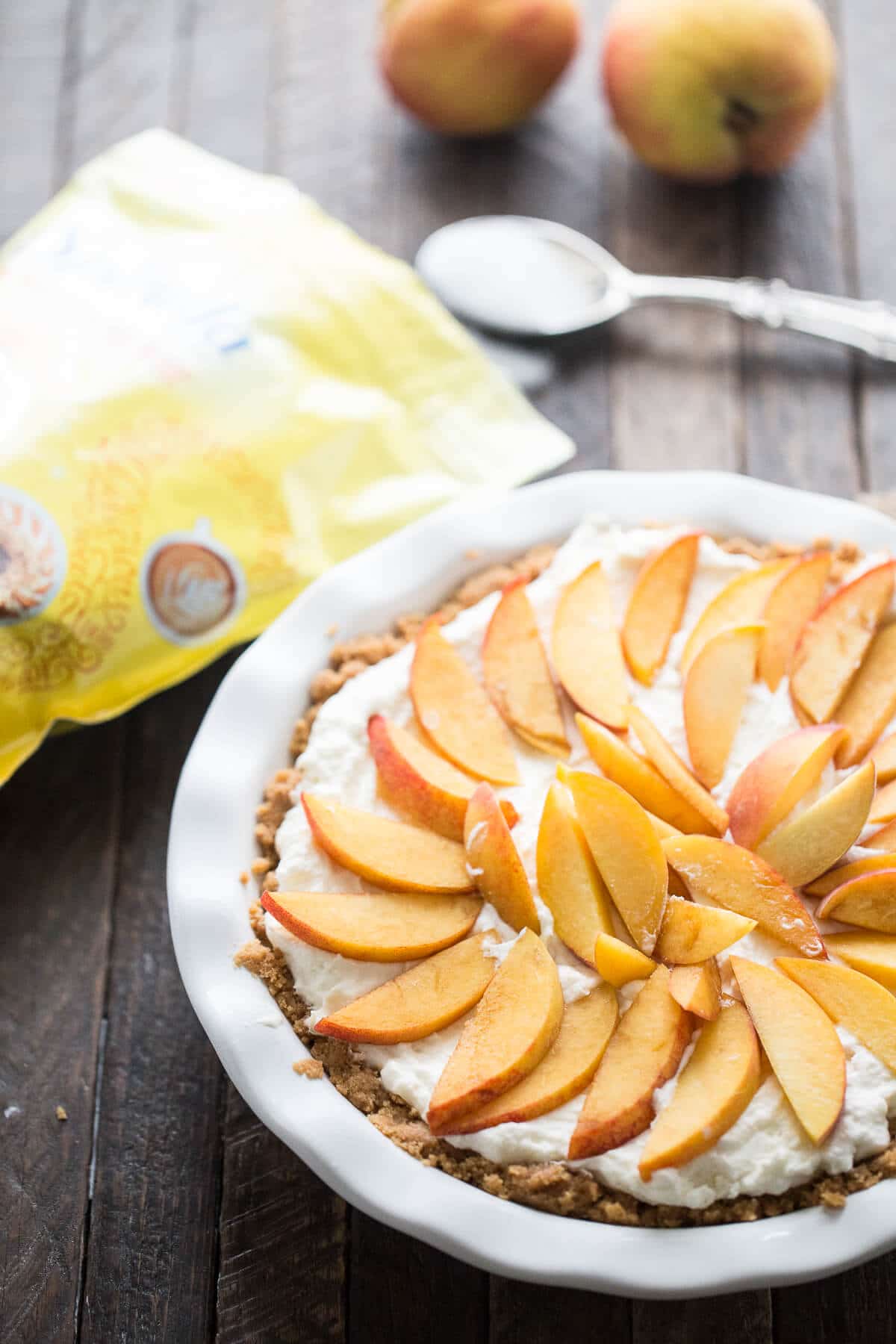 They were big too; each peach was as a big as a baseball, but so ripe and perfect. The five us stood in the kitchen and gorged ourselves until all the fruit was eaten. I swear I've never tasted another peach that tasted as good as those peaches in Michigan.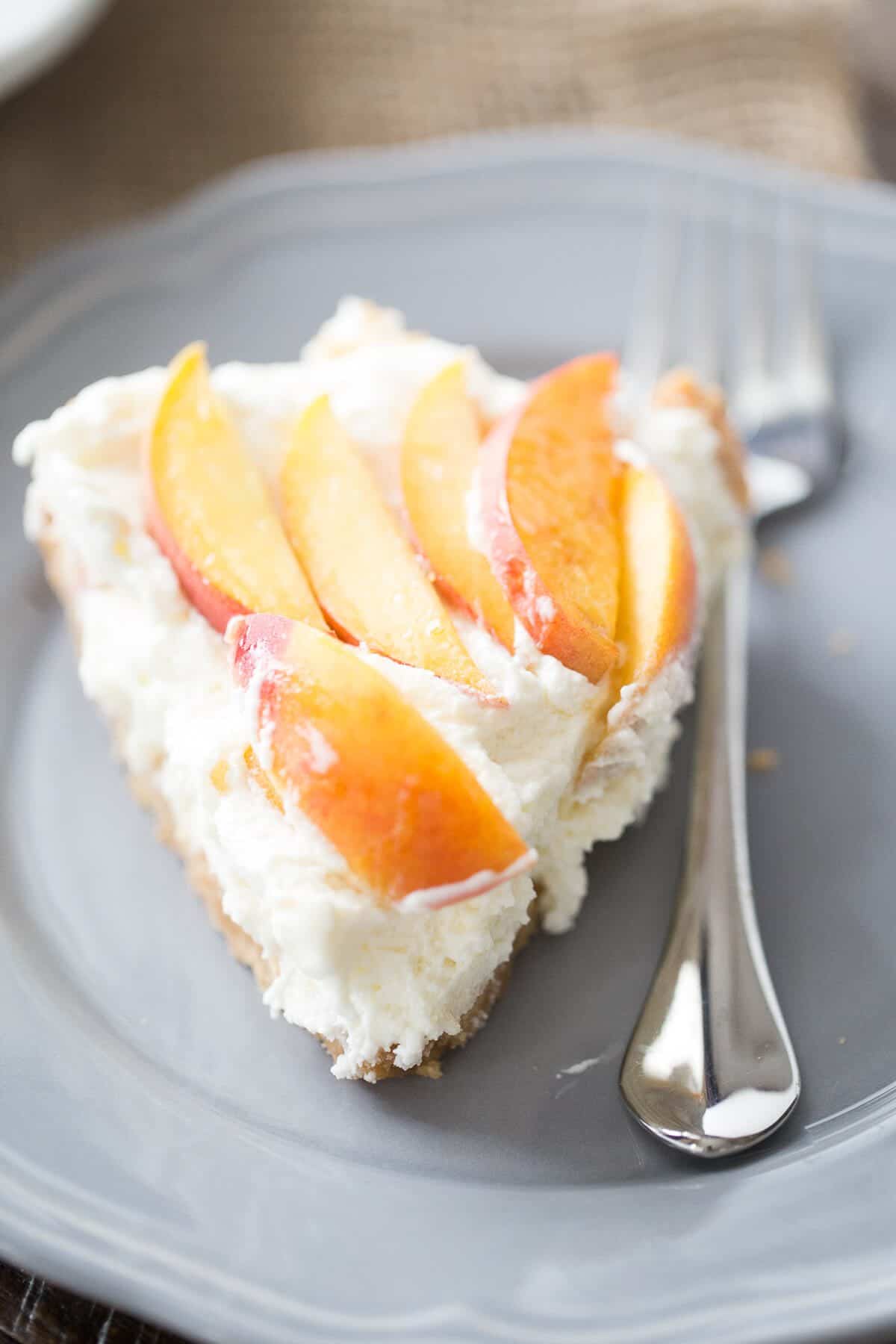 Peach desserts like this peach cake or these peach turnovers are some of my favorites. But with picnic and BBQ season here I wanted to come up with a dessert that is light and simple; a dessert that showcases summer's finest. The fresh peach pie starts with a shortbread cookie crust that gets filled with a light, fluffy mascarpone filling. The top of the pie is adorned with slices upon slices of fresh peaches. I used two medium sized peaches, but you can arrange as many slices on as you would like. Also, I kept the skin on my peaches for a little rustic flair. Feel free to peel your peaches if you would like.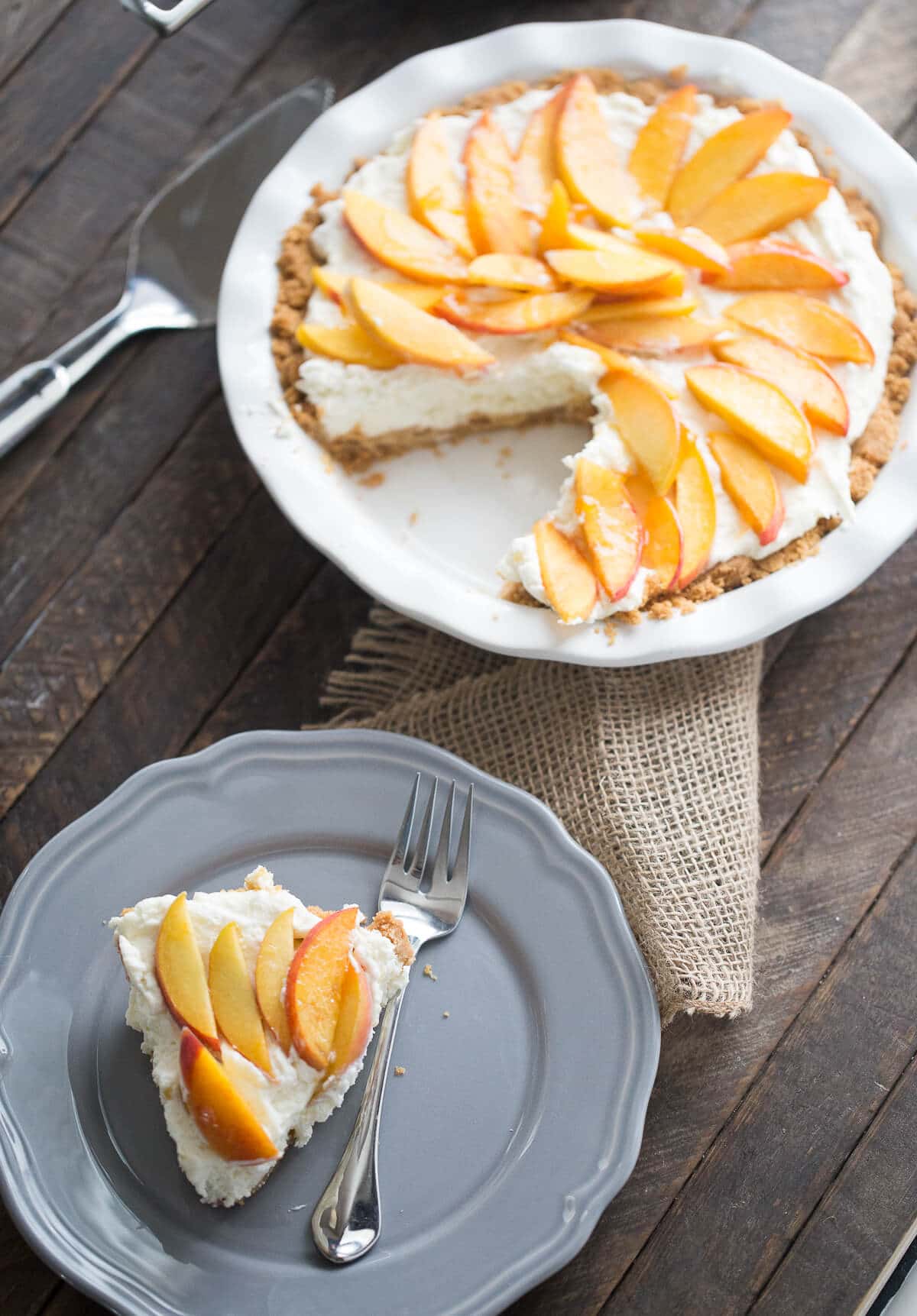 Both the crust and the filling are made with SPLENDA® Sugar Blend. The sugar blend helped me to keep the overall sugar content of this pie down; while allowed all the fresh, light flavors of the mascarpone filling and the sweet peach topping to shine through. This almost no-bake pie is the best, easiest way to indulge in summer's finest!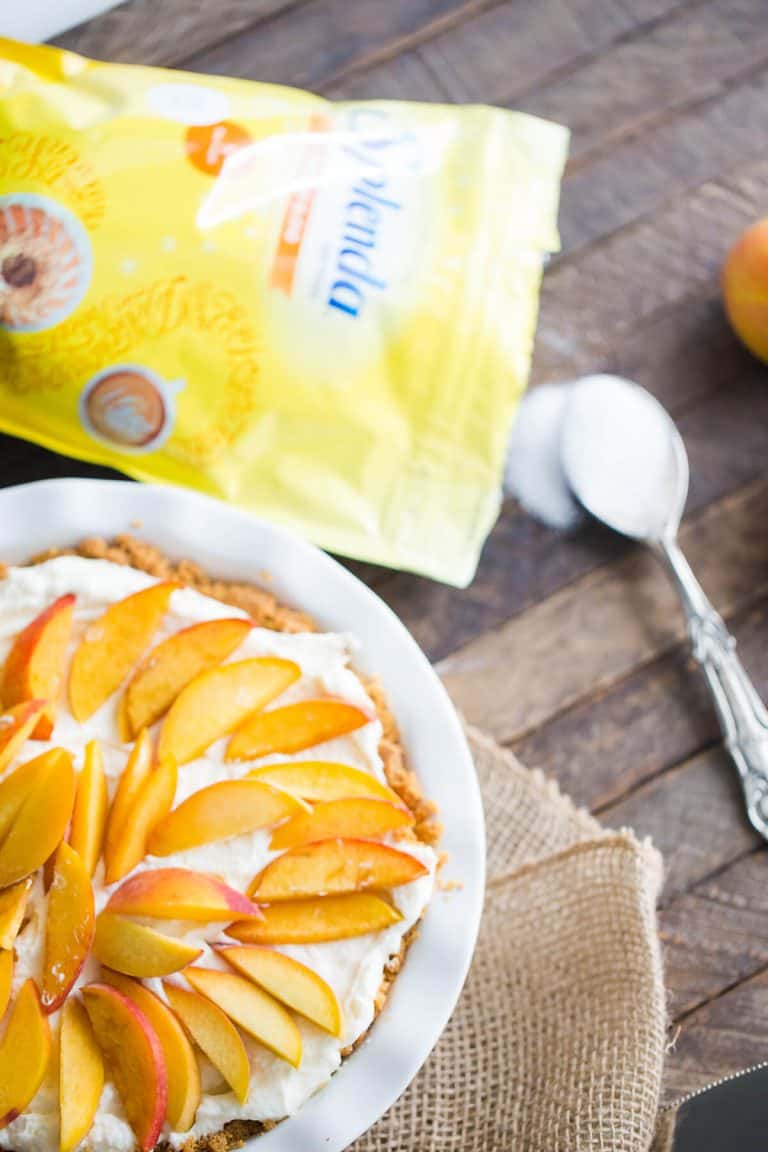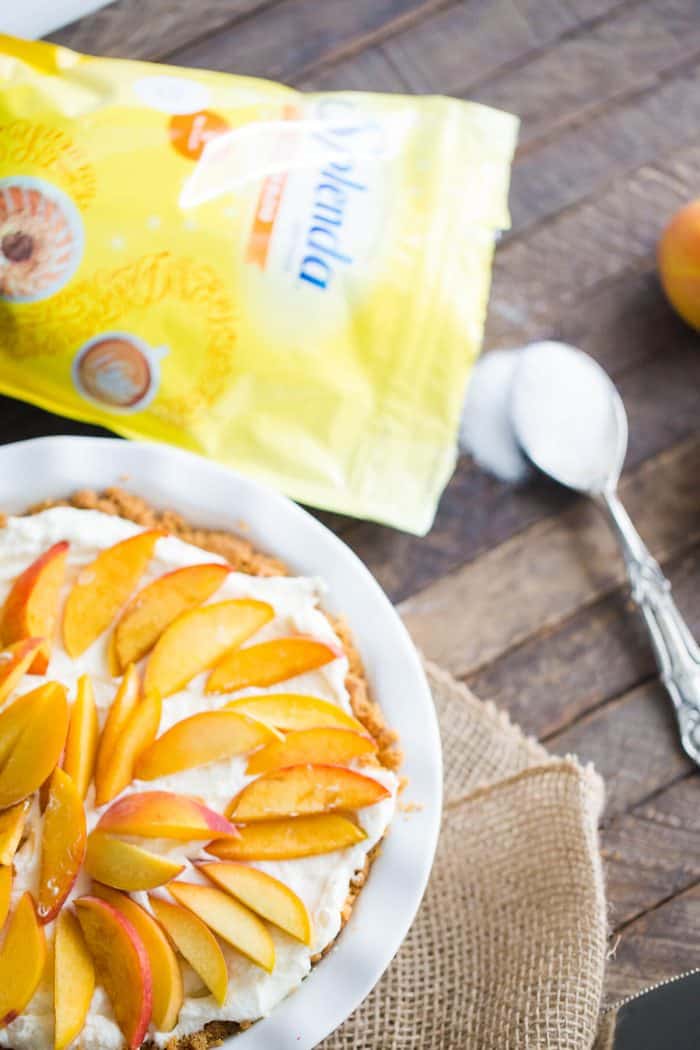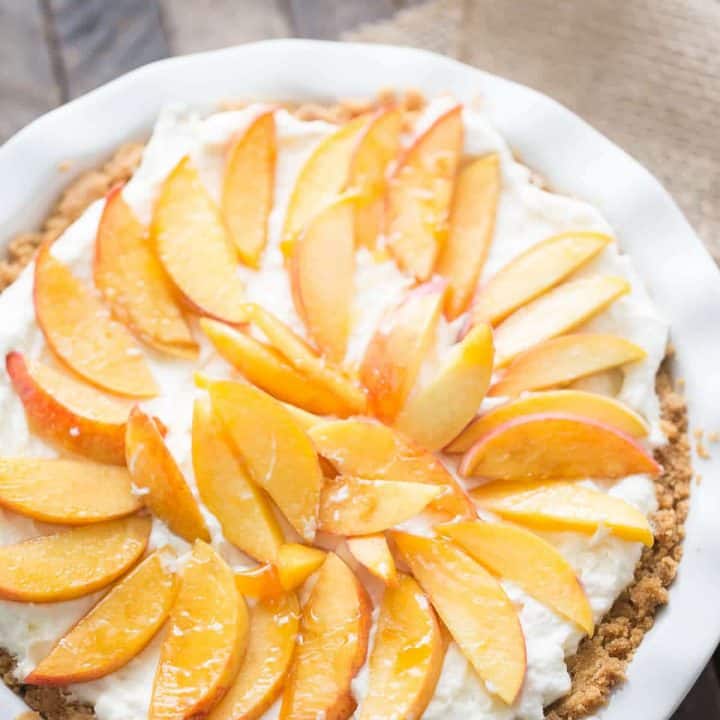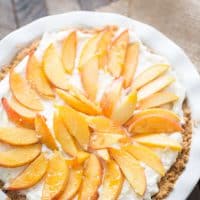 Fresh Peach Pie
Prep Time:
4 hours
20 minutes
Total Time:
4 hours
35 minutes
Fresh peach pie starts with a shortbread crust that is topped with a creamy mascarpone filling and then topped with fresh peach slices.
Ingredients
1 3/4 cups shortbread cookie crumbs
6 tablespoons melted butter
2 tablespoons SPLENDA® Sugar Blend
1 8 oz package softened cream cheese
1 8 oz package softened mascarpone cheese
1/4 cup SPLENDA® Sugar Blend
1/2 teaspoon almond extract
1 cup heavy cream
2 whole peaches, sliced
2 tablespoons apricot preserves
1/4 teaspoon almond extract
Instructions
Preheat oven to 375 degrees.
Place cookie crumbs in a bowl. Add melted butter and sugar blend; stir until well blended. Press crumbs into a 9" pie plate, taking care to press the crumbs up the sides.
Bake crust for 15 minutes or until set. Remove and allow crust to cool before filling.
Place cream cheese and mascarpone in the bowl of a stand mixer. Beat until creamy. Stir in sugar blend and almond extract.
In a separate bowl, beat whipping cream until stiff peaks form. Fold whipping cream into cheese mixture and place the filling into the cooled pie filling.
Arrange sliced peaches over the top of the pie. Cover and refrigerate pie for at least 4 hours or over night.
Heat apricot preserves in the microwave for 15 seconds or until thin, stir in preserves. Brush mixture over the peaches. Serve.
Nutrition Information
Yield

8
Serving Size

1
Amount Per Serving
Calories

693
Total Fat

55g
Saturated Fat

30g
Trans Fat

1g
Unsaturated Fat

20g
Cholesterol

124mg
Sodium

466mg
Carbohydrates

44g
Fiber

1g
Sugar

21g
Protein

7g
Visit Splenda Sweet Swaps to for tips, tricks and recipes that swap out full sugar for SPLENDA@ Sweeteners!