This post was sponsored by the Ohio Pork Council and the Ohio Soybean Council, however, all opinions are 100% my own.
Smoky and spicy pork loin roasted and served with a very tropical pineapple and mango salsa!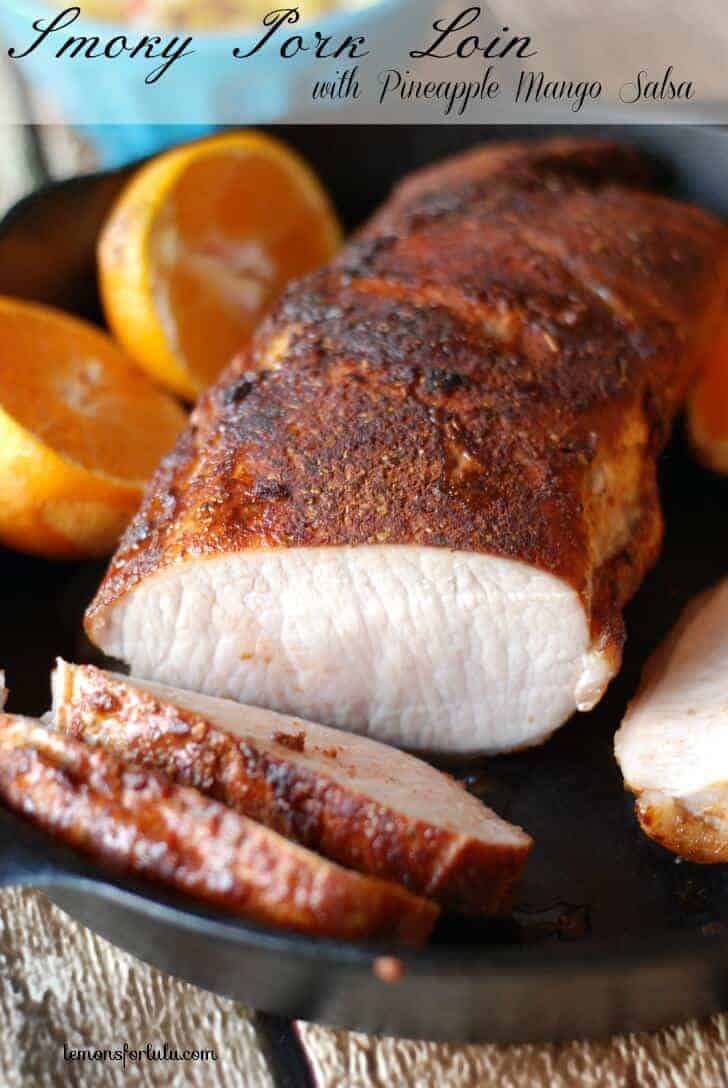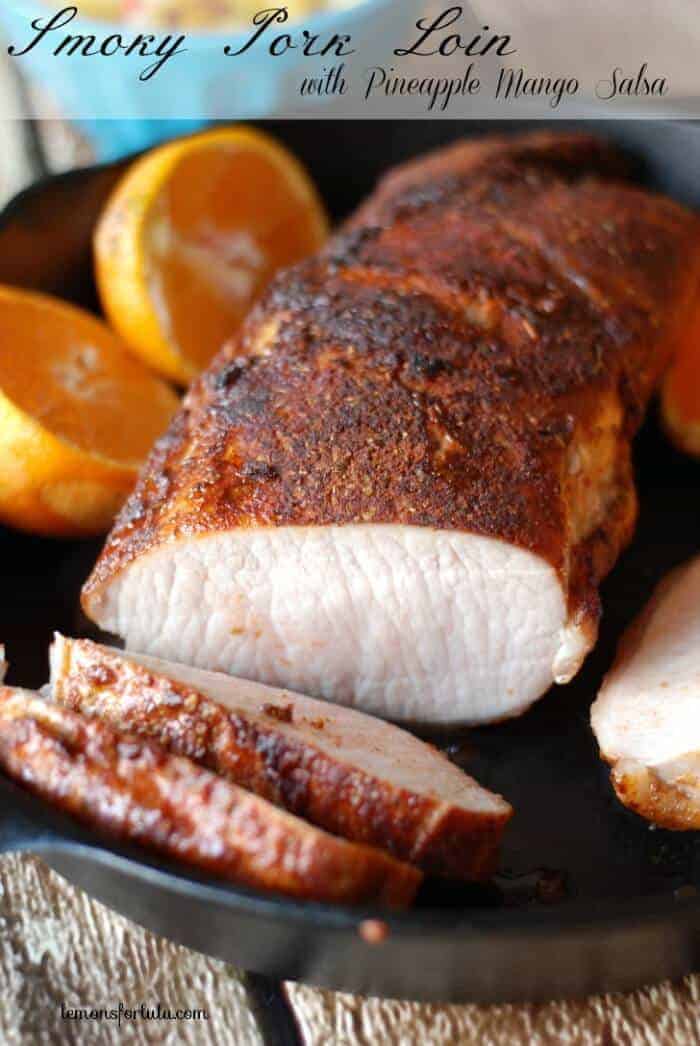 My mom is a phenomenal cook. She has always had the amazing ability to throw things together to create meals that were extraordinary. She rarely used a cook book, everything was in her head. She was an intuitive home cook, she just knew how to make regular food taste good.
Each day, my mom would start her cooking process by mid afternoon so that dinner would be ready by the time my dad got home from work. She was very old fashioned in that regard. There was no eating on the run before or after my extra curricular activities. We ate at 5:30 sharp and that was it.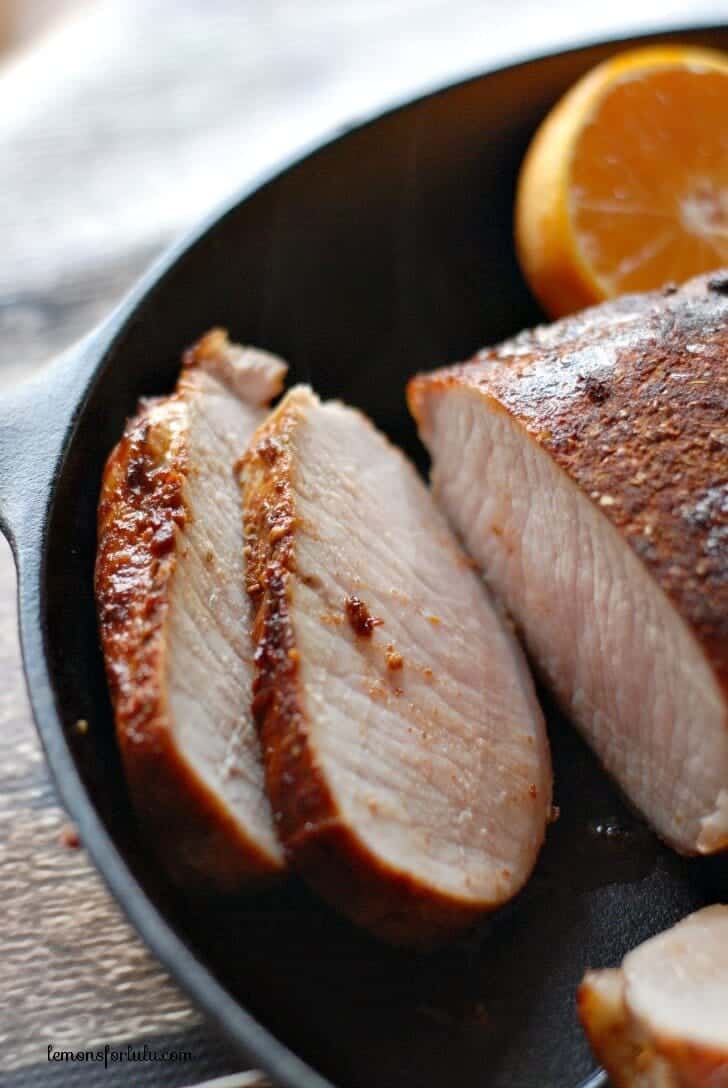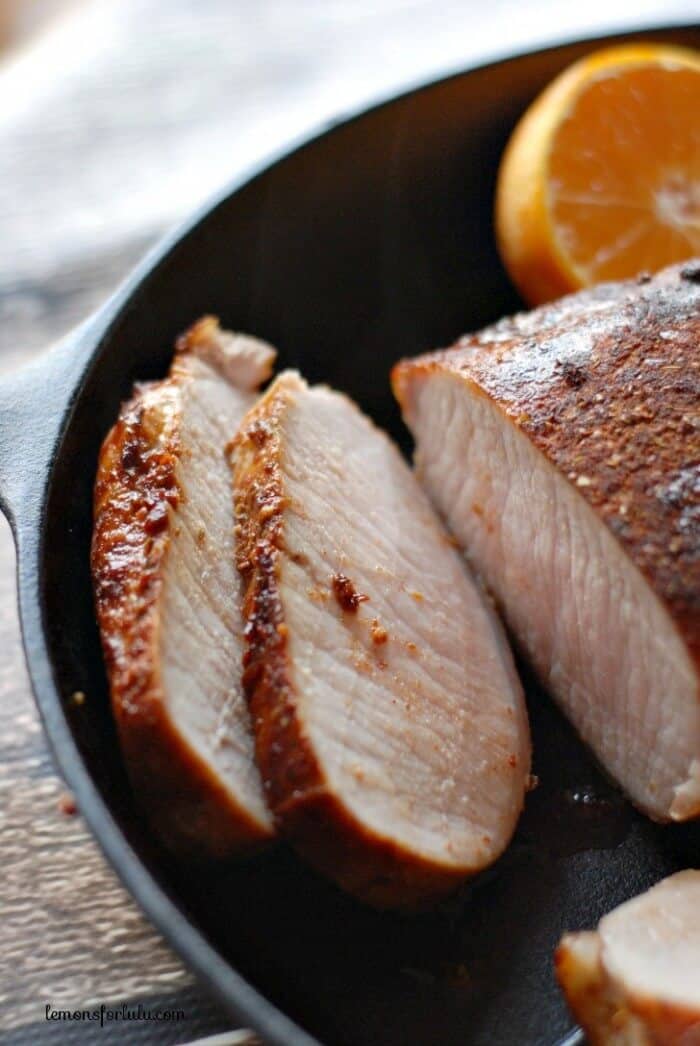 My mom would plate our meals and then she would sit there and watch us eat. I always thought it was so odd. She'd say she wasn't hungry after all that cooking; dinner wasn't quite as appetizing to her anymore. We'd try to coerce her into eating with us by complimenting her on her food. She'd always remark on how food tastes better when someone else does the cooking (I'd like to add that dishes look better when someone else washes them, but that is my own wishful thinking).
The rest of us would shrug our shoulders and chow down. It wasn't until I started cooking for my own family that I really understood my mom's loss of appetite. I'm the same way. It's worse having a food blog. I taste my food as I cook or bake and by the time I sit down with my own family, I find I'm just not in the mood to eat what I cooked. Besides all that, I've become extra critical of my food and often feel my food taste bland or even a tad bit unexciting. I look to my family and friends to tell me otherwise. I fear I've lost my sense of taste.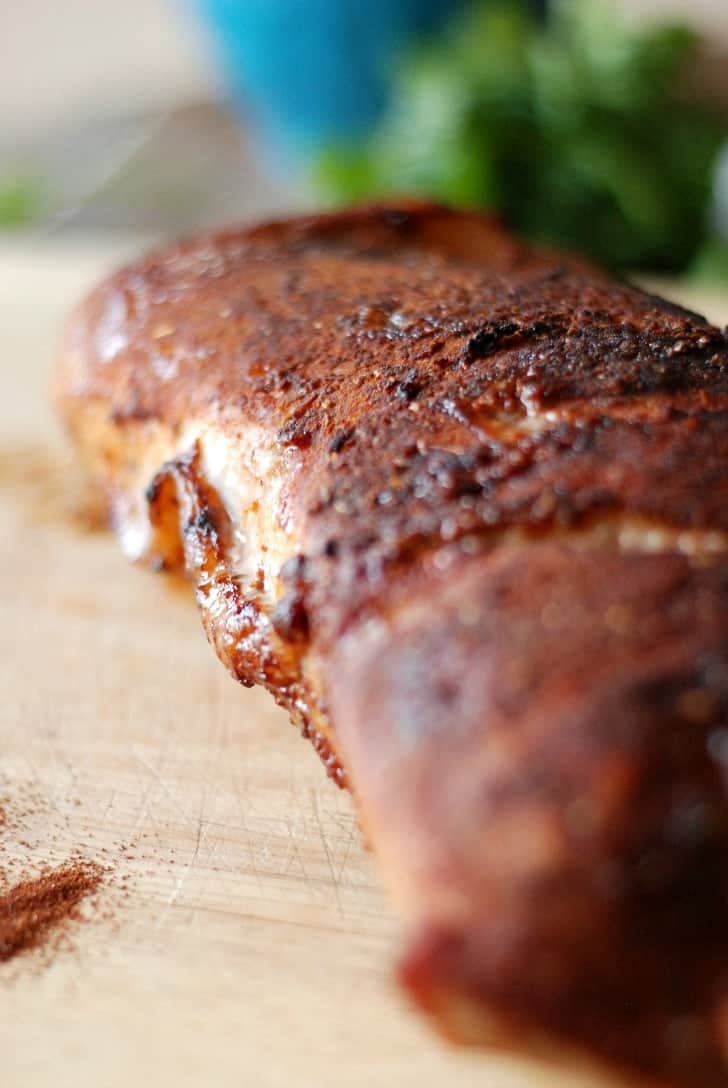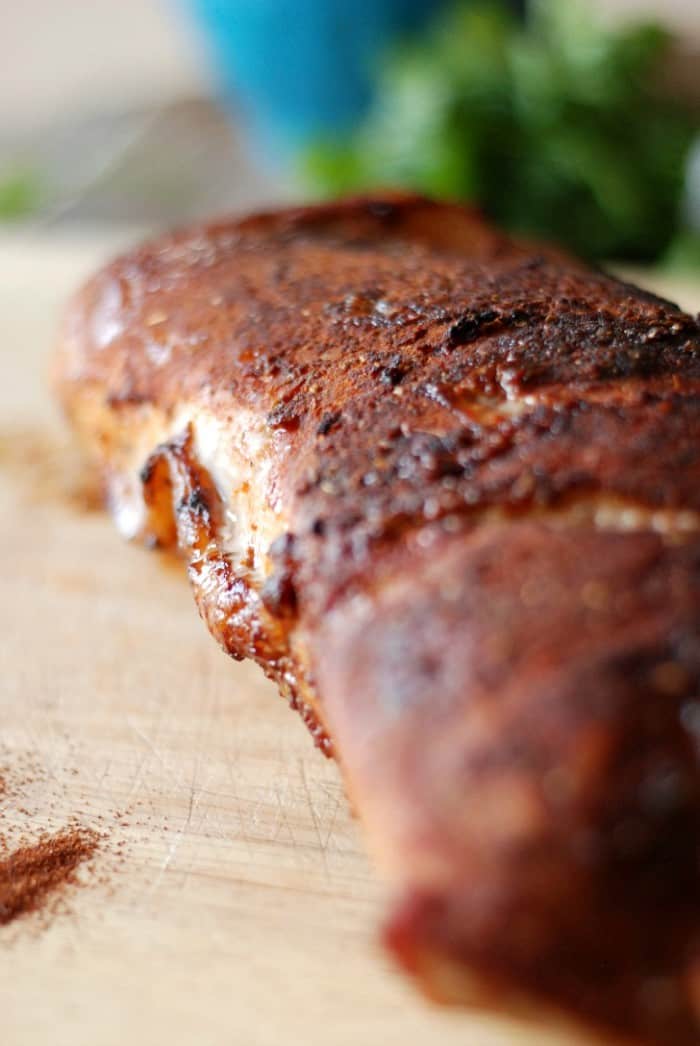 Then I made this pork. I suddenly found my taste buds came alive. Maybe it was the heat from the pork's spice rub or the sweetness from the pineapples and the mangos. But for the first time in a long time I wanted to eat what I cooked. I even wanted seconds! In fact, I served my family less so I could have more! Selfish? Heck yes! Did I care? Heck no!
The pork was incredibly tender and juicy. I was careful not to over cook it. I wanted a little pink in the middle so that the pork (don't be afraid of a little pink) would retain all it's juice. Cooking the pork on the stove top first allowed the spice rub to form a sort of crust around the pork. Let your own tastes be the guide on this recipe. It wasn't too spicy (my kids can't handle heat), so remember that as you make your own spice rub. Regardless of how piquant you make your pork, the sweet pineapple and mango salsa will temper any heat.
Dinner is finally fun again! I can't wait for leftovers!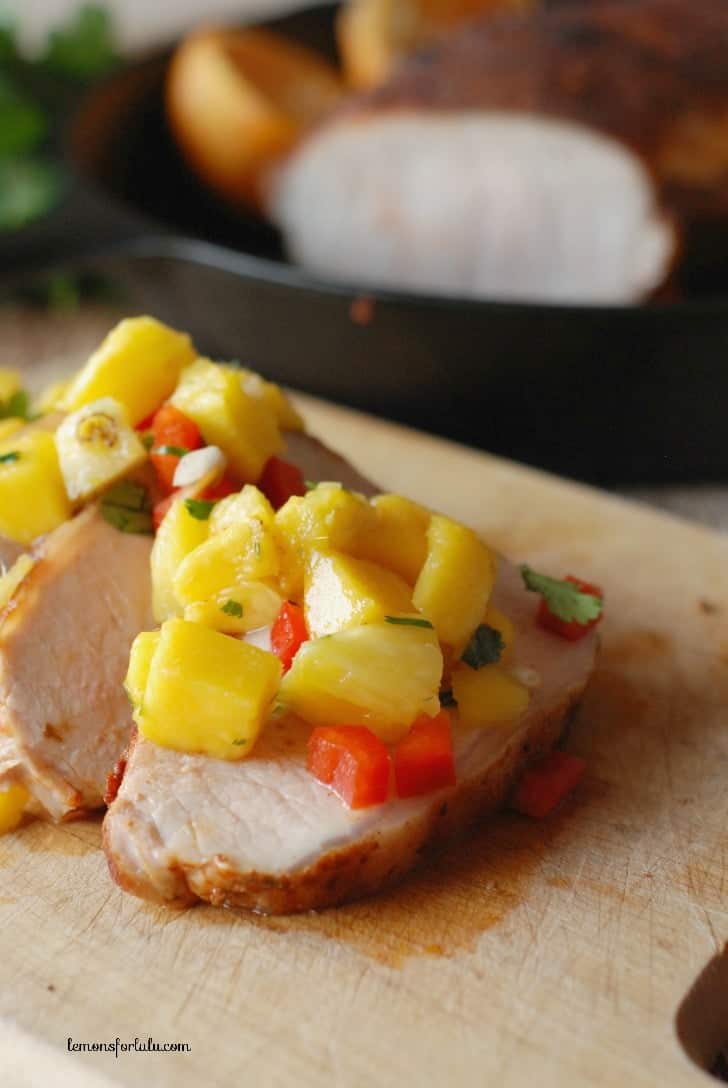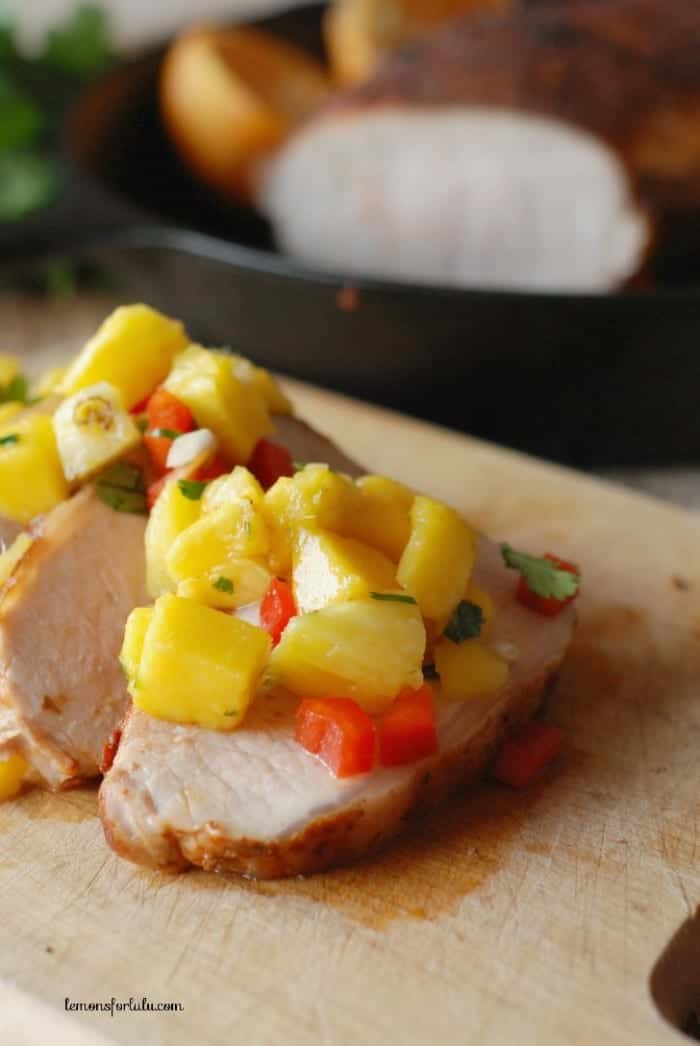 Since we are talking about pork, I'd be remiss if I didn't talk about the Ohio Pork Producers hosting a "pin-it-to-win-it" contest on their website (www.ohiopork.org) March 24 – April 20th! You could win $500 in groceries! Be sure to enter here: http://www.ohiopork.org/pin-for-pork.aspx!
content/uploads/2014/03/pinforpork-700×388.jpg" alt="pinforpork" width="700″ height="388″ class="aligncenter size-medium wp-image-11392″ />
What's the reason for the "Pin-it-to-win-it" contest? To celebrate! The Ohio Pork Farmers, in conjunction with other agricultural groups have donated 1 million meals of pork to Ohio food banks. This pork was Ohio-raised, processed by Ohio processors and these are mostly family businesses. That makes me incredibly excited and proud and is truly a reason to celebrate! Please read more about Ohio Pork Farmers and their generous donation here: http://blog.ohiopork.org/celebrate-1000000-meals-donated/#.UzMb4Jm9LCQ.
Be sure to connect with Ohio Hog Farmers on Facebook!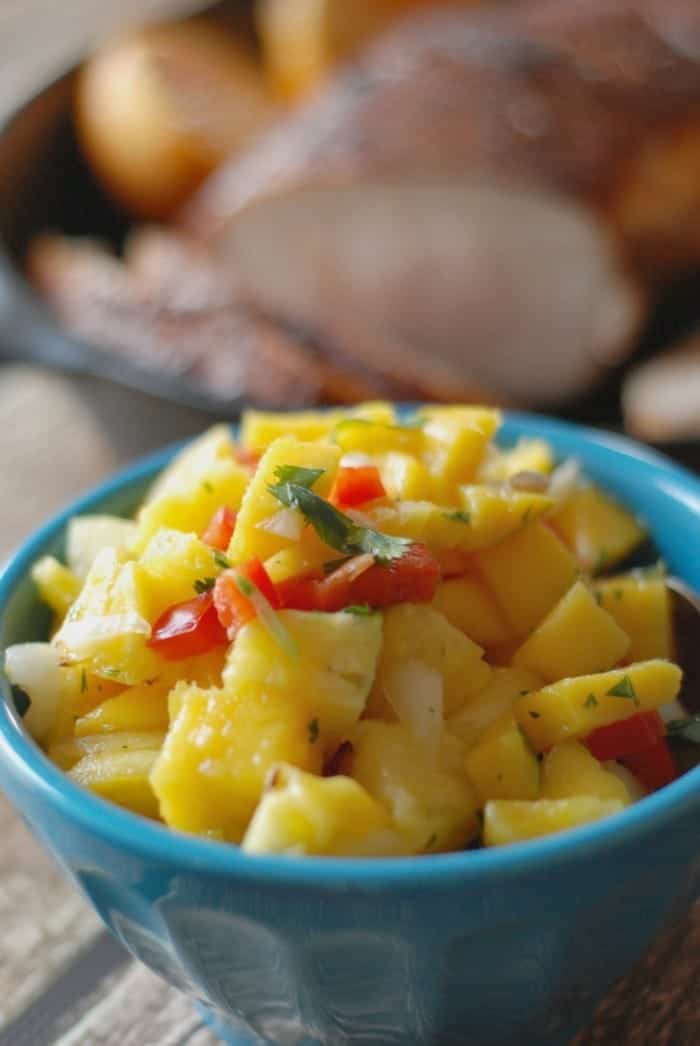 MORE PLEASING PORK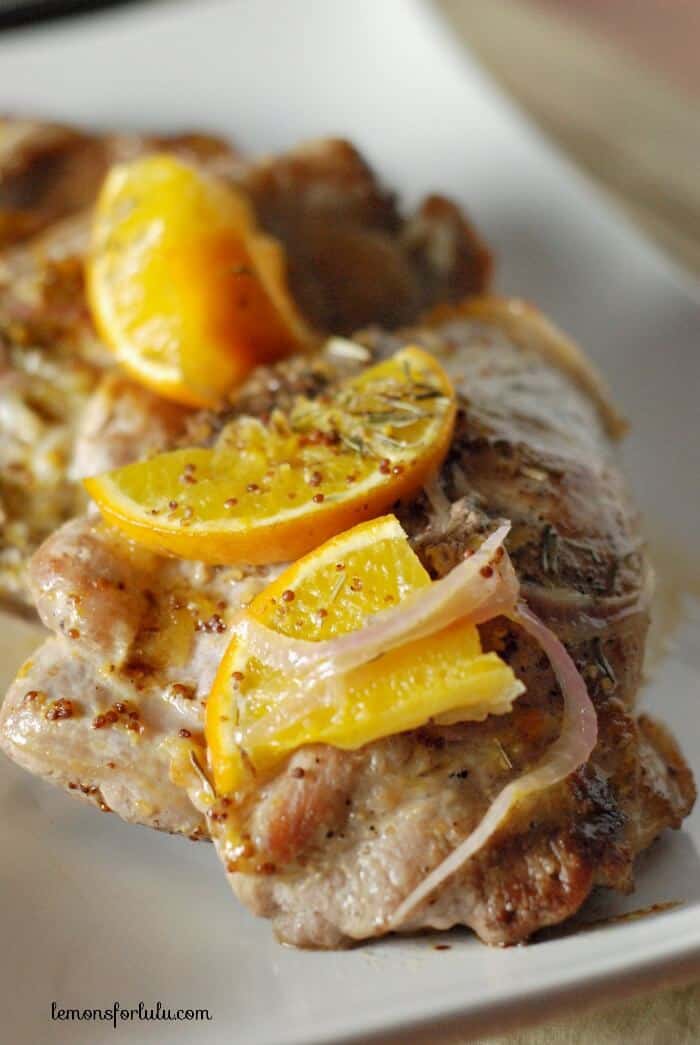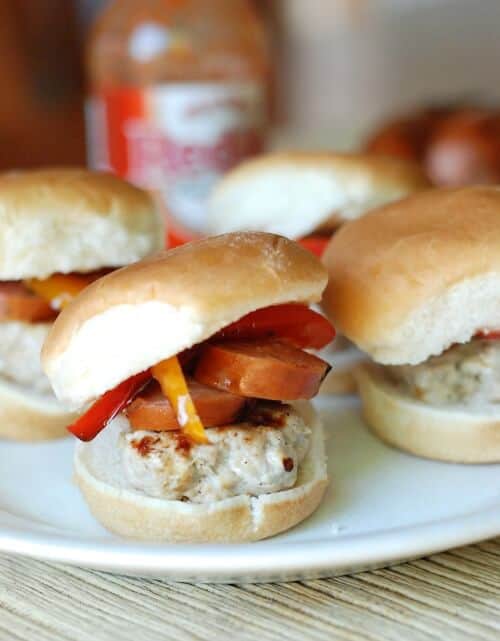 NEVER MISS A RECIPE! SUBSCRIBE TO MY EMAIL TODAY!
FOLLOW ME:
FACEBOOK | TWITTER| GOOGLE +| BLOGLOVIN | INSTAGRAM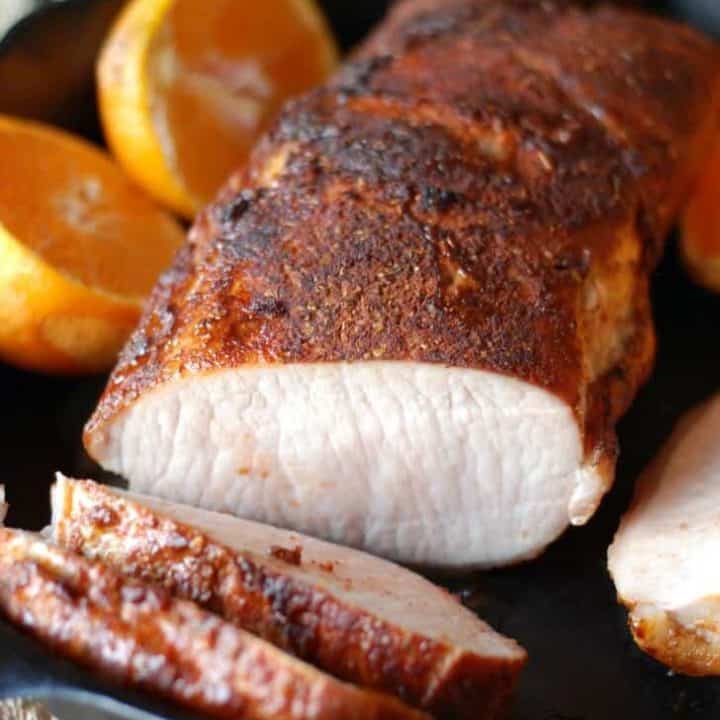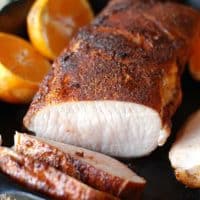 Smoky Pork Loin with Pineapple Mango Salsa
Additional Time:
10 minutes
Smoky and spicy pork loin roasted and served with a very tropical pineapple and mango salsa!
Ingredients
3 tablespoons brown sugar
2 cloves garlic, minced
1 tablespoon Ancho Chile powder
2 teaspoon salt
1 tablespoon dried oregano
1 tablespoon ground cumin
1 tablespoon Paprika
1/2 tablespoon dried Thyme
1 orange-zested
1 3 lb pork loin roast-boneless
3 tablespoon olive oil
2 mangos, diced
1 cup fresh pineapple, diced
1/4 cup onion, chopped
1/3 cup red peppers, diced
2 tablespoons lemon juice
1 orange, juiced
2 tablespoon cilantro, chopped
Instructions
Combine first 9 ingredients in a small bowl. Rub over pork loin. Cover and refrigerate pork for 8 hours or over night.
Let pork come to room temperature. Preheat oven to 400. Heat oil in a large skillet over medium heat. Cook pork roast for 2-3 minutes on each side. Lightly grease a wire rack. Place pork on rack in a roasting pan.
Cook pork for 40-50 minutes or until a meat thermometer inserted in the thickest part registers 145 degrees. Let pork rest 10 minutes before slicing. Prepare salsa while pork rests.
For the salsa, Combine all the ingredients in a bowl. Serve immediately.
Nutrition Information
Yield

8
Serving Size

1
Amount Per Serving
Calories

471
Total Fat

21g
Saturated Fat

6g
Trans Fat

0g
Unsaturated Fat

12g
Cholesterol

136mg
Sodium

613mg
Carbohydrates

24g
Fiber

3g
Sugar

20g
Protein

47g