Smoky and spicy grilled pork tenderloin is served with a refreshing and simple tropical pineapple and mango salsa! Serve this grilled pork with a red potato salad or a creamy cucumber salad for a complete meal!
My mom is a phenomenal cook. She has always had the amazing ability to throw random things together to create meals that were extraordinary.
She rarely used a cookbook, everything was in her head. She was an intuitive home cook, she just knew how to make regular food taste good.
Each day, my mom would start her cooking process by mid-afternoon so that dinner would be ready by the time my dad got home from work. She was very old fashioned in that regard.
There was no eating on the run before or after my extracurricular activities. We ate at 5:30 sharp and that was it.
My mom would plate our meals and then she would sit there and watch us eat. I always thought it was so odd. She'd say she wasn't hungry after all that cooking; dinner wasn't quite as appetizing to her anymore.
We'd try to coerce her into eating with us by complimenting her on her food. She'd always remark on how food tastes better when someone else does the cooking (I'd like to add that dishes look better when someone else washes them, but that is my own wishful thinking).
The rest of us would shrug our shoulders and chow down. It wasn't until I started cooking for my own family that I really understood my mom's loss of appetite. I'm the same way.
It's worse having a food blog. I taste my food as I cook or bake and by the time I sit down with my own family, I find I'm just not in the mood to eat what I cooked.
Besides all that, I've become extra critical of my food and often feel my food tastes bland or even a tad bit unexciting. I look to my family and friends to tell me otherwise. I fear I've lost my sense of taste.
Then I made this pork. I suddenly found my taste buds came alive. Maybe it was the heat from the pork's spice rub or the sweetness from the pineapples and the mangos. But for the first time in a long time, I wanted to eat what I cooked.
I even wanted seconds! Now I can't wait to share this recipe with you!
What Is A Pork Tenderloin
Pork tenderloin is also known as pork fillet. This lean muscle runs along the spine of the pig. It isn't used for walking or major movement, so it is a very tender cut.
Pork tenderloin is smaller than a pork loin (which means shorter cook times) and it is darker in color, but the flavor is mild. Pork tenderloin works well with bold flavors as with this Coco and Chili Spiced Pork and this Oven Roasted Pork Tenderloin with Balsamic Fig Sauce.
How To Grill Pork Tenderloin With A Rub
To start, be sure to oil your grill grates thoroughly. Preheat your grill to medium heat.
In a small bowl, combine your spice rub mixture. For this recipe, I combined brown sugar, chili powder, oregano, salt, cumin, paprika, garlic, and olive oil.
Thoroughly rub the spice mixture over the tenderloins and then place them on the hot grill.
The tenderloin will take about 10-15 minutes to cook. Make sure to turn The Tenderloins often. the pork is ready when it reaches an internal temperature of 145 degrees. Using a meat thermometer is the best way to check for doneness.
Allow your tenderloin to rest before slicing it. The tenderloin should have a little pink in the center.
What To Serve With Grilled Pork Tenderloin
Because this grilled pork tenderloin recipe has a spicy rub mixture, I like to serve it with a sweet and fruity salsa. Pineapples and mangoes balance the flavor of the spices perfectly. Fresh fruit juices intensify the fruit flavor all while complimenting the heat fill rub!
Other Salsa Toppings:
Strawberry Tomato Salsa
Green Salsa
Shrimp and Peach Salsa
Bloody Mary Salsa
Blueberry Salsa
How To Cook Pork Tenderloin In The Crockpot
Prepare the spice mixture as directed above. Place the tenderloin in a crockpot and add a cup of chicken broth (which will help create steam to keep the pork moist) and cook the pork loin for 4-5 hours on low or about 2 hours on high.
How To Roast Pork Tenderloin
Preheat oven to 400. Heat oil in a large skillet over medium heat.
Cook pork roast for 2-3 minutes on each side.
Lightly grease a wire rack. Place pork on rack in a roasting pan.
Cook pork for 40-50 minutes or until a meat thermometer inserted in the thickest part registers 145 degrees. Let pork rest 10 minutes before slicing.
This grilled pork tenderloin recipe is easy and has a ridiculous amount of flavor. Its fresh taste is perfect for summer entertaining! This recipe is absolutely delicious!
More Favorite Pork Recipes
Pork Cutlets with Lemon Caper Sauce
Parmesan Breaded Baked Pork Chops
Pork And Sauerkraut
Mediterranean Stuffed Pork Chop Recipe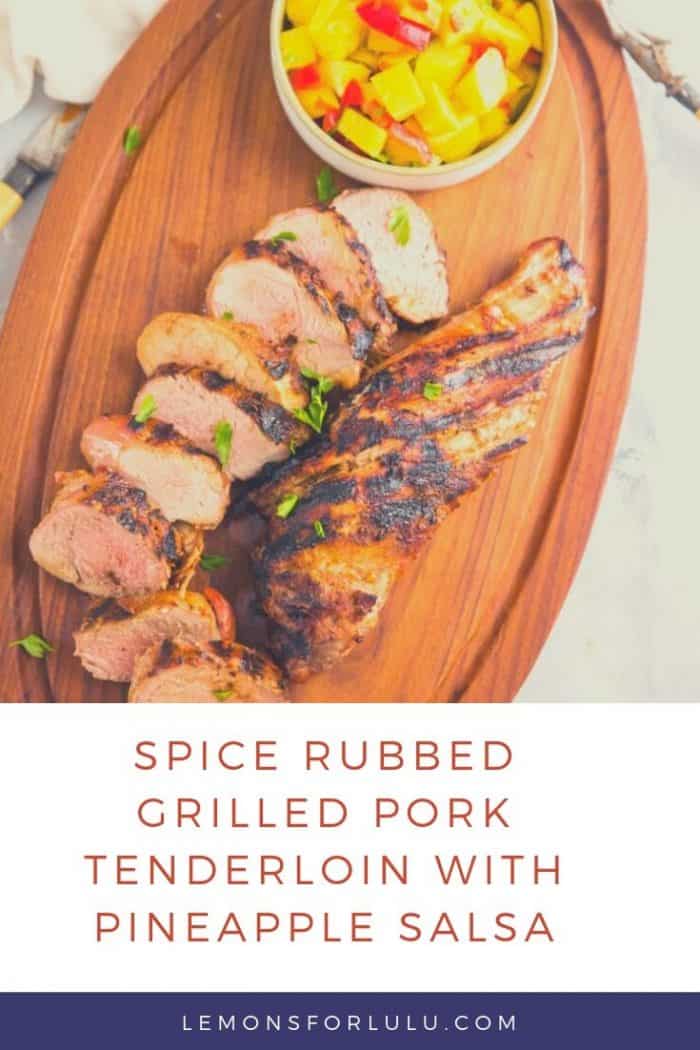 Yield: 8 servings
Smoky Pork Tenderloin with Pineapple Mango Salsa
Smoky and spicy grilled pork tenderloin is served with a very tropical pineapple and mango salsa!
Additional Time
10 minutes
Ingredients
3 tablespoons brown sugar
2 cloves garlic, minced
1 tablespoon chile powder
2 teaspoon salt
1 tablespoon dried oregano
1 tablespoon ground cumin
1 tablespoon Paprika
1/2 tablespoon dried Thyme
1 3 lb pork loin roast-boneless
3 tablespoon olive oil
2 mangos, diced
1 cup fresh pineapple, diced
1/3 cup red peppers, diced
2 tablespoons orange juice
1 lime, juiced
2 tablespoon cilantro, chopped
Instructions
Combine first 9 ingredients in a small bowl. Rub over pork loin.
Preheat an outdoor grill to medium heat
Grill pork for 12-15 minutes (turning after 5 minuted) or until a meat thermometer inserted in the thickest part registers 145 degrees
. Let pork rest 10 minutes before slicing. Prepare salsa while pork rests.
For the salsa, Combine all the ingredients in a bowl. Serve immediately.
Nutrition Information
Yield
8
Serving Size
1
Amount Per Serving
Calories

461
Total Fat

21g
Saturated Fat

6g
Trans Fat

0g
Unsaturated Fat

12g
Cholesterol

136mg
Sodium

612mg
Carbohydrates

22g
Fiber

2g
Sugar

18g
Protein

46g