Cocoa and Chili Spiced Pork
with Cherry Sauce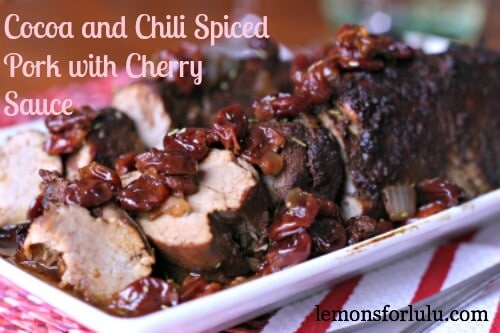 For  Valentine's Day, my husband and I will go out to a quaint little restaurant.  It will have intimate tables, it will be quiet, dimly lit and very romantic.  We will sip wine by candlelight, hold hands and re-connect.  My husband will surprise me with a little box that will be hiding something shiny.  We will kiss and ….BAHAHAHAHA!!!  Just kidding!
What will actually happen is we'll eat pizza with the kids in our stretchy pants followed by a dance party in the living room!!!  There will be no quiet hand holding and no shiny gift.  It's hard enough finding anniversary gifts for one another!  Finding the perfect Valentine's gift would be way too stressful!
Don't get me wrong, my husband and I love each other very much, we just don't need Valentine's day to show it.  Instead, we make it a fun holiday for the kids.  I bake them lots of pink treats, we eat heart-shaped food and share chocolate.  You know, I really wouldn't have it any other way.
Everyone once in a while I get a wild hair, and I'll make the family a special dinner for Valentine's day.  This pork is the perfect meal for the occasion.  It's rubbed with cocoa powder  (see?  How perfect for Valentine's day?) and chili powder with plump sweet cherries poured all over it.  I mean really, if you want to say "I love you" with pork, YOU need to make this!  It's elegant enough for a romantic dinner, but savory and delicious enough for your whole family!  It's quick and easy too.  Make this and you'll have more time for romance…or living room dance parties with the kids!
(honey, if you are reading this, it's totally ok to surprise me with a little box hiding something shiny. xoxo)
You might enjoy these too: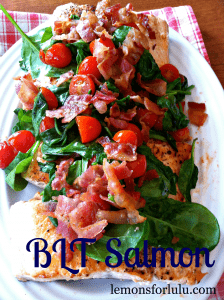 Cocoa and Chili Spiced Pork with Cherry Sauce
Ingredients
2

lb pork tenderloin

2

tablespoons olive oil

2/3

cup brown sugar

1/4

cup cocoa powder

1/2

teaspoon paprika

1

teaspoon Ancho chili powder

1 1/2

teaspoon salt

1

teaspoon espresso powder
For the sauce
2

tablespoons olive oil

1/4

cup onions, diced

3/4

cup dried cherries

1

cup chicken broth

3

tablespoon balsamic vinegar

1

teaspoon dried rosemary

1

teaspoon salt
Instructions
Pre heat oven to 400. Spray a shallow baking dish and set aside. Rub tenderloin with olive oil. In a small bowl, combine brown sugar, cocoa, paprika, chili powder, salt and espresso powder. Rub spice mixture into pork. Bake in heated oven for 45 minutes or until a meet thermometer reads 145 degrees.
For the sauce, heat oil in a skillet. Add onions and cook until soft. Add broth, vinegar, cherries, salt and rosemary. Cook on medium low until sauce is reduce by half, about 10 minutes. Pour over pork right before serving.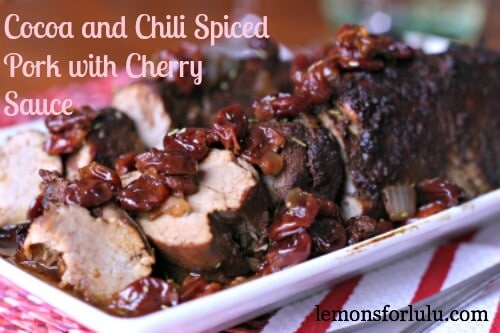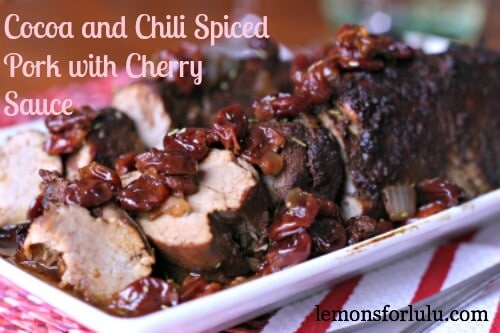 I'll be sharing this recipe at these fabulous sites as well as to: Jam Hands, The DIY Dreamer and