Pork tenderloin roast recipe is coated with a smokey spice rub that has a hint of sweet.
The pork is tender and it is served with a cherry sauce that partners perfectly with the spice rub!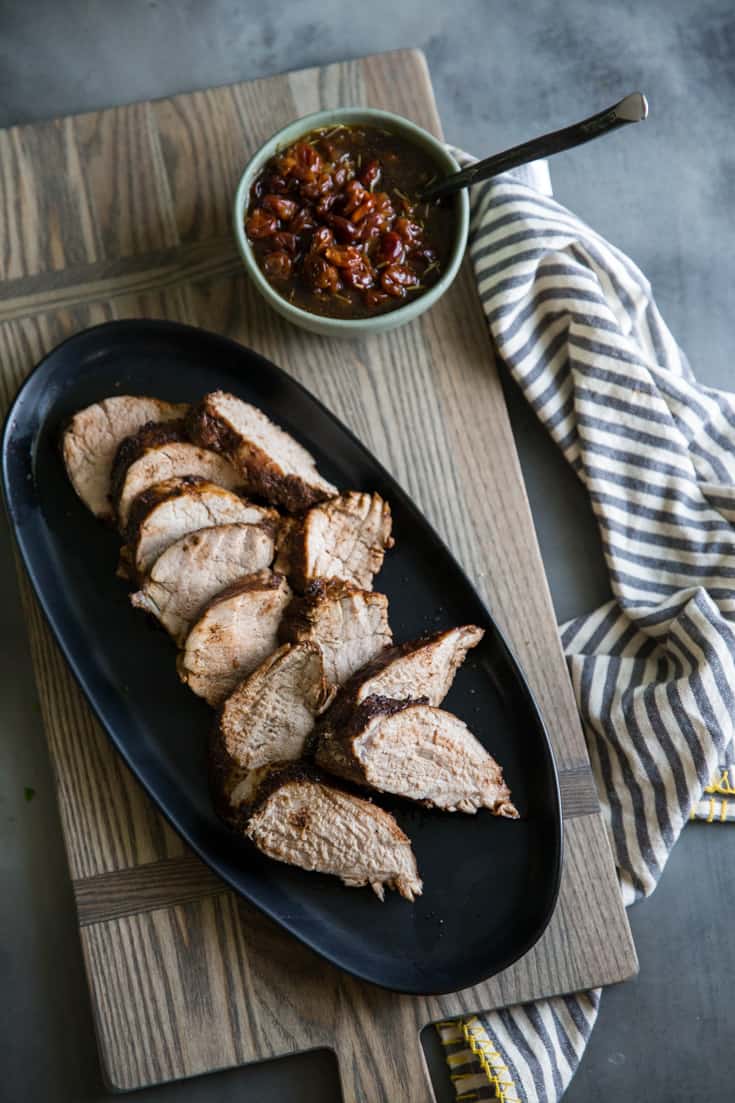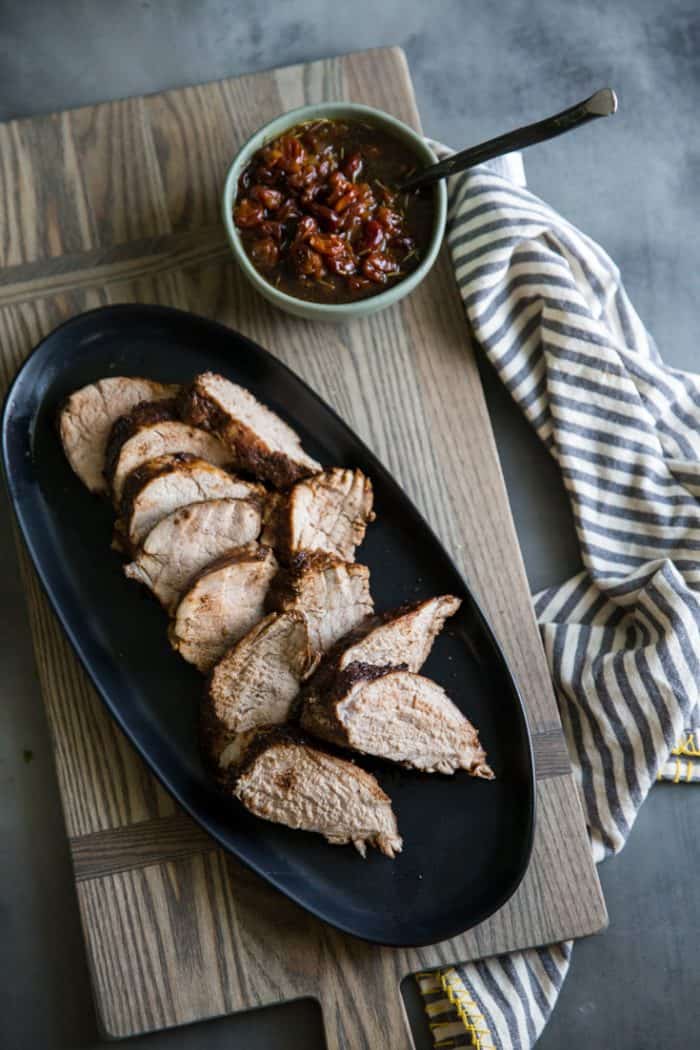 I'm not one to make romantic meals. I sort of serve up dinner and if my husband thinks it's romantic, then bonus points for me. If he compliments it and eats like any other meal, well then that is fine too. That being said, if I was going to classify a meal as romantic, it would be this one. The flavorings in this pork tenderloin roast are sultry and delicious. This meal is memorable yet remarkably simple to prepare.

What Spices To Use For Pork Tenderloin?
Pork tenderloin can handle so may flavorings. Some of my favorite ways to serve pork tenderloin are this Smoky Pork Loin with Pineapple Mango Salsa, where the pork is coated in a fiery seasoning blend that is tamed by the sweet, succulent fruit salsa.
I have also served Oven Roasted Pork Tenderloin with Balsamic Fig Sauce where the pork seasoning is simple so that the sauce served on the side can shine. You could also season pork with rosemary and prepare it in the crockpot like this Easy Slow Cooker Pork Loin recipe.
All recipes showcase the versatility of pork and both are delicious. In this recipe, the pork is powerfully seasoned and served with a sauce to match!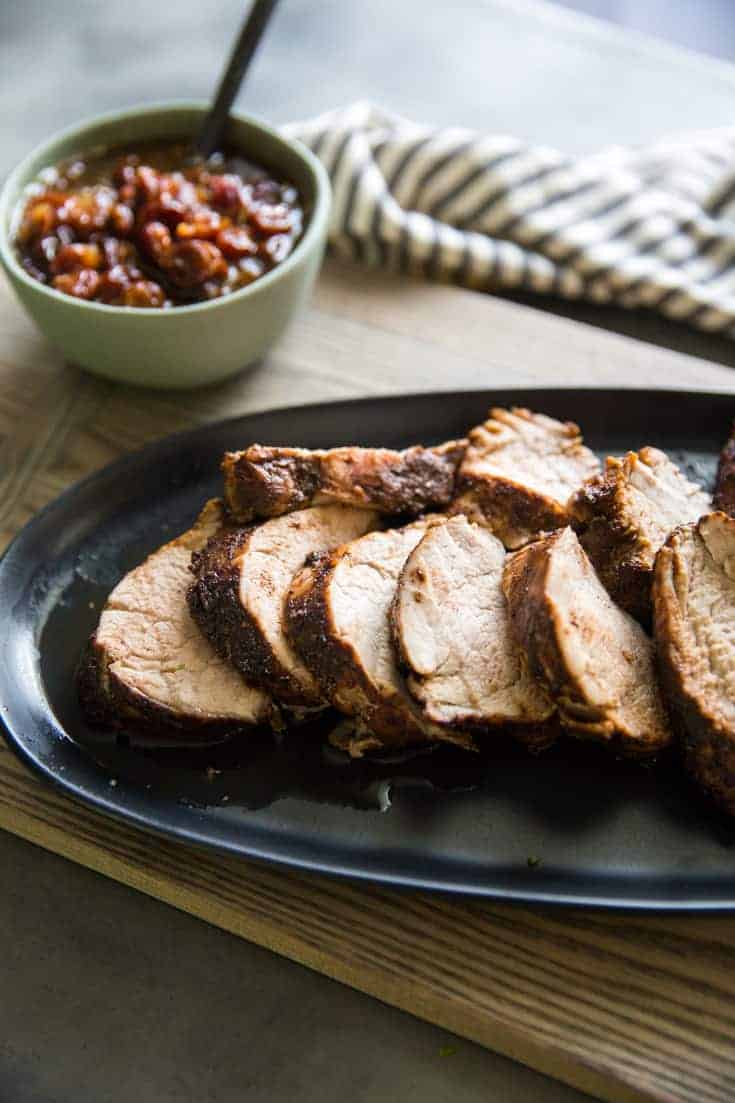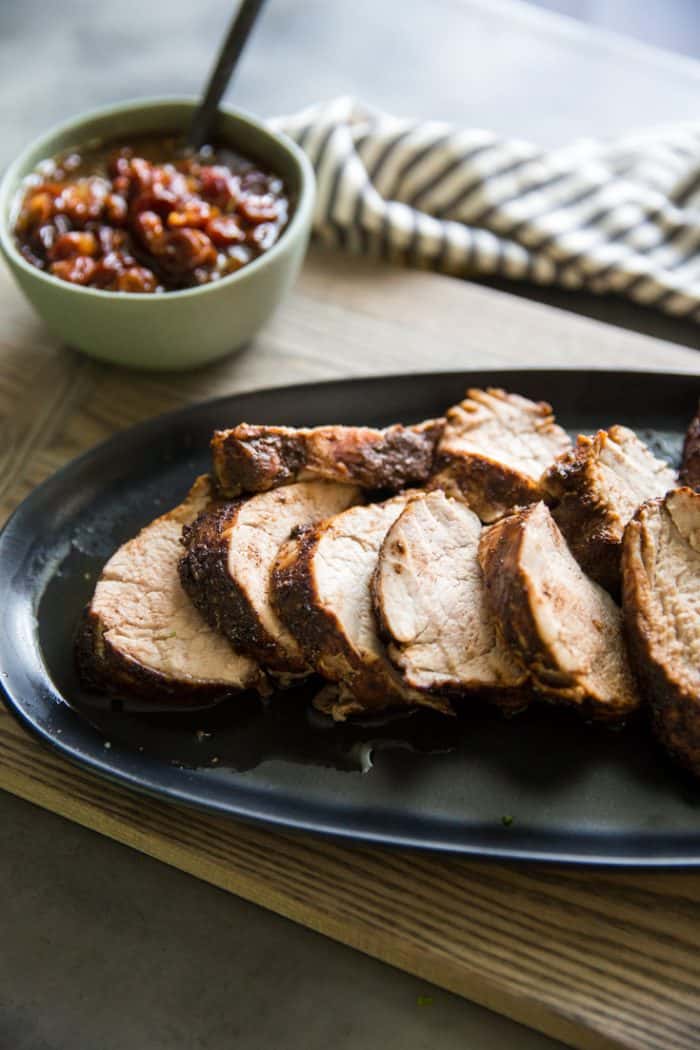 WHERE IS THE PORK TENDERLOIN ROAST RECIPE?
If you'd rather skip cooking tips, suggestions, handy substitutions, related recipe ideas – and get straight to the Pork Tenderloin Roast Recipe– simply scroll to the bottom of the page where you can find the printable recipe card.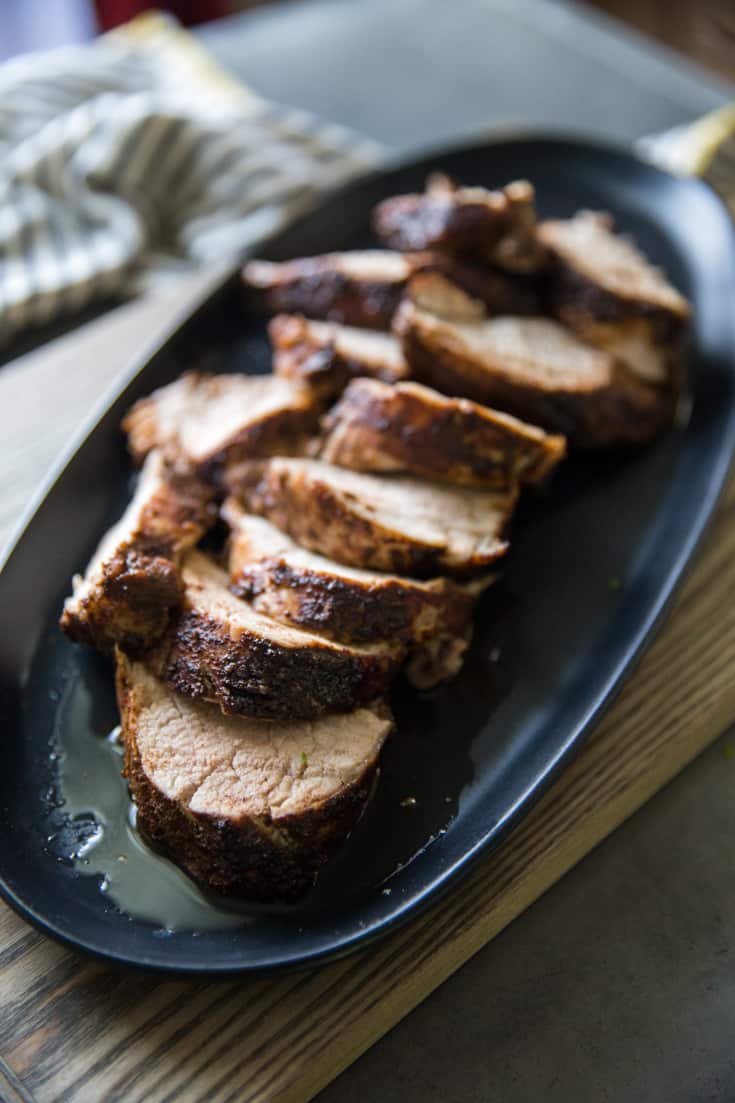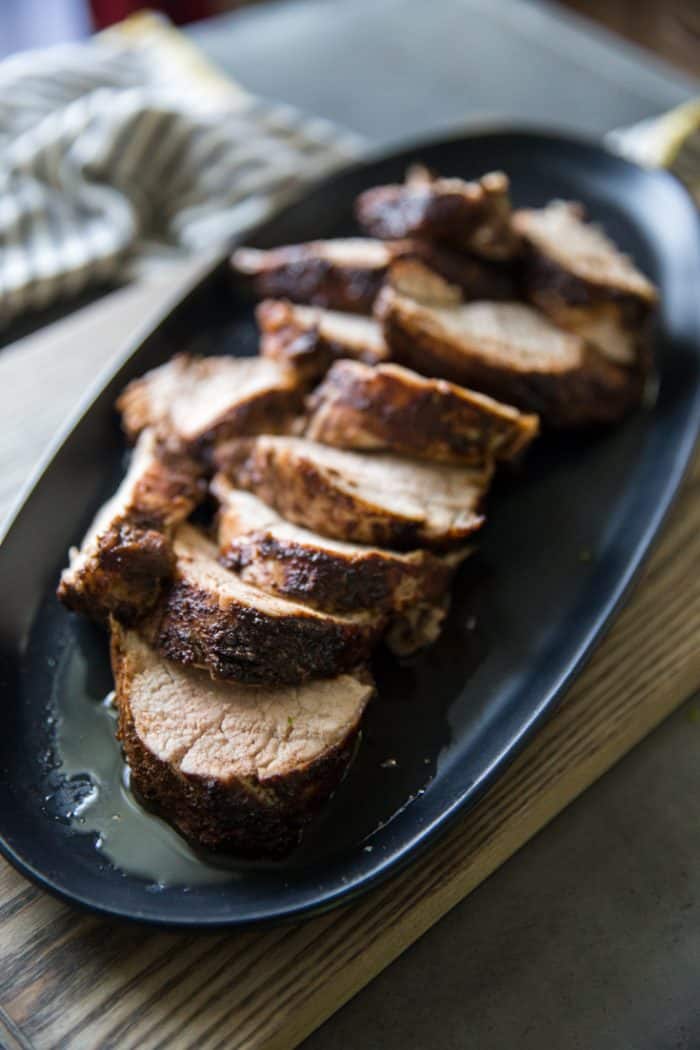 How To Cook A Pork Tenderloin Roast?
To begin, assemble your seasoning blend for your pork. This recipe uses brown sugar, cocoa powder, paprika, chili powder, espresso powder, and salt. It may seem like an unlikely blend of flavors, but the sweet and spicy elements work wonderfully together and the coffee seems to intensify and pull out the cocoa powder and the sugar.
The pork will go into a 400-degree oven, but it won't take long to roast because pork tenderloins aren't large cuts of meat. The pork will roast for about 40-45 meats or until a meat thermometer inserted into the largest part registers 145 degrees.
The pork should have a little pink inside. Allow the pork to rest.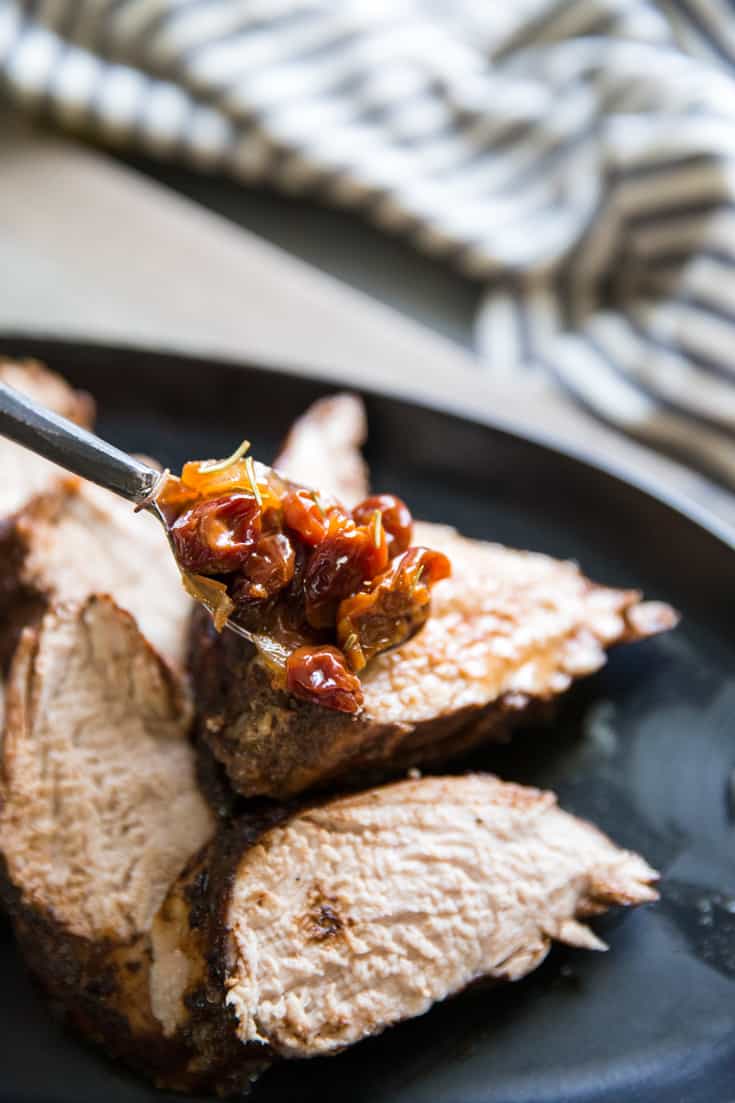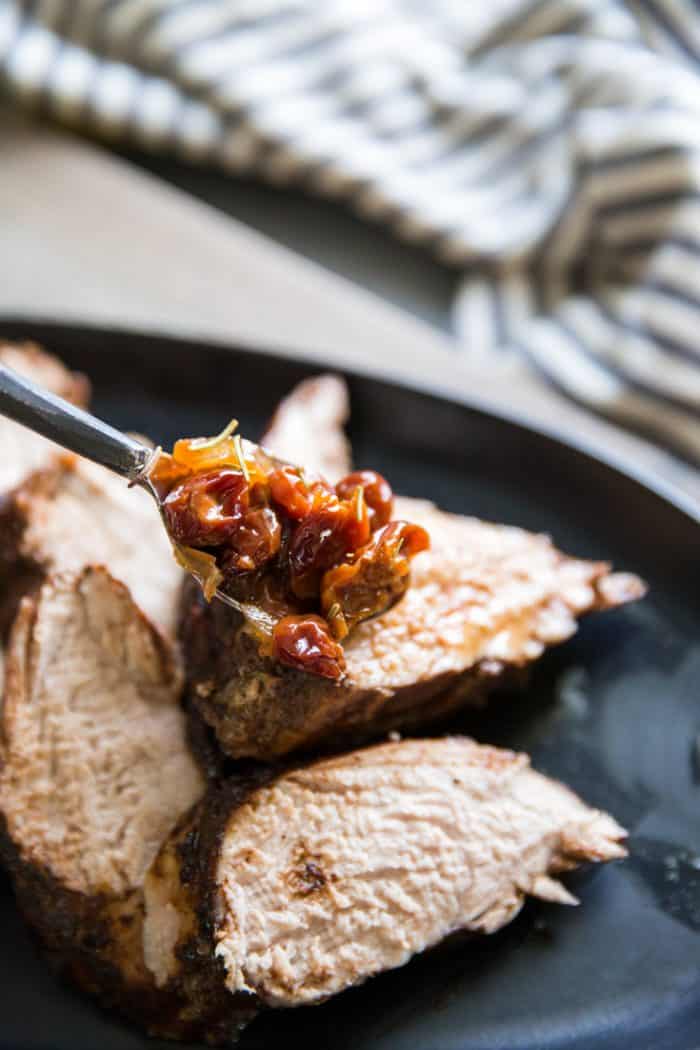 What to Serve With Pork Tenderloin Roast?
I made a cherry sauce to go with this pork roast. I plumped up dried cherries in a sauce made with chicken broth, vinegar, salt, and fresh rosemary. The sauce is sweet, simple, and I suppose you could even say "romantic". If you are looking for more side ideas, try these Greek Roasted Potatoes, Leek and Bacon Risotto, Brussels Sprouts and Farro Salad, or this easy Spinach Salad!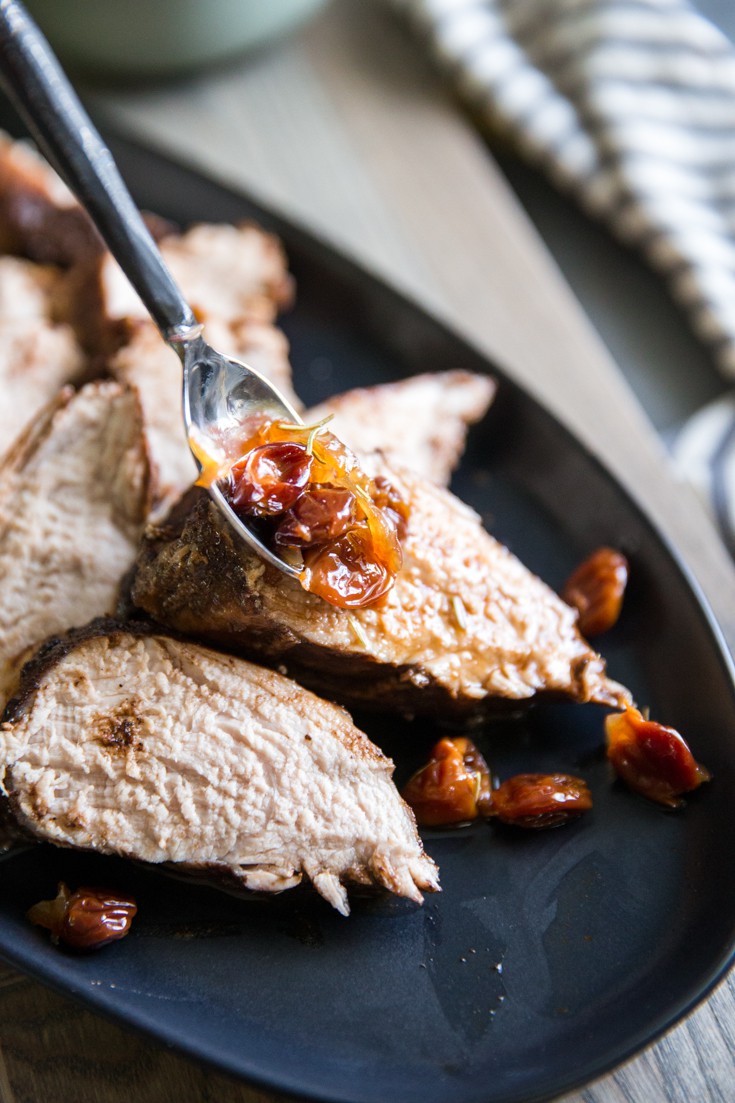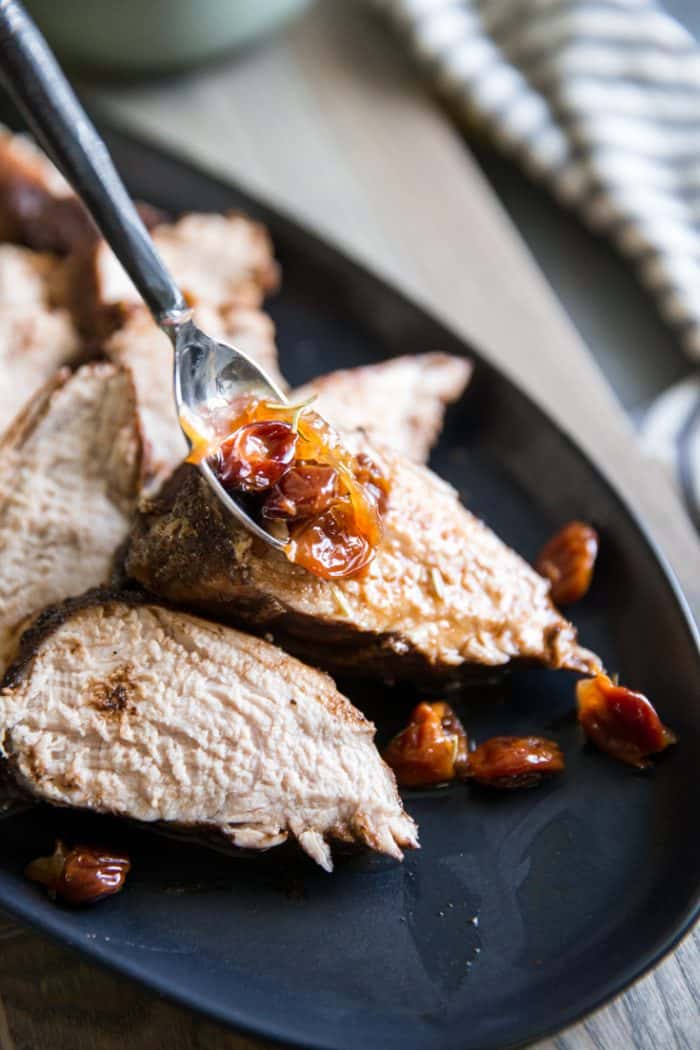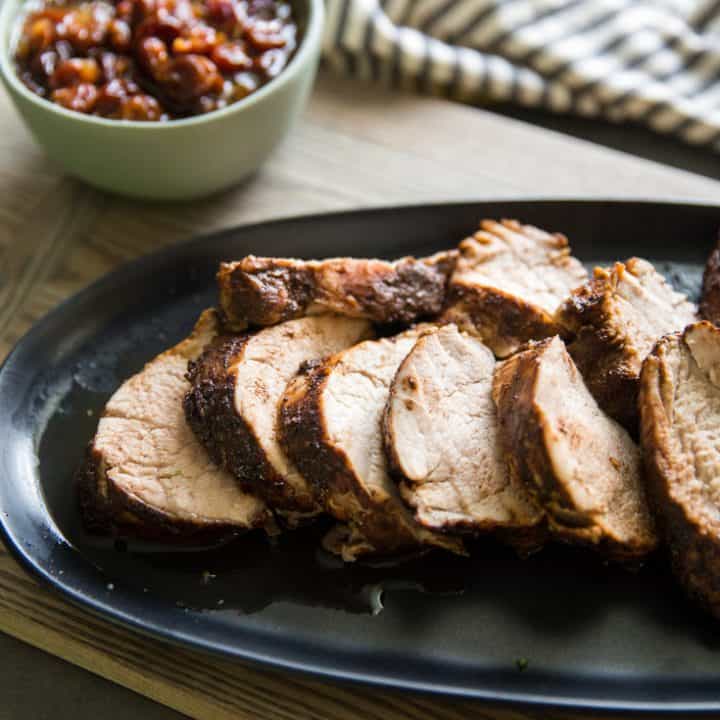 Cocoa and Chili Spiced Pork Tenderloin Roast Recipe (with Cherry Sauce)
Pork tenderloin roast recipe is coated with a smokey spice rub that has a hint of sweet.
The pork is tender and it is served with a cherry sauce that partners perfectly with the spice rub!
Ingredients
2 lb pork tenderloin
2 tablespoons olive oil
2/3 cup brown sugar
1/4 cup cocoa powder
1/2 teaspoon paprika
1 teaspoon Ancho chili powder
1 1/2 teaspoon salt
1 teaspoon espresso powder
For the sauce
2 tablespoons olive oil
1/4 cup onions, diced
3/4 cup dried cherries
1 cup chicken broth
3 tablespoon balsamic vinegar
1 teaspoon dried rosemary
1 teaspoon salt
Instructions
Pre heat oven to 400. Spray a shallow baking dish and set aside. Rub tenderloin with olive oil. In a small bowl, combine brown sugar, cocoa, paprika, chili powder, salt and espresso powder. Rub spice mixture into pork. Bake in heated oven for 45 minutes or until a meet thermometer reads 145 degrees.
For the sauce, heat oil in a skillet. Add onions and cook until soft. Add broth, vinegar, cherries, salt and rosemary. Cook on medium low until sauce is reduce by half, about 10 minutes. Pour over pork right before serving.
Nutrition Information
Yield

8
Serving Size

1
Amount Per Serving
Calories

365
Total Fat

12g
Saturated Fat

3g
Trans Fat

0g
Unsaturated Fat

8g
Cholesterol

84mg
Sodium

931mg
Carbohydrates

32g
Fiber

2g
Sugar

27g
Protein

31g