Pork and sauerkraut is a no-fail recipe when you have your slow cooker!
This recipe is easy and mouth-watering!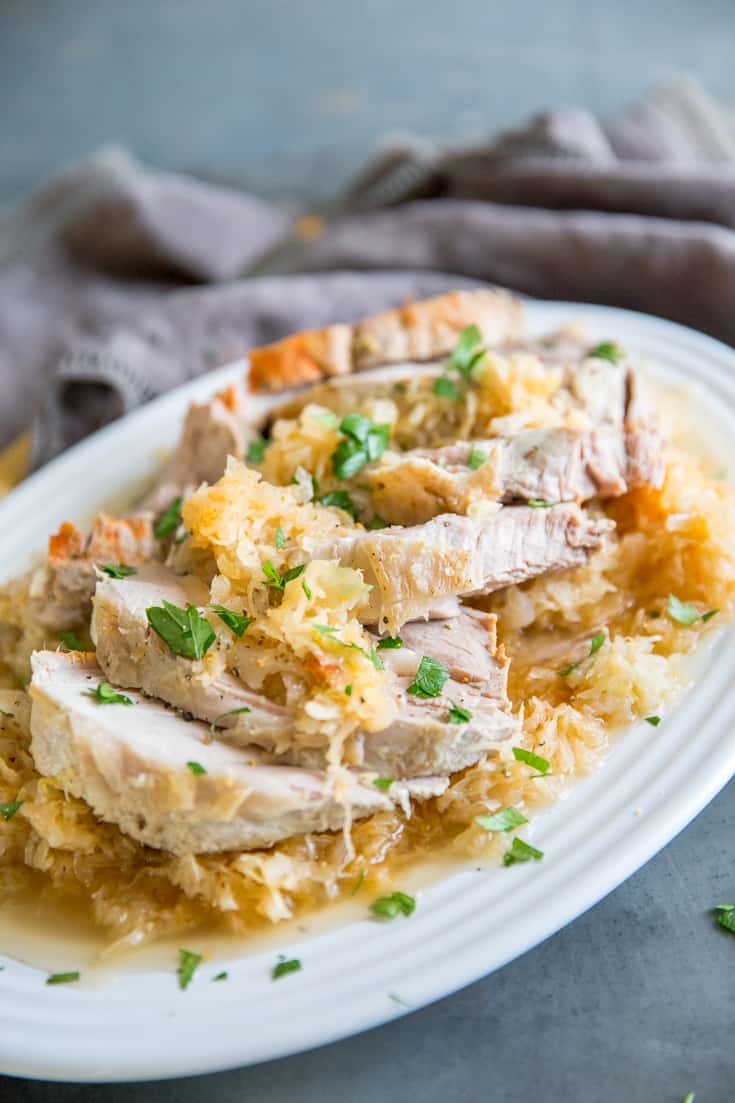 The origin of Pork and Sauerkraut
I did not realize this, and perhaps you are in the dark as well, but apparently, pork and sauerkraut are popular food for New Year's Day. Eating pork and sauerkraut on New Year's Day is a long-standing German tradition.
It is thought that the sauerkraut will bring blessings and wealth and the pork (representing the pig) is a symbol of good luck and well-being. That is a fabulous tradition, but what if you just like pork and sauerkraut and what to eat all year long?
What You Need To Make This Recipe
Pork roast. – I used a boneless roast or pork tenderloin for this recipe. When shopping for your roast, you want to assume ½ lb per person. We'll be using a 2-3 lb pork loin roast.
Sauerkraut – I used a jar, but canned or bagged would be fine. You do want the brine, so I would not use cabbage for this recipe.
Spices – Paprika, Salt, Black Pepper, Garlic, Powder, Onion Powder, and Celery Seed (this makes all the difference).
Slow Cooker – A 6 qt slow cooker works well for this recipe.
For the exact measurements needed, please see the recipe card below.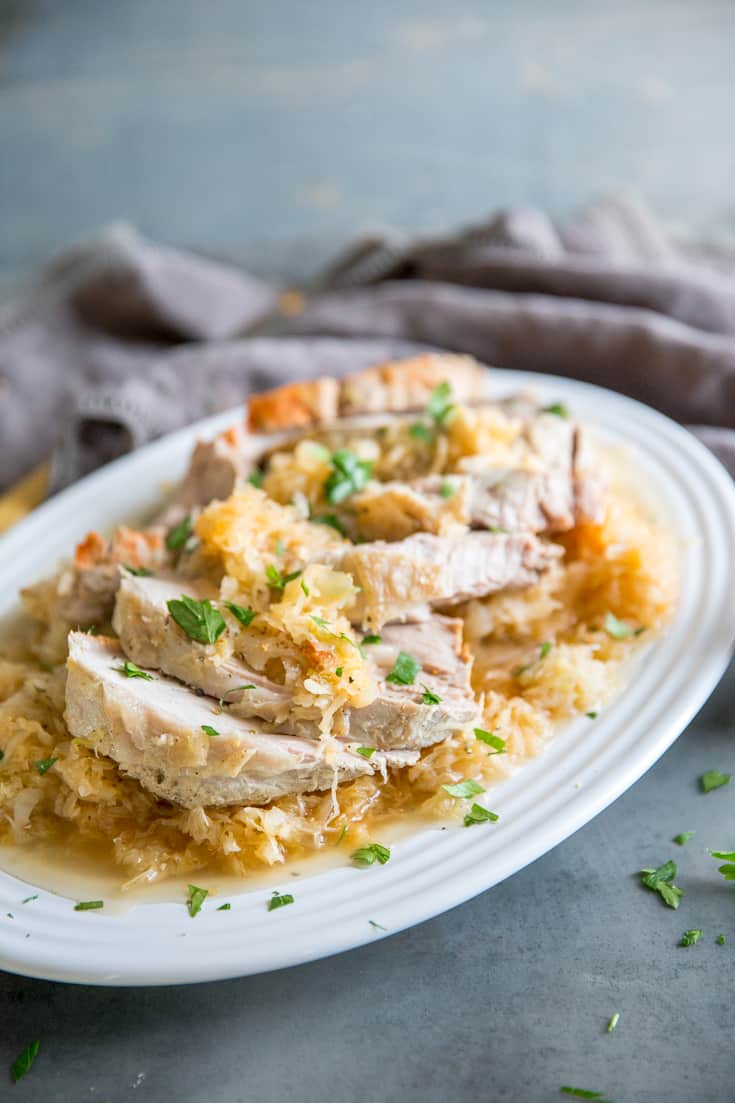 How To Make Pork and Sauerkraut In The Crockpot
This recipe could not be any easier! This recipe starts with a pork loin roast that is seasoned with salt, paprika, onion powder, and garlic powder.
Lightly sear pork in a skillet until lightly browned and then move it to the crockpot.
I used a jar of sauerkraut in its juice (bagged sauerkraut is also acceptable) and I poured it over the pork then seasoned the whole lot with celery seed and pepper.
Cook the pork for about 3 1/2 to 4 hours until it is cooked through. The pork is ready when a meat thermometer inserted into the pork reaches 145 degrees. This cooking method will give you the most tender pork!
Slice up the pork and serve the sauerkraut over top!
Recipe Tips
Don't want to use pork roast? Good news! Pork chops can also be used for this recipe. I recommend sticking with the thicker cut chops (the ones about 1.5-2 inches thick) and making sure that they are boneless too. To make this recipe using pork chops simply adjust the cooking time. On high pork chops should be fully cooked in about 3 or 4 hours.
Caraway Seeds can also be added to the spice mix. For added flavor go ahead and add in a bit of Caraway seeds to the seasoning mix. This is always a delicious option but it's completely optional.
Apples. A lot of people like to put sliced apples in their pork and sauerkraut and I don't blame them, it's delicious. I wanted to keep this recipe more savory and less sweet which is why I didn't put any into the crockpot but you are more than welcome to if you would like.
FAQs
Do I Have to Cook Pork and Sauerkraut in a Slow Cooker?
Nope, while it is a low hassle and easy way of making dinner you can just as easily make this dish in a Dutch oven or in an Instant Pot. Simply adjust for the times and cook it up as desired. I recommend browning the pork roast in the dutch oven on the stove before adding the remaining ingredients and cooking in the oven until finished. This will add a bit more flavor to the meal.
Can Pork and Sauerkraut Be Frozen?
Yes! Ideally, you should place your leftover pork and sauerkraut (with juices) in a large gallon-sized freezer-safe zip-top bag. Place the bag on its side and squeeze out any air.
Storing frozen items this way, keeps freezer burn at bay and allows for more room in your freezer.
Frozen pork and sauerkraut can be thawed in the fridge and warmed via your preferred method (oven or microwave).
What Goes with Pork and Sauerkraut?
This meal can go with so many side options but to keep it simple for the holiday you might want to try something light like this easy spinach salad, and red potato salad, or these cheesy mashed potatoes!
Yield: 6
How To Pork and Sauerkraut (Slow Cooker)
Pork and sauerkraut is a no-fail recipe when you have your slow cooker!
This recipe is easy and mouth-watering!
Total Time
4 hours
15 minutes
Ingredients
1 teaspoon olive oil
1 2-3 lb pork loin roast
½ teaspoon salt
½ teaspoon paprika
¼ teaspoon onion powder
¼ teaspoon garlic powder
1 32 oz jar sauerkraut
½ teaspoon pepper
¼ teaspoon celery seed
Instructions
1.Heat oil in a large skillet over medium-high heat. Season pork with salt, paprika, onion powder, and garlic powder.
Heat pork just until browned on all sides. Remove pork to slow cooker.
Pour sauerkraut (with juice) over pork.
Season with pepper and celery seed. Cook pork on high for 3 ½ to 4 hours or until internal temperature reaches 160 degrees.