Slow cooker pork roast is a delicious and hearty meal that your entire family can enjoy no matter what the season. Not only does it require minimal prep time, but it's also an easy meal to start before you go about your day. Plus, you'll have dinner ready and waiting for you when you return home at night.
What is Pork Roast?
A pork roast is a cut of meat that has been slowly roasted in its own juices. Most of the time, this slow cooking refers to a crock pot, but pork roasts can also be made in the oven. Pork roasts can be cuts of beef or pork.
The Best Cut of Meat for Slow Cooked Pork Roast
A tough, lean cut of meat with lots of connective tissue will make the best cut of meat for a pork roast in the slow cooker. The connective tissue breaks down during the cooking process and tenderizes the meat. The result is a large cut of meat that falls apart with just a fork after cooking.
What to Eat with Slow Cooker Pork Roast
Glazed carrots
Mashed potatoes
Roasted potatoes
Asparagus
Sauteed spinach
A slice of hearty bread
How to Make a Slow Cooked Pork Roast
Ingredients:
Pork shoulder
Vegetable or chicken stock
BBQ sauce
Olive oil
Red onion
Garlic powder
Oregano
Chili flakes
Paprika
Cornstarch
Step 1: Prepare Onion
Cut the onion into thin slices. Then layer them on the bottom of your crock pot. Drizzle olive oil over the top.
Step 2: Prepare the Pork Shoulder
Rub the pork shoulder with all the spices (except the cornstarch) and the BBQ sauce. Then, let it rest in a bowl for 30 minutes.
Step 3: Begin the Cooking Process
After 30 minutes have passed, put the shoulder in the slow cooker. Next, pour the stock over the entire roast. Set your timer for 2 hours on high or 4 hours on low.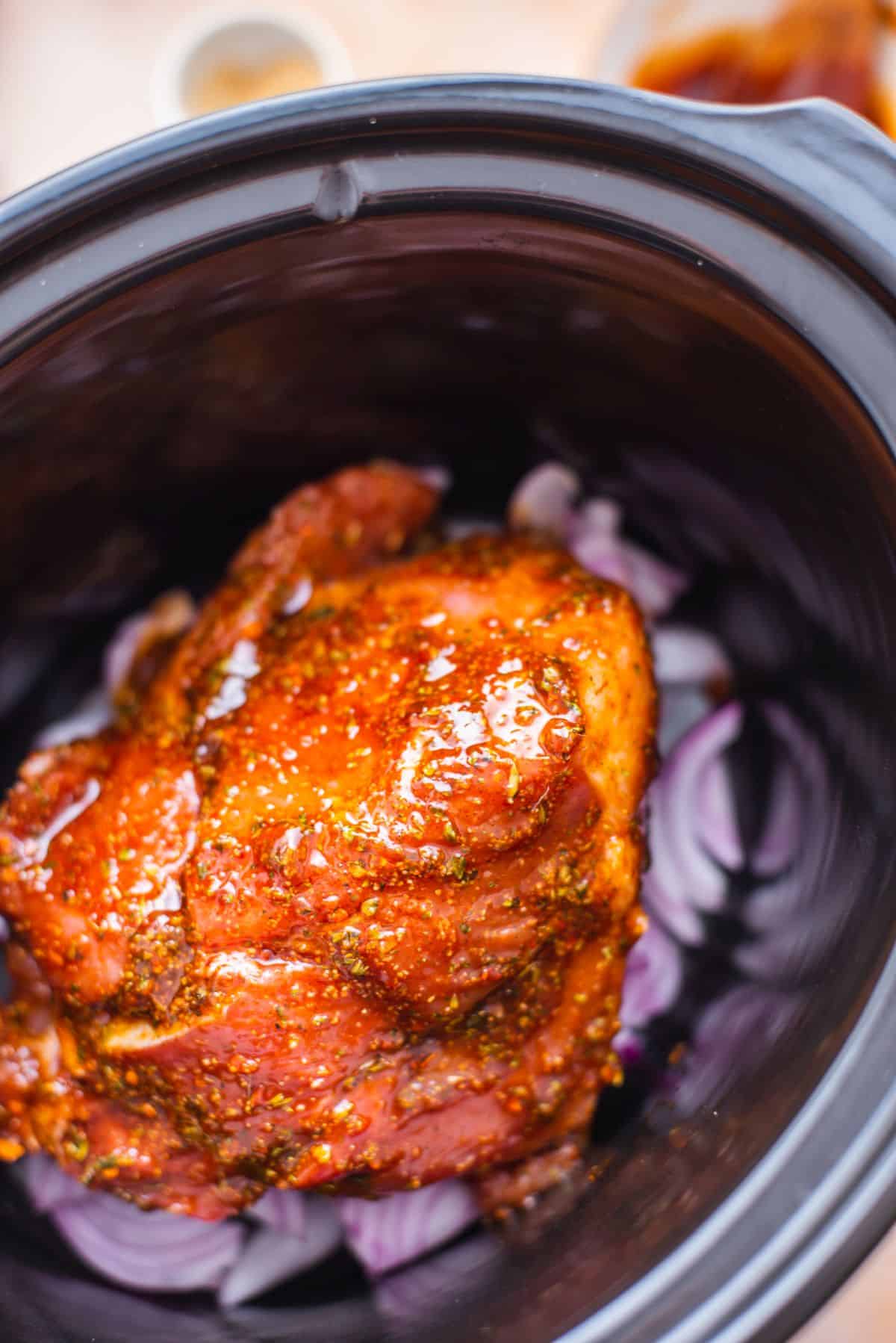 Step 4: Make the Gravy
As the roast reaches the end of its cook time, remove the onions and remaining stock from the crock pot. Place them in a pan over medium heat. Then mix with the cornstarch dissolved in water until it thickens.
Step 5: Serve
Serve the pork roast with the sides of your choosing and a small bit of the gravy you made.

Slow Cooker Pork Roast Expert Tips
For a different consistency, brown the meat lightly on the stove before placing it in the crock pot.
If you prefer a tangier flavor, at Cajun seasoning instead of oregano and swap the sweet BBQ for a spicier version.
If you don't have a crock pot, you can make a pork roast in an oven-safe pot in your oven or in a pressure cooker.
Mistakes to Avoid When Cooking Pork Roast in the Slow Cooker
Don't leave your crock pot on high all day as the meat will overcook
Don't stop the cooking process once it has begun until the meat is done
Avoid frozen vegetables and only use fresh ones with your pork roast
Don't skip the gravy, it's one of the best parts of the dish
How to Serve Slow-Cooked Pork Roast
Slow cooker pork roast is best served within 15 minutes of being removed from the crock pot. It should be served on a plate with a potato or some sort, a vegetable, and a side of gravy for dipping.
How to Store Slow-Cooked Pork Roast
Any pork roast not consumed should be stored in an airtight container in the fridge. It will stay fresh and tasty for about 5-6 days.
FAQ
Should Pork Roast Be Covered with Liquid in the Slow Cooker?
The pork roast doesn't need to be covered completely in liquid to cook properly. Some people prefer more liquid, but you only need about 16oz to make a braised pork roast.
Why is My Slow Cooked Pork Roast Tough?
Your pork roast is probably tough because it was left too long in the slow cooker on the wrong heat setting. If you cook your pork roast on high, it only needs two hours to cook. If you will be gone longer than that, it's better to cook it on low.
Should You Brown the Roast Before Cooking in a Slow Cooker?
Browning pork roast before putting it in the slow cooker will give it a bit crispier outside. You don't have to brown your pork roast before cooking. In fact, browning the pork roast is simply a personal preference and not a requirement.
Do the Vegetables Go on the Top or Bottom of the Pork Roast in the Slow Cooker?
Vegetables should go beneath your roast in the slow cooker this way they can be completely submerged in the broth. The vegetables will cook nicely and become more tender this way with the added flavor of the meat.
Can You Overcook Pork Roast in the Slow Cooker?
It is possible to overcook any dish, including pork roast in your slow cooker. Avoid leaving your pork roast for too long unattended. In addition, it is good to always check it around the time you anticipate it to finish cooking.
Does Pork Roast Get More Tender the Longer it is Slow Cooked?
The longer you leave your pork roast in the slow cooker, the more tender it will get—to a certain extent. After you pass eight hours in the slow cooker on low, the meat will again become tough.