Sweetened with molasses and spiced with ginger, these classic chewy ginger cookies make for an easy yet tasty treat that everyone will love. These delicious treats combine a crunchy sugar exterior with a chewy interior that is sure to satisfy your sweet tooth.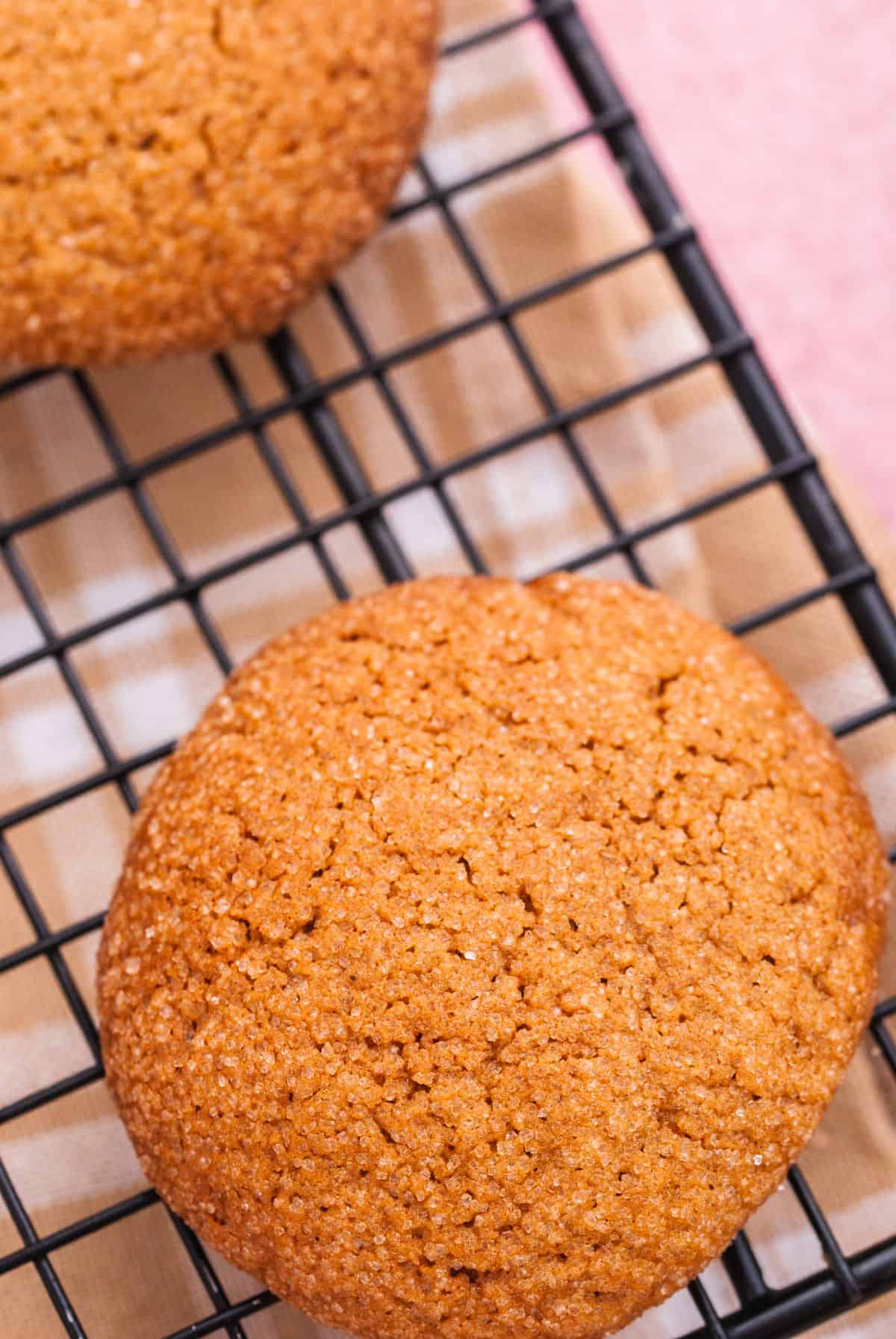 All about Chewy Ginger Cookies
Ginger cookies are a classic treat that are enjoyed all over the world. People often make them at Christmastime, but you can enjoy ginger cookies all year round. You can find them in a variety of shapes, sizes, and textures, from soft and chewy to hard and crunchy.
The term gingerbread means "preserved ginger." Today, this term refers to any sweet treat that combines ginger with honey or molasses. With their fragrant, spicy flavor and soft texture, this recipe's version of gingerbread (chewy ginger cookies) is sure to please everyone.
Enjoy these ginger cookies on their own as a snack or with a hot cup of tea or coffee. You can even use the ginger cookie dough as the base for other recipes, such as thumbprint cookies and filled sandwich cookies.
Ingredients You'll Need for Chewy Ginger Cookies
White sugar
White flour
Molasses
Butter
Egg
Baking powder
Ginger powder
Cinnamon powder
Salt

How to Make Chewy Ginger Cookies
Allow the butter to reach room temperature, and preheat the oven to 350 degrees F (180 degrees C).
In a medium-sized bowl, whisk the butter with 1 cup of the sugar until it becomes a soft cream.
Add the egg and mix again.
Add the ginger powder, cinnamon powder, molasses, flour, salt, and baking powder. Mix well until all the ingredients are well combined in a thick batter.
Place the 1/2 cup of remaining sugar in a small bowl and set aside.
Spoon out portions of the cookie batter and roll into balls with your hands.
Roll each ball in the sugar, and place it on a baking tray lined with parchment paper.
Bake at 350 degrees F (180 degrees C) for 10 to 12 minutes.
Allow to cool on a cooling rack.
Tips and Variations for Chewy Ginger Cookies
If you're looking for the perfect chewy ginger cookie, here are a few tips.
Make sure to use good quality butter and sugar as they play an important role in the texture of the cookie.
When baking these cookies, take them out just before they look done as they will continue to cook once they are removed from the oven. Depending on your oven, this may be 10 minutes or closer to 12 minutes.
Allow them to cool completely on a cooling rack before serving or storing.
Experiment with different spices or extracts, such as pumpkin spice mix, nutmeg, cardamom, allspice, ground cloves, maple, or rosewater.
For an extra kick, add some diced crystallized ginger to the dough before baking it.
Add some chopped dried fruit, nuts, or seeds – apricots, cranberries, walnuts, almonds, or pumpkin seeds work well.
Incorporate dark chocolate chips, white chocolate chips, or butterscotch chips into the dough.
Substitute some of the butter with coconut oil to give the cookies an added tropical flavor.
Swap out some of the all-purpose flour with almond flour for a nutty twist.
For extra indulgence, drizzle melted dark or white chocolate over the cooled ginger cookies.

Chewy Ginger Cookies FAQs
Is ginger healthy?
Yes, ginger is healthy. It is full of antioxidants that fight damaging free radicals. It also helps with bloating and gas and helps relieve nausea.
Is ginger powder the same as ground ginger?
Yes, ginger powder is another name for ground ginger. But these are not the same as grated fresh ginger. To substitute fresh ginger for ginger powder, use 4 times the amount. So for this recipe, you would use 4 tablespoons of fresh ginger in place of the 1 tablespoon of ginger powder.
Should I refrigerate my ginger cookie dough before baking them?
You don't have to, but you can refrigerate the dough before baking if desired. This prevents the dough from spreading as much during baking.
How do I store chewy ginger cookies?
You can store your cookies in an airtight container in a cool place for 10 days.
Can I freeze ginger cookies?
Yes, you can freeze ginger cookies. Place the baked and cooled cookies on a baking sheet in the freezer until they are frozen. Once frozen, transfer them to an airtight container or resealable plastic bag and store for up to 3 months in the freezer. When ready to enjoy, let thaw at room temperature.
Other Cookie Recipes
Bottom Line
These chewy ginger cookies are the perfect sweet treat for any occasion. With their crunchy sugar exterior and chewy interior, they're sure to satisfy your cravings. Plus, this recipe is easy to customize with different spices, extracts, dried fruits, nuts, or seeds – so feel free to experiment.
Yield: 25 cookies
Chewy Ginger Cookies
Insanely good chewy ginger cookies. With a very satisfying crunchy sugar exterior and a chewy interior, this ginger and molasses cookies are the ultimate sweet treat! Perfect for the Christmas season, but not only!
Ingredients
1 cup white sugar + ½ cup more
2 cups white flour
¼ cup molasses
¾ cup butter
1 egg
1 teaspoon baking powder
1 tablespoon ginger powder
½ tablespoon cinnamon powder
A pinch of salt
Instructions
In a medium sized bowl, whisk the butter (room temperature) with the 1 cup sugar until a soft cream is achieved.

Add the egg and mix again.

Add the spices, molasses, flour, salt and baking powder and mix well until all the ingredients are well combined in a thick batter.

Prep the ½ cup sugar that you've not used in a small bowl and set aside.

With a spoon take portions of the cookie batter and form balls with your hands.

Once you've formed the balls, roll them into the sugar.

Place in a lined baking tray

Bake for 10-12 minutes on 356 F /180 C

Let cook in a rack and enjoy!

Notes
Depending on your oven and how potent it is, you might want to cook them for 10 or 12 minutes. 
Try adding others spices like pumpkin spice mix, or simply some nutmeg or cloves. 
Once baked they'll last for 10 days stored in a cool place in a closed container.