Tender pork cutlets are lightly coated, seasoned, and cooked until golden brown.
Then finished off with a tangy lemon-caper sauce that's drizzled over the cutlets just before serving!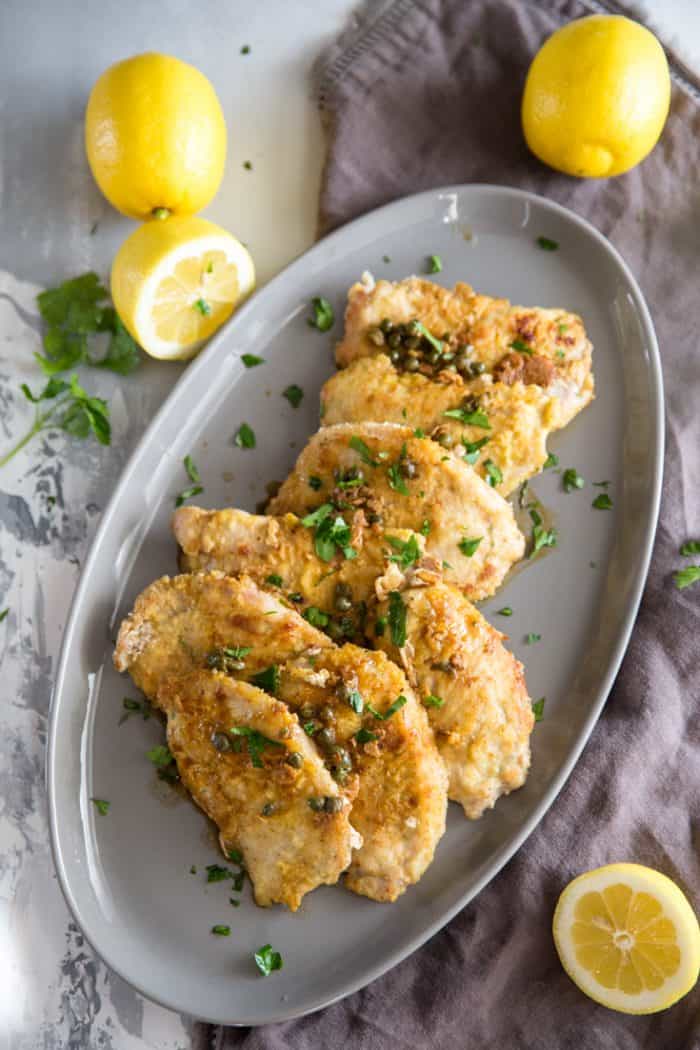 Pork cutlets are pretty versatile and they are perfect for those busy nights when you need to get something on the table quickly because cutlets don't take long to cook. This recipe tastes like a high-class fancy meal you'd expect from a nice restaurant but it's made at home with simple ingredients and steps and in just a few minutes. How great is that? Serve this pork with an Easy Spinach Salad on the side for a wonderfully easy meal.
What Are Pork Cutlets?
Pork cutlets are lean cuts of pork that are sometimes referred to as medallions. Often, they are pounded with a meat mallet, dredged in the coating, and then pan-fried…which is exactly what I have done with this recipe. The cutlets are meaty enough to satisfy but lean enough to keep you feeling light and happy.
Pork cutlets are often taken from the rib or the leg. Pork works nicely for making cutlets as the loin naturally lends itself to making thin cuts that are uniform in size and shape.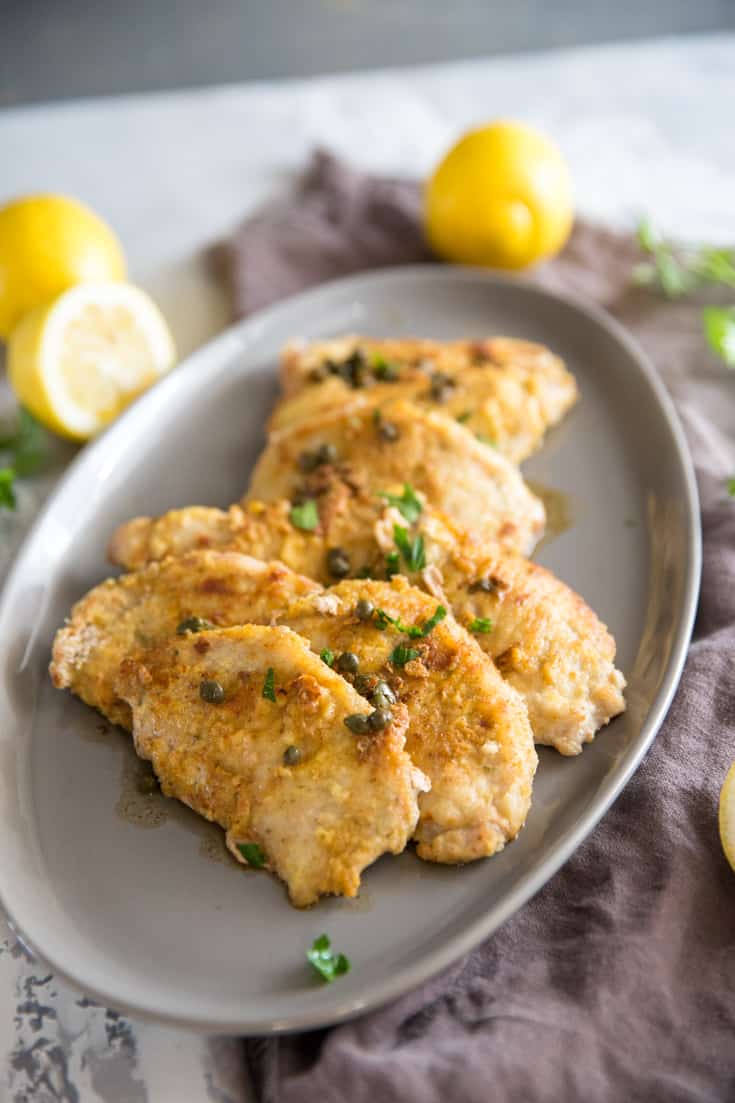 Ingredients
Olive oil
Pork cutlets
Flour
Italian style bread crumbs
Dried thyme
Salt
Eggs
Water
Butter
Chicken broth
Lemon juice
Capers
For the exact measurements, please see the recipe card below.
How to Cook Pork Cutlets
For this recipe, I combine flour, bread crumbs ( I like to use an Italian style), salt, and a little thyme in a bowl -a pie plate works great.
In a separate pie plate, I whisk eggs with a tablespoon of water. Dip one pork cutlet into the eggs wash, allowing excess to drip, then immediately dip the cutlet in the flour mixture. Repeat with all the cutlets.
Heat a large skillet over medium heat. Add olive oil. Working in batches, brown the cutlets for about 2-3 minutes per side or until browned.
Pork can be cooked to an internal temperature of 145 degrees. It is ok to have a little pink on the inside of the pork.
When all the pork has browned, remove the cutlets and keep them warm on a baking sheet or a large plate.
How To Cook Lemon Caper Sauce
I start the sauce in the same pan in which I cooked the pork. I think any leftover bits from the pork only enhance the flavor of the pan sauce.
Add a tablespoon of butter to the hot pan. Whisk in chicken broth, Add lemon juice (fresh is always lovely but jarred is fine), and capers.
Continue to cook the sauce, whisking constantly until the sauce has reduced and thickened. It will take on a glossy look and a smooth texture.
The sauce can be seasoned with salt and pepper, adding fresh lemon zest if desired.
When ready to serve, drizzle the lemon caper sauce over the pork cutlets before serving.
Recipe Tips
You could substitute pork cutlets for almost any pork chop recipe (as long as it doesn't call for slow roasting or other long cook times). Cutlets will still give you that same, juicy flavor as any other cut of pork.
Capers are actually flower buds that are pickled and briny just like olives. They bring a distinct flavor to many dishes but they work especially well with the tart lemon juice.
FAQs
What Is Lemon Caper Sauce?
Lemon caper sauce is made with lemon juice, capers, and either chicken broth or white wine. It can be served over pasta seafood or in a dish like this turkey Piccata recipe. It also tastes fantastic spooned over these pork cutlets.
How Long Should I Cook Pork Cutlets In The Oven?
Preheat the oven to 400 degrees F. Arrange the pork cutlets on a baking rack that has been set on a baking sheet. Bake pork for 10-15 minutes or until golden. Pork can be cooked without the baking rack, just be sure to turn the cutlets halfway through.
What To Serve With Pork Cutlets and Lemon Caper Sauce?
The fresh spinach and basil flavors of the Spinach and Pesto Orzo Salad work well with the lemon flavor of the sauce. I also like to serve Oven Roasted Carrots, Grilled Zucchini, Lemony Kale Salad, or Brussels Sprout and Farro Salad.
I think you will love the flavor of this recipe and you will love how quickly these pork cutlets cook. If you want more pork recipe ideas, try these Parmesan Breaded Baked Pork Chops, Slow Cooker Pork, and Sauerkraut, Oven Roasted Pork Tenderloin with Balsamic Fig Sauce.
Yield: 6
Pork Cutlets with Lemon Caper Sauce
Breaded and seasoned pork cutlets are quick and easy to make! Serve them with a tangy lemon caper sauce for a flavor-packed​ meal!
Ingredients
1 tablespoon olive oil
1 1/2 lbs pork cutlets
1/2 cup flour
1/2 cup Italian style bread crumbs
1/2 teaspoon dried thyme
1/2 teaspoon salt
2 eggs, lightly beaten
1 tablespoon water
1 tablespoon butter
1 cup chicken broth
3 tablespoons lemon juice
2 tablespoons capers
Instructions
Place a large skillet over medium heat; add olive oil
Place the flour, bread crumbs, salt, and thyme in a shallow bowl.
In a separate bowl, whisk together the eggs and the water.
Dredge the pork chops in the egg mixture, allow the excess to drip back into the bowl. Dip pork in flour mixture, turning to coat. Repeat with the remaining pork cutlets.
Working in batches, add the pork to the hot skillet and heat for 3-4 minutes per side; or until golden brown. Remove pork and keep warm.
Add butter to the same skillet, slowly stream in chicken broth whisking up any browned bits from the pork.
Add lemon juice and capers, whisk. Bring sauce to a boil; reduce heat and simmer until sauce has reduced and thickened slightly.
Serve sauce over pork.

Nutrition Information
Yield
6
Serving Size
1
Amount Per Serving
Calories

454
Total Fat

25g
Saturated Fat

7g
Trans Fat

0g
Unsaturated Fat

16g
Cholesterol

116mg
Sodium

683mg
Carbohydrates

31g
Fiber

2g
Sugar

2g
Protein

25g