Pasta Primavera may be the easiest, most delicious dinner ever.
Tender and flavorful salmon is the crowning glory on this pasta Primavera.
Disclosure: I received compensation from Morey's for recipe development purposes. All opinions are my own. For Morey's recipes and product information, click here.
Have you seen those shows where people uproot their families to try and live like pioneers? They trade their comfy lives for straw beds and log cabins. They have to make all their own food, mend and hand wash clothes, cut wood, hunt and gather just like all the men and women did many, many years ago.
While I partially admire these people for trying to live simply, I just know I could not do it. I'm just not hardy enough to "rough it." I like living in modern times.  I like my dishwasher, my washing machine, and my vacuum. Gardens are wonderful, but if I had to grow all our food, we would surely perish. My hunting and gathering experiences are non-existent. I take that back, I'm excellent at hunting for deals and gathering groceries. Those are good skills to have right?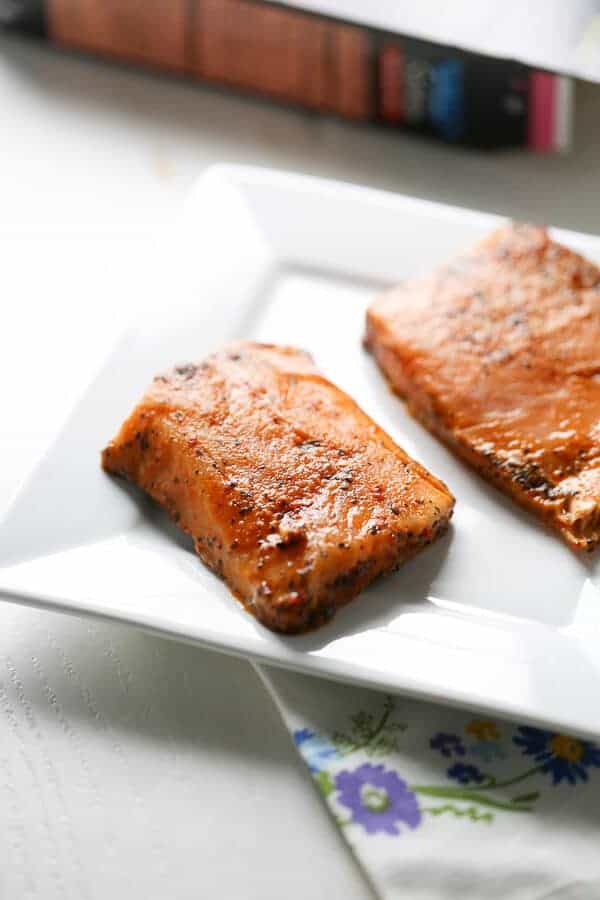 Honestly, I couldn't imagine hunting for food or fishing for my dinner. It's so much nicer walking into the store and picking up perfectly seasoned, ready- to-eat meat or seafood, like salmon.  I picked up some Morey's Seasoned Grill Wild Pacific Salmon during my last trip to the store, along with a variety of veggies to make a simple Pasta Primavera.
I used asparagus, zucchini, yellow squash and cherry tomatoes in this Pasta Primavera, but you could use practically any vegetable in your refrigerator. While this Pasta Primavera recipe has not been lightened, you could make it considerably lighter by using low-fat milk instead of the heavy cream. This dish is not meant to mimic a thick alfredo pasta. The sauce lightly coats the veggies and the pasta. It's more like a subtle accessory.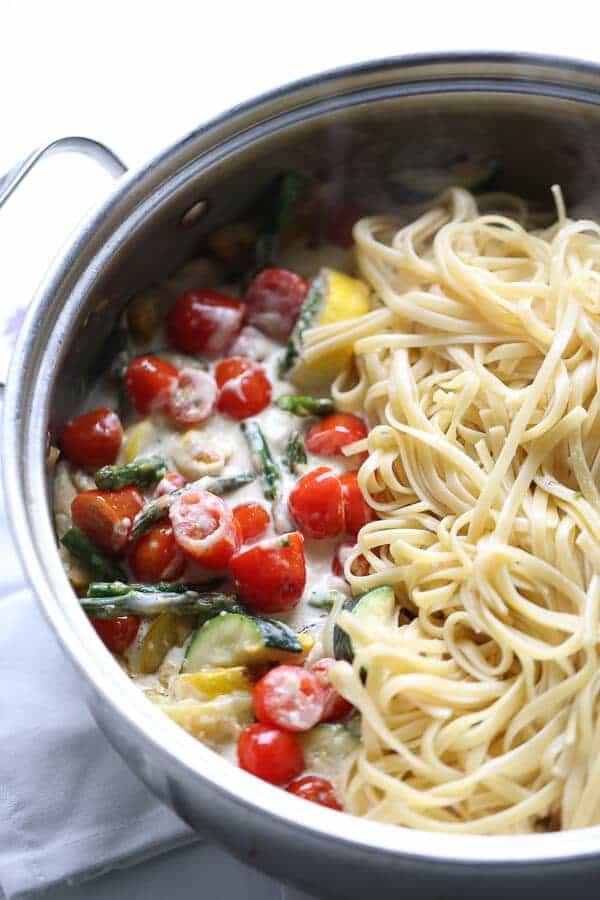 The wild salmon is delicious! Morey's peppery, flakey salmon is the perfect accompaniment for the mild flavored sauce. I chose to serve the Morey's salmon on top of my pasta, but you can flake it and mix it in if you prefer.
Preparing Morey's salmon is probably the easiest part of this meal event. Simply place the thawed fillets on a foil-lined baking tray and pour the remaining marinade in the pouch over the top. Then bake for about 17 minutes at 375 degrees. It's that easy!
You'll want to keep this Pasta Primavera recipe tucked in your back pocket for when you need to make a good impression.
Mother's Day IS just around the corner, and moms like to be impressed.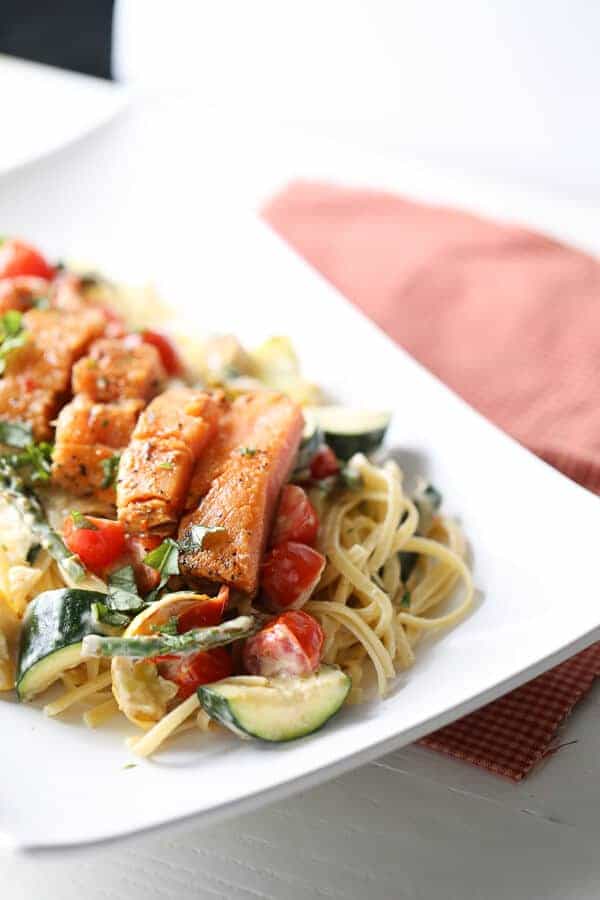 Pasta Primavera Recipe with Salmon
6
adjust servings
Pasta is tossed with an assortment of veggies and covered in a light sauce. A seasoned salmon is served right on top.
Ingredients
1

lb linguini

1

tablespoon olive oil

1

small zucchini, sliced

1

small yellow squash, sliced

1

lb asparagus, trimmed

3

cloves garlic, coarsely chopped

1

lb cherry tomatoes, halved

3/4

cup heavy cream

1

tablespoon cornstarch

1/4

cup dry white wine

1/4

cup grated Parmesan cheese

1 10

oz package Moreyâ??s Seasoned Grill Wild Pacific Salmon
Instructions
Cook pasta according to package directions.
Whisk together cornstarch and heavy cream, set aside.
Add olive oil to a large deep skillet over medium heat. Add zucchini, squash and asparagus. Sauté vegetables for 4 more minutes or just until veggies begin to soften. Add garlic and cook for 1 minute. Stir in cherry tomatoes. Add wine, heavy cream mixture and Parmesan cheese, stir. Reduce heat and allow sauce to thicken for 3-5 minutes.
Toss pasta with sauce and vegetable, turning to coat. Serve pasta with salmon.
Prepare the ready-to-bake Moreyâ??s salmon according to the directions on the package