Spring is one of the most popular seasons of the year, and a major reason many people love it so much is the flavorful food. After a long winter of canned vegetables, preserves, and other cold-weather fares, the fresh tender vegetables and seasonal fruit in spring recipes are a welcome change of pace.
Since spring is also a season of social gatherings, picnics, and potlucks, it's the perfect time to experiment in the kitchen and find your next hit recipe. Whether you need a show-stealing dessert for an Easter party or you want to throw a beautiful Mother's Day brunch with all the trimmings, there are plenty of beautiful and delicious spring dishes for you to choose from.
Healthy Spring Foods
An advantage of eating seasonally in the spring is that you can benefit from all of the healthy food that becomes available once the weather starts to get warmer.
Fresh tender vegetables feature heavily in many spring recipes. Eggs are also a hit in the spring since they're associated with Easter and hens begin to start laying in the spring.
Here are some of the healthy spring foods you're likely to see in seasonal recipes:
Fish
Vegetables
Salads
Strawberries
English peas
Fresh herbs
Onions
There are more vegetarian and vegan recipes that are cooked in the spring than during other times of the year.
Many people incorporate lighter meals in the spring in keeping with their New Year's resolutions to eat healthier or lose weight. And others give up meat or rich foods as a part of observing Lent.
How to Use Healthy Spring Foods
When you're trying to incorporate more healthy spring foods into your diet, there are a few things you should keep in mind as you work your way through some recipes you think you'll like.
Here are some tips for getting the most out of healthy spring foods:
Try to buy local produce. Local produce is often a higher quality than produce that gets shipped into grocery stores. It's usually fresher too. Fresh vegetables can make a big impact on the final flavor of your dish. Local eggs are usually a higher quality than storebought too.
Set up meatless Mondays. If you're trying to eat lighter in the spring, one way to reliably do it is to set aside one day a week where you don't eat any meat. Incorporating healthy vegan and vegetarian dishes into your weekly rotation is good for the environment as well as your health.
Shop seasonally. Many vegetables are best during certain months of the year. Buying vegetables at the peak of their season can help introduce you to flavors you haven't experienced and make you more versatile in the kitchen. It'll also help give you a better sense of the passing of the seasons as it relates to cooking.
If you're looking for healthy spring recipes, you'll find plenty in the list of spring recipes below. However, if you're looking for a more indulgent spring treat like a good dessert, you'll find plenty of those here too.
45 Spring Recipes That Will Help You Shake Off Winter
1. Berry Feta Spinach Salad
Salads are a smart way to lighten up your meals in the spring. Carlsbad Cravings offers up a berry, feta, and spinach salad that will help you make the most of spring's first garden offerings. Feta helps provide a tangy contrast to the sweet berries and peppery greens.
2. Quinoa Salad with Spinach, Asparagus, and Pine Nuts
Quinoa is an ancient grain that is similar to millet or barley. Using it in a mixed salad with asparagus, pine nuts, and feta can add needed fiber to your diet and provide a light side dish for your meal.
If pine nuts are unavailable, crushed walnuts can be used as a suitable substitute. Get the recipe for this vegetarian meal at Fake Ginger.
3. Fresh Vegetable Salad
When you think of salad you might think of lettuce or greens. However, this bright salad is full of chopped spring vegetables. Fresh vegetable salad goes well with heavier dishes like roasted or grilled meats and barbeque. Learn to make it at White Lights on Wednesday.
4. Healthy Cold Soba Noodle Salad
Here's another kind of salad that is meant to keep you cool on a warm spring day. The cold soba noodle salad at Nutrition in the Kitchen combines fresh spring vegetables with crispy tofu and buckwheat noodles.
Because this noodle salad is cold, it makes for delicious leftovers.
Crockpot and Instant Pot Spring Recipes
5. White Chicken Chili
The first evenings of spring are still cold from winter's chill. So this white chicken chili at Cooking Classy can help warm things up even if the nights dip below freezing.
Chicken is a lighter protein for a chili base than beef or pork. And it is a useful vehicle for cooking any leftover vegetables you may have floating around in the fridge.
6. Instant Pot Salmon Teriyaki
A major advantage of using crockpots and instant pots is that they allow you to cook everything in one dish. Doing so will help to free up your spring afternoons for crafts and social gatherings.
Salmon teriyaki cooks up beautifully in an Instant Pot. The dish pairs well with fresh steamed spring vegetables. Try out the recipe for your own on Life Family Fun.
7. Chicken Caesar Sandwiches
You don't have to eat a salad to enjoy the flavor of Caesar dressing in a spring dish. Simply make these slow cooker chicken Caesar sandwiches instead.
After only three to four hours in a crockpot with Caesar dressing, chicken broth, Parmesan cheese, and garlic, these chicken sandwiches at Delish are ready to go for your next spring potluck.
8. Slow Cooker Chicken Tortilla Soup
Soups are another practical option for cooking in the slow cooker. They can act as a light supper that still manages to be filling and warm.
The chicken tortilla soup at Delish combines frozen corn, bell peppers, and onions with a variety of Latin spices and Monterey Jack for a spicy spring meal.
9. Spring Pea Risotto
Spring peas are one of the most tender and nutritious vegetables you can eat fresh, but fresh spring peas are only available during the cooler months of the year.
Peas are delicious paired with risotto, and this Instant Pot risotto at Eating Instantly makes cooking risotto a snap. No more long periods standing over a stovetop pot-stirring, just combine the ingredients and cook.
Savory Spring Recipes
10. Gnocchi and Spinach in a Parmesan Cream Sauce
Just because a recipe is savory doesn't mean that it has to be heavy. These bites of gnocchi pasta at Baked By Rachel are pillowy bites paired with a rich Parmesan cream sauce and fresh spinach for a punch of nutrition.
You can make your own gnocchi from scratch. Or you can also buy frozen gnocchi from the grocery for scrumptious results either way.
11. Spring Vegetable Goat Cheese Frittata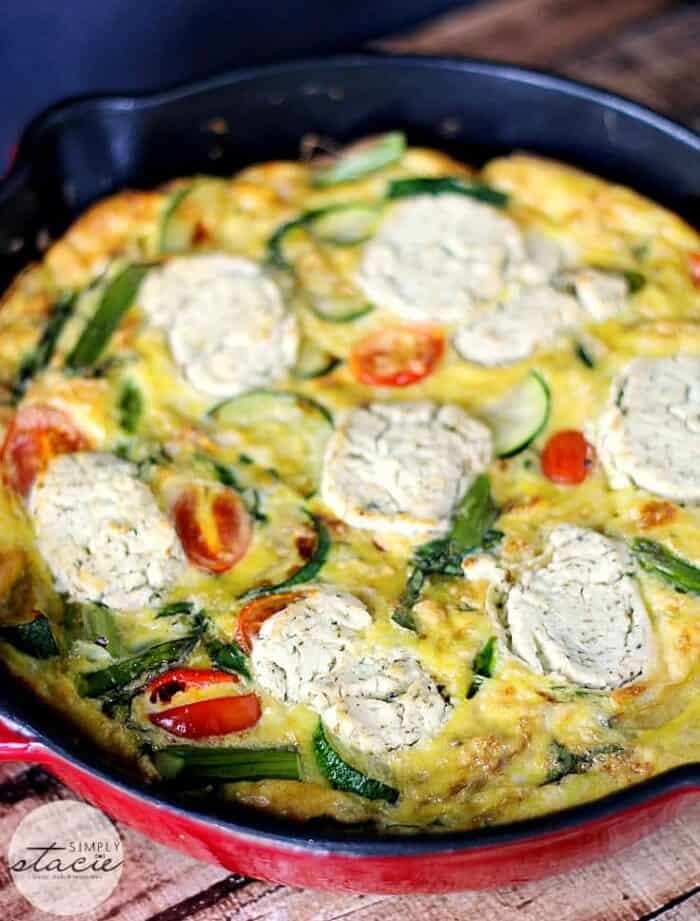 Frittatas are an egg-based dish that is equally at home gracing the table for breakfast, lunch, or dinner. For a frittata that will take center stage at any meal, try this version at Simply Stacie.
The recipe combines eggs and tangy goat's cheese with a variety of fresh spring vegetables. Frittatas can be served warm, room temperature, or cold straight out of the fridge.
12. Easy Spring Recipes Egg Salad
For a popular dish year-round, egg salad is an especially good side in the spring months. If you need an easy dish to take to Easter or a spring potluck, try this easy egg salad at Belly Full.
Egg salad can be served on croissants, fresh-baked bread, or even lettuce wraps for a light appetizer that will please any houseguest.
13. Asparagus Quiche
Asparagus is another spring vegetable that is at the peak of its flavor and appearance in the spring. Chopped up in this quiche at Lemons for Lulu, it's a light dish that can be served as easily for a simple weeknight dinner as it can for a brunch spread.
14. The Best Baked Cod
For a delicious fish to cook in the spring alongside vegetables and other light fares, you'll want to try cod. Cod is an excellent choice if you have family members or friends who are usually suspicious of eating fish since the flavor of cod is mild.
The cod is seasoned simply with parmesan, salt, pepper, and panko before being baked and dressed in fresh lemon wedges. Learn how to make this spring recipe at Lemons for Lulu.
15. Easy Spring Roll Recipe with Salmon
Spring rolls are traditionally made with shrimp or chicken. But these spring rolls with salmon from Lemons for Lulu combine spicy salmon with rice and fresh vegetables for a light and delicious take on the dish.
Serve them with a soy dipping sauce and watch them light faces up at your next meal.
16. Lemon Chicken Egg Rolls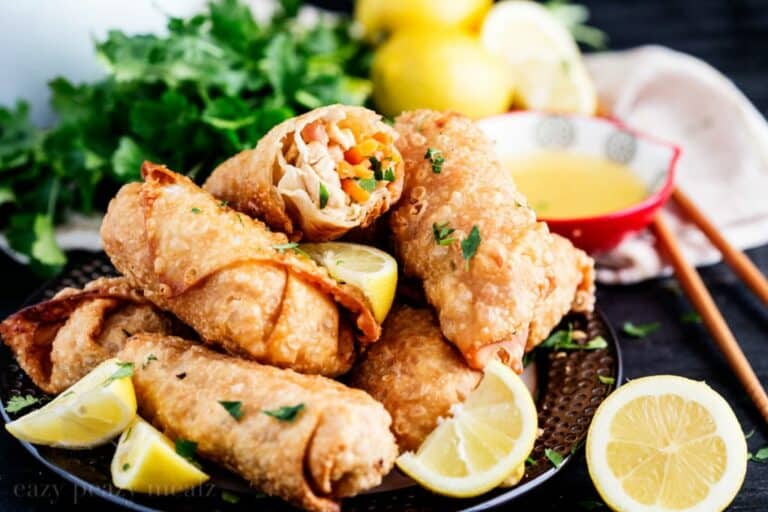 Egg rolls are a little heavier than spring rolls, but these egg rolls stuffed with lemon chicken, egg, and fresh spring vegetables are still lighter than most Asian-inspired recipes.
These egg rolls are substantial enough to act as a light dinner or just to serve as a golden-fried appetizer to come before the main dish. Learn how to make them at Eazy Peazy Mealz.
17. Pea Salad with Cashews and Bacon
Peas are one of the most popular vegetables used in spring dishes. This dish from Let's Dish Recipes can be made with either fresh shelled peas or frozen peas.
By adding sour cream, mayonnaise, fried bacon, and cashews, the mellow vegetal flavor of the peas is balanced out with some savory and creamy notes that will steal the show at the family potluck.
18. Fried Green Tomato BLT
Spring is a little bit early in the season for big red beefsteak tomatoes. But that doesn't mean you can't still take advantage of some early garden harvests.
Lemons for Lulu uses unripened green tomatoes for a tangy alternative to the traditional bacon, lettuce, and tomato sandwich. Topping the sandwich with crunchy bacon and a zesty aioli can help cut the oil in the fried tomato and takes this indulgent treat to the next level.
Vegan Spring Recipes
19. Healthy Dill Pickle Pasta Salad
Pasta salad isn't as light as a salad made with greens. However, it is a cool side dish that is healthier than many starchy sides.
The dairy-free version at Nutrition in the Kitchen has plenty of nutritious vegetables yet none of the mayonnaise or other fats that make other pasta salads heavy to eat.
20. Healthy Thai Salad with Lemongrass Dressing
Thai flavors lend themselves well to salad. This healthy Thai salad at Nutrition in the Kitchen is no exception.
Flavored with a bright, fragrant lemongrass dressing, this salad isn't just light on calories. It's also very simple to make.
21. Tasty Tangerine Smoothie
If you're looking for a quick and healthy breakfast that will remind you of spring, smoothies are a smart way to go. Smoothies like this tangerine smoothie from Nutrition in the Kitchen can help you get out the door in the morning without skipping breakfast.
The recipe uses frozen banana and almond milk to help keep your meal free of animal products.
22. Creamy Asparagus and Watercress Spring Pea Soup
For another recipe that showcases spring peas, try this creamy asparagus and watercress spring pea soup by Cooking and Beer. The recipe uses cashew cream to keep the soup light and dairy-free.
This makes it a delicious vegan option for any plant-based feast. Vegetable soups like this one can be served either warm or chilled.
Best Vegetarian Spring Recipes
23. Grilled French Onion Flatbreads
One of the best things about spring is that the weather warms up enough to bring out the backyard barbeque grill. But meats aren't the only thing you can cook over a fire.
These grilled French onion flatbreads at Domestic Superhero are a delicious way to incorporate fire-charred spring vegetables with a chewy flatbread base.
24. French Onion Potato Salad
Potato salad is a perennial spring favorite, and with good reason. It's a great way to use up some of the newest tender baby potatoes of the season and it goes well as a savory side for all kinds of spring buffets and Easter spreads.
Try this French onion soup-flavored potato salad from Dash of Sanity for a new twist on an old favorite.
25. English Pea and Mint Soup
English peas and mint are both popular vegetables for spring dishes since they're some of the first crops of the spring season. Soups are a tasty way to keep your meals light. They can also be frozen and reheated for quick meals later.
The Spruce Eats combines fresh shelled peas and mint with the tangy flavors of red onion, garlic, and Parmesan cheese.
26. Creamy Lemon Pasta
Coming up with amazing side dishes is just as important as coming up with your spring entrees. Creamy lemon pasta like this version at Lemons for Lulu is a side dish that can be eaten as a light vegetarian main dish or as a complement to chicken, fish, and even pork.
Try topping it with salmon or tossing it with chopped cooked chicken for a one-pot spring meal that is sure to please. Or you can eat it on its own to savor its zingy lemon flavor.
27. Easy Pesto Pasta Primavera
Pasta primavera is a vegetarian main course that seems almost designed to use up whatever fresh vegetables you have hanging around in the fridge.
The version from Lemons for Lulu uses asparagus, peas, mushrooms, tomatoes, and spinach in a pesto sauce that incorporates nuts, Parmesan, and basil. Even though this dish is meatless, it still manages to pack a flavor punch.
Dessert Spring Recipes
28. Easter Egg Cookie Dough Truffles
Dipping truffles may seem intimidating if you've never done it before. But these Easter Egg cookie dough truffles at Simple Joy make an impressive addition to your Easter dessert table, without a ton of complicated labor in the kitchen.
Chocolate chip cookie dough is formed into Easter egg shapes and dipped in colored chocolate for a vibrant presentation.
29. Vanilla Cake Donuts with Fresh Strawberry Glaze
Donuts are a sweet choice for spring breakfast tables and dessert buffets alike. The vanilla in these cake donuts at Love Bakes Good Cakes pairs nicely with a fresh strawberry glaze that takes advantage of the season's first fruits.
The flecks of fresh fruit in the glaze give these donuts a beautiful look on a serving platter.
30. Almond Poppy Seed Cake with Lemon Cream Cheese
Another cake option that showcases spring dessert flavors is this almond poppy seed cake with lemon cream cheese at Bread Booze Bacon. In this indulgent dessert, poppy seed pound cake flavored with almond extract is cut into little sandwiches with a lemon cream cheese filling.
These cakes would be perfect for a sweet Easter brunch or just any morning you want to indulge in a home-baked treat for breakfast.
31. Carrot Cake Cookie Bars
Carrot cake is a classic cake flavor for spring desserts. These carrot cake cookie bars at High Heels and Grills turn the traditional layer carrot cake into a super portable cookie bar form that will wow at potlucks and spring bake sales.
The cookie bars are topped with a cream cheese frosting that is scored with a knife end for a polished look.
32. Fresh Strawberry Tartlets
Strawberries are one of the easiest fruits to grow in your spring garden, and these fresh strawberry tartlets from That Skinny Chick Can Bake are an excellent way to show them off.
Combining fresh strawberries with a crisp pastry crust and a cream filling gives you a dessert that wouldn't look out of place at high tea. Brushing the fruit with thinned jam creates a sweet glaze that also makes the fruit look lustrous.
33. Marshmallow Easter Bars
No-bake desserts are a practical choice for potlucks since they come together much more easily and quickly than recipes that require baking.
The marshmallow Easter fudge bars at Taste of the Frontier bring white chocolate, marshmallows, and candy-coated candies together for a colorful dessert that is easy to transport to your spring social gatherings.
34. Sugar Cookie Nests
If you're looking for an easy spring baking project, these sugar cookie nests at Mandy's Recipe Box can be made in a simple muffin pan but are fancy enough to bring as an Easter dessert.
The nests require only three ingredients. They are decorated with mini Cadbury eggs for a colorful plate at your next potluck.
35. Lemon Coconut Truffles
Lemon and coconut are both flavors that pair well with spring desserts. They are light and have a touch of tropical flavor that resonates with the warmth of the season.
Truffles are a quick dessert to throw together for get-togethers since they don't require any baking and you can make the icing as simple or as fancy as you want. Try this recipe for lemon coconut truffles at The Love Nerds and you'll have people asking for the recipe in no time.
36. Lemon Ricotta Pound Cake
Another lemon dessert that is a delicious option for either after dinner or even for an indulgent breakfast is lemon ricotta pound cake. This classic Italian pairing of flavors goes great with coffee and will keep well under a cloche on your kitchen table.
Pound cake is also a nice combination with vanilla ice cream. Learn to make your own at 365 Days of Baking and More.
37. New York Style Blueberry Cheesecake
Cheesecakes take a little bit more preparation than many other baked goods. But the result is well worth the effort if you're trying to impress at a spring party.
This New York Style Blueberry Cheesecake at Wishes N Dishes has a thick graham cracker crust and a topping of blueberry compote that will have guests lining up for seconds.
38. Strawberry Pineapple Lemonade Bars
Bar desserts are popular to bring for spring gatherings, but these strawberry pineapple lemonade bars at The Recipe Rebel are a tropical twist on a classic favorite.
A buttery shortbread crust holds up well for the purple fruit filling. Make a platter of these and you aren't likely to have leftovers for long.
39. Chocolate Covered Rice Krispie Bunnies
Easter is a wonderful time to bring out more whimsical desserts. These chocolate-covered rice Krispie bunnies at Big Bear's Wife will be sure to delight guests young and old.
They're simple to put together too, which makes them a great kitchen project to share with younger members of the family to get them interested in the art of baking.
40. Carrot Cake Cheesecake Parfait
Parfaits are a popular spring dessert because their striped layers look great in see-through serving dishes. A carrot cake cheesecake parfait from Cupcakes and Kale Chips has all of the delicious flavors of a carrot cake cheesecake with none of the baking time.
Using Greek yogurt helps keep these parfaits healthy too.
41. Fruit Rainbow with Lemon Dip
Fruit platters are always a popular option at spring buffets and potlucks, and they're a useful way to set up a beautiful presentation without a lot of time cooking in the kitchen.
For a colorful dessert, try this fruit rainbow with a lemon dip at Yummy Healthy Easy. Bring this over for St. Patrick's Day or at any spring party where you want to make a serious impact on the spread.
42. Hummingbird Monkey Bread
Hummingbird monkey bread has the same delicious flavors in it as traditional hummingbird cake – pineapple, pecans, and banana. The monkey bread is then topped off with a cream cheese icing drizzle and a crown of toasted coconut.
Monkey bread comes together much more quickly than cake since it can be made from refrigerated biscuit dough. Try this recipe for hummingbird monkey bread at Lemon Tree Dwelling.
43. Three-Ingredient Lemon Cake Batter Dip
When you're trying to come up with a dish for a potluck in a hurry, the fewer ingredients the better. The lemon cake batter dip at My Suburban Kitchen can be served with shortbread cookies, pieces of fruit, or even animal crackers.
The dip's lovely pastel yellow color makes it a vibrant addition to the Easter dessert table too.
44. St. Patrick's Day Cupcakes
Along with Easter, St. Patrick's Day is another popular social gathering in spring where you might be expected to bring a dessert. These kelly green cupcakes at Life Family Fun are flavored with Irish cream.
They are a tasty choice to bring for class parties or even just to brighten up the day for your coworkers.
45. Key Lime Pie
If you want an alternative to all the lemon desserts that are shared in the spring, then this key lime pie is for you. Fresh lime juice in these pies from Pratesi Living makes all the difference when it comes to preparing them.
If you use the lime juice, you'll feel like you're taking a little bite of sunshine each time you put a forkful into your mouth. Decorate the rim of the pie with a cream border and some key lime wedges for a sophisticated look.
Spring Recipes FAQ
What Foods Are Made in Spring?
There are certain foods that are prepared during the spring that you aren't likely to be served the rest of the year.
Here are just some of the foods that are traditionally made in spring:
Egg-based dishes: Easter is a popular gathering for making egg-based dishes since many laying hens begin producing more heavily when the weather begins to warm in spring. Eggs are also associated with fertility, and many pagan traditions during this time of year, such as Ostara, use eggs as a symbol of the spring season.
New spring vegetables: Many of the vegetables served in spring are tender vegetables such as lettuce, arugula, and baby spinach. You'll also see many spring vegetables featured such as English peas, radishes, and asparagus.
Baked goods: Since there are several major social gatherings in the spring and it's also a popular season for weddings, baby showers, and other social occasions, you'll tend to see a lot of homemade baked goods shared during this season. You may also see more pastries and small baked goods for outdoor patio gatherings once the weather warms up.
Lamb: Along with being a traditional main dish on the Easter table, lamb is popular in spring because spring lambs are plentiful and the meat becomes much cheaper. Lamb can be either roasted in the oven with herbs like rosemary or grilled and served with mustard or a mint jelly.
Seafood: Many people give up meat for the Lent season, and as a result, more fish dishes are served during spring. Seafood is also a lighter protein than beef and pork, and many people try to lose weight in the spring after a winter of indulging in heavy, rich holiday meals.
Thanks to all of the seasonal produce, spring is one of the best seasons to experiment with vegetarian or plant-based dishes. However, you'll still find plenty of savory meat-based recipes associated with spring too.
What Are Spring Herbs?
Along with all of the delicious seasonal vegetables on sale in the spring, there are many fresh herbs that are best in the spring season.
Here are some of the herbs you should look at experimenting within your spring dishes:
Chervil: Chervil may be a little harder to find in your local grocery than some other common herbs, but it's got a light anise flavor that is hard to replicate with any other seasoning. Chervil is a delicious addition to soups, salads, and omelets.
Chives: Chives are often one of the first herbs you'll be able to grow in the spring, and since they don't need to flower they can be grown in a sunny window rather than outdoors. Chives are a popular match with potatoes, seafood, leeks, and asparagus.
Dill: Dill is a feathery green herb that pairs well with a wide variety of foods including cheese, chicken, vegetable casseroles, and seafood. Dill is popular in central European dishes and in the Mediterranean region.
Mint: Mint is an herb that is very easy to grow in the home garden. If anything, gardeners have to be careful not to plant mint where it can spread unchecked. Mint goes well with roasted meat dishes like a grilled lamb as well as fruit dishes and cocktails.
Growing your own herbs at home is a practical way to add fresh herbs to all of your spring dishes. Not only do they add flavor and color, they also add extra nutrition, too.
What Fruits Are in Season in Spring?
There are a lot of vegetables in season in the spring, but it's also a good season for fresh fruit.
These are the best fruits you should buy in the spring if you're trying to eat seasonally:
Rhubarb: Rhubarb can be difficult to grow in warmer climates. For northern ones, it's an essential fruit offering of spring. Rhubarb is tart and is best paired with a sweeter fruit such as strawberry in pies and pastries.
Meyer lemons: Lemons are one of the most popular fruits that are used in spring desserts, and Meyer lemons are especially prized for their slightly sweet flavor compared to regular lemons.
Strawberries: Strawberries can be grown in multiple harvests throughout the year, but gardeners around the world celebrate the first strawberries of spring. Use these little red gems in desserts, salads, or even blended up in cocktails like daiquiris.
Apricots: Dried apricots and apricot preserves are available year-round to include in recipes like pork and chicken, but in the spring you can find fresh apricots to add to salads and fruit platters too.
Whether you decide to cook your seasonal fruit into baked goods or just serve it on a fresh fruit platter, you'll have plenty of options for your spring fruit selection.
What Is the Best Spring Fruit?
The best spring fruits to take advantage of for your spring table are fresh rhubarb, strawberries, and cherries. These fruits are available during other times of the year as preserves. But you will rarely be able to find them fresh during other seasons.
What Seafoods Are Best in Spring?
Spring is an optimal time of year to cook fish. There are several popular varieties in season.
For freshwater fish, salmon and trout are both healthy options full of omega fats and essential nutrients. For saltwater fish and shellfish, oysters, stone crab, and snapper are in season. Eating fish and seafood in season is crucial to helping maintain its sustainability as a food source.
Spring Is The Right Time for New Recipes
If you've gotten a little bit complacent in the kitchen, spring recipes can serve as a jumping-off point for trying new dishes and embracing seasonal cooking practices. By using fresh produce at the peak of its season, you'll get the most flavor and nutritional benefit out of every meal you cook.