This is not your average blt!
Fried green tomatoes are paired with lots of crispy bacon and a spicy aioli
for a twist on the classic sandwich!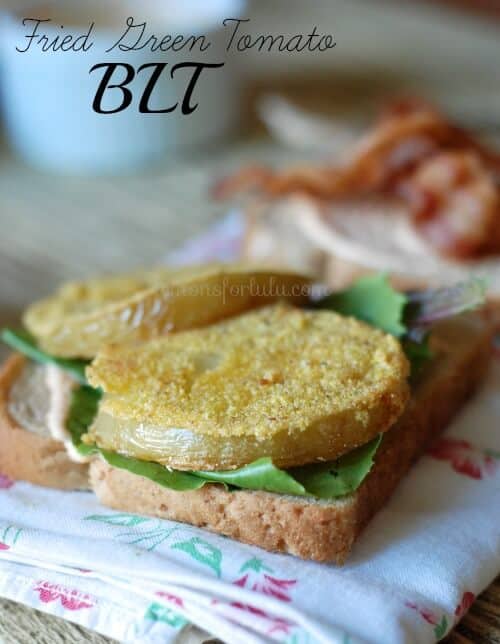 Have you ever had a meal that left you speechless and breathless all at once?  I can honestly say this has only happened to me twice, and both meals were remarkably similar.  They both involved fried green tomatoes and bacon, both had "low country" in the title  and both were sandwiches.  On both occasions,  I sat and ate my fried green tomato sandwiches in a bubble of pure bliss.  I'm not kidding, it was as if time stood still and there was nothing at the table but me and my deep-fried food.  With each bite, I would wipe the bacon grease from my happy lips and murmur an almost silent "mmm, mmm"   or "OMG".  Although he never admitted it, I think my husband was jealous, his lips were NOT as glossy with bacon grease!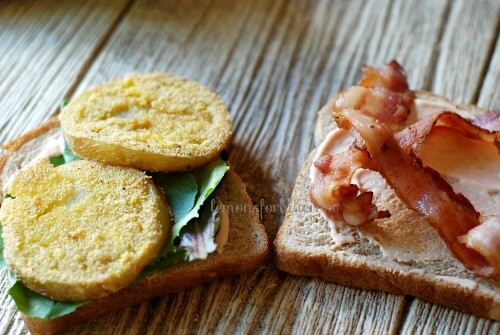 I'm not accustomed to eating fried green tomatoes, but when you visit the south, it's only appropriate that you eat like a southerner!  And so I did, twice, and haven't been able to put either behind me.   I've  desperately tried to recreate this blt on numerous occasions, but would fail each and every time.  Either the tomatoes wouldn't be cooked through, the breading would fall off or the flavor was all wrong.  But, I am not the type who gives ups easily.  So I tried a new tactic.  This time I fried my tomatoes IN the bacon grease!  No, it's not light, but it sure is tasty!  What can I say, I love bacon!  I sprinkle bacon on salmon and chicken, heck I even put in pancakes!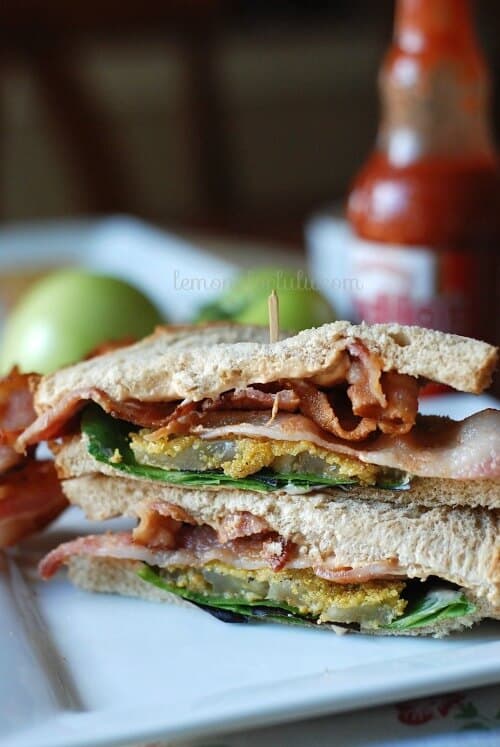 The bacon grease added so much flavor to the tomatoes and they fried up perfectly golden.  The crispy bacon made for the perfect bite when consumed with the soft tomatoes.  And the cool lettuce easily tamed the spicy aioli.  These were incredibly delicious!  I am completely over joyed that I managed to recreate the best sandwich ever!  So now you know, if you want me to stop talking, stuff my face with fried green tomato blt's!!
MORE BREAD FILLED WITH GOODIES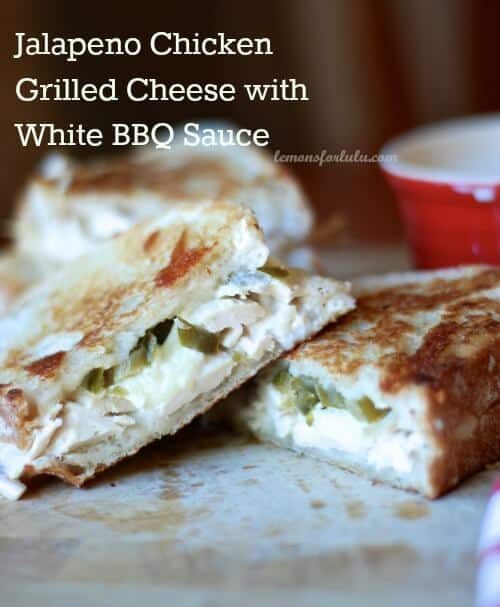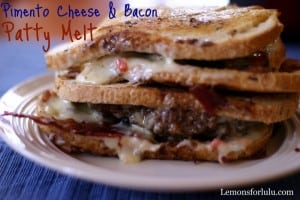 NEVER MISS A RECIPE! SUBSCRIBE TODAY!
FOLLOW ME: 
FACEBOOK | RSS | TWITTER | GOOGLE + | BLOGLOVIN | INSTAGRAM
Ingredients
8

slices sandwich bread

1

lb bacon

4

large green tomatoes

1

cup mixed greens

Salt and pepper

4

tablespoons mayonnaise

3

tablespoons Franks Red Hot Sauce

3/4

ground corn meal

1/4

cup flour

1

tablespoon Old Bay Seasoning
Instructions
In a large skillet fry bacon until crisp. Allow bacon to drain on a paper towel. DO NOT DRAIN grease.
Meanwhile, slice tomatoes into ½ in slices. Lay slices on a paper towel and sprinkle with salt and pepper. Set aside.
In a bowl, combine corn meal, flour and Old Bay Seasoning. Dredge tomato slices in corn meal mixture, covering as much of the tomato as possible, taking care to shake of all of the excess.
With bacon grease still hot, carefully slide each tomato into grease. Fry tomato until golden in color, about 4 minutes per side. Remove to a paper towel to drain.
Combine mayo and hot sauce in a small bowl before assembling sandwiches.
To assemble: spread a ½ tablespoon in each slice of bread. Cover 4 slices with about ¼ cup of mixed greens. Place tomato slices on lettuce, top with bacon and cover with bread.
Makes 4 sandwiches.