This is not your average blt!
Fried green tomatoes are paired with lots of crispy bacon and a spicy aioli
for a twist on the classic sandwich!
This post has been sponsored by Pepperidge Farm Inc. All thoughts and opinions are my own.
The first time I had fried green tomatoes was during a family vacation to South Carolina. My family and I stopped in for lunch at a small restaurant in downtown Savannah, Georgia. Our kids were small at the time and if you have small children, you know that dining out is always chaotic.
I was busy catching cheerios and sippy cups, so I wasn't paying close attention to the menu and I ordered the first thing I saw—which happened to be a burger topped with a fried green tomato that was layered on a sweet bun.
I grew up eating pickled green tomatoes, so although I never tasted a fried green tomato, I figured they couldn't be that bad.
I will just say that sandwich was so memorable and so delicious that when I found Pepperidge Farm Farmhouse® Sweet Hawaiian Bread, I knew that I had to serve it with homemade fried green tomatoes!
The bread's hint of sweetness pairs perfectly with the savory ingredients, and the thick slices and fresh-from-the-oven taste make the sandwich simply delicious! Want to know more about Pepperidge Farm Farmhouse® Breads? Check them out here.
What Are Fried Green Tomatoes?
Green tomatoes are underripe tomatoes that are firm and sour which, unless they are pickled, makes them undesirable to eat in their raw state.
These tomatoes cook up nicely in sauces and can be baked in savory tarts or pies. However, the fried version of these tomatoes is probably the most famous method of cooking.
How To Make Easy Fried Green Tomatoes
When I buy green tomatoes, I like to choose large tomatoes because each tomato will only yield about 4-5 (½ inch ) slices.
In a shallow bowl, I combine cornmeal, flour, and seafood seasoning.
Heat a large skillet over medium-high heat. Add an inch of vegetable oil for frying.
Arrange your sliced tomatoes on a paper towel. Sprinkle with salt and pat the tomatoes dry. The salt will draw out moisture so that your tomatoes stay firm during frying.
Dredge your tomato slices in the cornmeal mixture and place the tomatoes in the hot oil. Fry the tomatoes for about 3-4 minutes per side or until tomatoes are golden brown. Remove the tomatoes and place on a paper towel-lined baking sheet to drain.
Repeat with the process with the remaining tomatoes.
For the BLT Sandwich, You Will Need
Cooked bacon
Lettuce
A simple aioli made with mayo and hot sauce
Pepperidge Farm Farmhouse® Sweet Hawaiian Bread
Notes About The Recipe:
Some people like to make sure the flour sticks to the tomatoes by dipping the tomatoes in an egg wash. I think this is unnecessary. As long as you salt the tomatoes, the flour mixture should stick pretty well.
You could use flour only or a combination of flour and bread crumbs if you are not a fan of cornmeal.
Use any type of bacon you like for this recipe. You could also save some of the bacon grease to use to fry the tomatoes.
I used a spring mix for the lettuce; any type will work.
The bread that you use can make or break this sandwich. The soft texture and hint of sweetness in the Sweet Hawaiian bread makes the perfect partner to the seasoned tomatoes and spicy aioli. The thick slices surround the fillings perfectly…which is exactly what you need to make the best BLT you've ever tasted.
What To Serve With Fried Green Tomatoes BLT
Black Bean Corn And Avocado Salad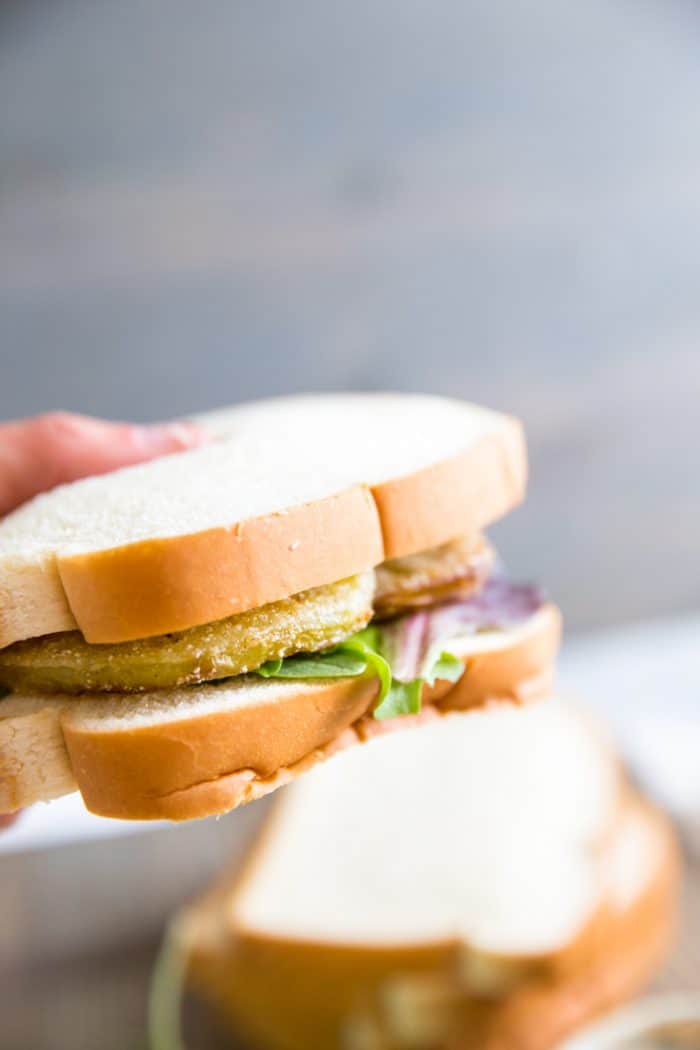 If you haven't tried fried green tomatoes, this is your opportunity. I think you will find that you love fried green tomatoes as much as I do!
Between the seasoned tomatoes, crisp bacon, fresh lettuce and soft, fresh-from-the-oven tasting bread, this BLT is the ultimate BLT experience.
Yield: 4
Fried Green Tomato BLT
This is not your average blt!
Fried green tomatoes are paired with lots of crispy bacon and a spicy aioli
for a twist on the classic sandwich!
Ingredients
8 slices Pepperidge Farm Farmhouse® Hawaiian Bread
1 lb bacon
Vegetable Oil
4 large green tomatoes
3/4 ground cornmeal
1/4 cup flour
1 tablespoon Old Bay Seasoning
salt
1 cup mixed greens
Salt and pepper
4 tablespoons mayonnaise
3 tablespoons hot sauce
Instructions
In a large skillet fry bacon until crisp. Allow bacon to drain on a paper towel. Wipe skillet clean with a paper towel.

Pour vegetable oil into the skillet (up to an inch of oil). Heat oil to 375 degrees.

Meanwhile, slice tomatoes into ½ in slices. Lay slices on a paper towel and sprinkle with salt and pepper. Set aside.

In a bowl, combine cornmeal, flour and Old Bay Seasoning. Dredge tomato slices in cornmeal mixture, covering as much of the tomato as possible, taking care to shake off all of the excess.

Once the oil is hot, carefully slide each tomato into grease. Fry tomato until golden in color, about 4 minutes per side. Remove to a paper towel to drain.

Combine mayo and hot sauce in a small bowl before assembling sandwiches.

To assemble: spread a ½ tablespoon in each slice of bread. Cover 4 slices with about ¼ cup of mixed greens. Place tomato slices on lettuce, top with bacon and cover with bread.
Nutrition Information
Yield
4
Serving Size
1
Amount Per Serving
Calories

859
Total Fat

56g
Saturated Fat

16g
Trans Fat

0g
Unsaturated Fat

37g
Cholesterol

126mg
Sodium

3031mg
Carbohydrates

43g
Fiber

5g
Sugar

10g
Protein

45g