Lemon pasta is light, creamy, and easy to make.
Just a few ingredients is all it takes to put together a refreshingly simple meal!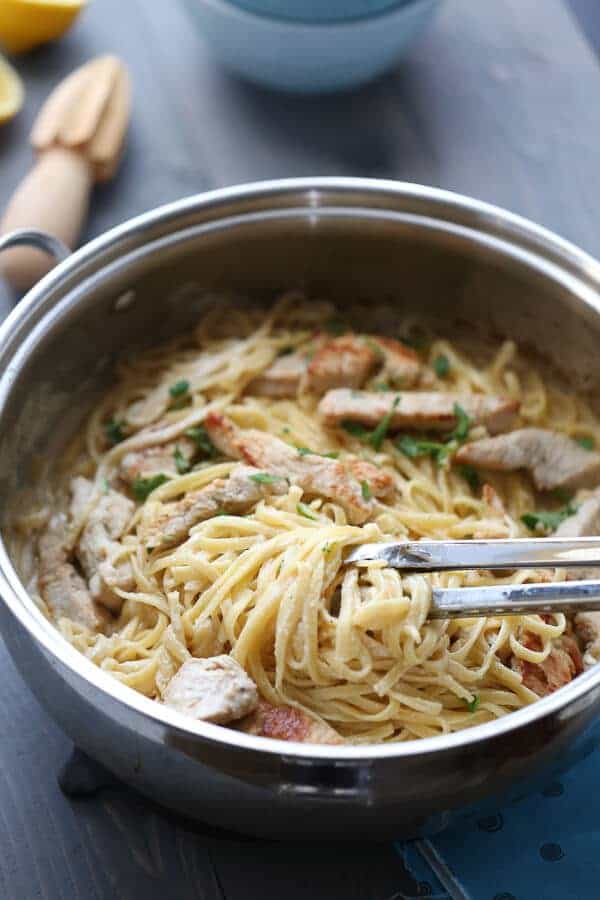 Can I be the first to say that I cannot believe it's time to start thinking about bathing suits?  I for one am not ready.  Although, I really won't be able to put off the inevitable much longer.  I can hardly walk into a Target without the reality of summer smacking me in the face.
I am both fascinated and envious by women who wear bathing suits with confidence. Their bathing suits could be too small, too tight, too white, too revealing or too tacky but these women wear their suits proudly.  Meanwhile, I hide behind by my plainly colored, conservatively skirted swim suits, desperately trying to cover up as much skin as possible.  Why do I this? Because I am a very self conscious girl.  To me, being in a bathing suit is one tiny layer away from being naked and I am just not comfortable being naked in public.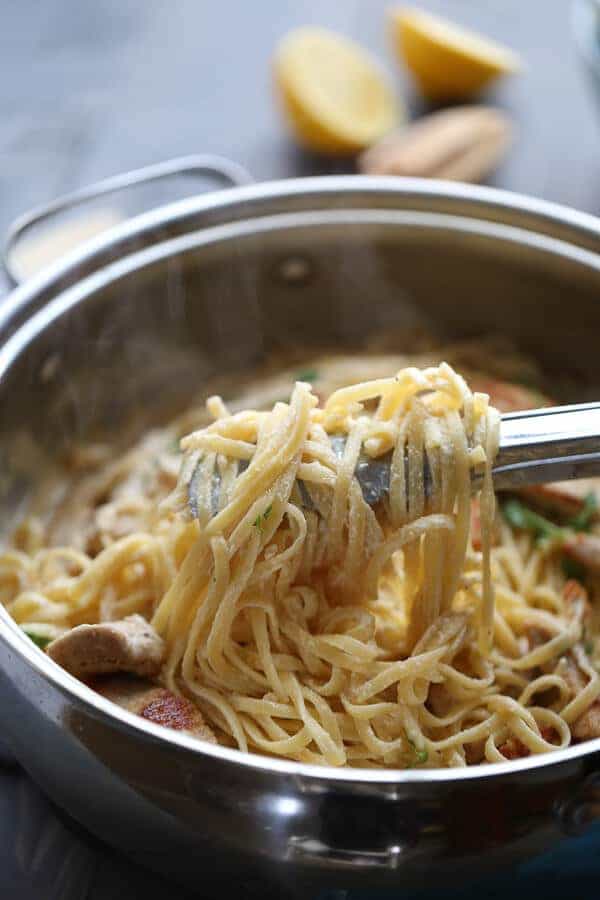 I suppose I have to get over my fear of showing a little skin.  I have kids therefore I will go to the pool.  It's just a fact of life.  Perhaps I can boost my confidence just a bit by making sure I add some simple, light meals to our weekly rotations.  Salads are a go-to for a perfectly light meal, but pasta can be light as well.
Lemon is certainly in season and always makes food taste lively and fresh.
The sauce for this lemon pasta is actually made in your blender.
After you brown your turkey, add the sauce to your pan, scraping up all those brown bits as you go.  Allow the sauce to simmer on low until it thickens.  Toss the sauce with your pasta just before serving and that is it folks, a simple sauce for a simple dish.  A note on the turkey, you could substitute chicken if your prefer or you could keep this a vegetarian pasta.  Either will make this lemon pasta a terrific meal.
This weekend I'll spend some time shopping for bathing suits.  I'll probably spend some time shopping for really good cover ups too.

4
adjust servings
A light and creamy lemon sauce is draped over linguini for a quick, satisfying meal.
Ingredients
2

teaspoons olive oil

1

lb turkey breasts, cut into strips

1/2

teaspoon salt

pinch of pepper

1

lb linguini

2

teaspoons grated lemon zest

1/2

cup fresh lemon juice (about 3 lemons)

1/2

cup heavy whipping cream

8

oz skim ricotta cheese

1

teaspoon salt

1/2

teaspoon pepper

1/3

cup grated Parmesan cheese

Parsley for garnish
Instructions
Prepare pasta according to package directions without adding any salt. Drain, reserving 1/2 cup of cooking liquid.
Place reserved cooking liquid, lemon zest, lemon juice, cream and ricotta cheese in a blender. Process until smooth.
Heat oil in a large skillet over medium heat. Sprinkle turkey with salt and pepper and add turkey to hot pan. Brown turkey for 5-7 minutes or until browned. Remove turkey from skillet.
Reduce heat and add sauce to pan. Whisk in Parmesan cheese and stir. Continue to heat sauce for 1- 2 minutes or until sauce begins to thicken. Add in pasta, tossing to coat. Top with turkey. Garnish with parsley if desired.