Breakfast is served!  This Asparagus Quiche with pancetta comes together simply and quickly!
This savory asparagus pie is the perfect meal for any time of day!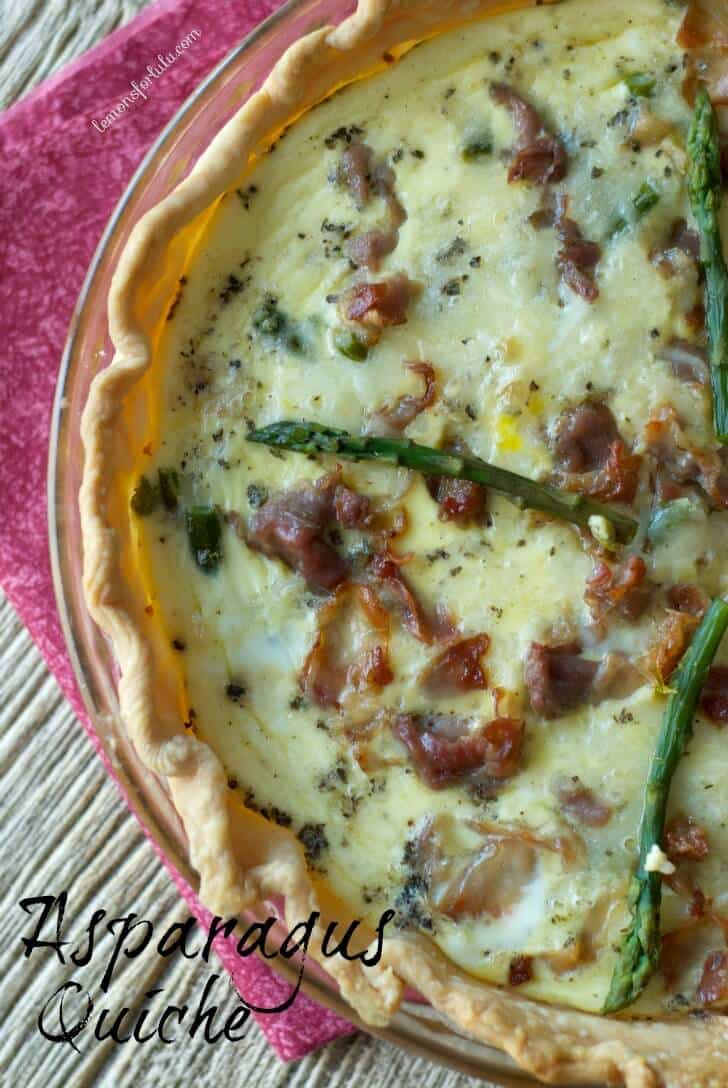 I'll be honest, some days I draw a blank as to what to write about it.  It makes me sad to admit that my life can be exceptionally boring.  I'm just not talented enough to write about nothing and make it sound exciting, you know what I mean?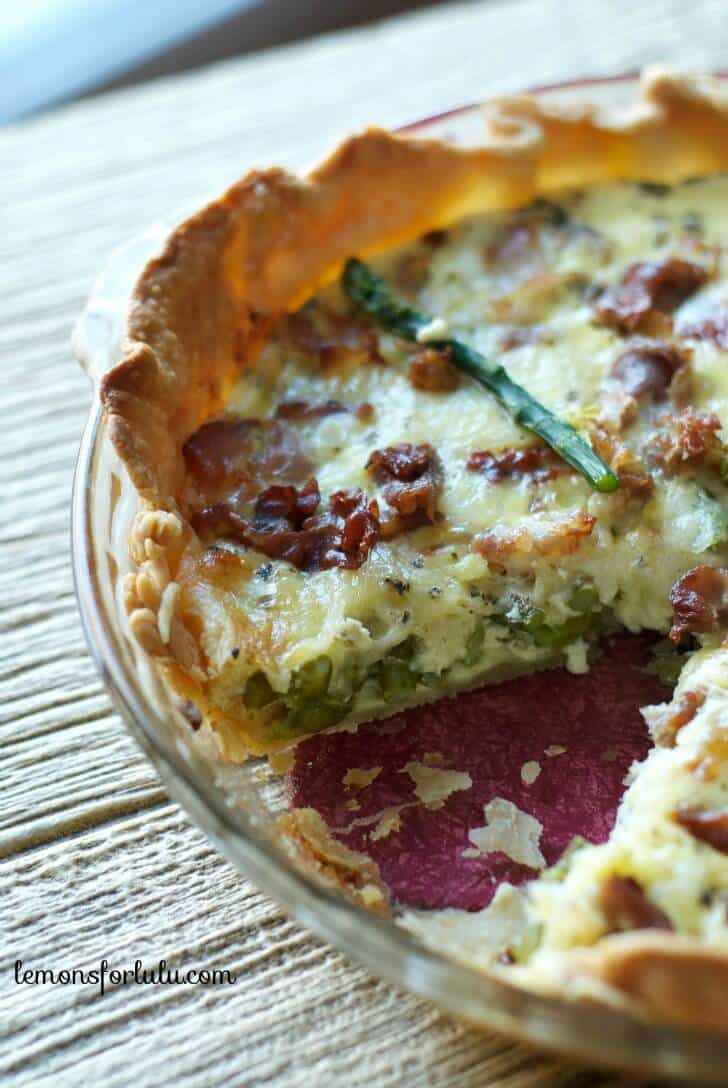 Then my son comes along and gives me inspiration.
My son has been obsessed with putting together a survival kit.  He got this idea from his friend.  They were exploring the woods behind our house.  His friend was very prepared.  He had a cantina, a pocket knife, a change of clothes, binoculars, a rope, cookware, and a headlamp.  I'm not quite sure what they were expecting to find or where they thought they'd end up during this excursion.  All I know is that my son came home inspired and on a mission.  He needed a survival kit and he needed it NOW!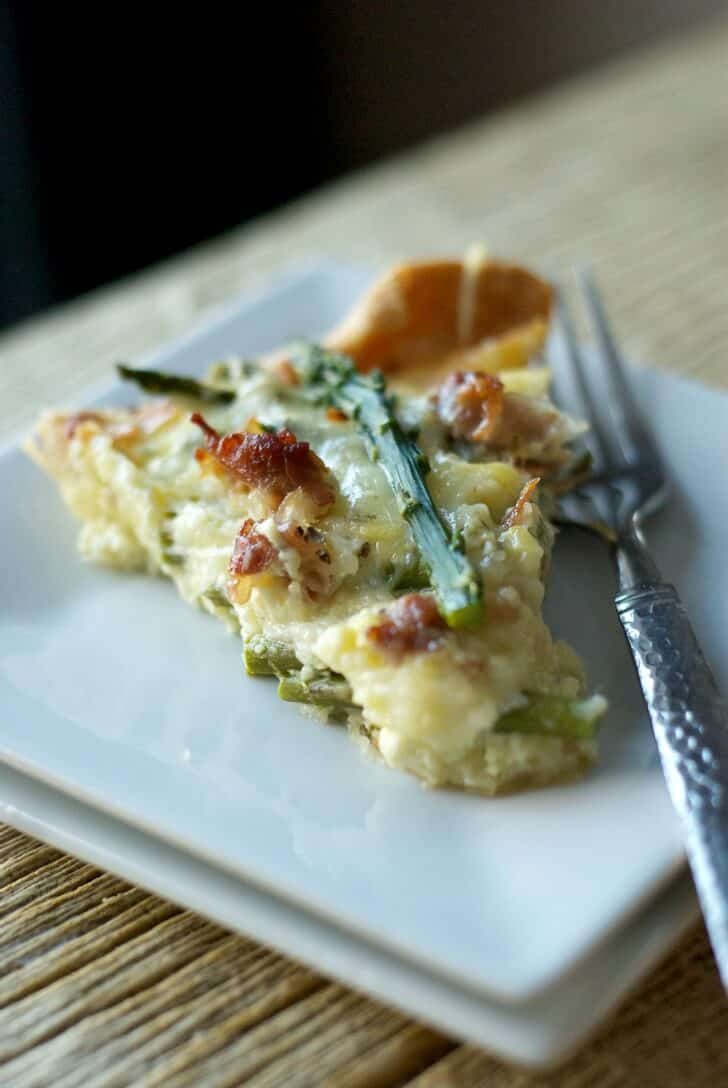 The biggest disadvantage my son has is we are not a family of survivalists.  Heck, we aren't even campers!  In fact I can say with a vast degree of certainty that we own none of the items my son's friend has in his survival kit.  Perhaps we have binoculars somewhere….but that's about it.  My son was not discouraged.  He gave his own bag quite a bit of thought and this is what he came up with.  He packed himself a few granola bars, a plastic bag, a cup, an old belt, his Lego Darth Vader headlamp (doubles as a toy in case he gets bored), a change of clothes and his light saber (in case Darth Vader becomes tiresome).
After throwing these items into his back pack, my son came down feeling ready for anything!  He said he'll be taking his bag with him everywhere.  He could ride his bike down the road (not the middle he says, but on the side) and if he has to stop and run into the woods-he'd be ok.  He'd be prepared.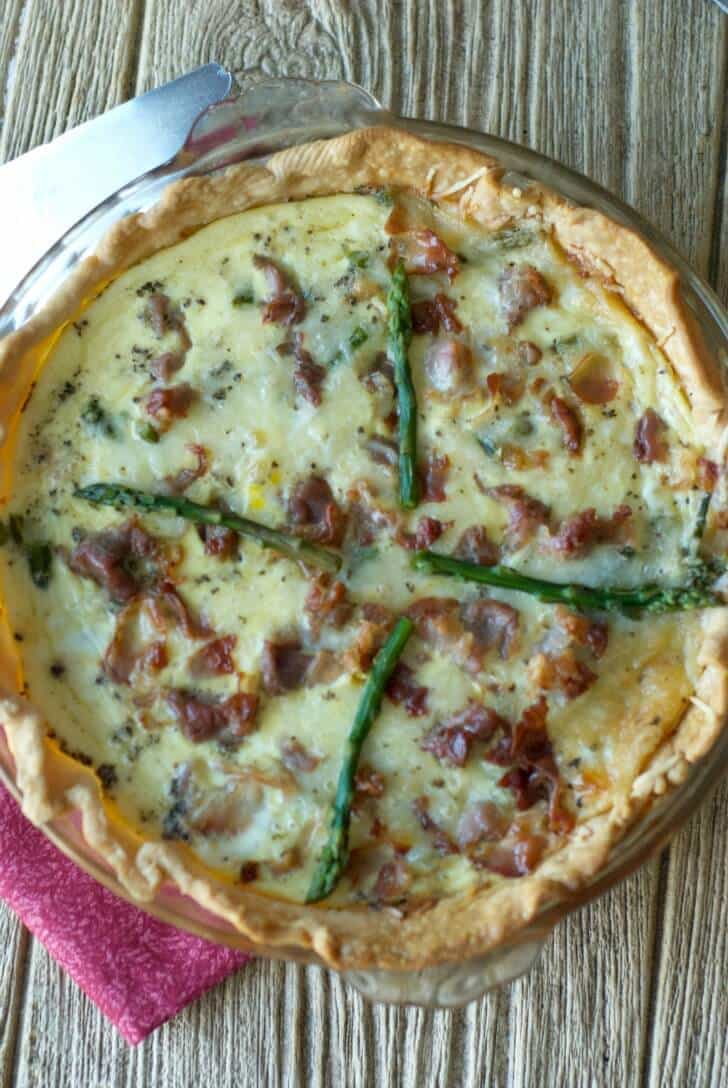 Then he waltzed out the door ready to tackle the wilderness.  I ran after him and told him he should probably find his friend.  Better to tackle the wilderness with a partner (especially a partner who has a better surviver kit than you).  There's a life lesson in this story, isn't there?  Always be prepared and if not, find a friend who is.  I like it, let's go with that!
I suppose my son's survival kit has absolutely nothing to do with asparagus quiche does it?  In fact, I can't even think of a decent tie in.
Quiche is something that we have occasionally throughout the year, but I'm convinced it's something we should eat more often!  It's quite versatile and it is perfect for any meal, not just breakfast.  It can be made in advance and makes for wonderful leftovers!  This quiche has quite a bit of asparagus, lots of pancetta (bacon would work too), and creamy Guyere cheese.  The perfect simple and savory pie!
MORE SAVORY PIES FOR YOU TO TRY: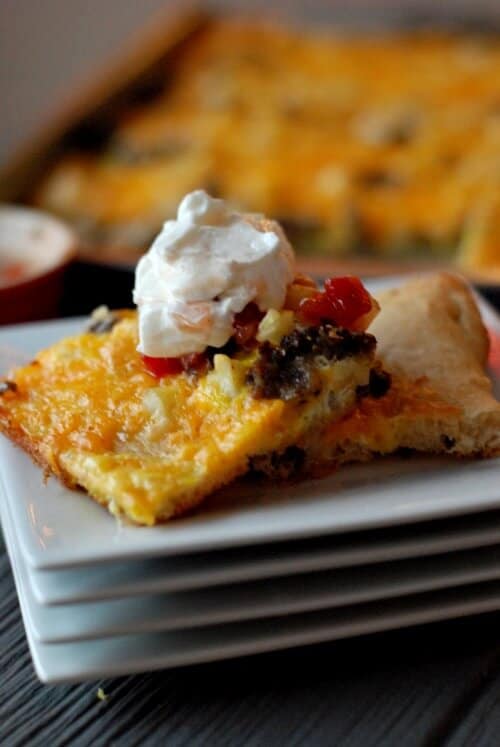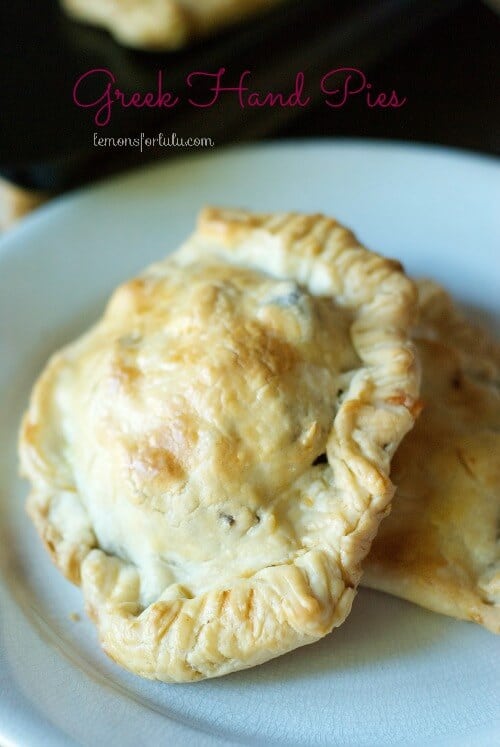 NEVER MISS A RECIPE! SUBSCRIBE TO MY EMAIL TODAY!
FOLLOW ME:
FACEBOOK | TWITTER| GOOGLE +| BLOGLOVIN | INSTAGRAM
Ingredients
1

unbaked piecrust from a 14.5 oz Pillsbury package

1

lb asparagus, trimmed

1

tablespoon all purpose flour

3

oz pancetta, chopped

1

cup Guyere cheese

1

cup Italian blend cheese

3

eggs, beaten

1

cup half and half

1/2

teaspoon salt

3/4

teaspoon basil

1/2

teaspoon thyme
Instructions
Preheat oven to 425. Unroll piecrust over a 9 in pie plate. Bake crust for 5-6 minutes, remove and set aside. Reduce oven to 325.
Cook asparagus in a small amount of water, until bright green and tender, about 6 minutes. Drain. Reserve 4 stalks of asparagus and set aside. Cut remaining asparagus in ½ inches pieces, mix with flour and set aside.
Cook pancetta in a small skillet until cooked. Drain on a paper towel.
Arrange asparagus over crust. Top with cheeses. In a small bowl, whisk together eggs, half and half, salt, basil and thyme. Pour egg mixture over cheese. Sprinkle quiche with pancetta.
Bake quiche for 25 minutes. Remove and arrange remaining 4 pieces of asparagus on top of quiche. Bake for an additional 5-10 minutes or until middle is firm and toothpick inserted comes out clean. Let set at least 10 minutes before slicing.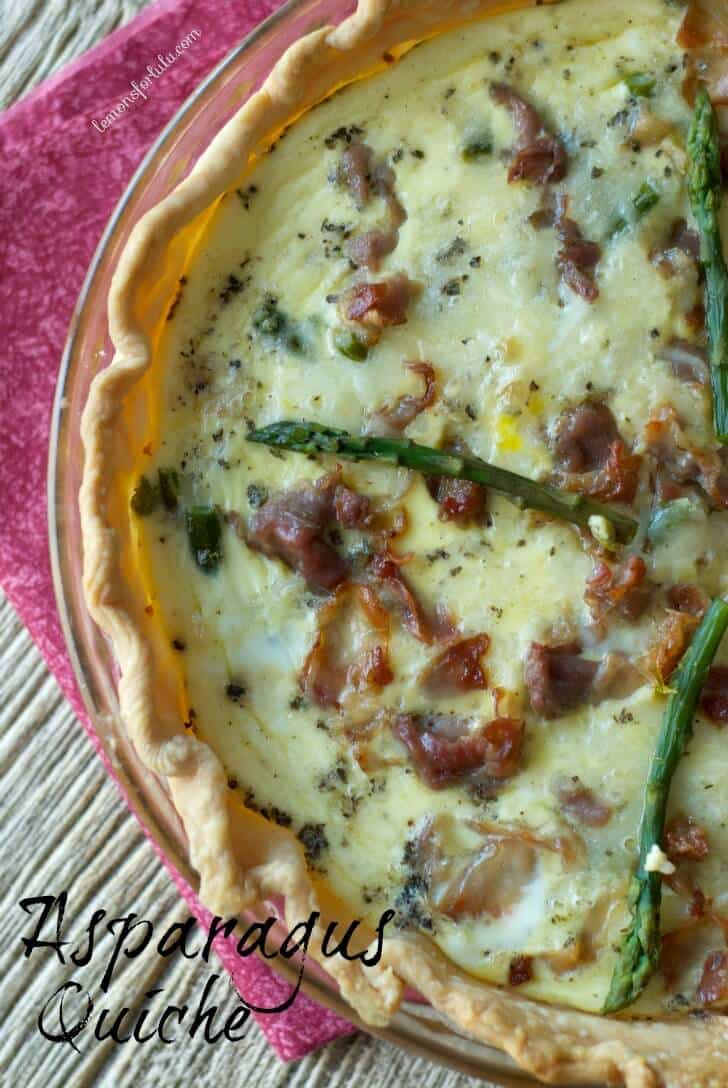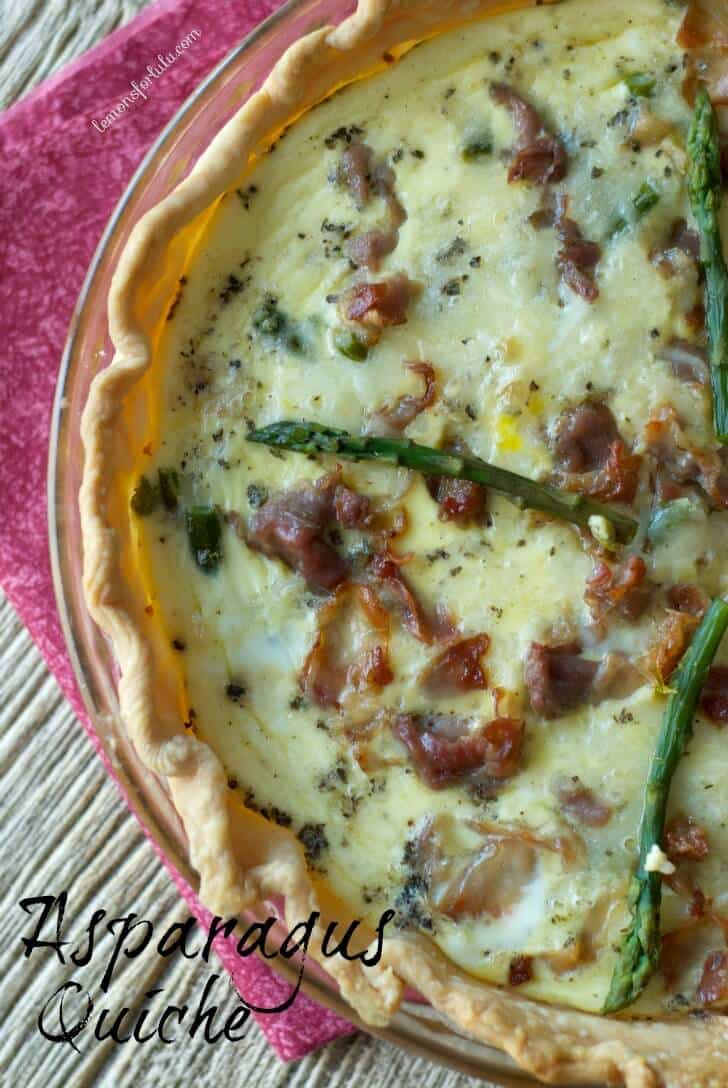 More quiche recipes you have to try:
Apple Cheddar Quiche – Wine and Glue
Butternut Squash, Arugula and Bacon Quiche- Gimme Some Oven
[mpprecipe-recipe:395]