Baked breakfast potatoes are going to make you rethink the whole idea of a baked potato! These baked spuds are not just side dishes that get topped with bacon and cheese.
These potatoes are individual meals that are filled with hearty ingredients!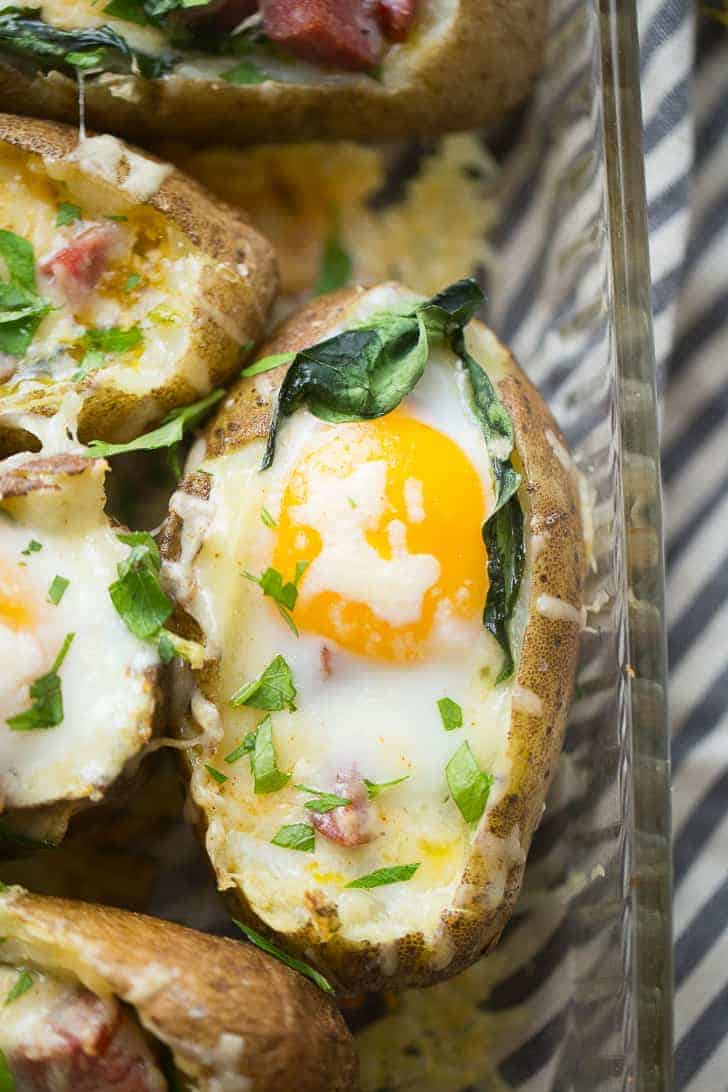 I should eat the breakfast potatoes for breakfast but I am not a breakfast eater. In fact, I'll go as far as saying I loathe breakfast. I'm never hungry enough when I wake up to eat anything before or with my coffee. If I have to eat more than a protein bar, then it better be a gourmet omelet or fancy French toast from First Watch. I realize that this makes me a complete hypocrite as I scold my kids anytime they even think about skipping breakfast.
On occasion, I will treat the family to homemade Banana's Foster Pancakes, Homemade waffles (key lime pie flavored, yum!)  or  Strawberry Cheesecake Stuffed French Toast,  Making breakfast is just more effort than I care to exert so early in the morning. However, breakfast for dinner is a whole other topic.
My family LOVES having breakfast for dinner. Breakfast for dinner makes us feel like we are getting away with something sneaky. It's like we are cheating time. Serving up eggs and bacon with a side of French toast is living it up for us! Dinner is instantly more relaxed, and no one complains about what is being served. Since my family happens to be keen on baked potatoes as well, I thought I would combine breakfast and potatoes into one, super easy meal.
The filling in this breakfast potato recipe is easy to substitute with your preferences or with whatever ingredients you need to use in your fridge. I used three potatoes for this recipe; you may have to scale according to your family's appetites. I prepared my potatoes in the microwave. They only take 5-6 minutes for small potatoes and 8-10 for large potatoes. You'll know the potatoes are ready for the next step when they are soft.
I filled each potato with smoked sausage, fresh spinach, and tangy white cheddar cheese. I thought the flavors worked well together and with the backdrop of a plain potato. You will crack an egg into each potato half, then bake in the oven until the eggs are as set as you like them. I'm a runny yolk kind of person, but anything goes with this recipe!
Of course, you could serve these breakfast potatoes for brunch or breakfast, especially with the holidays approaching but I think they make a fantastic "breakfast for dinner" kind of meal!
More Baked Potatoes:
Shepard's Pie Loaded Baked Potatoes
Yield: 6
Breakfast Baked Potatoes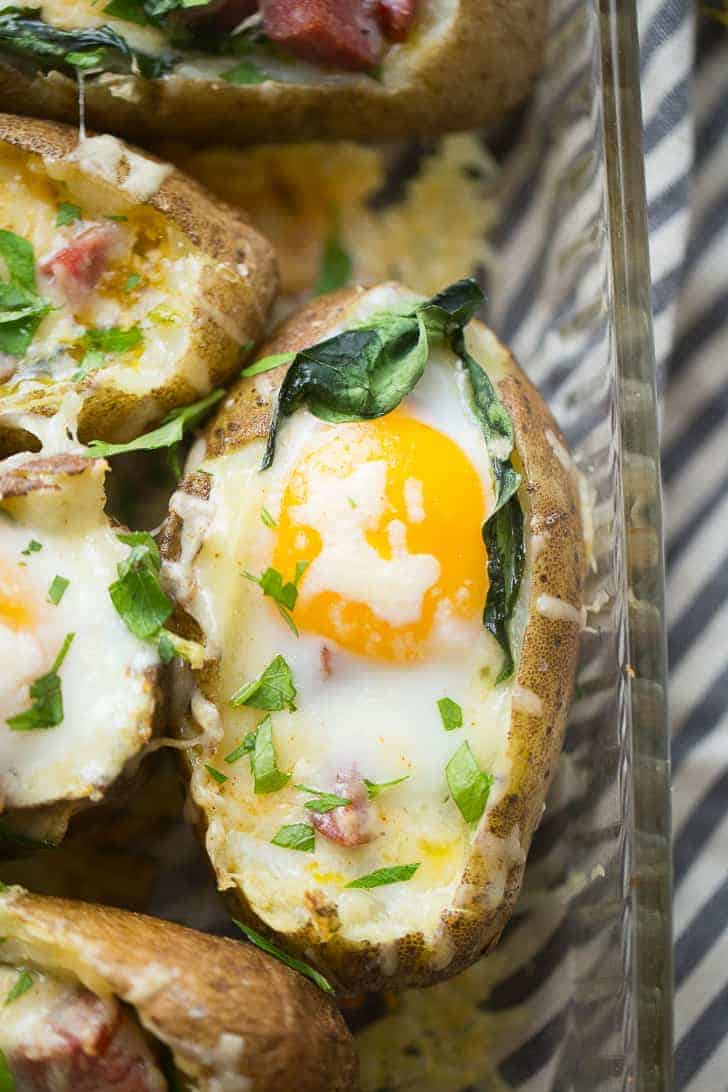 Breakfast baked potatoes are going to make you rethink the whole idea of a baked potato!  These baked spuds are not just side dishes that get topped with bacon and cheese.
Ingredients
3 russet potatoes
1 1/2 teaspoons olive oil
salt to taste
3 tablespoons butter
1 cup fresh spinach
8 oz smoked sausage, diced
1 cup shredded white cheddar ( I used Cabot)
2 teaspoons seasoning salt
6 eggs
Instructions
Preheat the oven to 350 degrees.
Scrub your potatoes and rub them with olive (you don't need much) and salt to taste. Pierce each potato with a fork and place them on a microwave-safe plate. Heat the potatoes for 5-7 minutes for small potatoes or 8-10 minutes for larger potatoes, turning once. Continue to heat the potatoes until they are soft. Carefully remove them from the microwave and allow them to cool until they are easy to handle.
Cut each potato in half lengthwise. Scoop out the pulp, leaving a 1/2 inch border. Fill each potato with 1/2 teaspoon butter. Divide the spinach, sausage, and shredded cheddar between all the potatoes. Crack an egg into each potato and season with seasoning salt.
Bake potatoes for 25 minutes or until set.
Nutrition Information
Amount Per Serving
Calories

0
Total Fat

0g
Saturated Fat

0g
Cholesterol

0mg
Sodium

0mg
Fiber

0g
Sugar

0g
Protein

0g
SaveSave
SaveSaveSaveSaveSaveSave
SaveSave
SaveSaveSaveSave