Ham is a delicious carved meat that tastes delicious served hot during the holiday season, or amazing cold served for lunch any time of the year. There is no shortage of ham recipes out there, and no reason you shouldn't learn to make something new with it.
No matter what occasion you are preparing for, adding a ham recipe will keep your guests full and happy all evening long. Not sure where to start? We've got you covered.
Below are 30 of the best ham recipes to help you make the perfect dish using ham.
What Ingredients Do You Need for Ham Recipes?
The ingredients you need for your ham recipe will vary widely depending on the recipe you have chosen. There are, however, several common ingredients that make a ham taste better (and the final result more tender).
So it's a good idea to have these ingredients on hand before you begin.
Common Ingredients for Ham Recipes
Cooking stock
Sugar
Butter
Maple syrup
Pineapple
Apples
Cherries
Potatoes
Cloves
Salt
Pepper
Most of these ingredients play a part in glazing or cooking the ham, as well as adding a garnish, which most people choose to do.
How to Make Cooked Ham Recipes?
When you purchase ham, it will either be labeled "cook before eating" or "ready to eat" if you pick up a ham that is labeled "cook before eating" this means you need to follow these instructions before attempting to eat the ham.
Step 1: Preheat Your Oven for Ham Recipes
Preheat the oven to 325 degrees Fahrenheit.
Step 2: Cook the Ham
Place the ham in a pan where it doesn't touch any of the sides. You can use a pan with a rack or one without. Cover the ham and put it in the oven.
Bake your ham for 18-20 minutes for each pound of ham you have. For example, a 10-pound ham would take between 180-200 minutes to cook (3 hours-3 hours and 20 minutes). Your ham is done when the internal temperature reaches 160 degrees Fahrenheit.
Step 3: Glaze the Ham
Most uncooked hams also come unglazed. You will want to prepare a glaze or baste for your ham when it's almost done in the oven. 30 minutes before the ham is done, you will want to remove it from the oven and glaze it.
Let it sit and cool for a few minutes before serving and just like that you have your very own glazed ham recipe.
What is the Best Way to Cook a Precooked Ham?
For those who purchased a ham that says "ready to eat" this does not mean you can simply slice the ham and eat it. Oftentimes, the ham still needs to be thawed and properly warmed.
The best way to cook a precooked ham is by following the instructions on your specific ham. But if the ham you purchased didn't come with instructions, follow these to cook it before you serve it.
Step 1: Preheat the Oven
Preheat the oven to 325 degrees Fahrenheit.
Step 2: Wrap the Ham
Wrap the ham in foil, and place it in a pan with a roasting rack. Place the ham cut side down.
Step 3: Cook the Ham
Put the ham in the oven and cook 10-14 minutes for every pound of meat. For example, a 10-pound ham will take 100-140 minutes or 1 hour 40 minutes-2 hours 20 minutes to cook.
You'll know the ham is done when the interior temperature registers between 100-110 degrees
Step 4: Let the Ham Rest
Let the ham rest for at least 10 minutes before you begin carving it.
What Recipes Does Ham Go With?
Ham is a versatile meat that can be paired with almost anything you can think of. That being said, there are some side dishes that seem to go with ham better than others.
Some sides that go with ham recipes:
Mashed Potatoes
Green Beans
Green Bean Casserole
Scalloped Potatoes
Roasted Potatoes
Rolls
Stuffing
Honey Glazed Carrots
Cornbread
Mac n Cheese
Broccoli
Creamed Spinach
Collard Greens
Potato Salad
Brussel Sprouts
Applesauce
Side Salad
Of course, if you don't see your specific side on the list, it doesn't mean it doesn't go with ham, these sides are just the best. Honestly, any hearty or vegetable side will pair well with whatever ham recipes you decide to make.
What Recipes Can You Make With a Pre-cooked Ham?
A pre-cooked ham is the exact same as a cooked ham, except half of the work has been done for you. Therefore anything you can dream of cooking with a regular ham you can also make with a pre-cooked ham.
Here are some ideas for your pre-cooked ham recipes:
Ham Salad Recipe
Ham and Beans
Baked Beans Recipe
Ham Steak Recipe
Ham and Bean Soup Recipe
Honey Baked Ham at Home
Ham Casserole Recipe
Ham Loaf Recipe
What Recipes Can You Do With Leftover Ham?
A ham is a huge piece of meat, and it can be difficult to judge how much you need to feed a crowd of people. At the end of the day, you may find yourself with lots of ham that you don't know what to do with. Ham is a meat that is very easy to repurpose.
Below are some ideas for you to try with leftover ham recipes:
Make a ham and cheese sandwich
Chop it up and put it on a salad
Bake egg cups with a ham exterior
Turn leftover ham into a split pea soup
Make ham and egg breakfast pizza
Bake ham and cheese pinwheels
Cook Ham and cheese casserole
Put leftover ham into a quiche
Create a breakfast bake with ham
Replace the meat in any pasta recipe with ham
Ham reheats well, regardless of what you mix it with. So you can make almost any of the ham recipes you choose using your leftover ham.
What Can You Do With a Leftover Hambone?
In the grocery store, you will likely find hams without the bone. But you may also find hams that have the bone included, leaving you with a bone that you aren't sure what to do with after eating your delicious ham.
While not edible (or safe for pets), hambones still have lots of flavor in them, meaning you can still use them to flavor a dish.
Hambones are best used in soup, as the bone can easily be withdrawn before serving, but you can also use ham to cook vegetables in your crockpot.
Here are some ideas for recipes that use a leftover hambone:
Split Pea Soup
Put it in the crockpot with collard greens
Make your own ham stock
Place it in slow cooker beans and rice
Ham Bone Soup
Flavor baked beans by cooking them with the ham bone
But of course, before you can have leftover ham, you need to make a ham recipe, to begin with. So without further ado, time to look at some of the best ham recipes you have ever laid eyes on.
30 Best Ham Recipes to Make for Any Occasion
1. Brown Sugar Baked Ham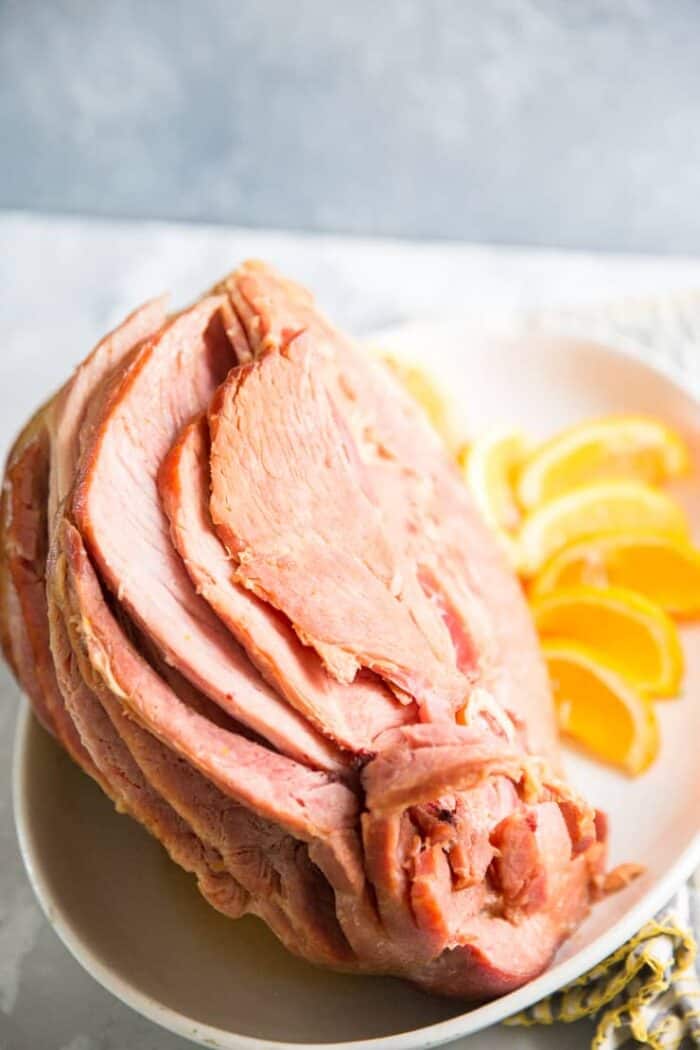 What would a holiday gathering be without a baked ham? Baking ham is easy while and the result is delicious. Follow this recipe on Lemons for Lulu to make a baked ham with a brown sugar glaze using just a few simple ingredients.
All you have to do is bake the ham, mix the glaze overheat and pour it on the ham about fifteen minutes before it's ready—it's that simple.
2. Ham n' Apple Arugula Pizza
Pizza is the ultimate comfort food, it's warm, filling, and you can put anything you want on it. After your next holiday ham meal, take the scraps from carving your ham and put them on this ham n' apple arugula pizza from Nutrition in the Kitch.
You'll be making the crust yourself, and this recipe is gluten and dairy-free to suit all the dietary needs of your family this holiday season.
3. Leftover Ham Bone and Lentil Soup
It can seem like such a waste to toss out a ham bone, so when you make your next ham, don't. Keep the bone off to the side and the next day, make this delicious leftover ham bone and lentil soup from Mels Kitchen Café.
Packed with lentils, the meat of your choice, and tons of tasty spices, cooking this with the leftover ham bone will create a flavor your whole family is sure to love.
4. Ham and Swiss Monkey Bread
Monkey bread, if you haven't heard of it, is typically a sweet bread that is meant to eat family style with everyone using their hands to pull apart a piece.
Monkey bread doesn't just have to be sweet though, as you can follow this recipe by Lemons for Lulu to make a savory ham and swiss version of the classic recipe.
5. Instant Pot Boneless Ham
For those with an instant pot, you've likely found yourself wanting to use it to cook everything under the sun, even ham.
When this is the case, pull out this instant pot boneless ham recipe from Life, Family, Fun, which only has 4 ingredients and can be on your table ready to serve in just 10 minutes.
6. Split Pea and Ham Soup
Split pea soup is a winter favorite, and it's thicker than most soups, ensuring you'll be full all evening long. Following this recipe from Errens Kitchen, you'll be using the ham bone as well as leftover pieces of the ham in the soup.
If the ham you made didn't come with a ham bone, don't fret as you can also use a ham shank, or broth from your ham to create the same rich flavor effect.
7. Cherry Bourbon Baked Ham
A brown sugar glaze isn't the only way to enjoy ham, and switching out the classic sweet glaze for this cherry and bourbon one from Lemons for Lulu will have your mouth watering.
The cherries will bring a slight citrus tang to the ham, while the bourbon will work to tenderize until it practically melts in your mouth. You will only need a few ingredients, so if you have bourbon on hand, this can be a great last-minute glaze option.
8. Egg and Ham Savory Waffle Stacks
Egg and ham savory waffle stacks are the savory breakfast you've been waiting for. Made with eggs, buttermilk, butter, flour, instant mashed potatoes, and ham, your mouth will be watering just thinking about them.
These tasty creations aren't the quickest breakfasts to make, but well worth the wait. Find the full recipe on Katie's Cucina.
9. Pineapple and Ham Roll-Ups
Think you can't use ham as an appetizer? Think again. These pineapple and ham roll-ups from The Kitchen is my Playground are easy to make and put out on the table well before a meal.
Made with delicate slices of ham stuffed with cream cheese, pineapple, and green pepper, you can place these on crackers or enjoy them as is.
10. Everything Bagel Egg Casserole Recipe
Struggling to find ways to use a small amount of leftover ham? Check out this recipe for everything bagel egg casserole by Lemons for Lulu.
While ham is an ingredient, you only need one cup of it. You'll simply chop up the ham into chunks, making this one of those leftover ham recipes that is perfect for using up the scraps of meat you can't find a way to use.
11. Cheesy Ham and Potato Casserole
Besides being the main event at a meal, ham can also easily be a side dish, as it is in this cheesy potato and ham casserole from All Things Mama.
Not only is it tasty, but it is also quick to make, simply chop all the ingredients, toss them together in a large bowl, pour into an oven pan and bake for 35-40 minutes.
Pair this dish with a salad for a lighter meal, or as a side to a roast or chicken for a special occasion.
12. Ham and Cheese Puff Pastry
Sometimes, it can be difficult to get out the door in the morning and still eat a healthy breakfast. These ham and cheese puff pastries from Katie's Cucina make breakfast a breeze, and you can even use leftover ham from a holiday meal.
They do take a little bit of prep time, but you can easily cook them on the weekend and have them to grab and eat from the fridge all week long.
13. Chicken Cordon Bleu Casserole
Chicken cordon bleu is a French dish that involves stuffing chicken cutlets with ham and swiss cheese. Stuffing cutlets can be quite difficult, however, so take your leftover ham pieces and make this casserole recipe from Lemons for Lulu instead.
The recipe requires pasta, a few types of cheese, some spices, and one cup of chopped leftover ham. You'll toss everything together in a pan, cook it for about 15-20 minutes, and this recipe is ready to go.
14. Ham and Cheese Frittata
Frittata is a tasty breakfast dish that is typically served at brunch, but it is also an easy idea to make as a hand-held snack for a party. Take a look at this recipe for ham and cheese frittata from Heavenly Home Cooking that you can make in a cast-iron skillet.
The recipe calls for eggs, ham, cheese, and some spices, but you can also toss in some veggies like spinach and mushrooms if you desire.
15. Baked Egg Cups
Ham comes in so many forms, from chunks to a whole ham, and one of everyone's favorites—slices. Try this unique sliced ham recipe from The Cozy Apron where you will be using the ham as the cup to hold an egg.
Now eating breakfast on the go is even easier. Kids and adults alike will love this recipe, and you can serve them on their own or with toast.
16. Hot Italian Party Sandwiches
Ham is a meat that can be enjoyed at any time of the day, including lunch. Don't just put your leftover ham between boring slices of bread—take the time to make these delicious hot Italian party sandwiches from Lemons for Lulu.
Although the word party is in their name, there is no reason not to put a few slices of leftover ham in a recipe like this and take it into the office for lunch. They are super easy to make, tasty when served hot, and all your coworkers will be jealous.
17. Ham and Potato Soup
There is nothing like a hearty bowl of potato and ham soup on a cold day.
Next time you get the craving, grab this recipe from Awesome on 20 in which you'll combine potatoes, ham, onion, carrots, chicken stock, milk, flour, and cream with some spices to create the soup of your dreams.
Cook it on the stove in just 30 minutes, or put it in your slow cooker before you leave for work to have a hearty meal waiting for you when you get home.
18. Salmon Ham Avocado Beets with Fruit Dressing
Beets are the perfect replacement for crackers, especially when you top them with amazing ingredients like salmon, ham, and avocado.
You can find this recipe on Lembit Lounge Cuisine, following the instructions to create a fresh and delicious appetizer that will have everyone talking at your next party.
19. Spicy Italian Baked Rigatoni
Ham and pasta go well together, especially when you have lots of leftover ham but simply can't stand the idea of eating plain ham with veggies anymore.
Make this spicy Italian baked rigatoni from Lemons for Lulu using rigatoni, Italian sausage, tomatoes, ham, cheese, pepperoni, and an array of spices. The instructions are simple and this recipe only takes a few minutes to prepare, making it a good weeknight dinner idea.
20. Ham and Pepper Breakfast Hash
A breakfast hash is a quick and easy recipe to pull out when you need something you can make fast that will use up leftover ingredients you have in the fridge. Use this recipe from The Fig Jar to use up your leftover ham.
You'll be tossing it on the stovetop with hash browns, bell pepper, onion, and bacon, then topping it with eggs to make one of the most delicious dishes you've ever had.
21. Air Fryer Egg Cups
While it isn't advised to make an entire ham in your air fryer, you can use it to make something with your leftover ham pieces. Follow this recipe from Sweet and Savory Meals to make air fryer egg cups that require toast, butter, cheese, eggs, and ham.
You'll also need some ramekins to cook these in so that they will keep their shape while in the air fryer.
22. Ham and Cheese Sourdough Scones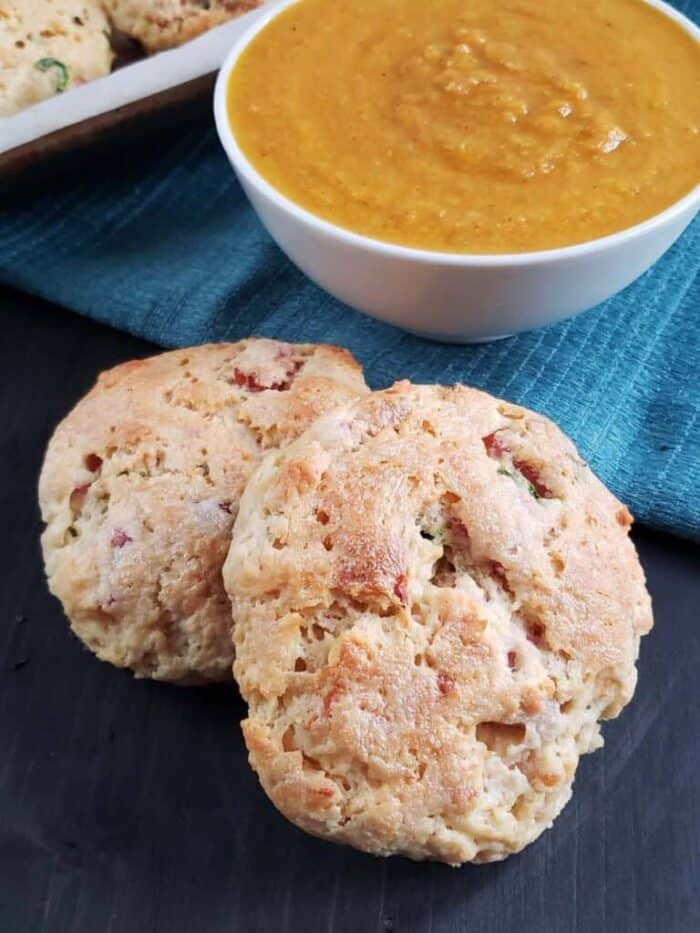 Did you know you can make leftover ham into a scone? It's very easy when you follow this recipe from Raspberries and Kohlrabi which requires quite a few baking ingredients, but with a little patience, you can have some delicious savory scones in about an hour.
Serve with either butter or cream cheese for best results.
23. Whole Baked Ham with Madeira Glaze
Not feeling a brown sugar or bourbon-based glaze? Challenge your cooking skills with this recipe by Keeping it Simple to make a Madeira wine-based glaze for your next whole ham.
You'll still be using sugar, but you'll be adding lots of additional spices to give this ham a nice spiced crust. You can use this rub on any ham, but it works best on one with the bone in.
24. Black Eyed Peas with Ham
Mix it up with this recipe from Skinny Taste which combines your leftover ham with black-eyed peas, collard greens, and cabbage. Heat all the ingredients together with some onions and celery in a Dutch oven, then serve as the main dish, or as a side for a different main dish.
25. Breakfast Pancake Tacos
Yes, you read that right, you can use sliced ham to make this delicious recipe of breakfast pancake tacos from Call Me PMC.
The recipe can get a little hectic, as you'll need to cook pancakes while also frying up your eggs and ham, but then you simply lay a slice of ham on a pancake, put an egg on top of that, then fold it, and enjoy.
26. Smoked Ham Recipe
For those with a smoker, there is no reason not to prepare a whole ham by smoking it. As long as you prepare a good brine, the result will be delicious, smoky, and much better than the grocery store sliced ham.
Follow these instructions on The Meat Eater to make the perfect brine and learn how to smoke your ham to perfection.
27. Spiral Ham
You've seen it on TV, and there is nothing that looks quite as nice as a spiral-cut ham for a holiday meal. First and foremost, you'll need to get a bone-in ham in order to create the perfect spiral cut.
Then, follow the spiral ham recipe outlined on Delish to glaze and cut your ham to achieve the ideal spiral look.
28. Scalloped Potatoes with Ham Recipe
Scalloped potatoes are especially delicious when paired with ham, which you can do using this recipe for scalloped potatoes with ham from Cooking with Karli.
You can buy ham, or use leftover ham, then simply mix it with potatoes, onion, milk, flour, and cheese to make the perfect comfort food. Additionally, this recipe only takes about 25 minutes to make, meaning you don't need to plan far in advance to enjoy this dish.
29. Gochujang Fried Rice with Leftover Ham
Fried rice dishes make using leftover ham a piece of cake, and they don't even require that many additional ingredients.
For this specific fried rice leftover ham recipe from Healthy World Cuisine, you'll need some kimchi, rice, eggs, onions, and sauté them all together in a pan. Add some gochujang sauce and spices and your taste buds will rejoice.
30. Ham Casserole Recipe
Casseroles are an easy dinner (or breakfast) idea that can help you use up leftover ingredients, such as leftover ham from a recent whole ham dinner.
Grab some cheese and mini croissants next time you head to the store and make this delicious ham and cheese croissant casserole from Spicy Southern Kitchen which is somewhat reminiscent of the flavors of chicken and dumplings.
It does take some time to bake, so be sure to pop this in the oven at least 45 minutes before you want to eat.
How To Make a Ham Glaze Recipes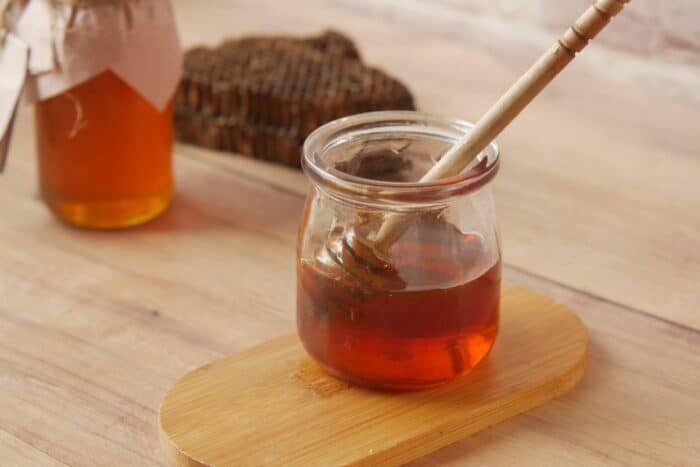 Ham recipes are delicious, but they are especially good when the ham is cooked properly with a nice glaze. Do you like honey-baked ham?
All it takes to make ham that good is a glaze, and they aren't even hard to make. Here is a simple brown sugar ham glaze recipe you can use on your ham.
Ham Glaze Recipes Ingredients:
½ cup orange juice
1 tsp cinnamon
½ teaspoon cloves
1 cup dark brown sugar (packed tight)
½ cup honey
Instructions for Ham Glaze Recipes:
Step 1: Boil Everything
Put all the ingredients in a saucepan over medium heat and bring to a boil. Let it boil for 3-4 minutes until thick.
Step 2: Pour on Ham
Take the saucepan directly from the heat and pour the glaze on the ham. If too much time passes before the ham is ready, simply reheat everything on the stove for a minute or two and it's ready to go.
It's that easy, so you have no excuse not to prepare a glaze for your next ham.
How Do You Make Ham Steak?
Ham steak is a nice way to spice up an old favorite. It can be paired with anything, including a nice glass of wine, and it's easy to make. What more can you ask for? Below are the steps to making the perfect ham steak for your next dinner.
Ham Steak Ingredients:
Water
2 ham steaks
3 tablespoons light brown sugar
2 tablespoons Worcestershire
5 cloves
Instructions for Ham Steak:
Step 1: Preheat Your Oven
Before you do anything else, preheat your oven to 375 degrees Fahrenheit.
Step 2: Prep the Glaze
Mix everything except the ham steaks in a baking dish. Start with 1 cup of water and add more as needed.
Step 3: Coat the Ham
Place the ham steaks in the baking dish and coat liberally with the glaze.
Step 4: Cook the Ham
Place the baking dish in the oven, and cook for 35-45 minutes—or until the ham is tender.
Remove from the oven, and let cool for a few minutes before serving.
Ham Recipes FAQs
Does Ham Need to be Soaked Before Cooking?
While not required, it is a good idea to soak your ham before cooking it. Soaking the ham removes excess salt and improves the taste of your ham overall.
Can You Make Ham Recipes in a Crockpot?
You can make ham in a crockpot, just be sure to include some liquid or broth for the ham to sit in so it doesn't burn to the sides of the crockpot. You will still want to check the internal temperature of the ham to ensure it is done.
Can You Make Ham Salad with Leftover Ham?
Making ham salad with leftover ham is one of the easiest ways to repurpose ham. Just cut up the leftover ham, and toss it with mayo, onion, and pickle, and your lunch is ready.
Do You Cover Ham Recipes When Baking?
Yes, it is important to always cover a ham when cooking it. Either cover the entire pan with tin foil or wrap the ham itself in tinfoil for best results.
What Makes a Ham Recipes Mushy?
Using an excessive amount of meat tenderizer can make a ham mushy. Therefore be cautious how much you use, especially if you are using pineapple for your tenderizer.
What Kind of Pan Do You Cook Ham Recipes in?
Ham is best cooked in a pan large enough that the ham doesn't touch any of the sides. Thus the exact size of pan you need will depend on the size of your ham. For pre-cooked hams, a pan with a rack is recommended.
Time to Enjoy Some of These Ham Recipes
Is your mouth watering yet? Hopefully, these ham recipes have given you some great ideas to prepare ham, as well as some ideas of what to do with the leftovers.
Regardless of which recipe, or recipes you pick, you can guarantee everyone in your household will love these ham recipes. So what are you waiting for? Time to head out and pick yourself up a nice ham.