Who's says monkey bread can only be sweet? This savory monkey bread recipe takes two popular sandwich fillings and serves them up with a simple honey mustard dipping sauce!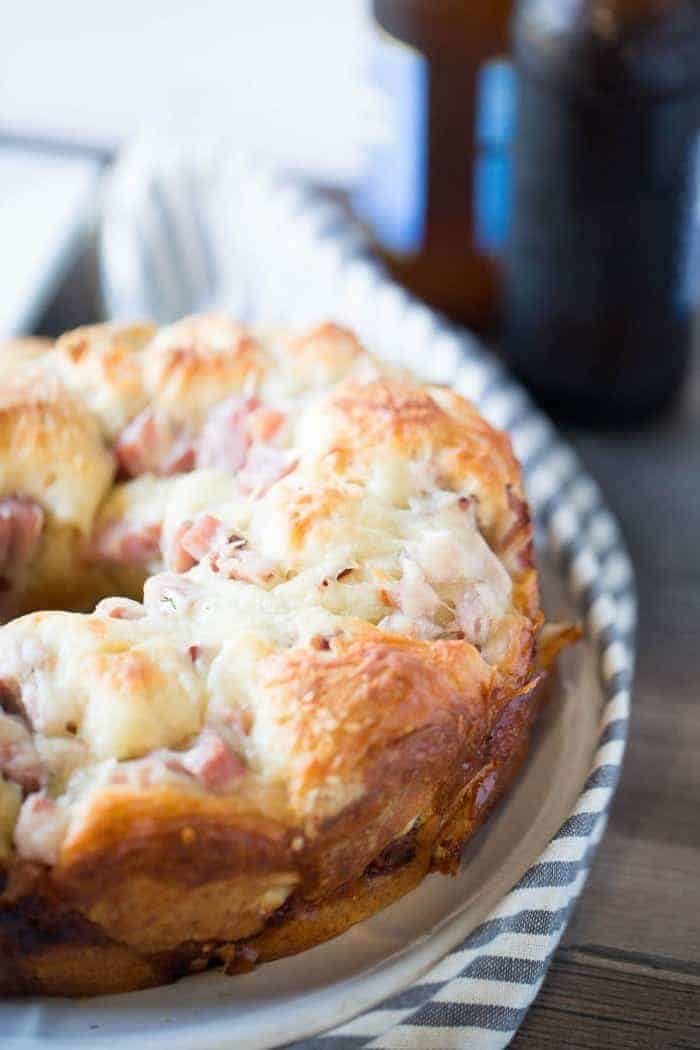 Picnics have always been popular in my household.   When the kids were toddlers, it was a great way to pass the time between lunch and naptime. I'd set up a blanket in the back yard. I'd bring out all the sippy cups, cubes of fruit and veggies and tiny ham sandwiches. The kids were typically way too distracted to eat. They would run to the sandbox and then at my insistence; they would come back to the blanket for a bite of sandwich.   Then they would run take a turn or two down the slide before being corralled back for more bites of lunch. Lunches were mostly left uneaten, but the kids were worn out enough to take power naps. Quiet time for all was a good trade off.
See How To Make This Recipe: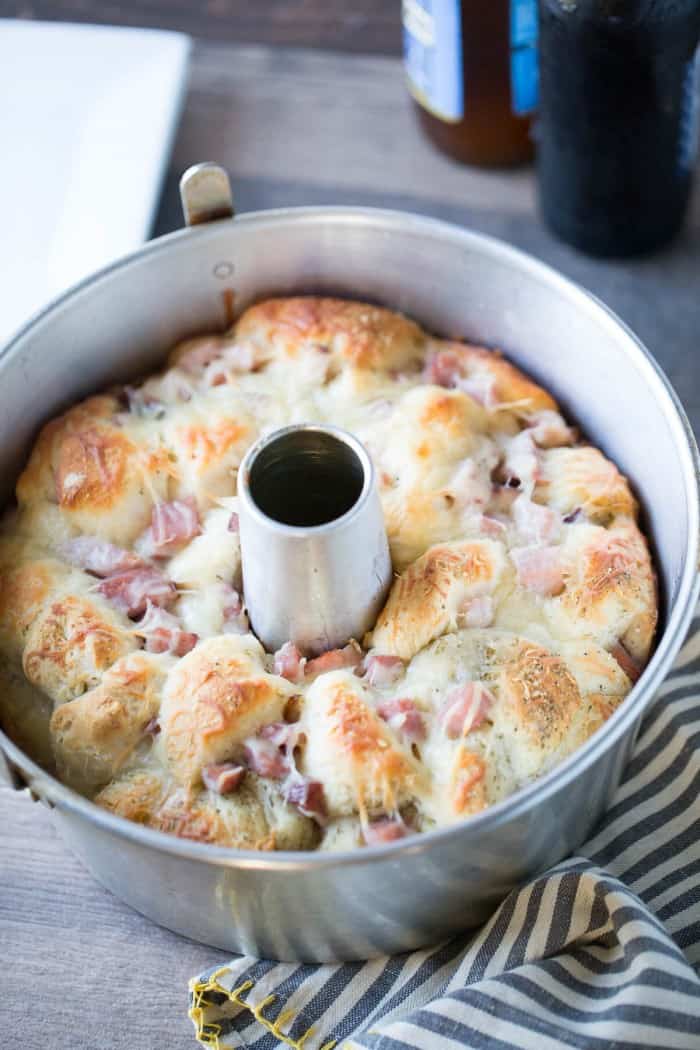 I think the reason picnics are so admired by my family is there something so relaxing and carefree about eating outside. Sitting on blankets with the birds chirping around you makes you feel like you are on vacation whereas sitting at the kitchen table feels stiff and controlled.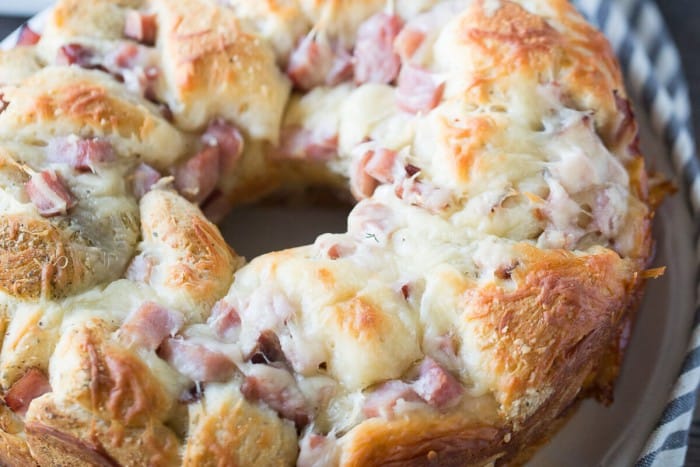 Monkey Bread Recipe Instead of Sandwiches
Even though the kids are older now, all three kids still ask if we can have picnics in the summertime. Given the ages of my kids (12, 10, and 7) I don't have to corral them and convince them to finish their lunches. Plus we have the freedom with what we eat. Today I can serve them mini taco hand pies , ranch chicken rolls or even this ham and Swiss monkey bread recipe for our picnic instead of tiny sandwiches and cubed fruit. This monkey bread recipe is the perfect picnic food for our family. We can casually pick off bite-sized pieces of monkey bread and talk about friends, our summer bucket lists, sports or nothing at all. It's laid back, easy and tastes good warm or cold. Complete each bite with a simple and delicious mustard dip.   Just be warned, ham and Swiss sandwiches will become a thing of the past after your family tries this savory monkey bread recipe!
Picnics with the kids are so much better these days. They are a great way for us to connect, and when the picnic is over, they run to play, and I still have some quiet time.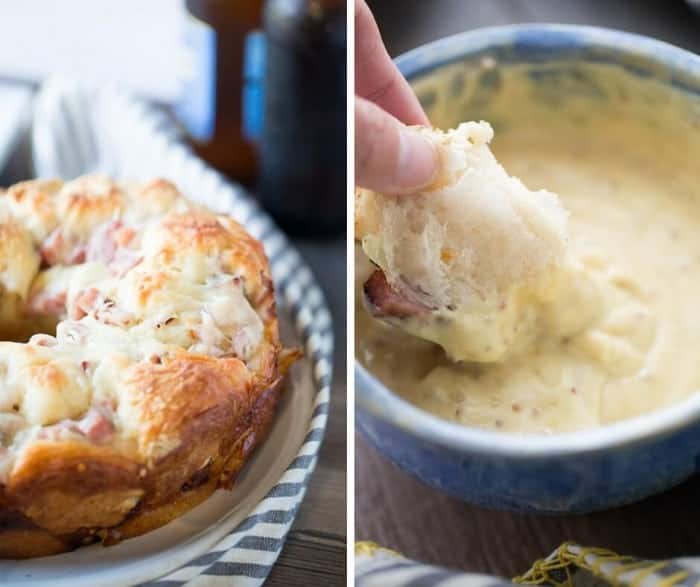 Ham and Swiss Monkey Bread Recipe
Ingredients
2

cans large buttermilk biscuits (15.3 oz)

1

tablespoon olive oil

2

tablespoons Parmesan cheese

1

teaspoon dried Italian seasoning

1 1/2

cups shredded Swiss cheese

2

cups diced cooked ham

1/2

cup mayo

1/4

cup Dijon mustard

1-teaspoon

coarse grain mustard

1-teaspoon

honey

1/2

teaspoon salt
Instructions
Preheat oven to 350 degrees. Spray a tube pan or a Bundt pan with non-stick spray and set aside. Cut biscuits into quarters. Toss biscuits with olive oil, Parmesan cheese, and Italian seasoning. Arrange 1/3 of the biscuit mixture on the bottom of the pan. Sprinkle half of the ham and ½ cup of the cheese over the biscuits. Repeat process ending with remaining ½ cup Swiss cheese.
Bake monkey bread for 35-40 minutes or until golden. Allow bread to rest for a few minutes before turning out onto a serving plate.
Combine all the sauce ingredients in a bowl and whisk until combined.
With the exception of the ham, Kroger products were used for this recipe.