Chocolate bundt cake is made richer with Guinness Stout.  A silky chocolate glaze is drizzled over the bundt cake, and toffee bits take it up another level.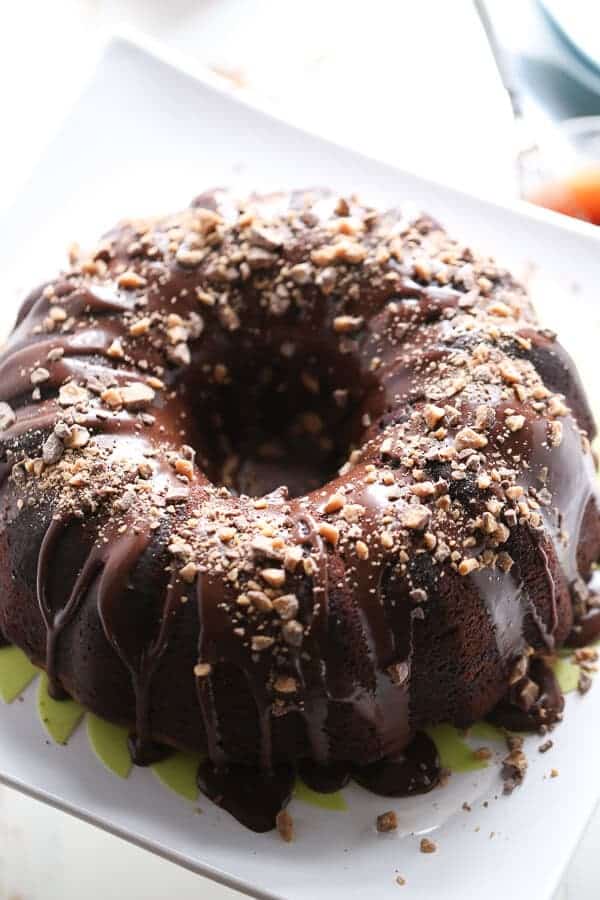 I cannot believe I'm admitting that this is my very first bundt cake.  I have certainly eaten bundt cake, but until recently I have never felt compelled to try baking one.  Lately, it seems as though I've been seeing lots and lots of gorgeous bundt cakes.  I've seen them in magazines, in cook books, on Pinterest and from other bloggers.  I thought it was time to give the bundt cake a fighting chance.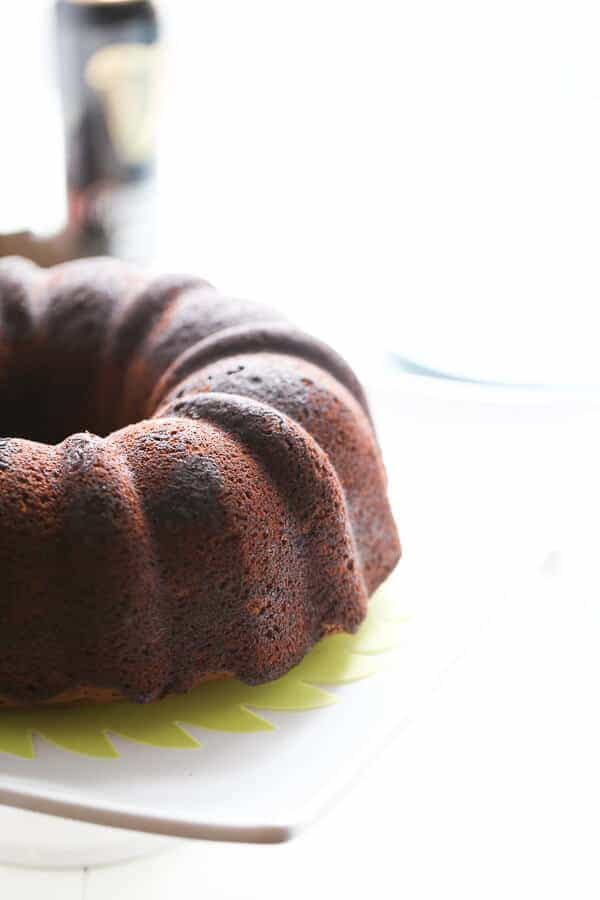 St. Patrick's Day is rapidly approaching, and I could not let this holiday pass by without making something with Guinness.  I LOVE Guinness, and am a huge fan of stout beer.  I love the way the thick stout tastes on my tongue.  It's like liquid chocolate with a malty kick.  Which is why I thought it would make for the perfect addition to my first bundt cake.
The Guinness beer makes this bundt cake so moist and fluffy; it's like magic.  The beer taste is not front and center by any means.  Just like espresso can enhance the flavor of chocolate in brownies,  Guiness will intensify the chocolate and deepen the flavor of this cake.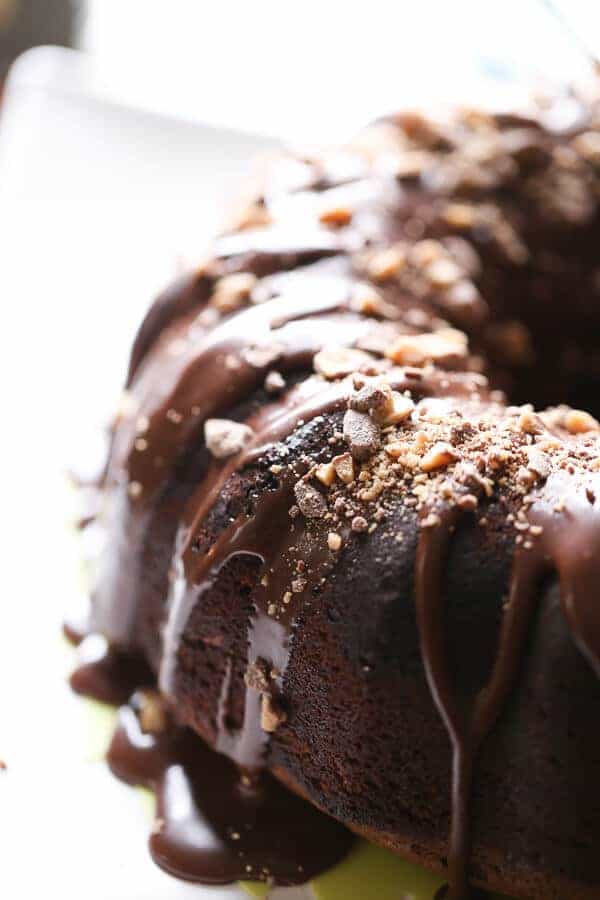 One of the reasons I never made a bundt cake before is I've never been fond of the cake to frosting ratio of bundt cakes.  I love cake, but I love cake because it is covered in frosting.  Typically my philosophy has been a little glaze just won't cut it!  This bundt cake isn't exactly frosted, but the thick chocolate glaze more than makes up for that.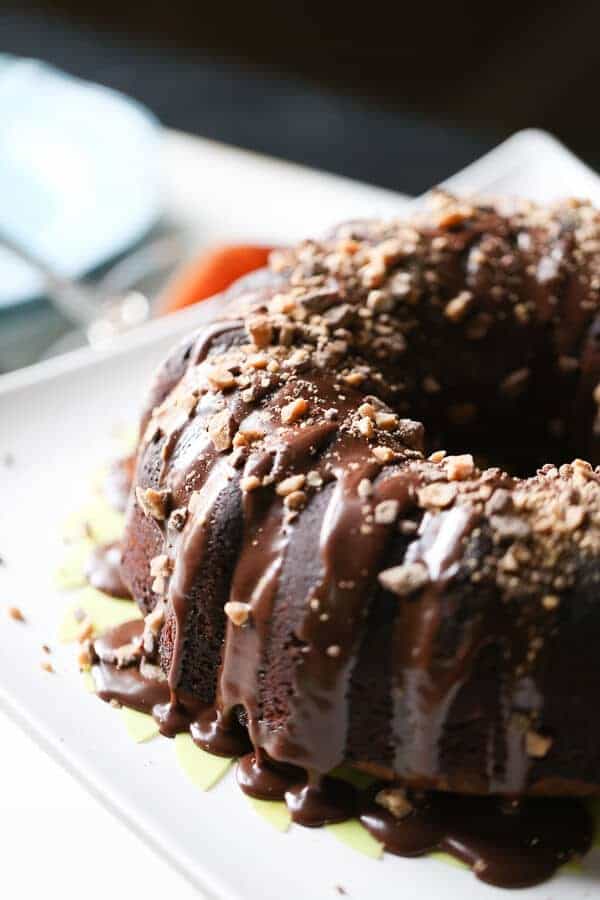 This glaze on this chocolate bundt cake is beautiful.  The silky chocolate cascades over the sides, puddling around the edges of the cake.  When you cut yourself a slice of cake, be sure to scoop up a generous amount of glaze resting near the bottom so you can slather it on any bare spots of cake.  You want each bite to be filled with airy cake and decadent chocolate.
There just might be something to these bundt cakes after all.
I'd better make another Guinness chocolate bundt cake just to be sure.
Guinness Chocolate Bundte Cake
12
adjust servings
A cake so rich and delicious you will definitely want to make room for seconds!
Ingredients
For the cake
cocoa powder to dust the pan

2 1/2

cups flour

3/4

teaspoon baking soda

1/2

teaspoon salt

1

cup butter

3/4

cup Guinness Stout beer

8

oz semi sweet chocolate, chopped

3

large eggs

1

cup sugar

1

cup brown sugar

1/2

cup plain Greek yogurt
For the glaze
1/2

cup semi-sweet chocolate chips

1/4

cup sugar

1

tablespoon Guinness beer

1

cup heavy cream

1

tablespoon butter

2/3

cup toffee bits
Instructions
Heat the oven to 350 degrees. Butter or spray a bundt pan and dust with cocoa powder, swirling pan to coat.
In a bowl, combine flour, baking soda and salt, set aside.
In a small sauce pan, combine butter and beer. Cook over medium heat, stirring until the butter has melted. Remove from heat and stir in 8 oz of chocolate. Whisk until mixture is smooth. Remove from heat.
In the bowl of a mixer, beat eggs and sugars on medium speed until light and creamy. Mix in chocolate mixture and yogurt. Gradually beat in flour mixture with mixer on low. Continue to beat until just combined. Do not over mix.
Pour batter into prepared pan. Bake for 55 minutes or until a toothpick inserted comes out clean. Let cake rest for 30 minutes in the pan, then invert onto a rack to cool completely before glazing.
To prepare the glaze, combine all ingredients except for toffee bit in a small sauce pan on low heat. Whisk until smooth. Carefully drizzle chocolate over cooled cake. Sprinkle cake with toffee bits.