Chocolate cake is made richer with Guinness Stout. A creamy chocolate frosting is spread over the bundt cake, and toffee bits take it up another level.
I've always been a fan of Guinness Beer. I think it has a lot to do with its appearance Guinness is thick, dark, and foamy. It reminds me of two of my favorite thing; coffee and chocolate. The texture and the flavor lends itself perfectly to sweets like Guinness Black Bottom Cupcakes, Guinness Floats, and Guinness Milkshakes.

What Is A Chocolate Guinness Cake
This chocolate bundt cake is rich, moist, and infused with the bold taste of Guinness stout beer. The stout beer cooks down until it is almost syrupy in nature. Doing this concentrates the flavor of the beer and intensifies the flavor of the cake. I also beat a little beer into my frosting and this is where you notice the flavor the most! I add a little for flavor but not enough to overpower the buttercream. This cake is for ALL chocolate lovers and if you are a Guinness lover, well then that is just a bonus!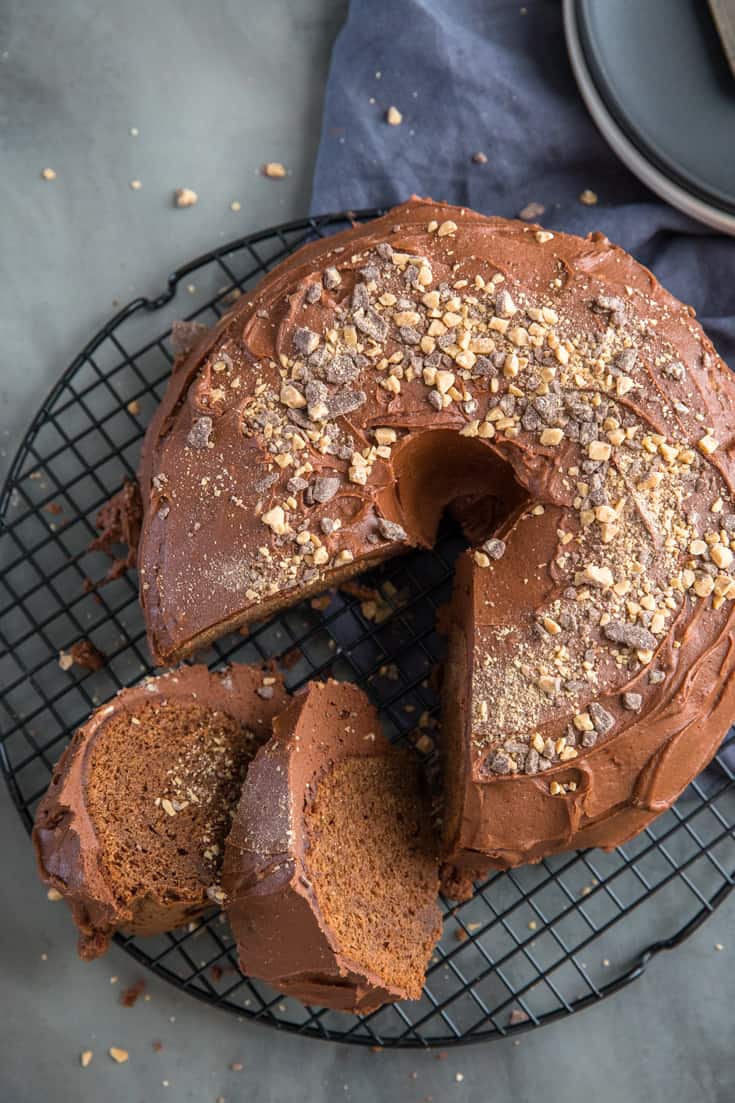 WHERE IS THE GUINNESS CHOCOLATE CAKE RECIPE?
If you'd rather skip cooking tips, suggestions, handy substitutions, related recipe ideas – and get straight to the Guinness Chocolate Cake Recipe– simply scroll to the bottom of the page where you can find the printable recipe card.
How To Make A Guinness Chocolate Cake
The key step in making this bundt cake is cooking down the stout beer. In a saucepan, I combine the Guinness beer and the butter. The beer will thin out and be more like a syrup than a stout beer. Once the butter has melted, whisk in chocolate until melted.
This chocolate mixture will eventually combine with eggs, sugar, and sour cream for a creamy cake base. A dry combination will get mixed in and the whole things will be poured into a prepped bundt pan. Make sure you grease your bundt pan and dust it with cocoa powder so that the cake releases easily from the pan.
The cake will take just under an hour to bake. Allow the cake to sit in the pan for about 30 minutes before running a knife around the edges. Flip the cake onto a cooling rack and allow the cake to cool completely.
Frosting For Guinness Cake
Honestly, you could leave this cake as is and top with just a dusting of powdered sugar. But if you love frosting as much as I do then you are going to want to make the chocolate frosting!
For the buttercream, I combine softened butter, powdered sugar, cocoa powder, and yes, more Guinness beer. You could omit the beer or use just enough to lend a hint of flavor. It will really be up to you and your tastes. After spreading the buttercream over the cake, I topped the cake with toffee bits.
Can You Freeze Chocolate Guinness Cake?
You can definitely freeze an unfrosted cake. I would wrap the cake tightly in plastic wrap and place in an air-tight container for 2-3 months. When ready, allow the cake to come to room temperature before frosting the cake.
Is Chocolate Guinness Cake Alcoholic?
No, the alcohol in the beer will bake off during the first step, That being said, there will be a little alcohol in the frosting, it will really depend on how much you use!
If you like this Guinness cake try these Guinness Black Bottom Cupcakes and this Guinness Ice Cream Float!
Yield: 12
Guinness Chocolate Cake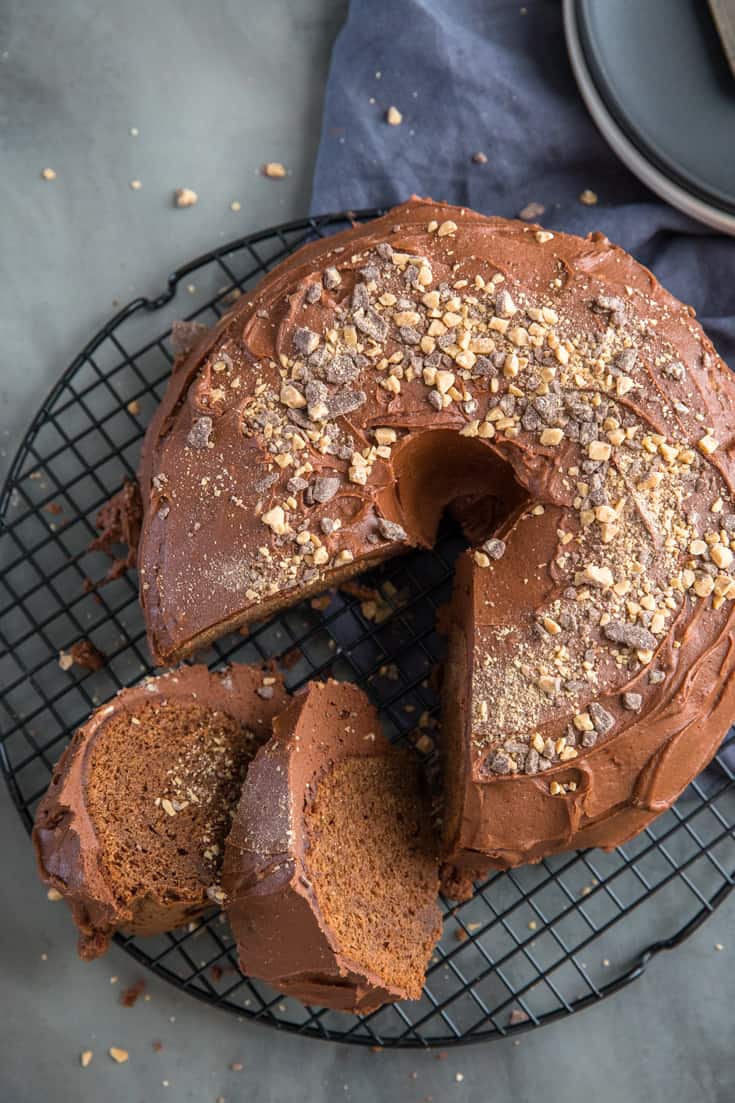 Chocolate cake is made richer with Guinness Stout.  A creamy chocolate frosting is spread over the bundt cake, and toffee bits take it up another level.
Total Time
1 hour
10 minutes
Ingredients
cocoa powder to dust the pan
2 1/2 cups flour
3/4 teaspoon baking soda
1/2 teaspoon salt
1 cup butter
3/4 cup Guinness Stout beer
8 oz semi sweet chocolate, chopped
3 large eggs
1 cup sugar
1 cup brown sugar
1/2 cup sour cream
For the frosting:
3/4 cups softened butter
4 cups powdered sugar
¾ cup cocoa powder
3- 4 tablespoons Guinness
Milk as necessary
Instructions
Heat the oven to 350 degrees. Butter or spray a bundt pan and dust with cocoa powder, swirling pan to coat.
In a bowl, combine flour, baking soda and salt, set aside.
In a small sauce pan, combine butter and beer. Cook over medium heat, stirring until the butter has melted. Remove from heat and stir in 8 oz of chocolate. Whisk until mixture is smooth. Remove from heat.
In the bowl of a mixer, beat eggs and sugars on medium speed until light and creamy. Mix in chocolate mixture and yogurt. Gradually beat in flour mixture with mixer on low. Continue to beat until just combined. Do not over mix.
Pour batter into prepared pan. Bake for 55 minutes or until a toothpick inserted comes out clean. Let cake rest for 30 minutes in the pan, then invert onto a rack to cool completely before glazing.
To prepare the frosting; beat the butter in the bowl of mixer until creamy. Slowly beat in powdered sugar one cup at a time. Add Guinness beer and milk as necessary to get a creamy frosting.
Nutrition Information
Yield
12
Serving Size
1
Amount Per Serving
Calories

777
Total Fat

37g
Saturated Fat

22g
Trans Fat

1g
Unsaturated Fat

12g
Cholesterol

125mg
Sodium

421mg
Carbohydrates

107g
Fiber

3g
Sugar

78g
Protein

8g