Guinness Black Bottom Mint Cupcakes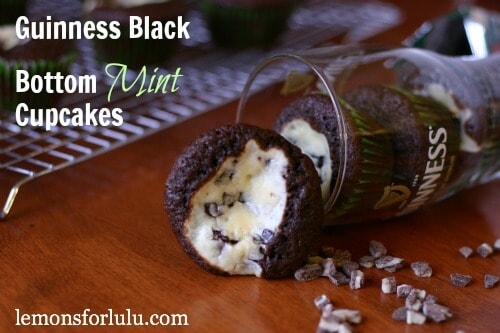 I have been waiting for the opportunity to make Guinness cupcakes! I absolutely love Guinness beer. Back in our single days, my sister and I would spend our weekends hanging out at the local Irish pub, kicking back our share of Black and Tan's. There something so comforting about the smooth, deep, earthy flavor of Guinness beer.
Since having kids, I cut way back on my Guinness consumption. I am just not able to sit and truly enjoy a beer such as Guinness. This regal stout requires your time and attention. You have to sit and appreciate the foamy head atop the dark chocolate-colored stout. The flavor is more pronounced when it's not quite room temperature-which goes against what us Americans are used to when it comes to beer. And don't you dare gulp down your Guinness. Savor it, like a good cup of coffee! Man, I love Guinness!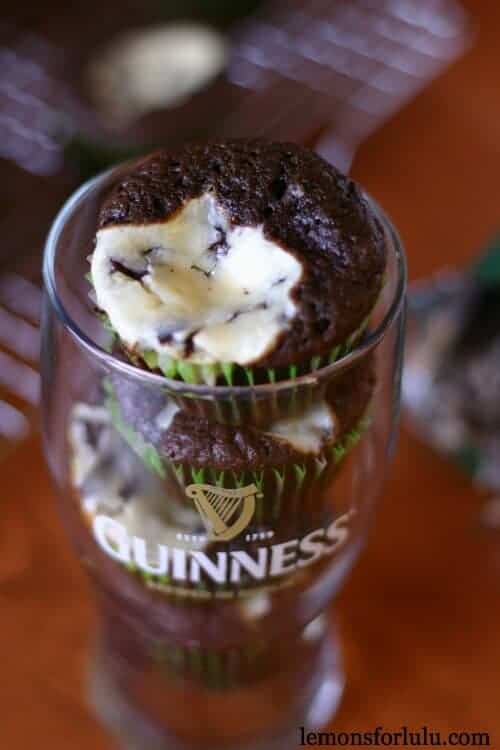 We have a book about the Guinness family and the history of this iconic stout. On the cover is a glorious picture of Guinness resting in a glass like the one in these pictures. I found myself craving a black and tan. I couldn't imagine why. It finally occurred to me that the picture from the book has been imbedded in my subconscious! I needed a Guinness and I needed it now. I did what I usually do with alcohol-I baked with it! It's become a habit really. Last week I made Kahlua and Cream Chocolate Mocha Cookies which were amazing. I've used bourbon in butterscotch bars and brownies, bourbon cream in root beer cupcakes and I even baked beer in bread! Yes, there seems to be a theme in my baking, don't you think so too?
Guinness is the most natural addition to chocolate cupcakes. It deepens the chocolate flavor and makes the cake superbly moist. Normally, I'm a fool for buttercream. But in an effort to live on the edge, I decided to make a cupcake without any adornments. Black bottom cupcakes fit the bill! These are genius really. You add a dollop of sweetened cream cheese to the center of your cupcakes and the creamy center spreads and bakes perfectly. No frosting needed. I added mint chips and mint extract to the cream cheese filling just for kicks. The end result was outstanding. I think these cupcakes do Guinness proud. But don't take my word for it, go bake some for yourself. And I assure you, you don't have to be a Guinness drinker to appreciate these cupcakes. I promise these cupcakes will make anyone melt.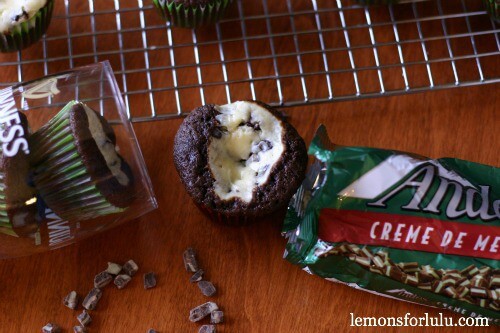 You might enjoy these too: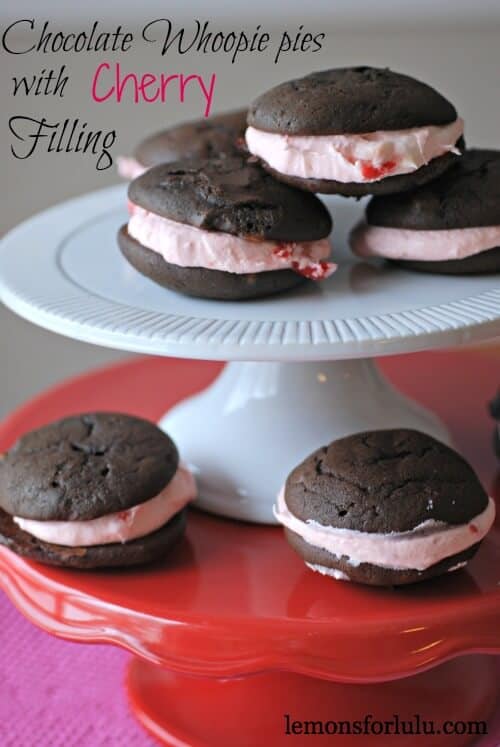 If you'd like a little Lulu in your life, please subscribe via email | RSS | Facebook | Google + | Bloglovin. I LOVE staying in touch with friends!
Be sure to check out these recipes on my

Pinterest

boards!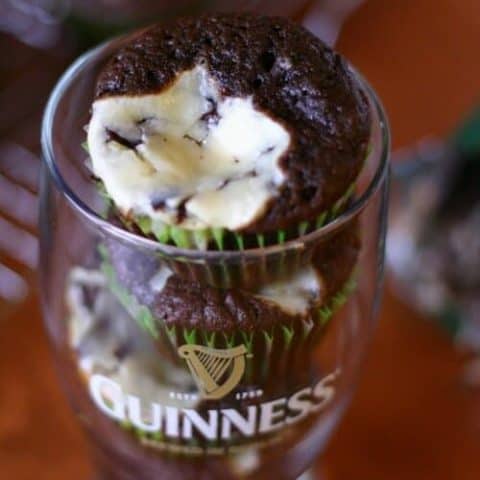 Guinness Black Bottom Mint Cupcakes
Guinness is the most natural addition to chocolate cupcakes. It deepens the chocolate flavor and makes the cake superbly moist.
Ingredients
1 cup Guinness Beer
1 cup butter
3/4 cup cocoa powder
2 cups flour
2 cups sugar
1 1/2 teaspoon baking soda
3/4 teaspoon salt
2 eggs
1/2 cup sour cream
1 8oz block cream cheese, softened
1 egg
1/3 cup sugar
1/8 teaspoon salt
2 teaspoons mint extract
3/4 cup mint chips ( I used Andes)
Instructions
Combine beer and butter in a saucepan. Melt butter over medium heat. When butter has melted, whisk in cocoa powder. Remove from heat and let cool.
With a hand mixer, beat together cream cheese, sugar, egg, salt and extract. Stir in mint chips. Set aside.
In a small bowl, combine flour, sugar, baking soda and salt. Set aside.
In a mixer, beat eggs and sour cream until blended. Slowly beat in the beer mixture, just until combined. Carefully stir in flour mixture and continue beating until well mixed.
Line cupcake pans and fill each cup 2/3 full with chocolate batter. Drop a tablespoon full of cream cheese mixture in the center of each cupcake. Bake in a pre heated 350 degree oven for 20 minutes. Let cool in pan for 5 minutes before transferring to a cooling rack.
Nutrition Information
Yield

30
Serving Size

1 cupcake
Amount Per Serving
Calories

225
Total Fat

11g
Saturated Fat

6g
Trans Fat

0g
Unsaturated Fat

3g
Cholesterol

45mg
Sodium

213mg
Carbohydrates

30g
Fiber

1g
Sugar

20g
Protein

3g
I'll be linking this recipe up to these fabulous sites as well as to: Jam Hands, Back For Seconds, and