Rich chocolate cupcakes filled with a little nugget of cookie dough (egg free) and topped with thick mocha fudge frosting!
Field trips. Remember those? Remember how excited you were when field trip day finally arrived? The bus would feel electric! The air was thick with anticipation of all the fun to come. You could be going to go watch wood rot, but you wouldn't care because you weren't in school. It was like a big jail break, freedom was a bus ride away!
Today, as the mom chaperone, I have a little different perspective on field trips. First of all, the bus rides are nauseating. I'm surprised kids are not barfing on the bus on a daily basis! One can only be jostled and bounced so many times before their stomach decides to revolt. Then there's the constant drone of the engine and the reverberating sounds from the wheels. They are enough to make my head want to explode. That coupled with the 28 excited kids talking wildly around me usually make me think about fleeing through the emergency exit in the back.
Then, when we finally get to our destination, I spend way more time counting heads then paying attention to anything else. I do not want to be the mom who loses a kid after all. It's impossible to have educational discussions with the kids, I'm just trying to survive! All my instincts and senses are in hyper drive as our group maneuvers it's way about. Lunch never comes soon enough.
When it is finally lunch, I eat my pb & j with a new-found zeal. Jif never tasted so good! I try to shovel in my own food, but my attempts are thwarted by all the requests to open cracker packages, ketchup packets and juice bags. Before I know it we are told we have to finish up and move out to our next stop on the tour. I'm left with about 2 dozen half eaten snacks and drinks to carry for the rest of the day. Pack mule takes on a whole new meaning.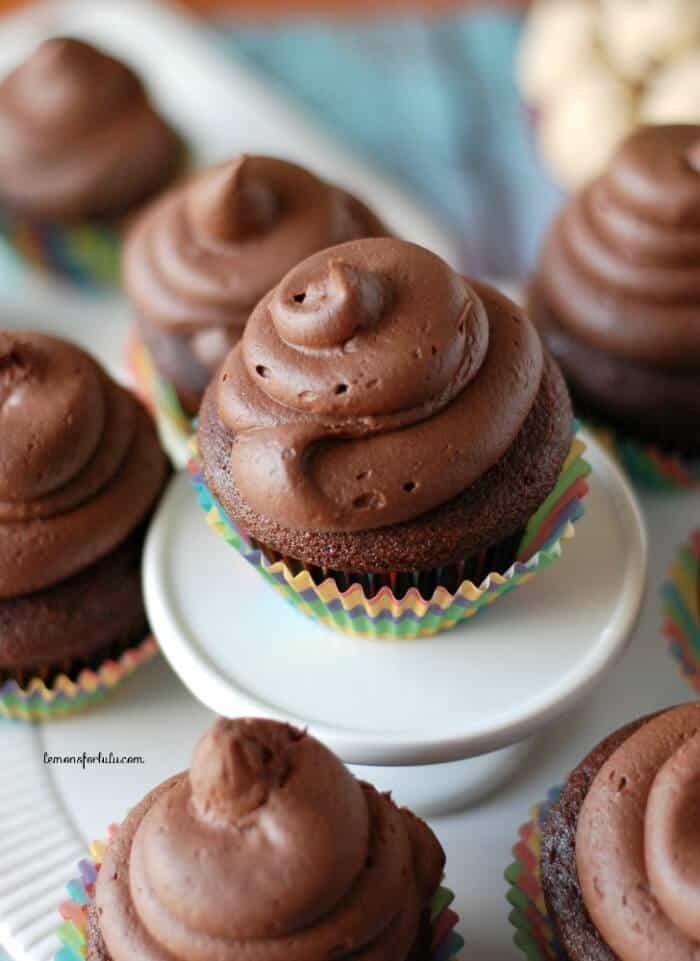 Eventually the trip ends. The bus ride back to school is always a bit more subdued. While my stomach is still doing somersaults, I'm relieved that I didn't lose any kid in my group. But more importantly, I'm happy to have been able to spend the day with my own kids. These memories in the making are true gifts. Besides, I take comfort in knowing that after the bus takes the kids back to school I will be home with a cup of coffee, some ibuprofen and a big, fat chocolate mocha cupcake! In honor of cookie dough week, I created these ultra decadent cupcakes. Rich devil's food chocolate cupcakes are stuffed with little nuggets of cookie dough! I always makes these egg free cookie dough balls at Christmas time. They are a tasty treat in these cupcakes! A little surprise. These little cakes are then topped with the silkiest, mocha frosting! A chocolate lovers dream! Here is my little PSA; these are very rich. Have a glass of milk handy! Don't say I didn't warn you.
I LOVE CUPCAKES!
NEVER MISS A RECIPE! SUBSCRIBE TO MY EMAIL TODAY!
FOLLOW ME:
FACEBOOK | TWITTER| GOOGLE +| BLOGLOVIN | INSTAGRAM
Chocolate Chip Cookie Dough Mocha Cupcakes
Rich chocolate cupcakes filled with a little nugget of cookie dough (egg free) and topped with thick mocha fudge frosting!
Ingredients
Cookie Dough
1/2 cup butter softened
3/4 cup brown sugar
1 teaspoon vanilla
2 cups flour
1 can sweetened condensed milk
1/2 cup mini chocolate chips
Cupcakes
1 box Devils Food Cake 18,25
1 box chocolate instant pudding 5.9oz
1 cup Greek yogurt
1 cup oil
4 eggs slightly beaten
1 teaspoon vanilla
1 teaspoon espresso powder
1/2 cup warm brewed coffee
Frosting
1 cup butter
6 cups powdered sugar
1 1/3 cup cocoa
1/2 cup hot coffee
2 teaspoons vanilla
8 tablespoons half and half
Instructions
In a large bowl combine butter and brown sugar until fluffy. Gradually mix in flour alternating with the sweetened condensed milk. Beat well after each addition. Stir in chocolate chips. Shape into 1/4 to 1/2 teaspoon sized balls. Arrange on a baking sheet lined with wax paper. Freeze until ready to use.
Prepare the cupcakes by combining cake mix and pudding mix in a large mixing bowl. Stir in yogurt, oil and eggs beating until mixed. Add vanilla and espresso. Slowly pour in coffee until smooth. Prepare two cupcake pans with liners. Using a large cookie scoop, scoop up batter into each liner about 2/3 full. Place 1 frozen cookie dough into the center of each cupcake. Keep any remaining dough frozen until ready to use. You will have extra cookie dough.
Bake in a 350 degree preheated oven for 18 minutes. Remove to a cooking rack.
Prepare frosting.
Beat butter until creamy. Whisk together sugar and cocoa in a separate bowl. Combine coffee and vanilla in a separate bowl. Carefully add sugar mixture alternatively with coffee mixture. Beat on a low speed until blended. Beat in enough half and half until frosting is the desired piping consistency. Frost cooked cupcakes.
I used an 809 tip to pipe the frosting.
Nutrition Information
Yield

24
Serving Size

1 cupcake
Amount Per Serving
Calories

436
Total Fat

25g
Saturated Fat

9g
Trans Fat

1g
Unsaturated Fat

13g
Cholesterol

67mg
Sodium

139mg
Carbohydrates

50g
Fiber

1g
Sugar

37g
Protein

5g