This 4-layer chocolate chip cookie cake is a dream! Each cookie layer is soft, buttery, and sweet and is separated by a creamy mocha frosting! The coffee and chocolate combination of this cake is truly extraordinary!
When I was a kid, cookie birthday cakes were all the rage. I'm not talking any homemade cookie cake, it had to be one of the cakes you would get at the mall with lots of vanilla and chocolate frosting!
Those cakes were perfect for someone like me who has always had an incredible sweet tooth. This chocolate chip cookie cake is my tribute to those cakes that I loved so much. This homemade version will appeal to kids of ALL ages!
How To Make Chocolate Chip Cookie Cake Recipe
When it comes to most baked goods, it all starts with the butter. For this recipe, I used Plugrá Butter. Plugrå butter is a premium butter that is extra creamy because it is slow churned with real milk from American Dairy farms.
Plugrá Butter uses specially selected cream. The butter is brought to the optimal temperature before churning and then chilled and packed. This butter is made with real milk, no artificial ingredients, and chef-inspired!
Plugrá Butter is 82% butterfat and lower in moisture (compared to 80% butterfat found in regular butter) which results in softer cookies, which is just what you need for this recipe!
I like to use the unsalted butter for most of my baked goods so that I can keep my sodium in check, however, I sometimes like to use salted butter for my frostings so that the sodium can balance out the sweetness.
I cream butter and sugars together with my paddle attachments(I used both brown sugar and granulated sugar for this recipe) until creamy then slowly beat in 2 whole eggs. Egg yolks and vanilla follow close behind.
I blend in all-purpose flour and other dry ingredients (much like any chocolate chip cookie base) and fold in my chocolate chips. I used semi-sweet chocolate chips, but milk chocolate, chocolate chunks, chopped chocolate bars or even a few peanut butter chips would taste great in this dough! You may want to reserve a handful of chocolate chips to press onto one layer (which will be your top layer) for aesthetics.
I used 4 8 inch baking pans for this recipe. I strongly recommend that you spray each pan with non-stick spray and then line each pan with parchment paper; then spray the parchment paper. Doing this will ensure that each cookie layer comes out easily.
Divide the dough between each baking pan with either wet or floured fingers. The dough will rise in the oven just a bit as it bakes.
Each layer will only take about 20 to 25 minutes to bake. You may need to adjust your bake time depending on your oven. You want each cookie layer to be golden brown when they are removed from the oven.
Allow the cookies to rest in the pans for about 10-12 minutes before you turn them onto a baking rack to cool completely. Be sure the cookies are totally cool before you frost them!
Chocolate Chip Cookie Cake with Buttercream Frosting
I don't know about you, but the frosting is always just as important as the cake and this frosting does not disappoint!
As mentioned above, I like to use salted butter sometimes in my frosting to balance the sweetness of buttercream. For this recipe, I used 8 oz of Plugrá Salted butter and 8 oz of shortening, but you could easily use only butter for this recipe.
Add powdered sugar to your creamed butter a cup full at a time. I used about 8 cups to achieve the consistency I wanted. I added espresso powder and coffee extract to flavor my frosting and heavy cream to keep it smooth and creamy.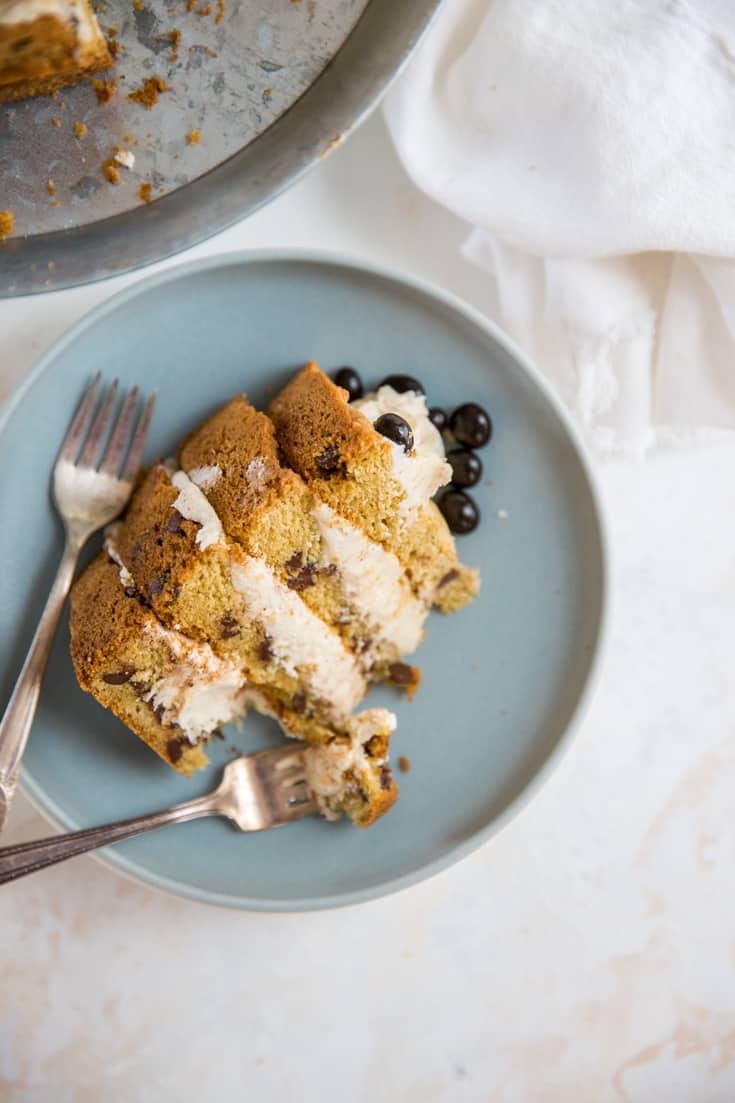 If you cannot find coffee extract, a few teaspoons of strong, brewed coffee would work as would coffee liqueur or vanilla extract. You could also add more espresso powder.
Once the frosting is a spreadable consistency, I arrange one cake layer on my serving plate and top with frosting. I prefer to add frosting to each layer (except the top) before stacking, this way I know I am dividing the frosting evenly.
Stack the frosted cookies and pipe frosting onto the final, top layer. I decorated my top layer with chocolate covered coffee beans, but chocolate shavings, a dusting of cocoa powder, or a drizzle of chocolate ganache would be delicious!
Can You Freeze Chocolate Chip Cookie Cake?
Yes, you can. To freeze your cookie layers, allow each layer to cool completely then wrap each one in plastic wrap. When needed, allow each layer to thaw completely before frosting.
Can You Use Store Bought Cookie Dough?
Yes, you can, however, homemade cookie dough is so much better and doesn't take that much longer to throw together. You can always taste the difference and you can control all your flavoring and ingredients!
How Do I Store Chocolate Chip Cookie Cake?
I would keep this cake covered as the cookie layers can dry out easily. As with most cakes, this recipe is best when consumed the same day. However, that isn't always possible.
Be sure to keep this cake covered as the cookies can dry out. The cake can be left on the counter or refrigerated, although keep in mind that the frosting is made with dairy which may stay fresh longer if refrigerated. The cookies will naturally become a little harder when refrigerated.
Where Do I Find Plugrá Butter?
This butter is easily found with the other butter options in your local Kroger Family of Brand Stores. Each package is 8 oz with the unsalted butter wrapped in gold and the salted butter wrapped in silver.
Want more chocolate chip treats? Try this Salted Caramel Chocolate Chip Cake, Chocolate Chip Scones or this Chocolate Chip Cookie Ice Cream Pie!
Yield: 12
Chocolate Chip Cookie Cake with Mocha Buttercream
A decadent chocolate chip made with buttery chocolate chip cookie layers​ and a sweet mocha buttercream frosting!
Total Time
1 hour
20 minutes
Ingredients
For the cake:
3 ½ cups all-purpose flour
1 ¾ teaspoons baking soda
1 ½ teaspoons salt
1 ½ cups Plugrá Butter, unsalted
1 ½ cups brown sugar (packed)
½ cup granulated sugar
2 eggs
2 egg yolks
1 tablespoon vinegar
1 teaspoon vanilla
2 cups of semi-sweet chocolate chips
For the buttercream
8 oz Plugrá Butter, salted
1 cup shortening
8 cups powdered sugar
2 teaspoons espresso powder
1 teaspoon coffee extract
2-3 tablespoons heavy cream
Instructions
Preheat the oven to 350 degrees.
Spray 4 8-inch baking pans with non-stick spray.
Line each baking pan with parchment paper and spray the parchment paper; set aside.
In a small bowl, whisk together the flour, baking soda, and salt.In the bowl of a stand mixer cream together the butter and the sugars. Beat in the eggs until combined, followed by the egg yolks.
Mix in the vinegar and the vanilla.
Slowly mix in the dry ingredients just until combined (do not over mix the dough).
Fold in the chocolate chips.
Divide the batter between the prepared pans, pressing the dough to fit using floured or wet fingers.
Bake the layers for 20-25 minutes or until golden brown (rotate the pans halfway to ensure even baking). Allow the layers to cool in the pans for 10-12 minutes before turning them out onto cooling racks to cool completely.
While layers cool, prepare the frosting.
In the bowl of a stand mixer, beat the butter and shortening together until very creamy.
Beat in powdered sugar, one cup at a time until incorporated adding heavy cream as needed to achieve a spreadable consistency.
Beat in espresso powder and extract.
To assemble, place one cake layer top side up on a cake stand or serving plate. Arrange two remaining cake layers side by side and divide frosting between the three layers, leaving enough frosting to pipe on the top layer. Carefully stack cake layers.
Pipe frosting on the top layer. Keep cake covered until ready to serve.
Nutrition Information
Yield
12
Serving Size
1
Amount Per Serving
Calories

1216
Total Fat

68g
Saturated Fat

38g
Trans Fat

1g
Unsaturated Fat

26g
Cholesterol

179mg
Sodium

599mg
Carbohydrates

152g
Fiber

3g
Sugar

120g
Protein

7g