This recipe for carrot cake trifle is for those who love simplicity!  The cake is soft with a hint of spice, and it is layered with a creamy coconut filling!
I know I've talked about how Jello was a big deal when I was growing up.  Along with Jello came Jello molds.  They ranged from typical smooth, round molds, to shaped and intricate.  Jello used to be fancy. Along with the molds came fillings.  Sometimes the filling were marshmallows, pretzels, canned fruit or coconut.  But I also remember mom serving Jello filled with raisins, carrots, and walnuts. I couldn't imagine touching that dessert with a ten-foot poll.  I always wondered who thought carrots in Jello was a good idea?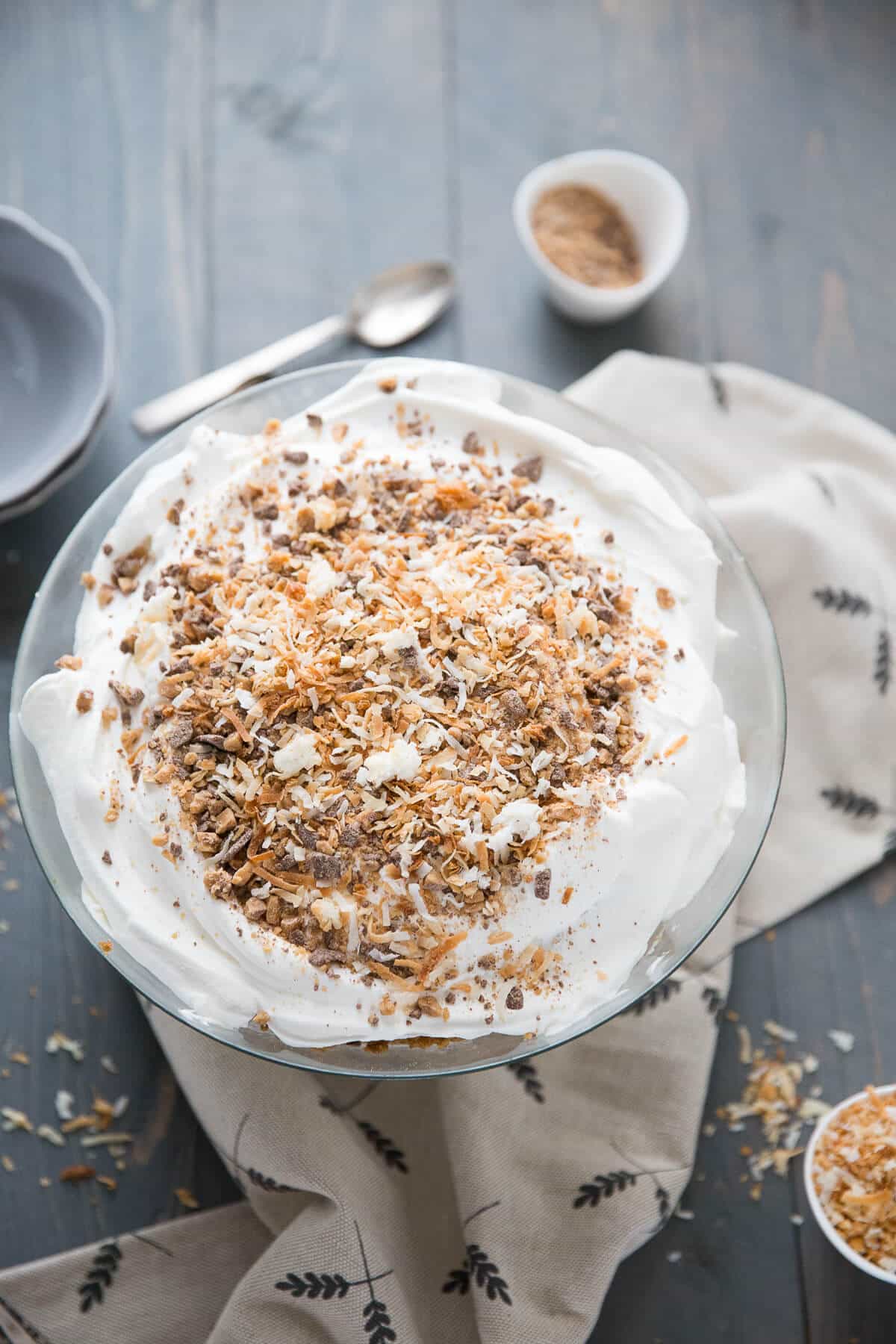 I will make a double chocolate zucchini bread (emphasis on the chocolate) from time to time, but I mainly avoid combining veggies with dessert.  Since spring and carrot cake go hand and hand, here I am sharing a recipe for carrot cake trifle.  Trifle possibilities are endless.  Just look at this pumpkin mouse trifle and this coconut key lime trifle. Unlike a traditional carrot cake, this trifle recipe is so easy!  It tastes amazing too, which is good, it helps me overlook the fact that there is a vegetable hiding in my dessert!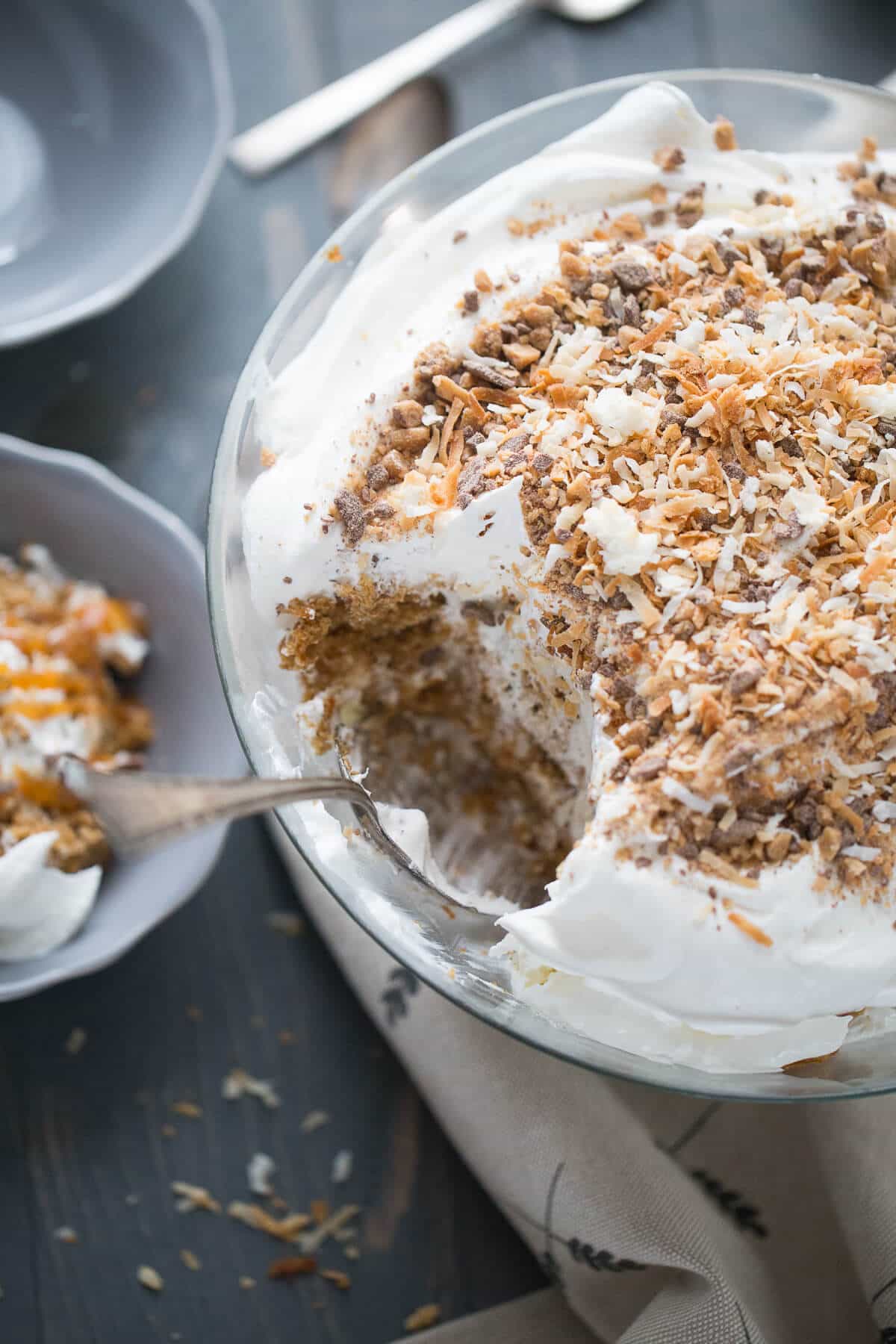 This recipe starts with a boxed spice mix to which I add a rather unusual ingredient; canned pudding.  I have only ever seen one brand of canned pudding, and it's always sitting on the bottom shelf of my grocery store. You need butterscotch flavored pudding.  I like the thickness of this brand; I have not tested this recipe with pudding cups or powdered pudding.  The premade pudding adds all the fat and moisture you need (along with eggs).  The shredded carrots will add moisture as well.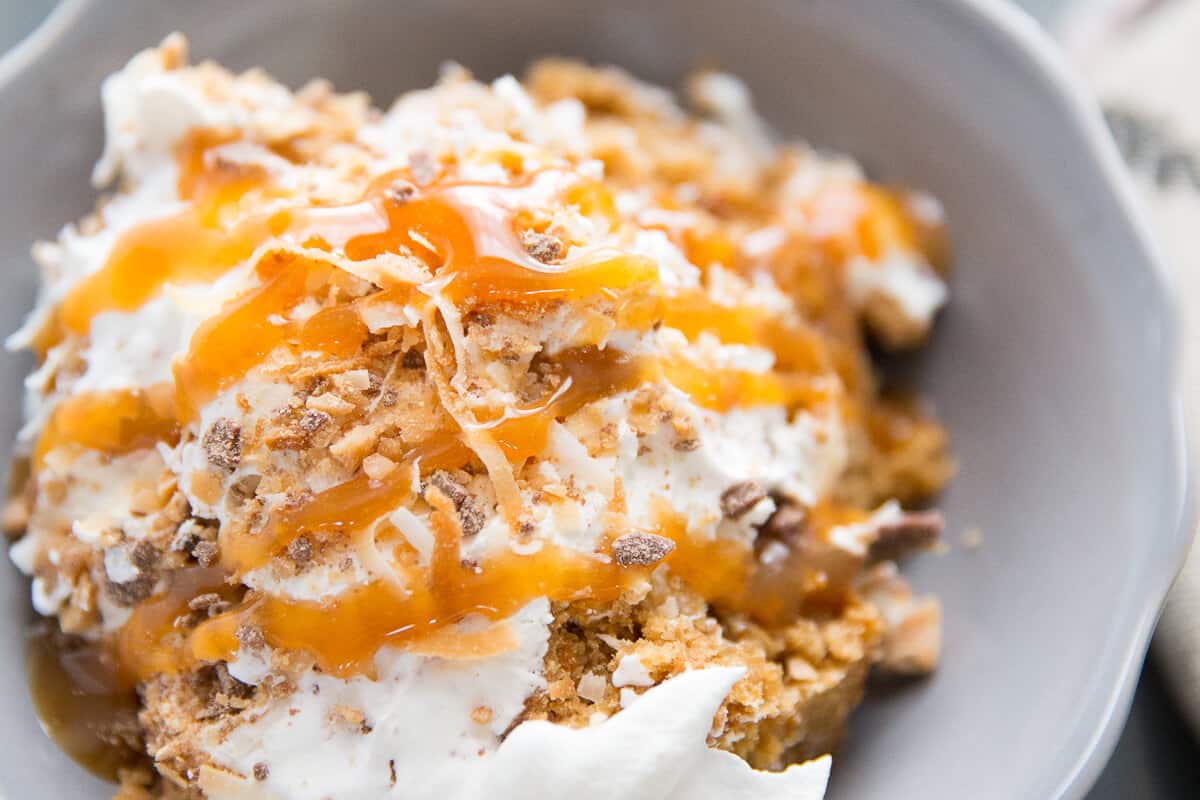 In keeping with the carrot cake tradition, this trifle is filled with a layer of cream cheese and whipped topping that has coconut mixed in.   Toasted coconut and toffee bits are layered in for texture and taste.  This recipe for carrot cake trifle will bring ease and sweetness to your spring menu!
More Trifles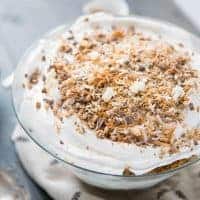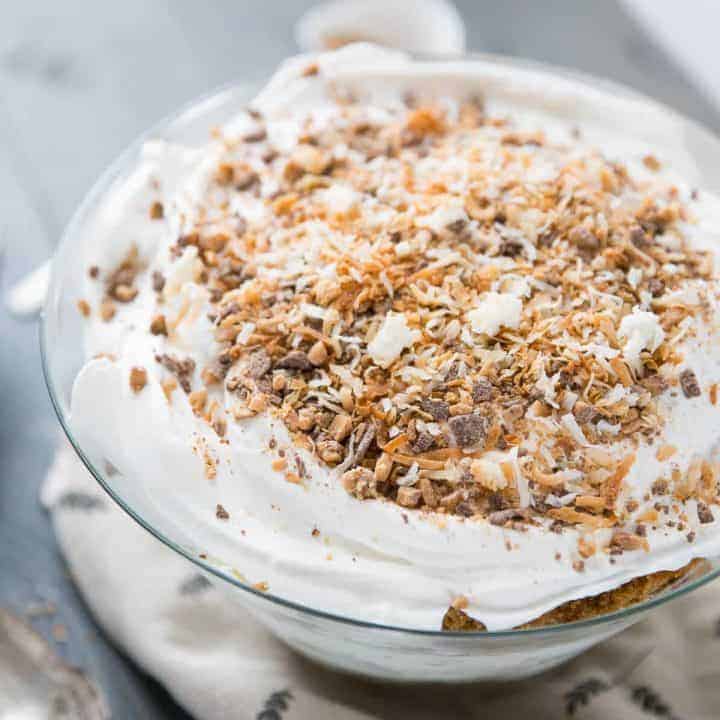 Recipe Carrot Cake Trifle
Spice cake is layered with a creamy cream cheese filling along with toffee bits and shredded coconut!
Instructions
Preheat the oven 350 degrees.  Spray a 9 x 13-inch baking pan with non-stick spray and set aside.  In a bowl, stir together the cake mix, pudding, eggs and carrots.  Pour batter into the prepared pan and bake for 32 minutes or until done.  Remove the cake from the oven and allow it to cool completely.

 

When cake has cooled, cut it into squares.

In the bowl of a mixer, beat together the cream cheese and sugar.  Stir in coconut.  Fold in 24 oz of whipped topping.

Arrange a layer of cake on the bottom of your trifle dish.  Top with 1/3 of the cream cheese mixture, 1/4 cup of shredded coconut and 1/3 of the topping bits.  Repeat layers.  Top cake with remaining whipped topping and garnish with shredded coconut and toffee bits.  Drizzle individual servings with caramel sauce if desired.
Notes
To toast coconut, Arrange coconut in a single layer on a baking sheet.  Bake in a 300-degree oven for 5 minutes; stir and continue to baking coconut until it is lightly toasted.  Be sure to check the coconut every 5 minutes.  Coconut burns quickly.
Nutrition Information

Amount Per Serving Calories 11568 Total Fat 709g Saturated Fat 468g Cholesterol 1963mg Sodium 6056mg Fiber 36g Sugar 690g Protein 121g