Pumpkin is not just for pumpkin pie!
Pumpkin transforms into a fluffy pumpkin mousse that is layered between light angel food cake and caramel candy!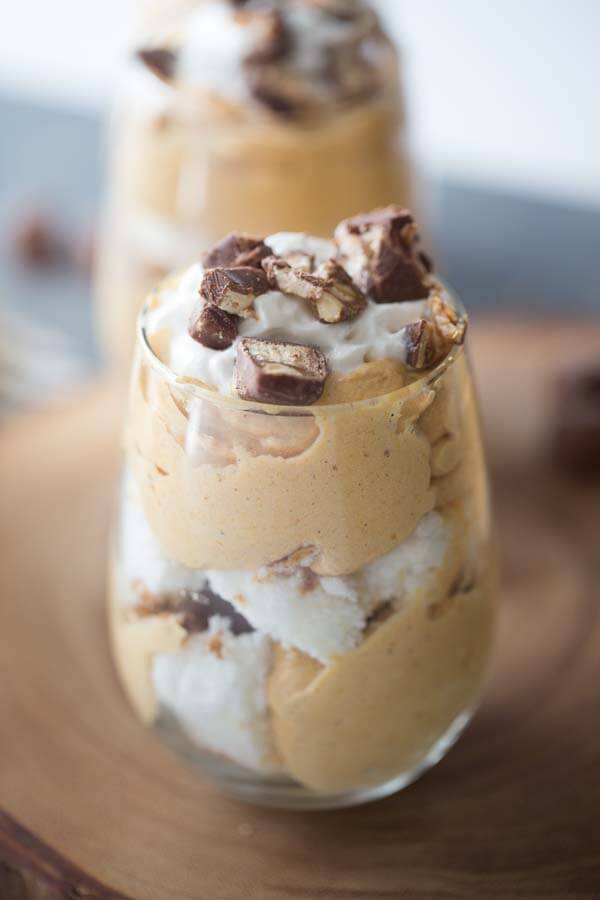 It feels to me like September has an identity crisis. September seems to be stuck somewhere between changing leaves and lingering summer suns. Do we jump into apple brownies or feast upon pumpkin cookies? Summer memories are fresh in our minds, but pumpkins and gourds are slowly popping up everywhere we look.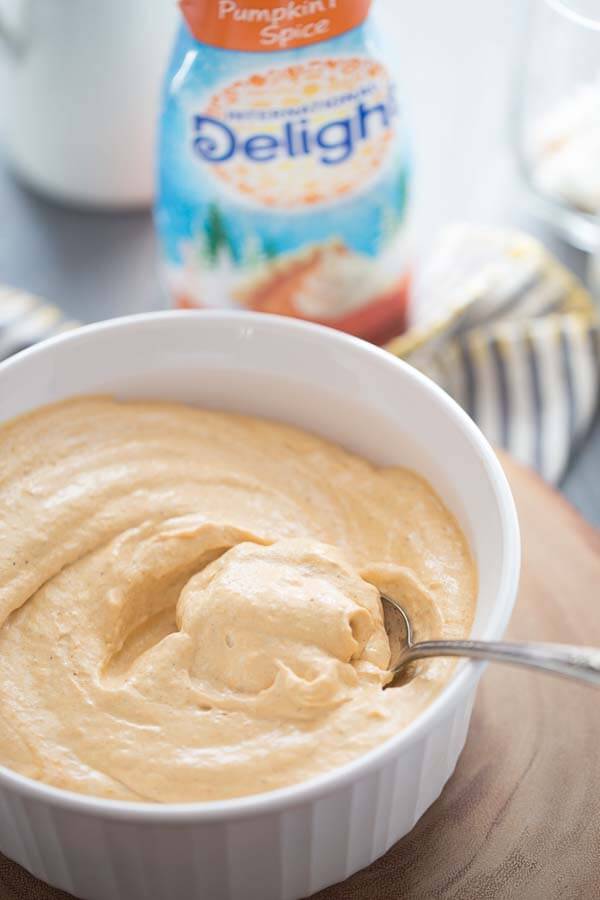 At the beginning of September, I crave apple tarts, but sure enough, as the month goes on I become obsessed with pumpkin. I want all pumpkin, all the time! I've already baked no less than a dozen loaves of pumpkin bread, added pumpkin to pasta, smoothies, chili and butter. I mean it's everywhere. Naturally it's in my dessert too. Pumpkin pie isn't exactly my thing, but mousse, well that I love!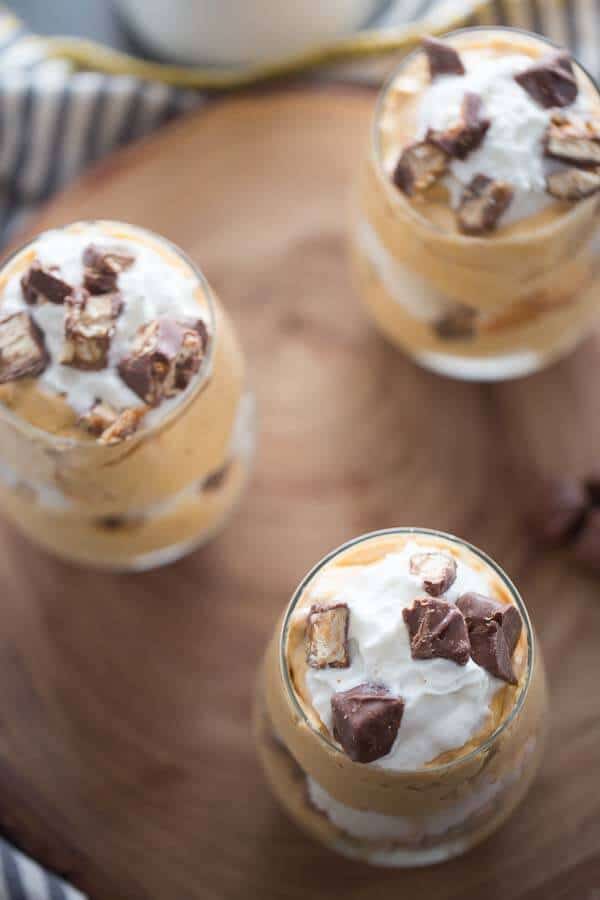 This pumpkin mousse is so light and fluffy, yet it feels completely rich and decadent. It starts with cream cheese that gets combined with pumpkin, powdered sugar, spices and International Delight's Pumpkin Pie Spice Creamer. Then the pumpkin mousse is layered between soft angel food cake and for a little sweetness and crunch, caramel candies are chopped up and sprinkled right in. You could leave out the candies if you prefer, the pumpkin mousse and angel food cake are lovely all on their own!
There's no identity crisis with this pumpkin mousse. This mousse knows it's altogether a crunchy, sweet and creamy treat. It is a smooth and airy dessert that is also sinfully indulgent. It's light as summer but spicy like fall. It is one dessert that is begging for one long spoon to dive right in!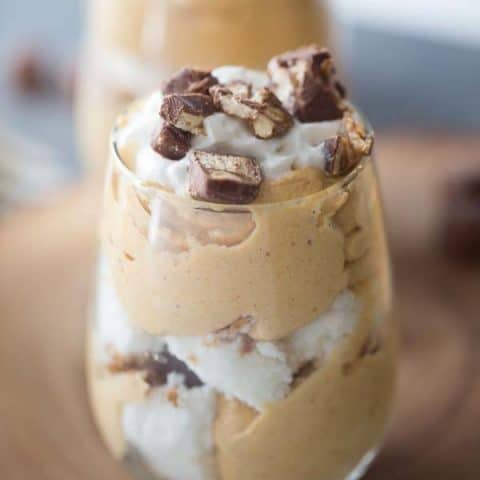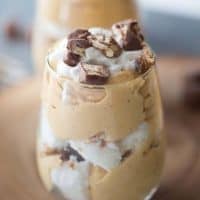 Pumpkin Mousse Trifle
A light, fluffy pumpkin mousse layered between angel food cake and caramel nut candies. This dessert has something for everyone.
Ingredients
1 8 oz block cream cheese softened
1 15 oz can pumpkin
1/4 cup International Delight Pumpkin Spice Creamer
1 1/2 cups powdered sugar
1 teaspoon vanilla
1/2 teaspoon nutmeg
1/2 teaspoon cinnamon
1 8 oz tub whipped topping
1 10 oz ready made angel food cake (from the bakery section of your grocery store)
8 oz chopped caramel, nut and nougat candies (such as Snickers), chopped
Additional whipped cream for garnish
Instructions
In a bowl, beat together cream cheese, pumpkin, coffee creamer, sugar, vanilla, nutmeg and cinnamon. Gently fold in whipped topping until completely blended. Place mousse in the refrigerator for at least one hour, or until set.
Chop angel food cake into large, yet bite-sized chunks. Place several chunks in the bottom of four glasses or bowls. Divide half of the mousse among each of the four glasses. Place half of the candies in the four glasses. Top with the remaining cake, mousse and candies. Top with remaining whipped cream if desired.
Nutrition Information
Yield

4
Serving Size

1
Amount Per Serving
Calories

962
Total Fat

41g
Saturated Fat

25g
Trans Fat

0g
Unsaturated Fat

12g
Cholesterol

58mg
Sodium

949mg
Carbohydrates

145g
Fiber

3g
Sugar

97g
Protein

11g