Weekend mornings were made for being lazy and for homemade pancakes!
This easy pancake recipe will start the day off right!
My mom asked me recently if I made a big breakfast for the kids every weekend. She looked at me incredulously when I told her that I did not…that we all sort of fend for ourselves on weekend mornings. It's not that I don't like making breakfast for the kids, it's just that it doesn't occur to me. It seems there is always somewhere to go for at least one of us, so arranging a time for all of us to enjoy breakfast can be challenging.
The more I thought about it though, the more I realized that I might be missing out on something here. There aren't that many weeknights where we all gather around the table at the same time. But weekends are a little different. I could make Sunday pancake day if I wanted to and the kids would love it!
These days, my kids can pitch and help make breakfast too! Each of my kids can make this easy pancake recipe (no pancake mix needed), so breakfast can be a group effort!
How To Make Pancakes
Gone are the days when you bought a box of pancake mix, added some milk and eggs and went to town making pancakes. You DO NOT need that mix, pancake batter recipe is easy and homemade pancakes are so much better, I promise!
This recipe starts with a little bacon…because that is what is going on top of your pancakes! Sure you could totally skip this step and eat your bacon on the side, but everyone knows that bacon and syrup are a killer combo!
I take thick slices of bacon and sprinkle them with brown sugar. The bacon is arranged on a foil lined baking sheet (arrange them on a baking rack if possible) and bake for 20 minutes. This will give you sweet, crisp, caramelized bacon that is like candy!
While the bacon cools, prepare your pancakes.
WHERE IS THE EASY PANCAKE RECIPE?
If you'd rather skip cooking tips, suggestions, handy substitutions, related recipe ideas – and get straight to the Easy Pancake Recipe– simply scroll to the bottom of the page where you can find the printable recipe card.
In a large bowl, whisk together flour (all-purpose), baking powder, sugar, salt, and cinnamon. Feel free to adjust the amount of cinnamon in this recipe so that the flavor better suits your tastes. There is a fair amount of baking powder, but you want enough baking powder to give you fluffy pancakes!
Add milk, an egg, and vanilla to the dry ingredients and mix just until incorporated. That right there is the base of your batter!

At this point, you can chop up the candied bacon and add some to your batter or keep it as a topping only.
How to Cook Perfect Pancakes
Heat a large skillet over medium-high heat. When the skillet is hot, reduce the heat so that now the skillet is over medium-low heat. This will prevent the pancakes from browning too quickly.
Add a pat of butter or a teaspoon of melted butter and then ladle or scoop about a ¼ cup of batter and pour it on the hot skillet.
Pancakes will not take long to grill up golden brown. Watch the pancakes cook, you will know the pancakes are ready to be flipped when air bubbles begin to form. Carefully flip the pancakes and heat the second side for only a minute or two.
If I am making a big batch, I keep the oven on a very low temperature and as I am finished with a batch of pancakes, I place them covered in the oven to stay warm.
Can I Freeze Pancakes?
Yes! We always make a double batch to freeze for busy mornings. Make sure your pancakes are completely cool.
Arrange the pancakes in a single layer on a baking sheet and place the baking sheet in the freezer. When pancakes have frozen, stack the pancakes with sheets of parchment paper in between in each pancake. Place the stack in a zip top bag. The pancake should keep for 1-2 months.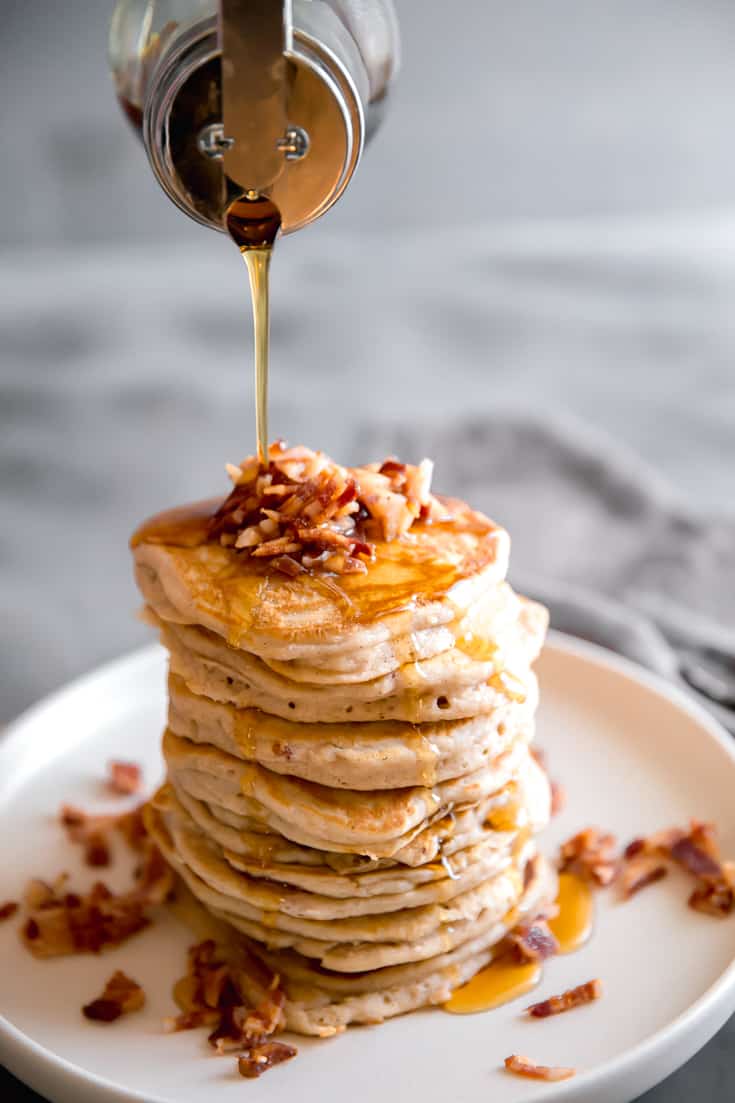 How to Reheat Frozen Pancakes
The beauty of having frozen pancakes is that when the craving hits or when you need a quick breakfast, they are ready and when waiting for you.
Here a few ways to reheat frozen pancakes.
Microwave the pancakes. I would arrange your pancakes in layers and microwave in 20-second intervals until heated through.
To reheat pancakes in the oven, preheat the oven to 375 degrees. Place pancakes in an even layer on a foil-lined baking sheet and bake for about 10 minutes.
Lastly, you could use the toaster. Place one pancake in each toaster slot and warm until heated through. I personally find that the toaster doesn't seem to heat my pancakes evenly.
Other Ways to Flavor These Easy Pancakes?
As mentioned above you could omit the bacon and add banana slices, blueberries, nuts, chocolate chips or cinnamon chips instead.
If you don't want maple syrup then blueberry or strawberry syrup would be lovely as would a dusting of powdered sugar.
Love these pancakes? Then you need to try these Lemon Ricotta Zucchini Pancakes, Banana's Foster Pancakes , Blueberry Quinoa Pancake Recipe, and these Toasted Coconut Pancakes! And if you are loving the sweet bacon combo, then check out these Maple Bacon Sugar Cookies!
Yield: 8 servings
Easy Pancakes Cinnamon Pancakes with Candied Bacon
Breakfast for dinner is such a treat, especially when it involves homemade pancakes and brown sugar bacon!
Ingredients
6 slices thick cut bacon
1/4 cup brown sugar
1 1/2 cups flour
3 1/2 teaspoons baking powder
1 teaspoon salt
1 tablespoon white sugar
1 teaspoon cinnamon
1 1/4 cup milk
1 egg
3 tablespoons melted butter
1/2 teaspoon vanilla
Instructions
Preheat oven to 350. Line a baking sheet with foil. Arrange bacon on foil and sprinkle with brown sugars. Cook for 20 minutes, turning bacon half way through cook time. Let cool completely before chopping.
In a bowl, combine flour, baking powder, salt, sugar and cinnamon. Make a well in the center of your dry ingredients and carefully mix in milk, eggs, butter and vanilla. Stir in chopped bacon, reserving a tablespoon for your topping.
Heat a griddle pan or a skillet, using buttery spread to grease your pan. Ladle about ¼ cup full of batter. Brown pancakes on each side.
Serve with reserved bacon.
Nutrition Information
Yield
8
Serving Size
1
Amount Per Serving
Calories

224
Total Fat

9g
Saturated Fat

5g
Trans Fat

0g
Unsaturated Fat

4g
Cholesterol

47mg
Sodium

694mg
Carbohydrates

28g
Fiber

1g
Sugar

7g
Protein

8g