Vegan spinach pancakes are a fun and delicious way to eat your greens. Made with fresh spinach and chickpea flour these pancakes are a simple 6 ingredient recipe that's perfect for morning, noon, and night.

Serve your spinach pancakes for a nice savory breakfast or for a healthy dinner option when you want to enjoy "breakfast for dinner." There's really no wrong time to serve up these naturally green pancakes but they are a lot of added fun around the holidays like St. Patrick's Day!
The kids are sure to enjoy these fun colored pancakes but you're going to enjoy knowing that they're getting in an extra serving of healthy greens in every syrup smothered bite.
What Are Healthy Spinach Pancakes?
These are pancakes made using fresh spinach, chickpea flour, and soy milk for an egg-free but still nutrition-packed vegan pancake. You can even swap out some of the added flour for gluten free to make it more allergen friendly if desired. These are savory spinach pancakes that would go well with just about anything and they're sure to be a huge hit.
Ingredients you'll need for
spinach pancakes:
Spinach
Soy milk
Chickpea flour
Flour
Cream of tartar
Salt and pepper
For the exact measurements needed, please see the recipe card below.
How to Make Spinach Pancakes
Mix together the chickpea flour, cream of tartar, salt, and pepper in a bowl.
In a blender combine the spinach with the soy milk until it is rich and creamy.

Add your spinach to the dry mixture and whisk until combined. The texture should be creamy.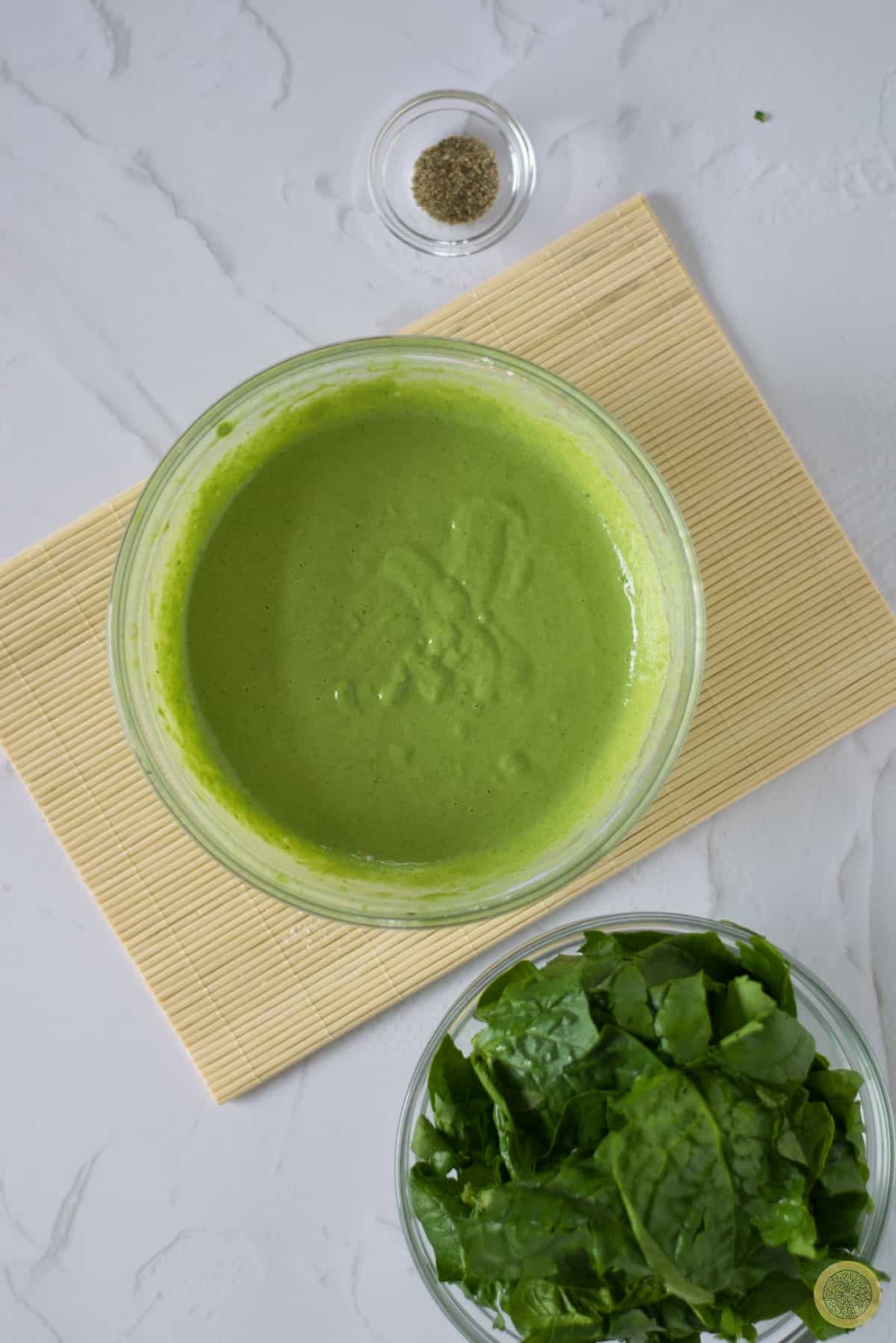 Grease a large pan over medium heat with 1 teaspoon of olive oil.
When the pan is hot, drop your pancake batter in two tablespoon-sized scoops into the center of the pan and cook for about 1 minute before flipping over and cooking the other side for roughly 40 seconds.

Continue the process until all of the pancakes have been cooked.

Serve warm.
Enjoy!
Recipe Tips
If you do not wish to use all-purpose flour for this recipe you can swap it out for gluten-free flour and make these pancakes more allergen-friendly. By using gluten-free flour, these pancakes will be gluten-free as there are no other items containing gluten on the ingredient list.
Other milk can be used in place of soy milk. If you have almond milk or even coconut milk on hand, either one can be a great replacement option.
FAQs
What goes well with spinach pancakes
These savory pancakes would taste great with just about anything. You can enjoy them sweet like regular pancakes by adding a little vegan butter and maple syrup to the top or you can add a nice dollop of coconut whipped cream and fresh berries.
How long are spinach pancakes good for
You can keep your leftover pancakes stored in an airtight container in the fridge for up to 3 days. I recommend eating the pancakes when freshly made though because they taste much better when fresh off the griddle and can possibly dry out if stored too long in the fridge.
How to reheat spinach pancakes
Reheat your pancakes in the microwave for about 30 seconds per pancake on a plate or place your pancakes in an even single layer on a baking sheet and place them into the oven at 200 degrees F for about 5 minutes until warmed through.
Looking for more yummy pancake recipes? Check out these awesome suggestions!
Vegan Spinach Pancakes
Ingredients
Spinach: 70 gr.
Soy milk: 200ml
Chickpeas flour :50 gr
Flour: 100gr ( you can substitute with gluten -free flour)
Cream of tartar: 10 gr
Salt and pepper :1/2 teaspoon .
Instructions
Start by mixing in a bowl the chickpeas flour, cream of tartar, salted pepper.
In a blender, combine the spinach with the soy milk until you are rich a smooth consistency.
Add the spinach mix to the dry ingredient and whisk until just combined. You should have now a creamy texture.
Take a large pan over a medium heat, if you like you can grease the pan with a teaspoon of oil.
When the pan is hot, pour two tablespoons of the pancake mix in the center, cook for about a minute until golden brown, turn the pancake and cook for another 40 seconds.
Keep doing the same process until you finish the pancake mix.
Your spinach pancakes are now ready to serve.
Nutrition Information
Yield
5
Serving Size
1
Amount Per Serving
Calories

153
Total Fat

2g
Saturated Fat

1g
Trans Fat

0g
Unsaturated Fat

1g
Cholesterol

2mg
Sodium

476mg
Carbohydrates

28g
Fiber

3g
Sugar

2g
Protein

6g