These easy bars have all the flavors of key lime pie!
This simple bar recipe starts with a cake mix and ends with graham cracker crumbs and coconut!
Coconut Key lime pie bars are sure to be a new summer favorite!
I am a Muppet Show baby. I watched it faithfully when I was a kid. Truth is, there wasn't much else on. My favorite characters were Beaker and the Swedish Chef. I had a soft spot for their unintelligible speech. I wasn't into dialogue back then. What stands out for me most from those Muppet show days (other than John Denver) was the skit where Kermit the Frog has a stomach ache. Apparently if you mix lime and coconut and drink it all up-you get a terribly upset stomach. To this day, I love that song! I disagree, however, with the notion that one cannot combine coconut and lime. That's simply NOT true.
I combine coconut and lime all the time. Take
these
cookies for example. Coconut+key lime+ white chocolate=a crunchy, tropical deliciousness= happy belly. Ok, so technically limes and key limes are not the same things. Perhaps key limes are a slightly more subtle citrus and therefore is easier on the digestive tract? All I know is I love coconut, I love key lime, why not combine the two?
Most people think of pie when they think of key limes. I do love a good key lime pie. But I love discovering other ways to bake with my favorite zesty fruit. These bars are so easy, especially since the base is your favorite yellow cake mix. The hardest part baking these bars was juicing those slippery little key limes. I found myself pursing my lips every time I squeezed a lime. And the more I thought about it, the more I pursed. I guess you had to be here. You could use bottled key lime juice, but I don't recommend it. I think the fresh juice, well, tastes fresher!
So there you have it, I put the lime in the coconut and I ate it all up!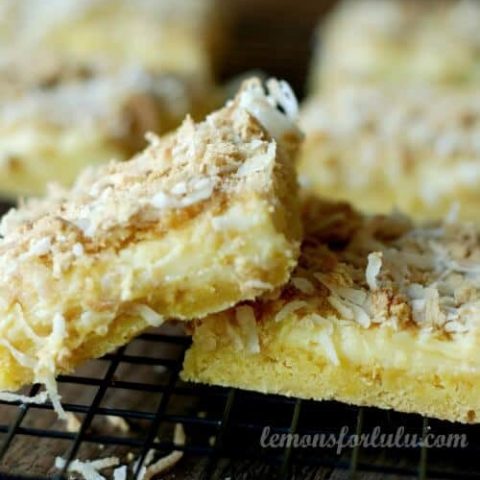 Coconut Key Lime Bars
This simple bar recipe starts with a cake mix and ends with graham cracker crumbs and coconut!
Ingredients
1 18.5oz box yellow cake mix
1 egg
1/2 cup melted butter
3 egg yolks
1 can 14oz sweetened condensed milk
1/2 cup fresh key lime juice
1 cup graham cracker crumbs
1 cup shredded coconut
Instructions
Combine graham cracker crumbs and coconut in a bowl, set aside.
In a bowl, combine cake mix, egg and melted butter. Press crust onto a 9x13 greased baking dish that has been coated with cooking spray. Bake in a 350 degree oven for 18 minutes or until edges have browned.
While crust is baking, combine egg yolks, condensed milk and key lime juice. Stir with a whisk until combined. Pour over crust. Sprinkle graham crackers and coconut over milk mixture. Return to oven and bake for about 20 -25 minutes or until topping has lightly browned and milk mixture has just begun to set.
Cut into bars.
Nutrition Information
Yield

24
Serving Size

1 bar
Amount Per Serving
Calories

229
Total Fat

9g
Saturated Fat

5g
Trans Fat

0g
Unsaturated Fat

3g
Cholesterol

49mg
Sodium

248mg
Carbohydrates

35g
Fiber

1g
Sugar

24g
Protein

4g