A two layer coconut cake with a tart key lime filling!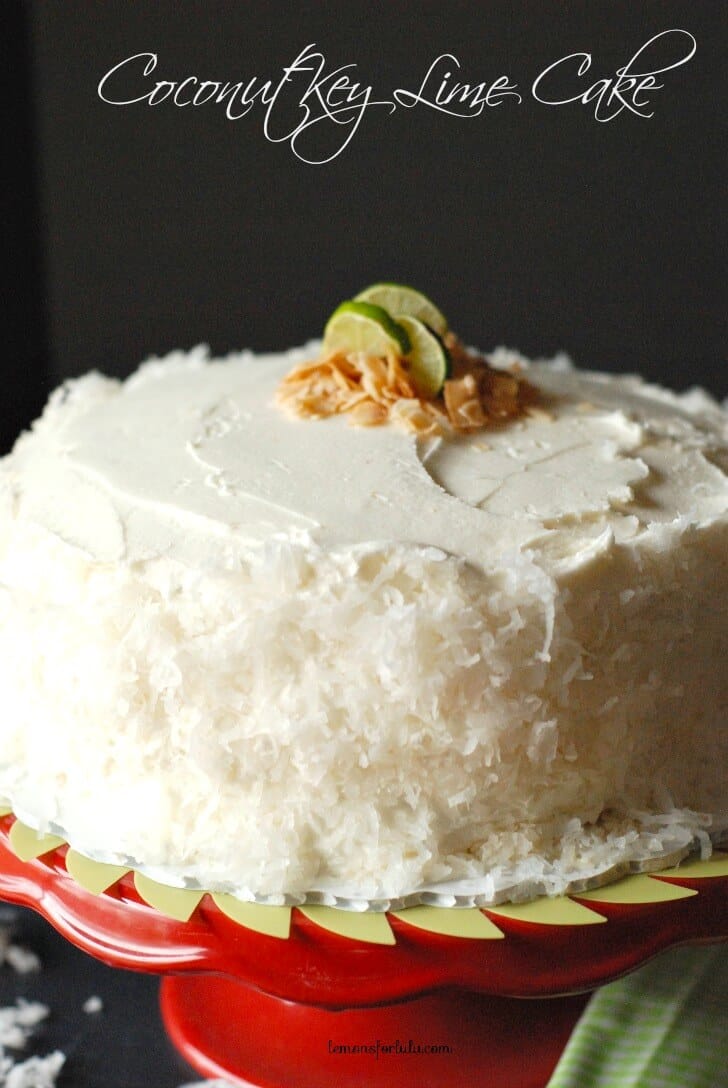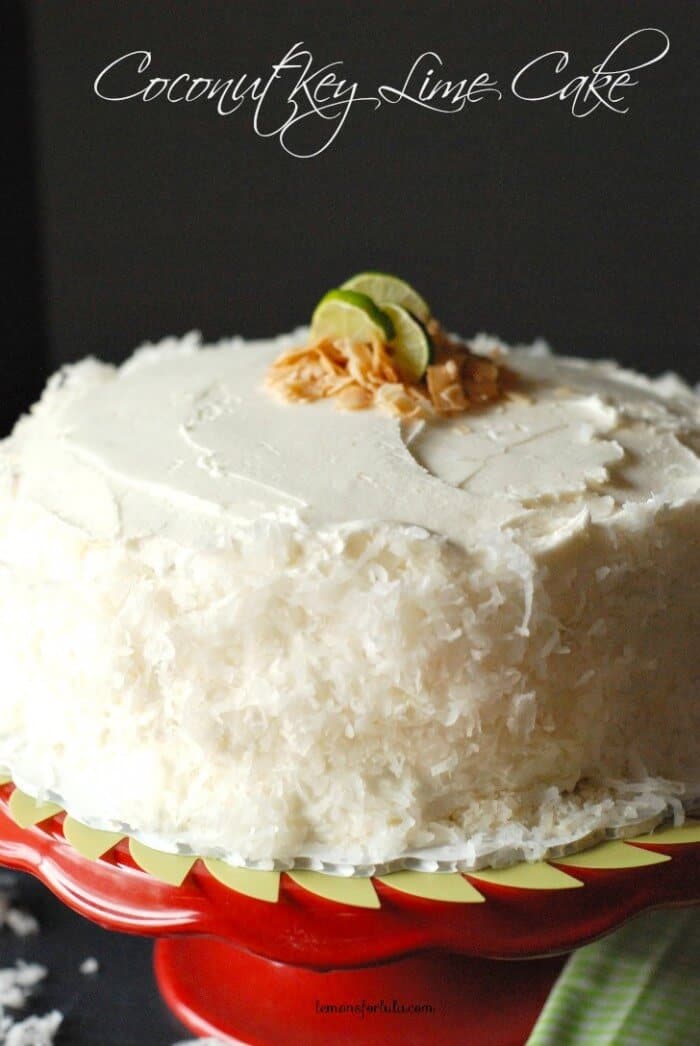 When I was a kid, May 4 was a big deal. This would mark the beginning of my birthday countdown. This meant that I had exactly two months until everyone I knew would celebrate ME. I'd mentally plan my party, my gifts, my cake, and my birthday dinner. I have always loved birthdays! Especially my own. From May 5th to July 4th, I'd completely annoy every around me with my incessant countdown.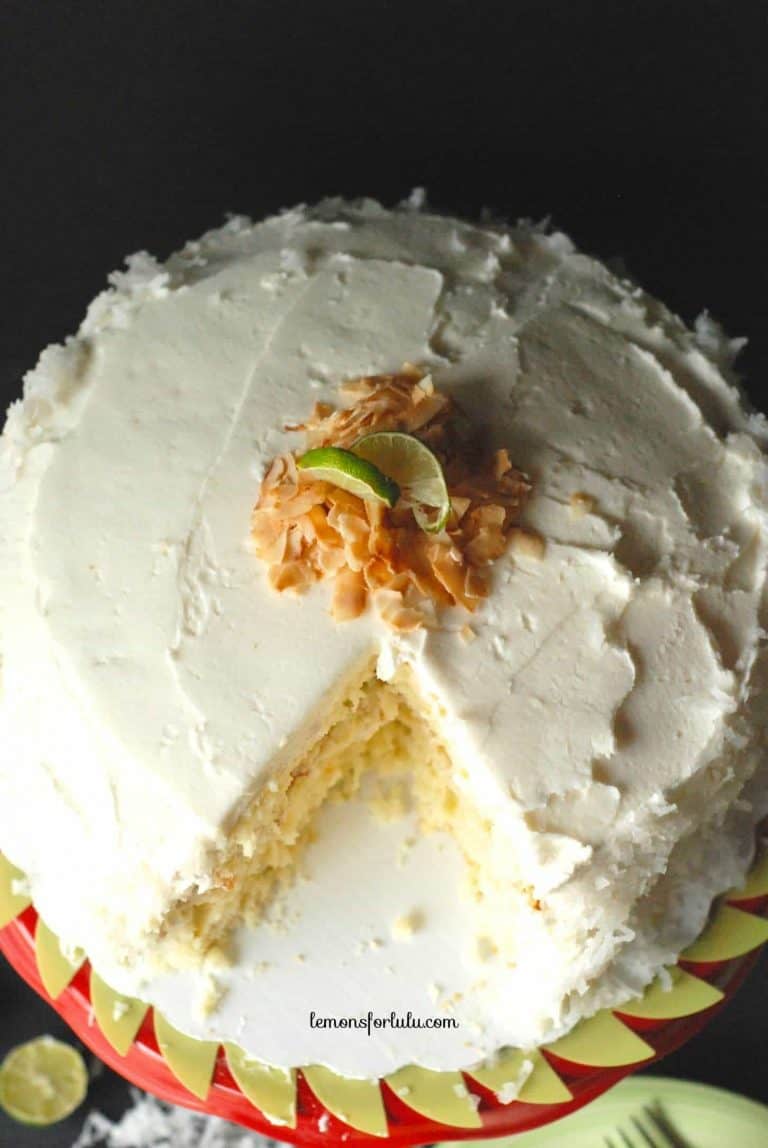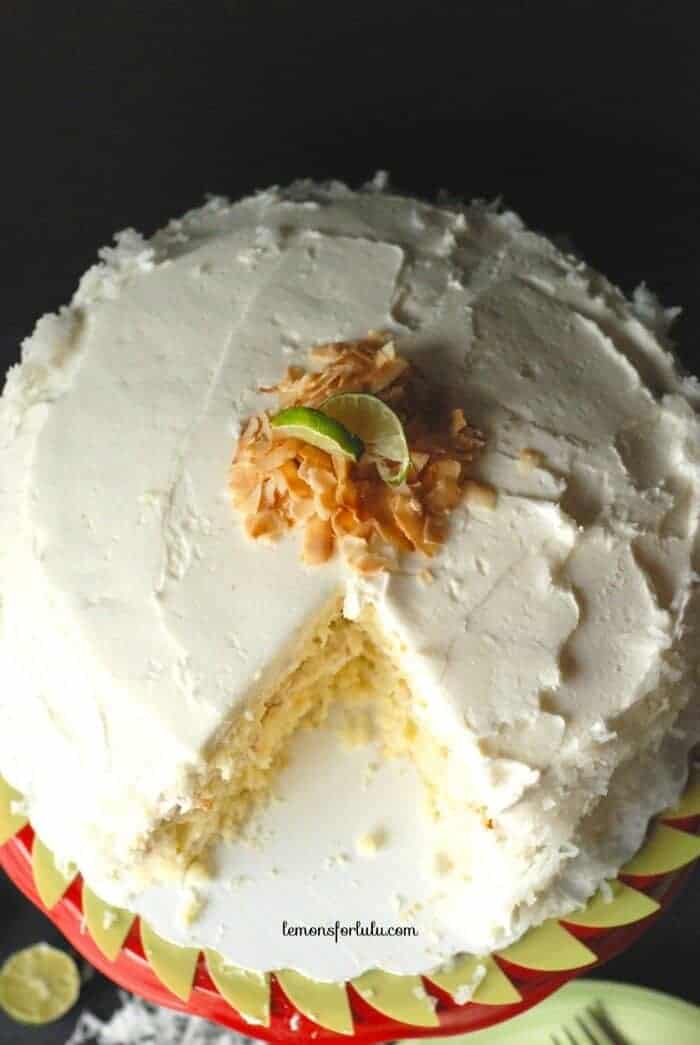 By the time my birthday arrived, I'd built it up to such astronomical proportions, there was no way it could possibly live up to my expectations. I was always disappointed. But no one can be sad on their birthday when fireworks light up the sky just for you! Yes, I might be a little delusional, so what?? The only part of my birthday that never disappointed me was my cake. I always got a big cake with an obscene amount frosting. Every girl's dream, right?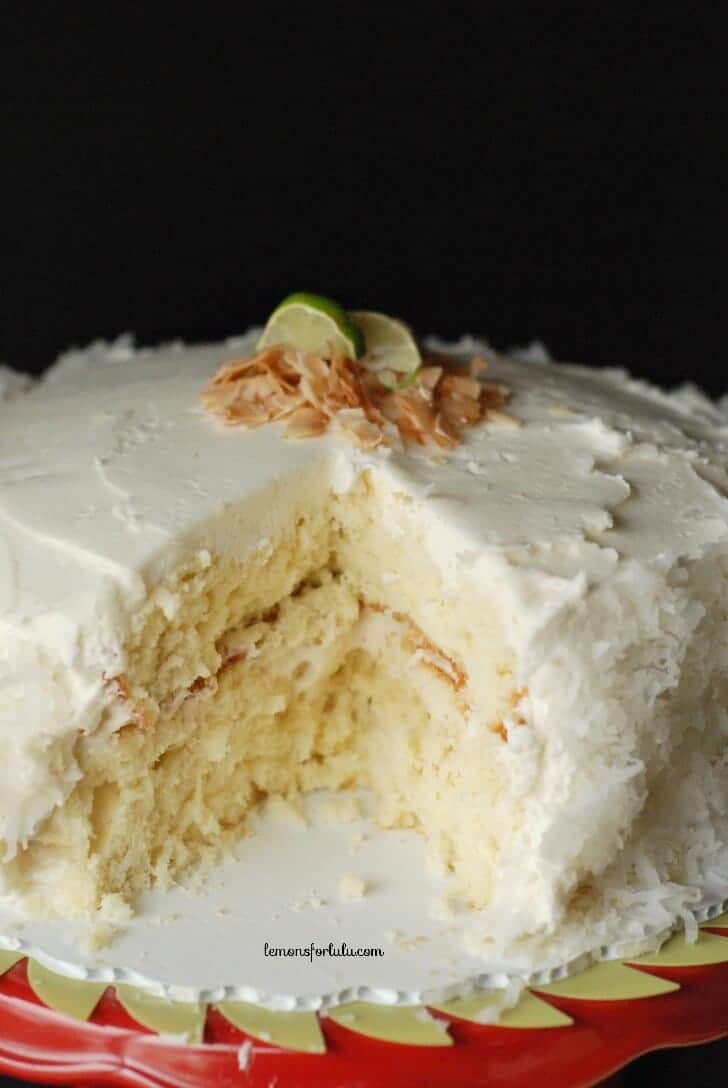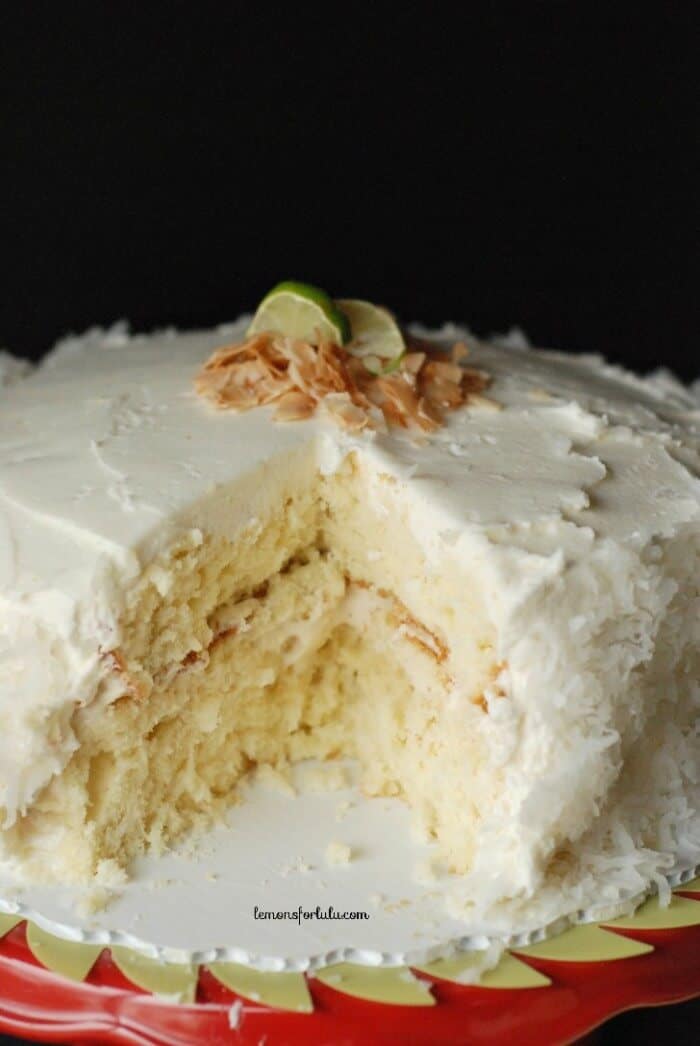 It's all about cake
All these years later, I still act like a little girl when my birthday comes around. I still get giddy just thinking about my big day. But now, it's less about my birthday and more about what we do to celebrate the 4th of July as a family. However, I have never wavered in my love of cake! Oh man, I really love cake! Sometimes I treat myself to a bakery cake for my birthday, but more often than not, I prefer to make my own. I tested out this Coconut Key Lime cake in anticipation of my birthday. I love coconut desserts, so this cake is perfectly appropriate for me. A tart, creamy, key lime filling is enveloped by two moist and sweet vanilla cake layers. The coconut buttercream is definitely on the sweet side, but the key lime filling provides the perfect contrast. When you love coconut as much as I do, the only way to decorate a coconut cake is with piles and piles of shredded coconut!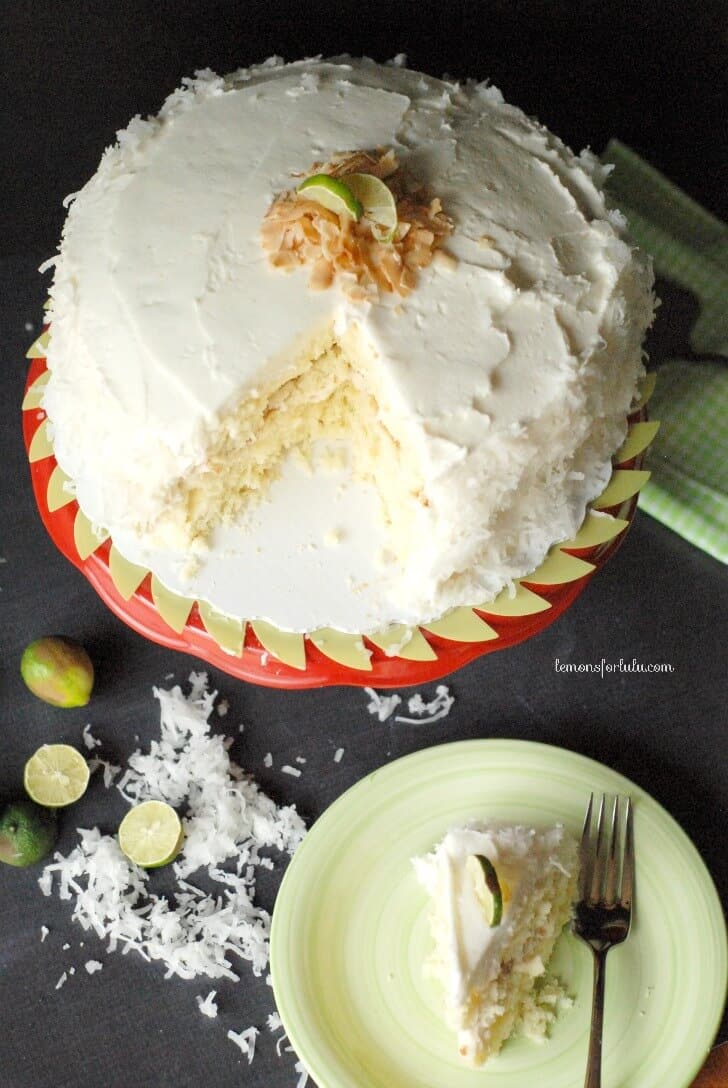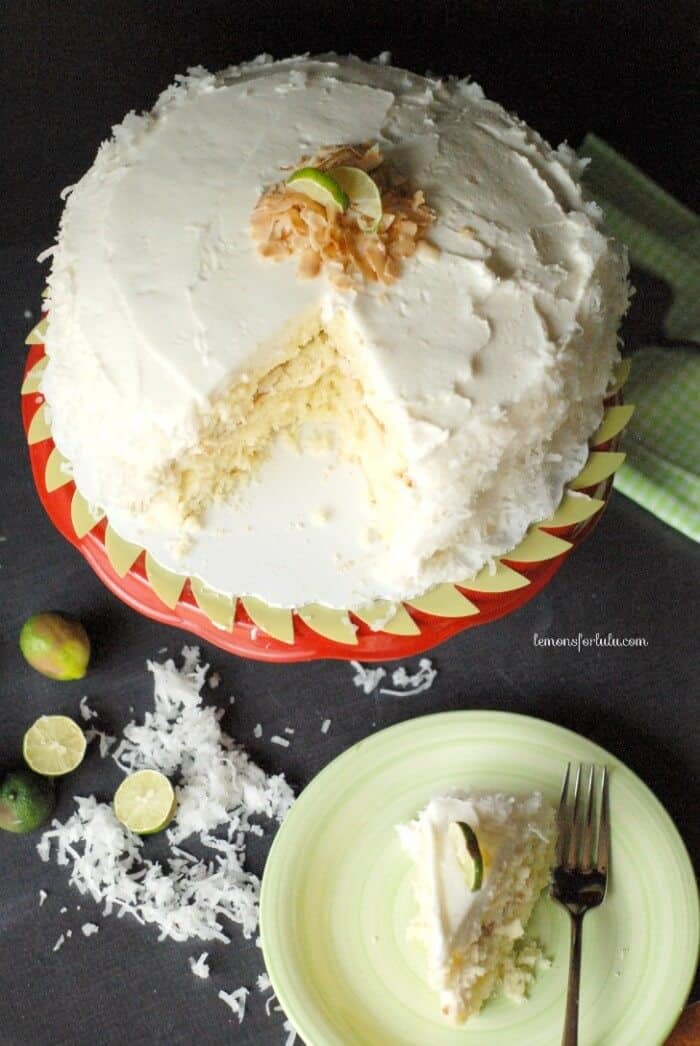 My first piece was outstanding. But I better go ahead and sample more slices just to be sure this cake is really birthday cake material, know what I mean? You read over the recipe, while I go eat some more cake. Deal?
COCONUT AND LIME ARE PERFECTLY SUBLIME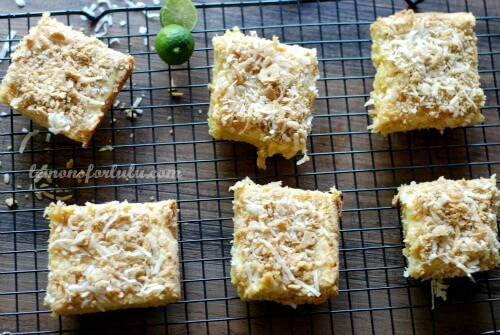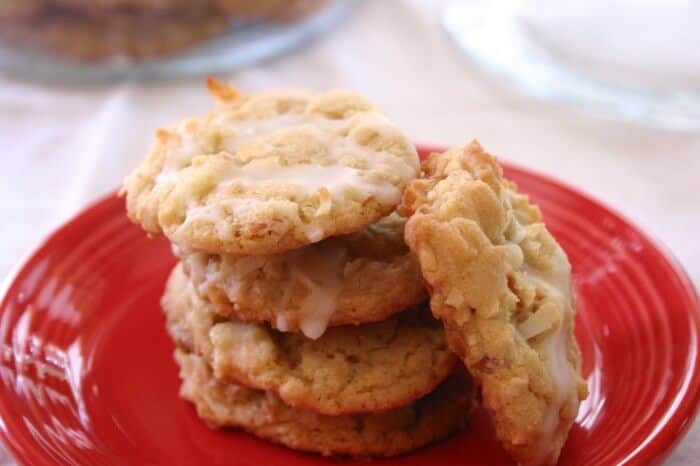 NEVER MISS A RECIPE! SUBSCRIBE TO MY EMAIL TODAY!
FOLLOW ME:
FACEBOOK | TWITTER| GOOGLE +| BLOGLOVIN | INSTAGRAM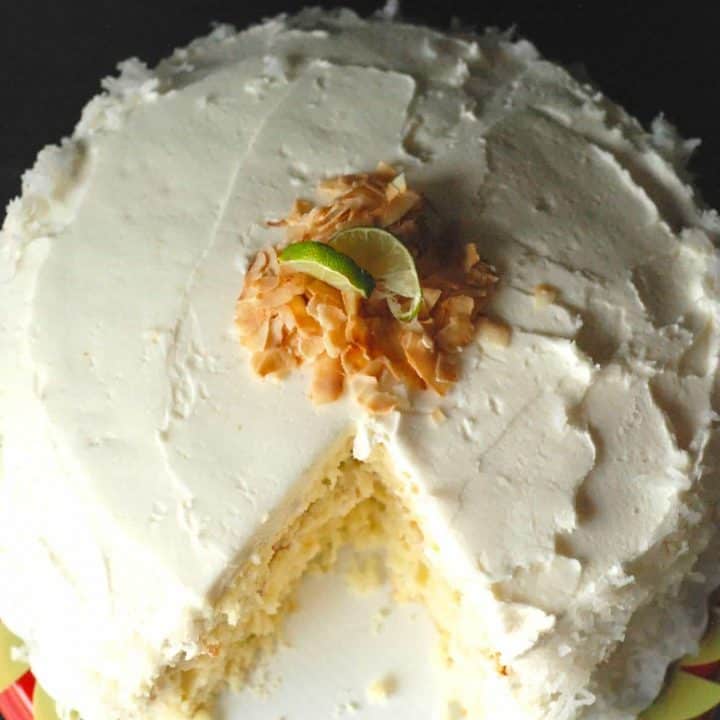 Coconut Key Lime Cake
A two-layer coconut cake with a tart key lime filling!
Ingredients
Cake Batter
1 cup butter, softened
1 1/2 cups, plus 2 tablespoons sugar
3 large eggs
3 large egg yolks
1 tablespoon vanilla
3 1/4 cup cake flour
2 1/2 teaspoons baking powder
1/4 teaspoon salt
1 1/4 cup milk
3 1/2 cup shredded coconut, divided
Filling
1 3.5 oz box white chocolate pudding
1 1/4 cup cold milk
1 envelope Dream Whip powdered whipped topping
1/4 cup key lime juice
Frosting
1 cup butter softened
1 cup shortening
1/8 teaspoon salt
1 teaspoon vanilla
4 tablespoons cream of coconut
6 cups powdered sugar
1/4 cup water
Instructions
In a bowl of a stand mixer beat butter and 1 ½ cups sugar until fluffy, about 4-5 minutes. Add eggs and then yolks, one at a time, beating well after each addition. Beat in vanilla.
In a separate bowl, combine flour, baking powder and salt. Stir in 1/3 of flour mixture into the butter mixture. Stir in half the milk. Add another third of the flour, the remaining, milk and finish of the last third of the flour, beat well. Fold in 1/1 2 cups of coconut. Scrape batter evenly into two greased 9 in round cake pans. Bake for 25-30 minutes in a 350 degree preheated oven. The cake is done when it is pricked with a skewer and it comes out clean. Let cake cool completely.
To prepare filling: in a cold mixing bowl, combine dream whip, Jell-O, milk and key lime juice. Beat until mixtures becomes fluffy and increases in volume, about 5-8 minutes.
For the buttercream, combine butter and shortening in a stand mixer. Add salt. Carefully stir in powdered sugar one-cup adding water as you go. Beat in vanilla and cream of coconut and beat until buttercream is creamy and smooth.
To assemble cake:
Cut dome for cakes if necessary. Place one cake on a serving plate and top with filling. Place second cake, topside down, over the filling. Cover cake with a coating of frosting and freeze for 10-20 or until frosting is set. Cover cake with remaining frosting. Gently press remaining 2 cups of coconut around the sides of the cake. Refrigerate until ready to serve.
Nutrition Information
Yield

12
Serving Size

1
Amount Per Serving
Calories

1033
Total Fat

63g
Saturated Fat

38g
Trans Fat

1g
Unsaturated Fat

22g
Cholesterol

209mg
Sodium

584mg
Carbohydrates

109g
Fiber

4g
Sugar

70g
Protein

10g