A strawberry lemonade cake makes everything better!  The cake has a hint of pink lemonade and the filling is all strawberry and it's all sweet and delicious!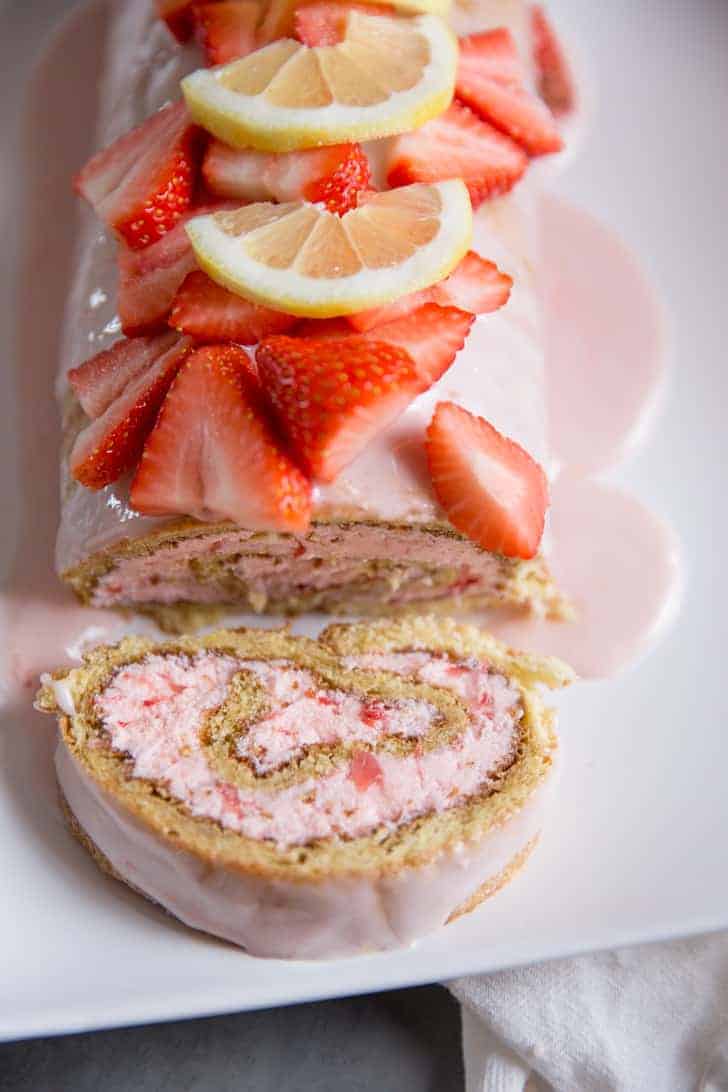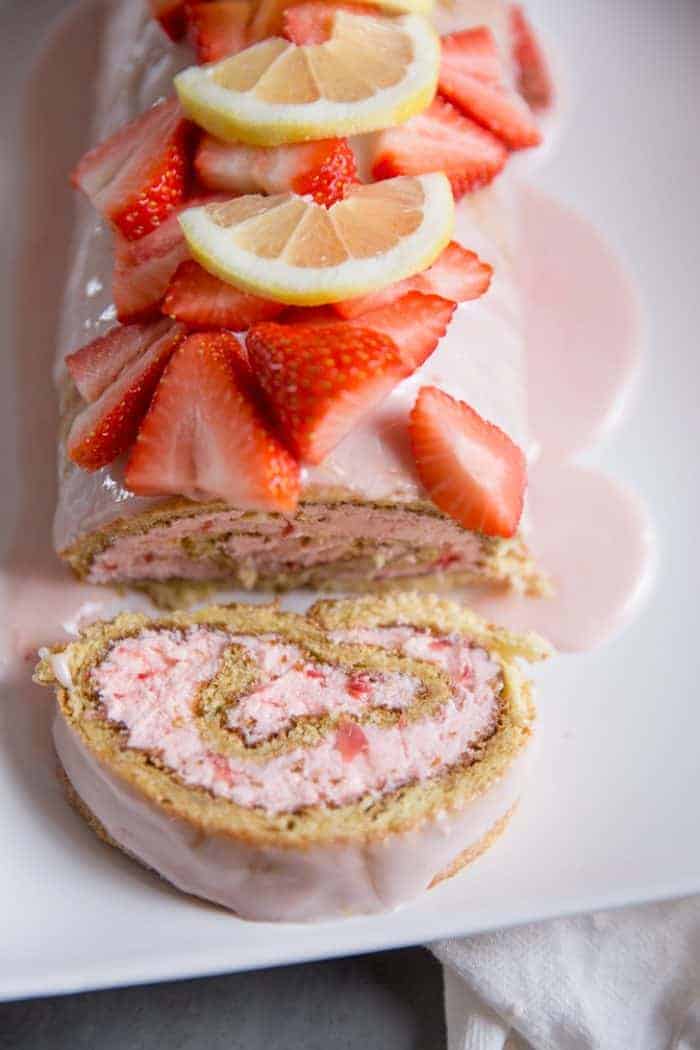 Strawberry Lemonade Cake For Summer
I could eat this strawberry lemonade cake all summer long.  It is high on my list of favorite cakes.  It is so good that it briefly got me thinking about opening up a bakery.  I'm not talking about a fancy bakery that does fondant layered cakes but a bakery that specializes in cake rolls only.  I figured if there can be a bakery that sells bundt cakes only, then why not a cake roll cakery?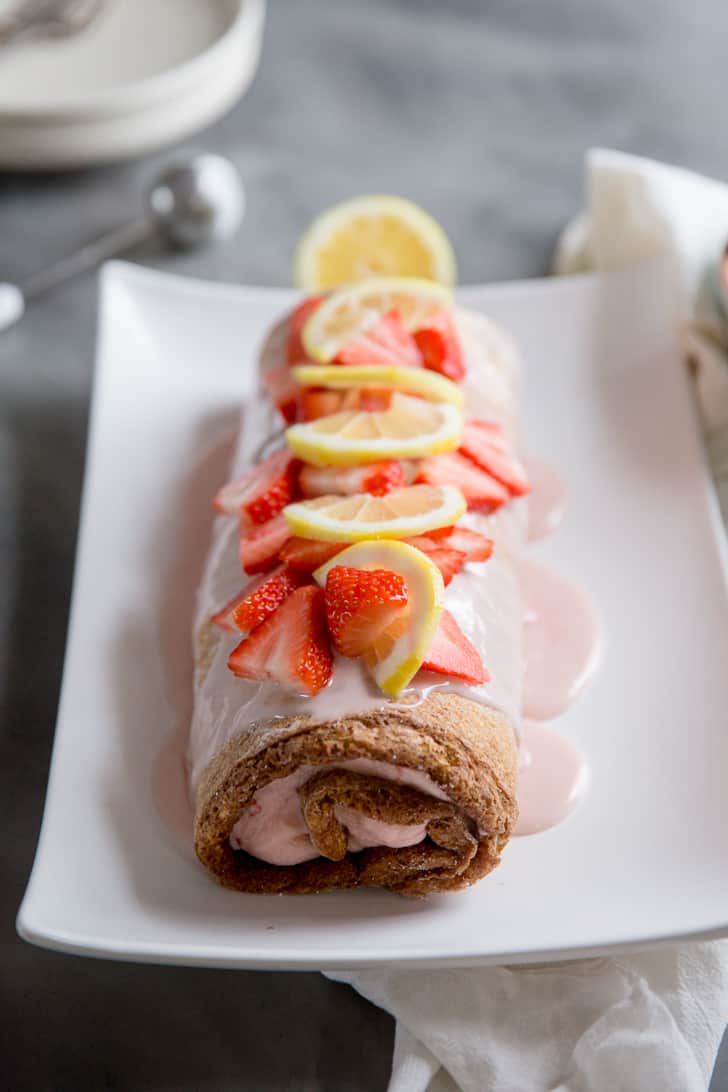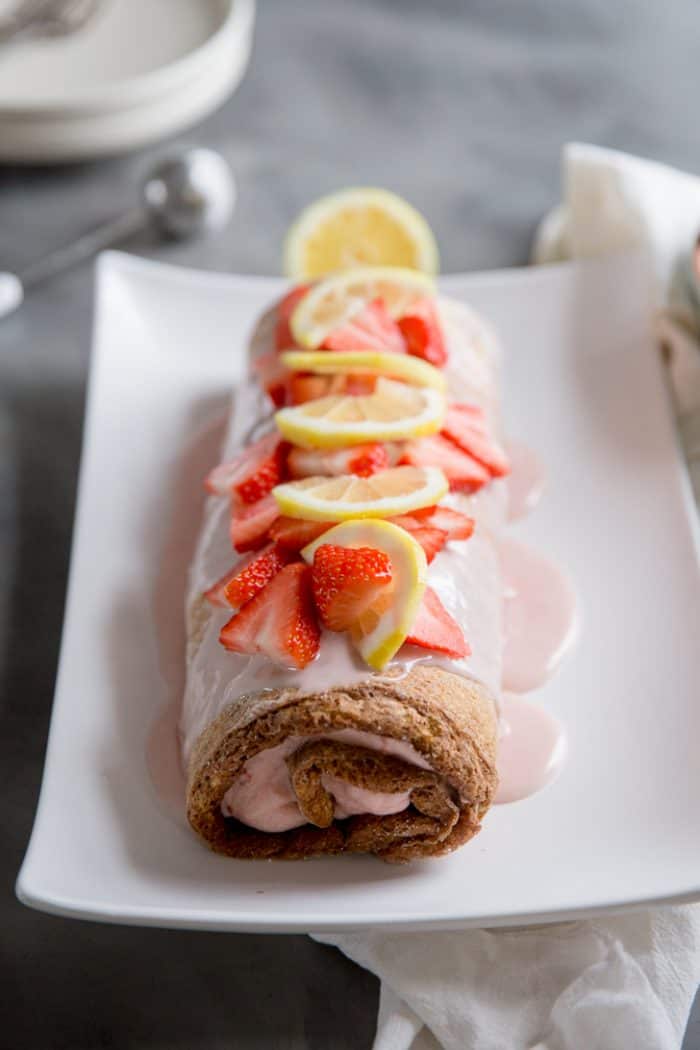 It seemed like a perfectly grand idea until I tasted this strawberry lemonade cake.  That is when the thought struck me if I made cakes all day, every day, there is a good chance I would grow tired of cakes and that is just plain sad.  And unacceptable.  I promptly disregarded my idea, no matter how brilliant and settled upon making cakes for my family and friends just for fun.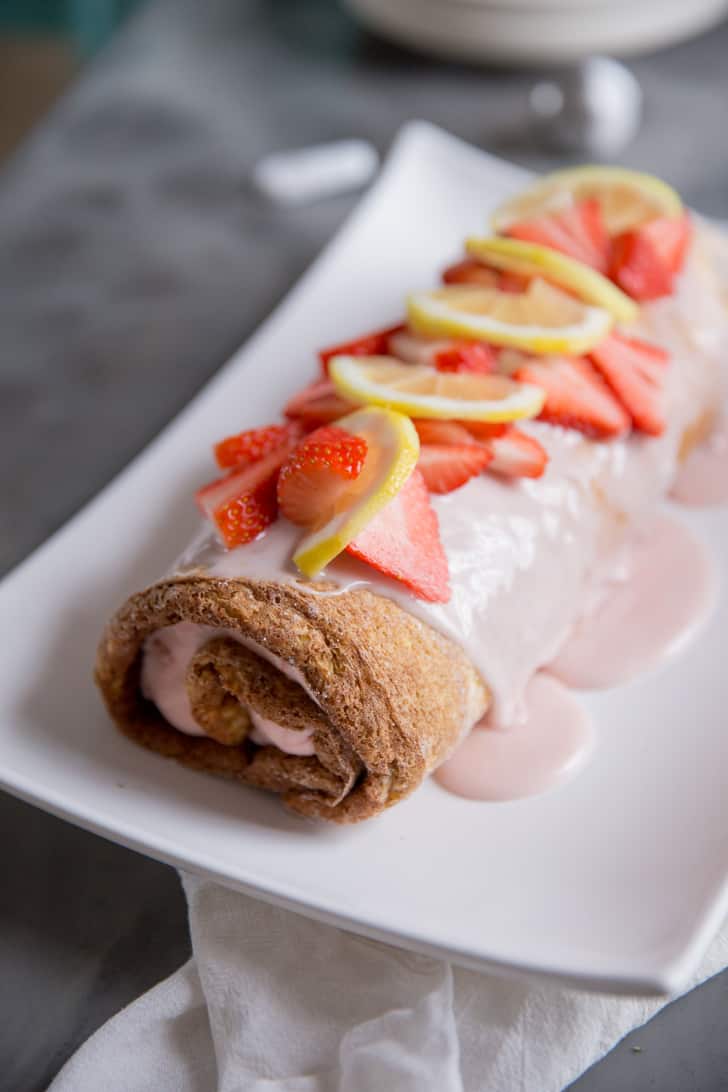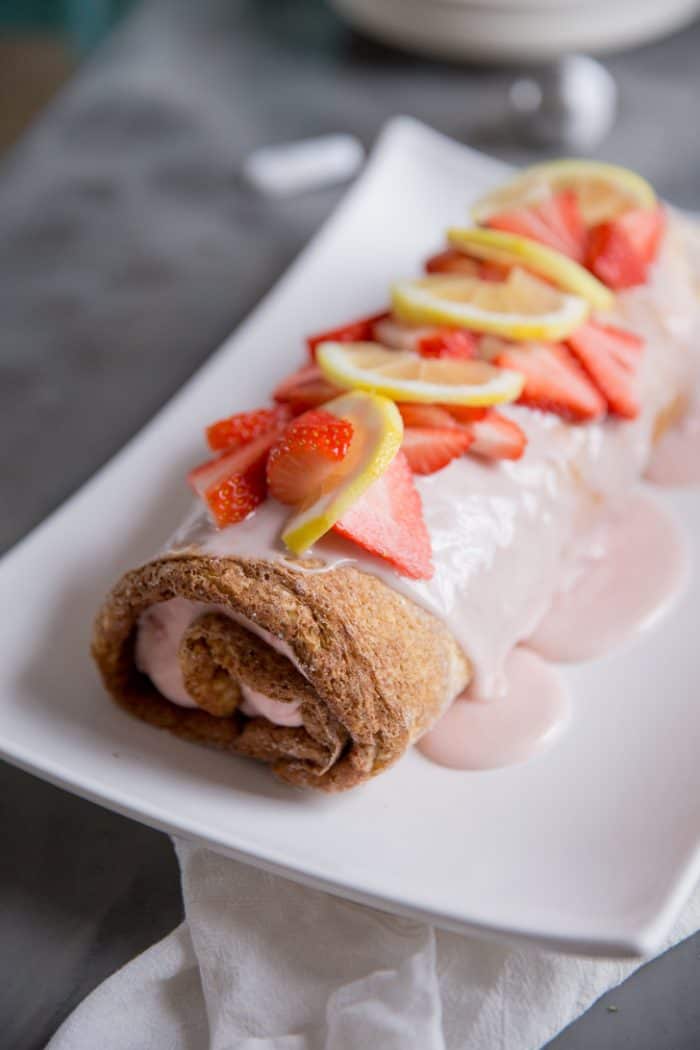 About This Strawberry Lemonade Cake Roll
This recipe is taken from my Cherry Lime Cake Roll except I used pink lemonade in place of the lime juice in the cake.   The filling is the true star of these cake.  I cooked strawberries and lemonade together until they were thick, then once cooled, I added this to a buttercream frosting.  A simple lemony glaze is drizzled over top.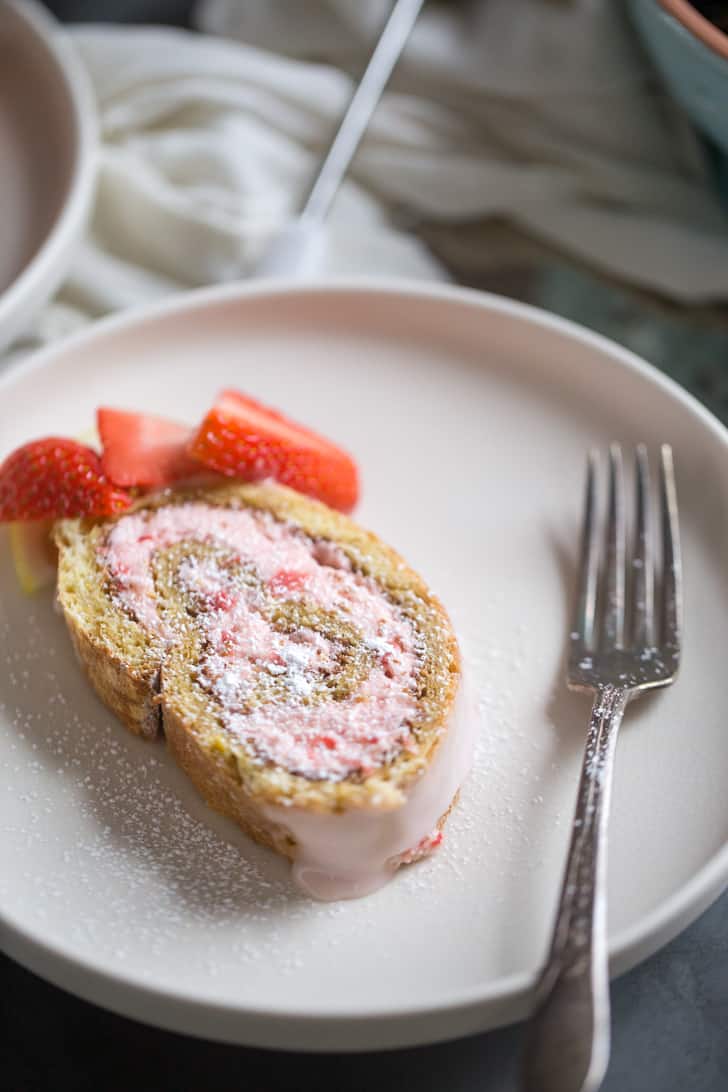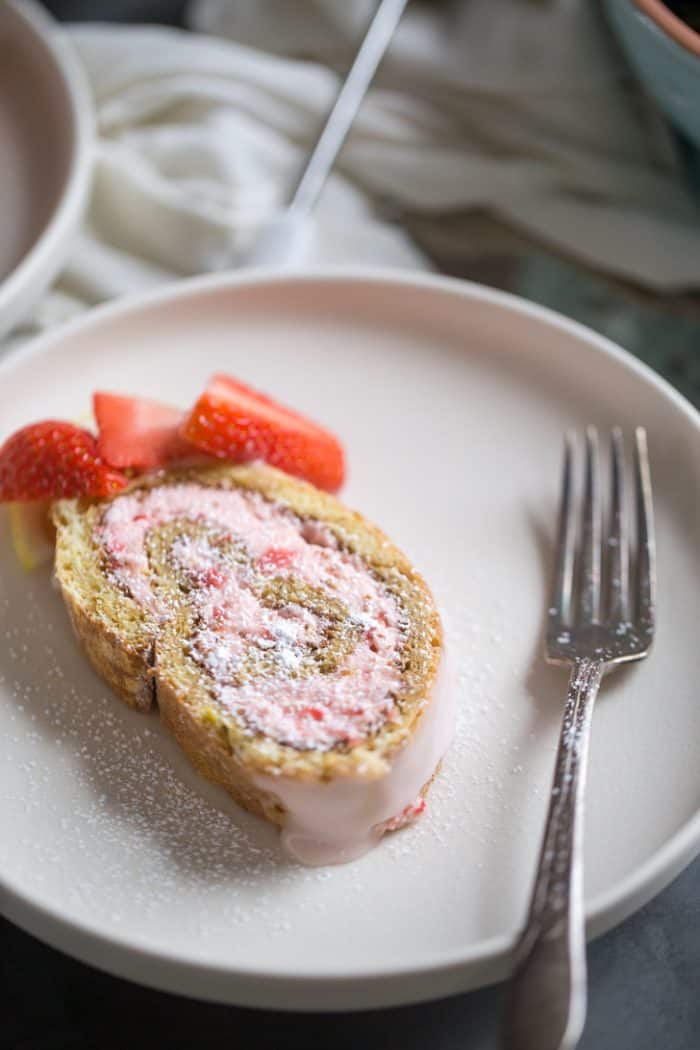 Strawberry Lemonade Cake Tips:
Always use parchment paper to prepare a cake roll.  It makes the release possible.
The egg whites have to be beaten until stiff peaks form and when you add the remaining ingredients to the egg whites, only fold until blended.  Fold too much and your cake will be tough.
I do not have a good trick for turning my cake onto my sugar covered counter.  I literally let it fly  (and the sugar flies with it)
Roll your cake up when it is warm.  The longer it sits unrolled, the more likely it is to tear.
When it is time to unroll the cake, do so carefully and spread the frosting on as lightly as you can so you do not tear the cake.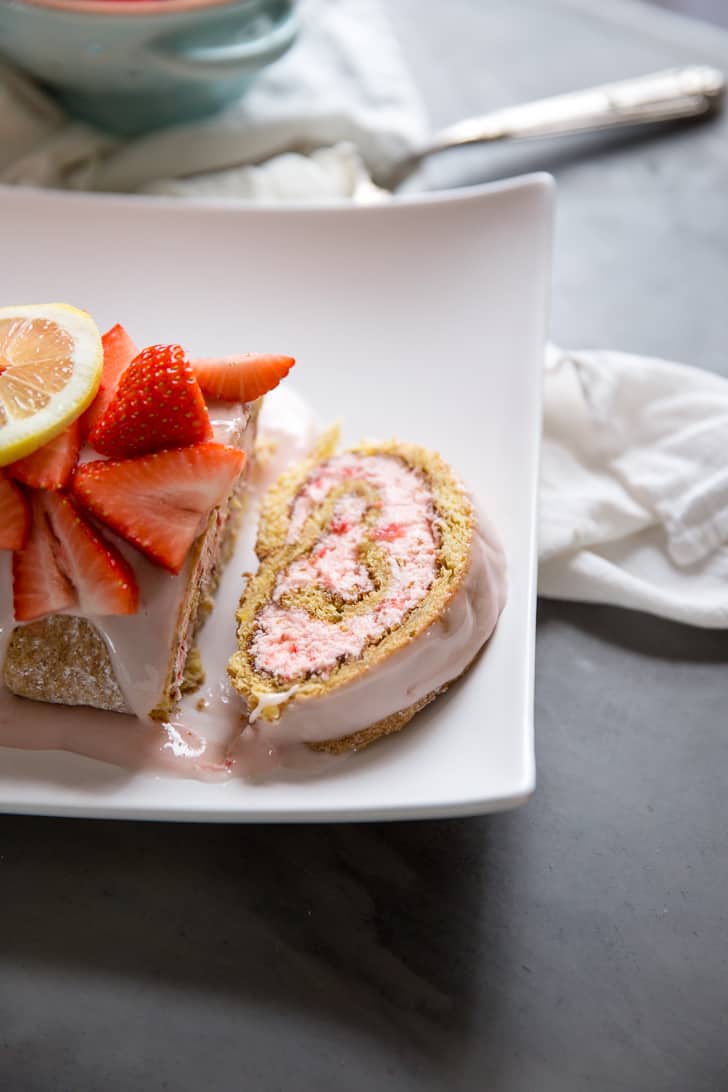 Keep the rolls coming, try The Best Pumpkin Roll Recipe, this Bailey's Mocha Chocolate Roll,  Oreo Ice Cream Cake Roll, Strawberry Shortcake Cake Roll, or this Lemon Roll Cake.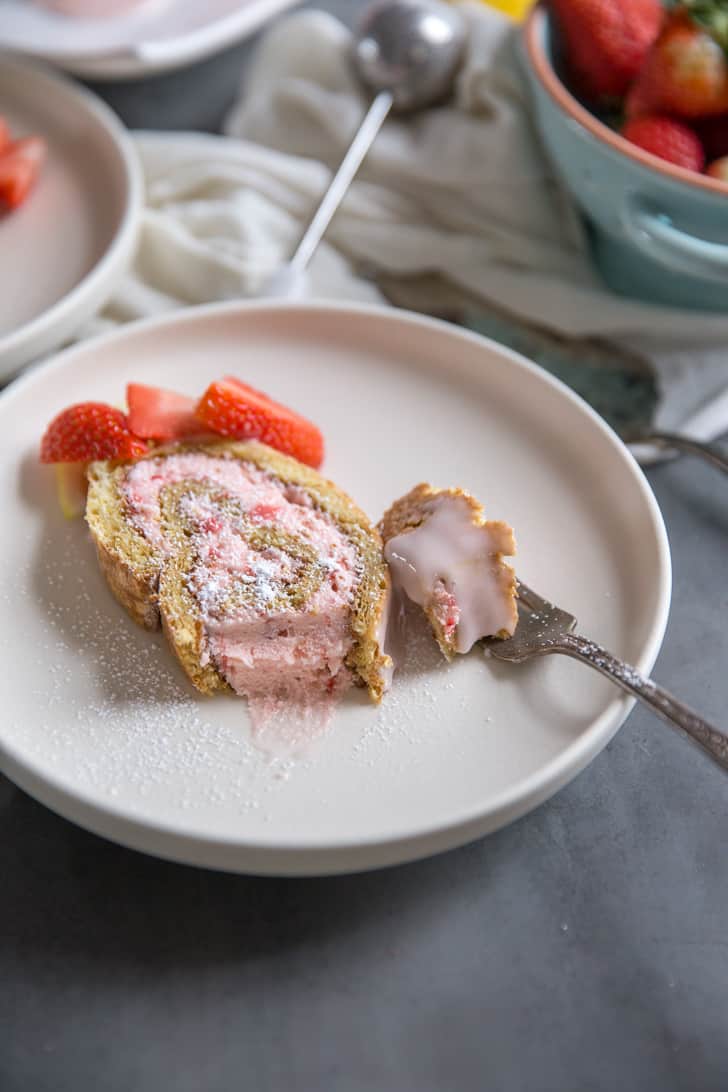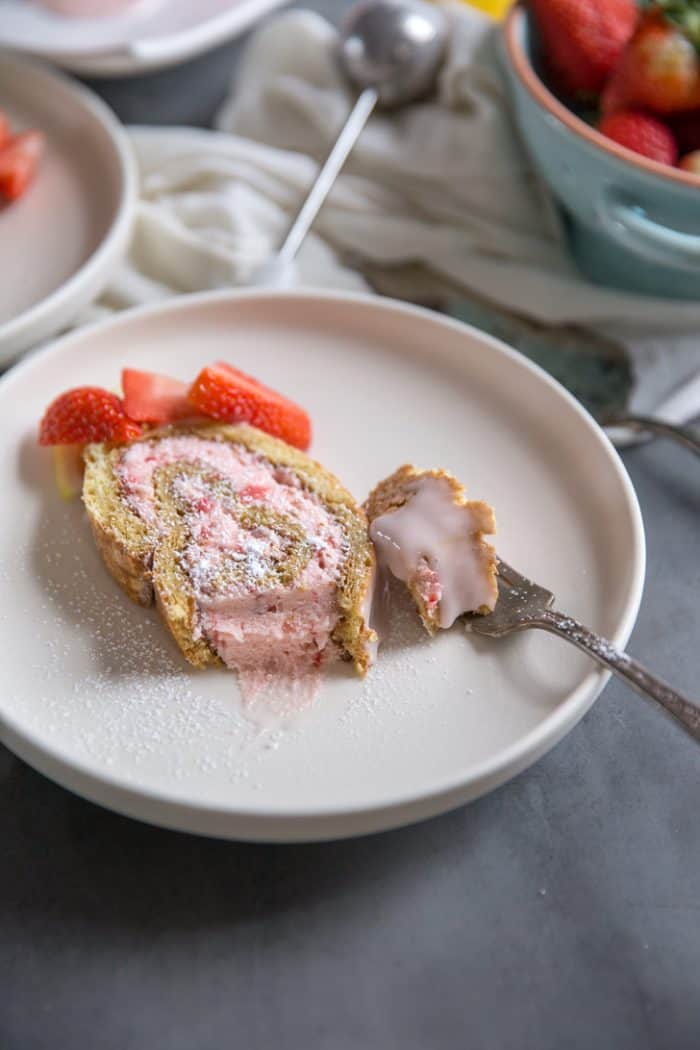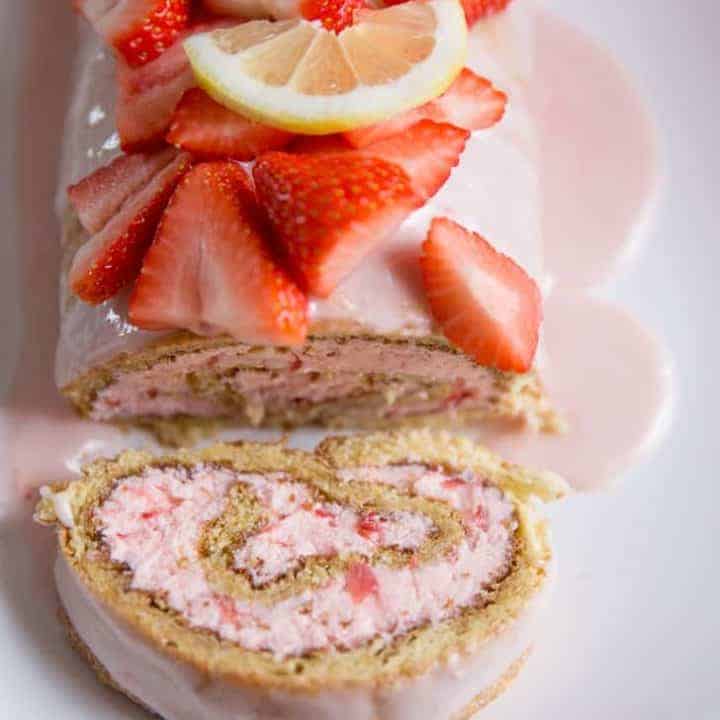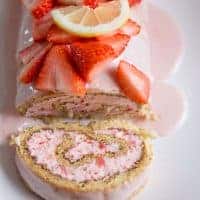 Strawberry Lemonade Cake Roll
A strawberry lemonade cake makes everything better!  The cake has a hint of pink lemonade and the filling is all strawberry and it's all sweet!
Ingredients
5 eggs, separated
2/3 cup sugar, divided
2 tablespoon pink lemonade concentrate
1 large lemon, zested
2/3 cup cake flour
1/4 teaspoon salt
1 teaspoon baking soda
3 tablespoon melted butter
powdered sugar
For the filling
1 cup sliced fresh strawberries
2 tablespoons sugar
3 tablespoons pink lemonade
1 tablespoon cornstarch
For the glaze
1 cup butter
4 cups powdered sugar
Strawberry mixture
1 -2 tablespoons of heavy cream
pinch of salt
For the glaze
1 cup powdered sugar
1 lemon, zested
1 1/4 cup concentrate
Instructions
Preheat oven to 375. Spray a jelly roll pan with nonstick spray. Top pan with parchment paper and spray paper with nonstick spray. Set pan aside.
In a bowl, whisk egg yolks until thick and golden in color. Gradually add in 1/3 cup of sugar, zest and lemonade concentrate.
In the bowl of a mixer, beat egg whites with the whisk attachment until semi-soft peaks begin to form. Gradually whisk in 1/3 cup of the remaining sugar and continue beating until stiff peaks finally form. Remove and carefully fold in yolk mixture.
Combine dry ingredients. Fold in dry ingredients, followed by melted butter.
Pour batter into prepared pan. Bake cake for 12 minutes or until cake gently springs back when touched. After removing cake from the oven, and immediately sprinkle with powdered sugar. Carefully turn the cake out onto a clean towel that has been dusted with powdered sugar. Remove parchment paper. Roll cake with towel, starting with short end. Let cake cool completely.
While cake is cooling prepare the filling.
Combine strawberries, lemonade, sugar, and cornstarch in a saucepan that has been set over medium heat. Cook mixture until sugar dissolves and mixture has thickened, stirring often. Remove from heat and allow mixture to cool completely.
In the bowl of a stand mixer cream butter until light and fluffy. Slowly beat in powdered sugar one cup at a time. Add strawberry mixture, heavy cream, and salt. Mix just until buttercream is smooth. You may need to add in more liquid if buttercream is not smooth and creamy enough to spread.
Slowly unroll cake. Spread the buttercream over the entire cake. Carefully reroll cake and place on a serving plate, seam side down. Trim ends if desired.
In a small bowl, whisk together powdered sugar, zest, and concentrate. Slowly pour glaze onto cake. Let set completely before serving.
Nutrition Information
Amount Per Serving
Calories

0
Total Fat

0g
Saturated Fat

0g
Cholesterol

0mg
Sodium

0mg
Fiber

0g
Sugar

0g
Protein

0g