This is my favorite vodka gimlet!
This cocktail is fruity and slightly sweet, it is all good all the time!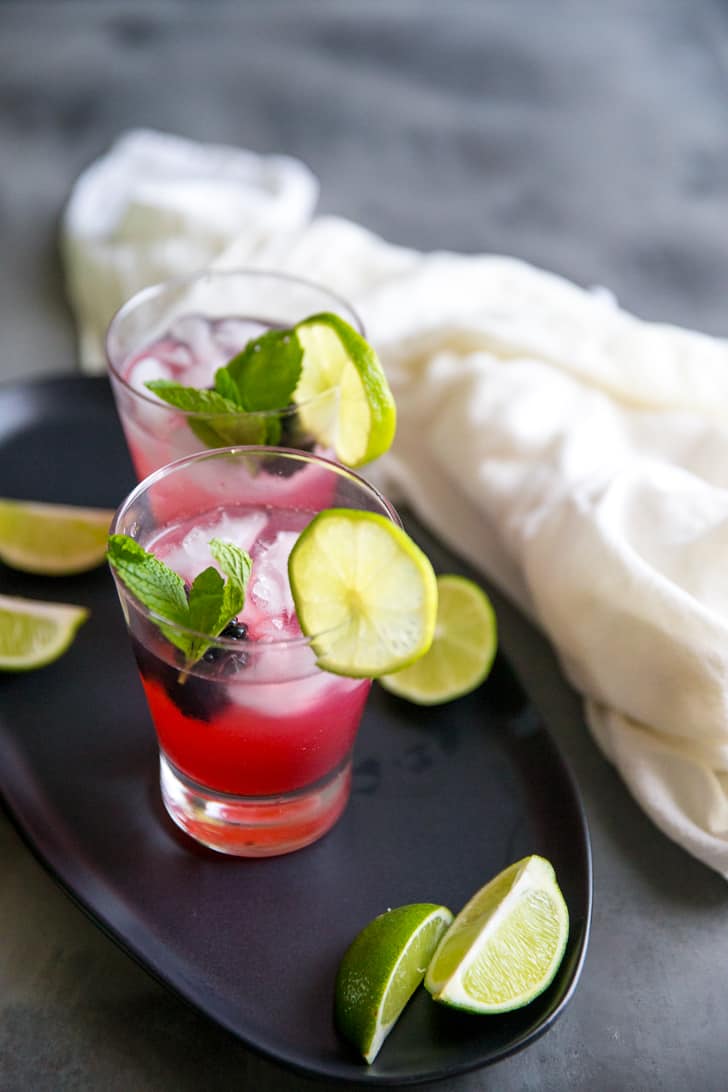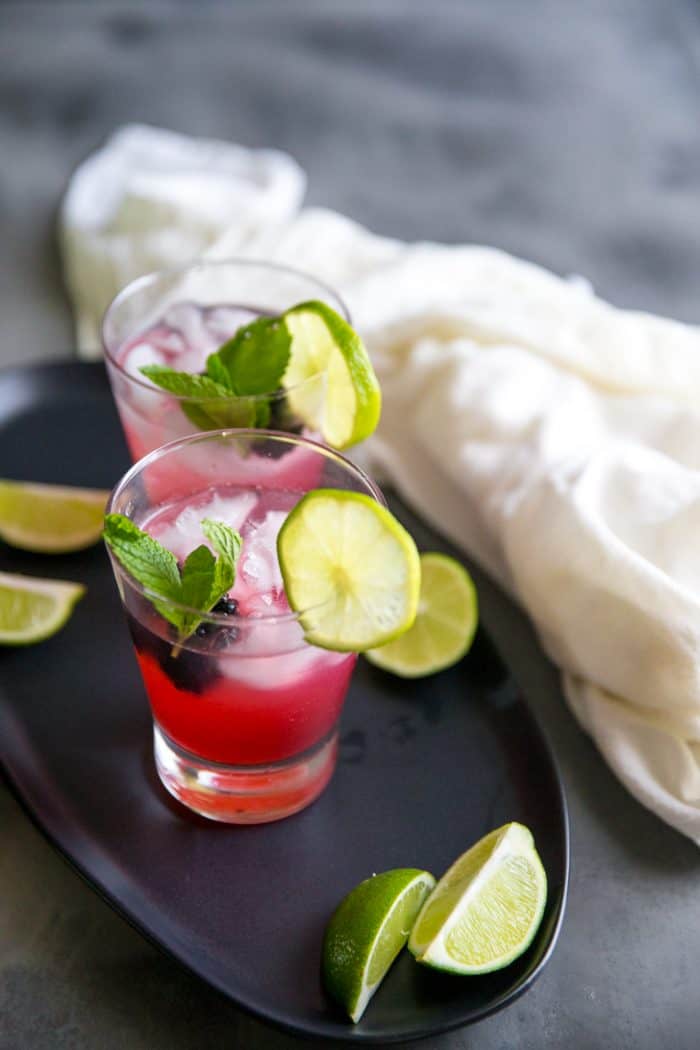 Blackberry Vodka Gimlet
There is a running battle in our family at the moment, it is the battle of the berries.  I buy containers upon containers of berries for my family.  Each week I buy raspberries, blackberries, strawberries, and blueberries.   I would prefer that the berries last all week, but the reality is I'm lucky if they last three days.  It's extremely frustrating, especially when you want some of those berries for Friday night cocktails.  You feel me?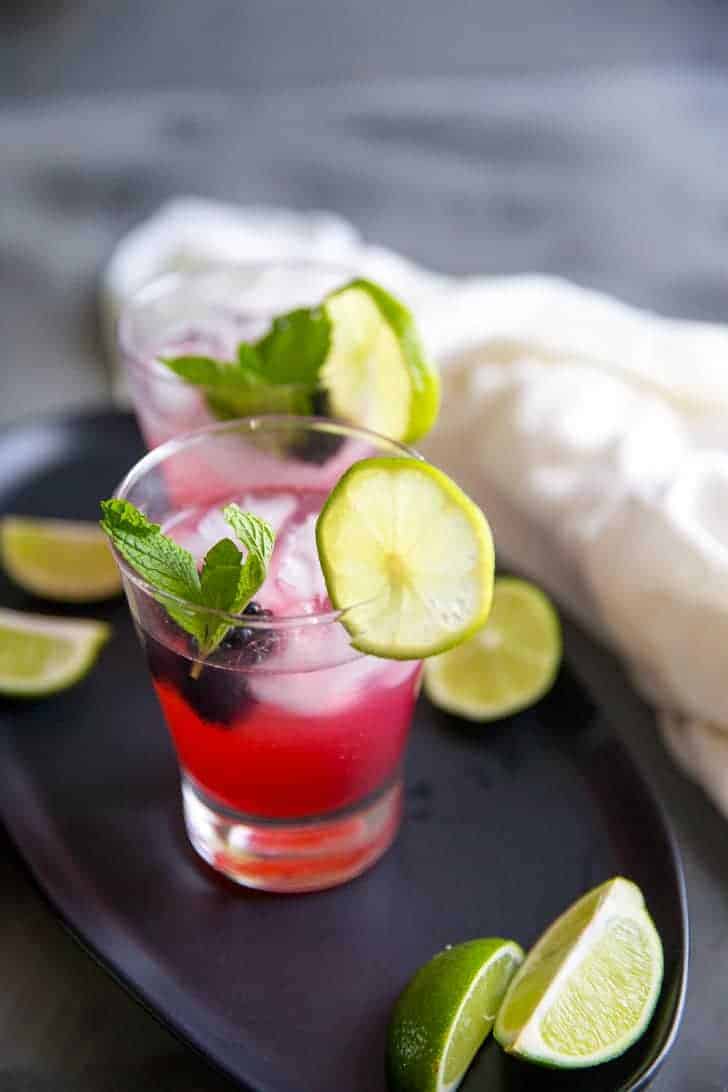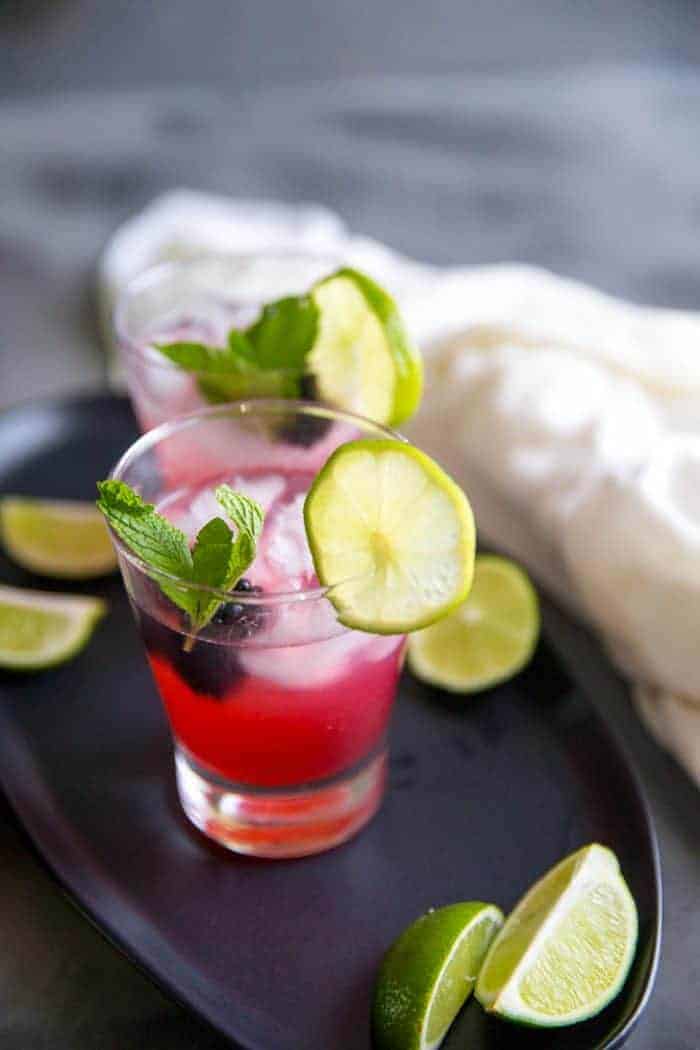 My husband uses up berries for his nightly "extreme" protein shakes, my youngest eats several handfuls of berries a day and my oldest daughter uses berries to top her Instagram worthy acai bowls.  Everyone has an agenda with their berries and everyone thinks their needs come first.   I think my agenda is the most important of all…I need berries for cocktails. Cocktails like this Strawberry Grapefruit Cocktail, Blackberry Bourbon Fizz Cocktail,  and this Blueberry Vodka Lemonade are some of my favorite berries flavored beverages to enjoy, especially in the summertime! So you see, I think I deserve the berries.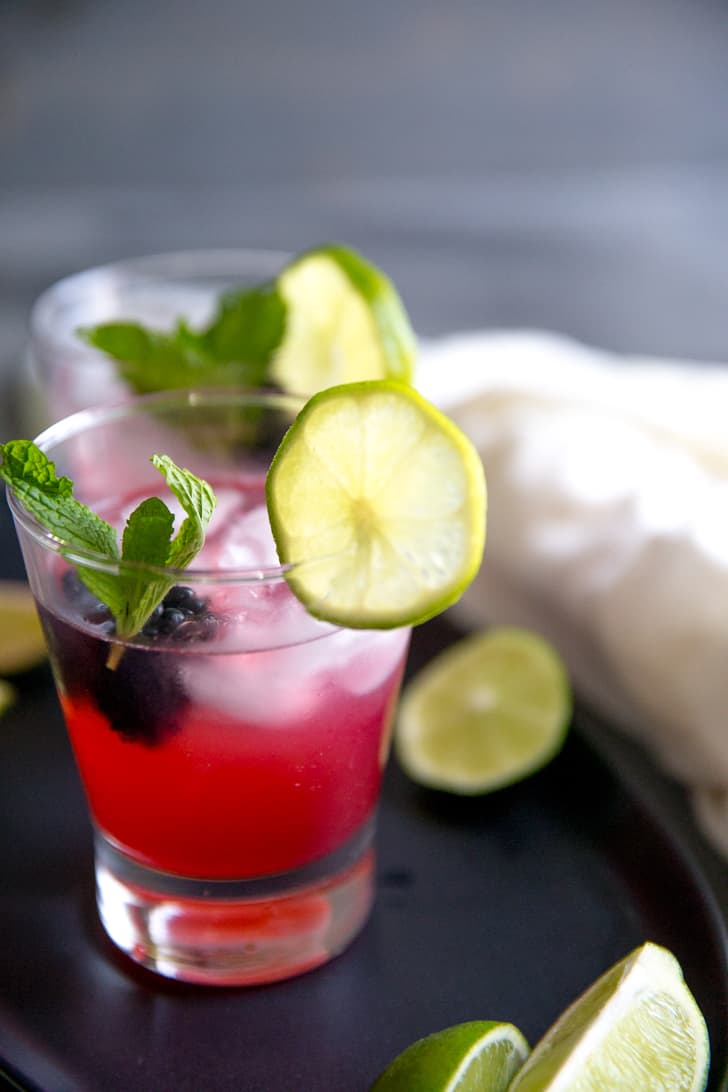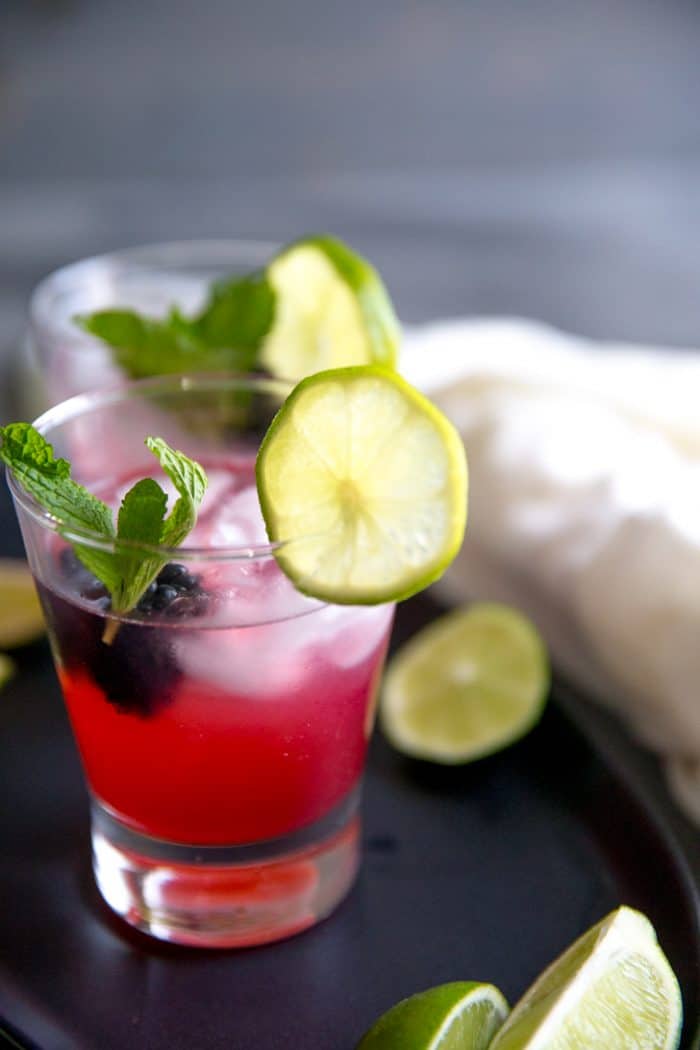 About this Vodka Gimlet
I chose blackberries for this particular cocktail because 1. they make a pretty cocktail and 2. they have been incredibly sweet and juicy lately.  This cocktail would work with any berry (or fruit for that matter) that you have in your fridge or that better suits your taste.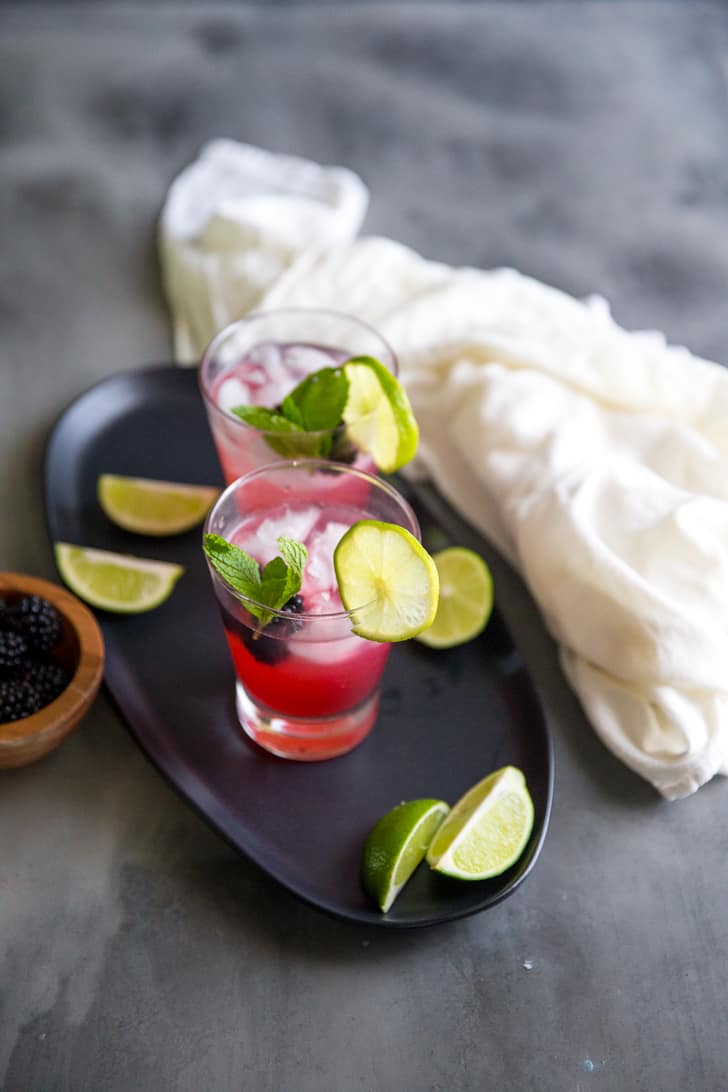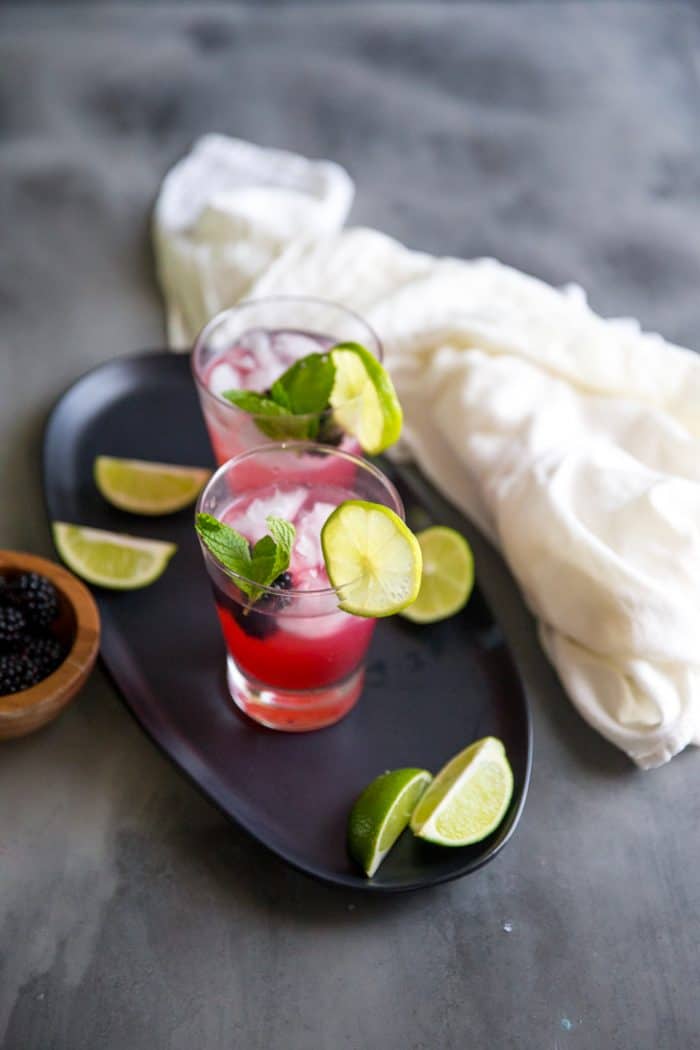 Like many of my cocktails, this one starts with simple syrup.  Simple syrup, is well, simple  It is equal parts sugar and water that is boiled down until the sugar has dissolved and the mixture is thick.  You can flavor simple syrup in almost any way.  In this case, I use blackberries.  I add the blackberries once the sugar has dissolved but before the mixture thickens.  When ready, I strain out the berries.  Your favorite vodka and fresh lime juice round out the cocktail!  See what I mean, I totally need the berries more than anyone else!
Here a few of my favorite vodka cocktails: Strawberry Basil Infused Vodka, Cranberry Vodka Press, Raspberry Lemon Infused Vodka.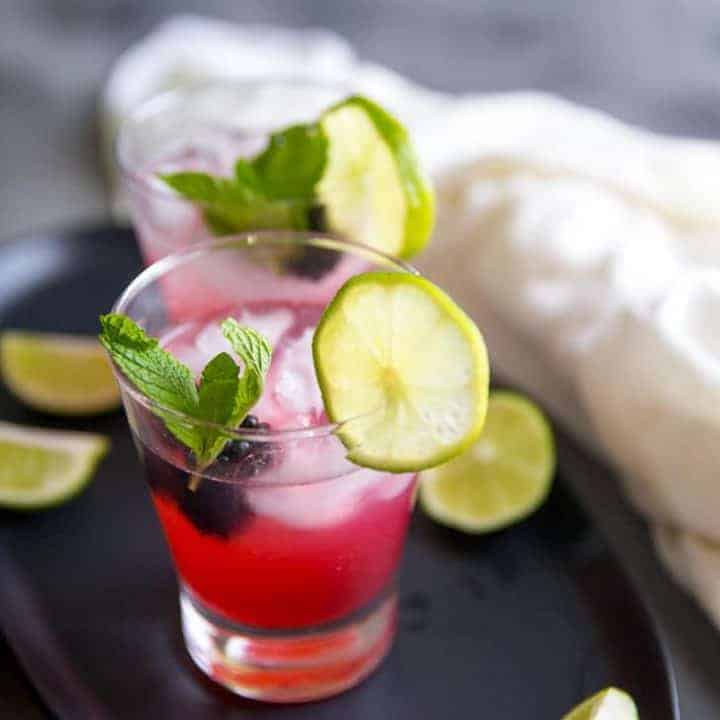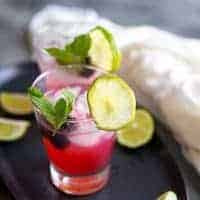 Blackberry Vodka Gimlet
This is my favorite vodka gimlet! This cocktail is fruity and slightly sweet, it is all good all the time!
Ingredients
¼ cup sugar
¼ cup water
¼ cup blackberries
3 oz vodka
1 oz lime juice
Instructions
Prepare simple syrup by placing sugar and water in a small saucepan over medium heat. Bring mixture to a boil. When sugar has dissolved, reduce heat and add blackberries. Simmer syrup until mixture thickens. Strain out the berries and allow syrup to cool completely.
In a cocktail shaker, combine the simple syrup, vodka and lime juice; shake. Pour out the cocktail into glasses filled with ice.
Notes
Simple syrup can be stored in the fridge for up to 1 week.
Nutrition Information
Amount Per Serving
Calories

0
Total Fat

0g
Saturated Fat

0g
Cholesterol

0mg
Sodium

0mg
Fiber

0g
Sugar

0g
Protein

0g