This sweet and tangy grapefruit cocktail has a crisp refreshing taste! This citrusy cocktail takes summer sipping to new heights!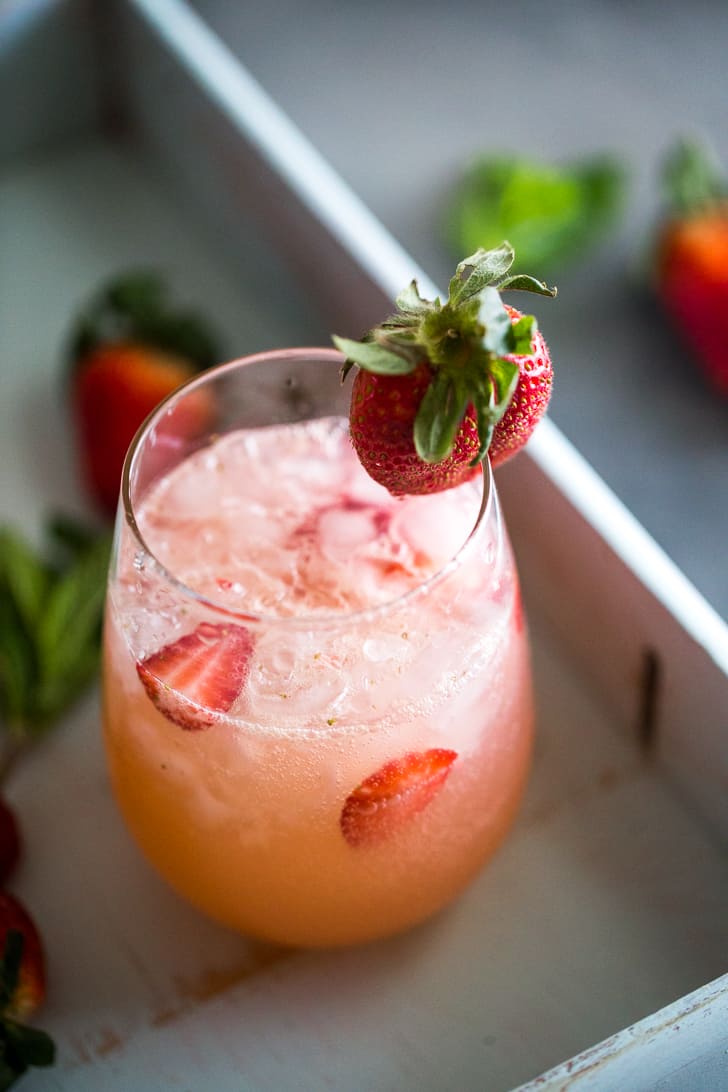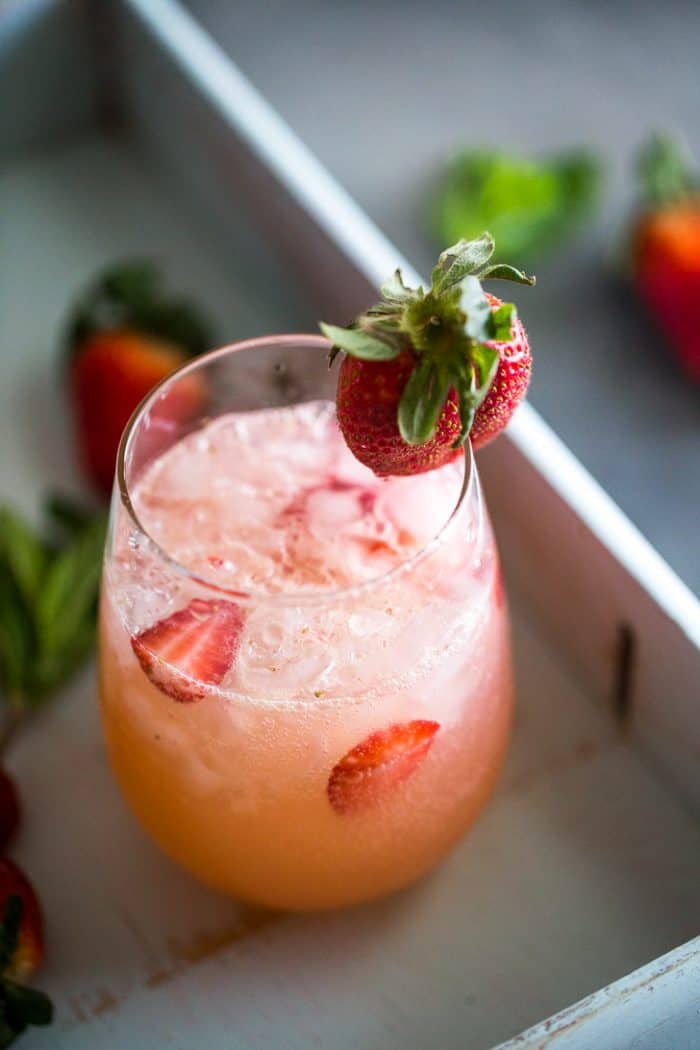 Loving This Grapefruit Cocktail
Grapefruits remind me of diets.  I grew up in the 70's and 80's and it seemed as though grapefruits were central to any diet fad that came our way.  In fact, there is a diet called "the grapefruit diet" where you guessed it, you had a half a grapefruit before every meal.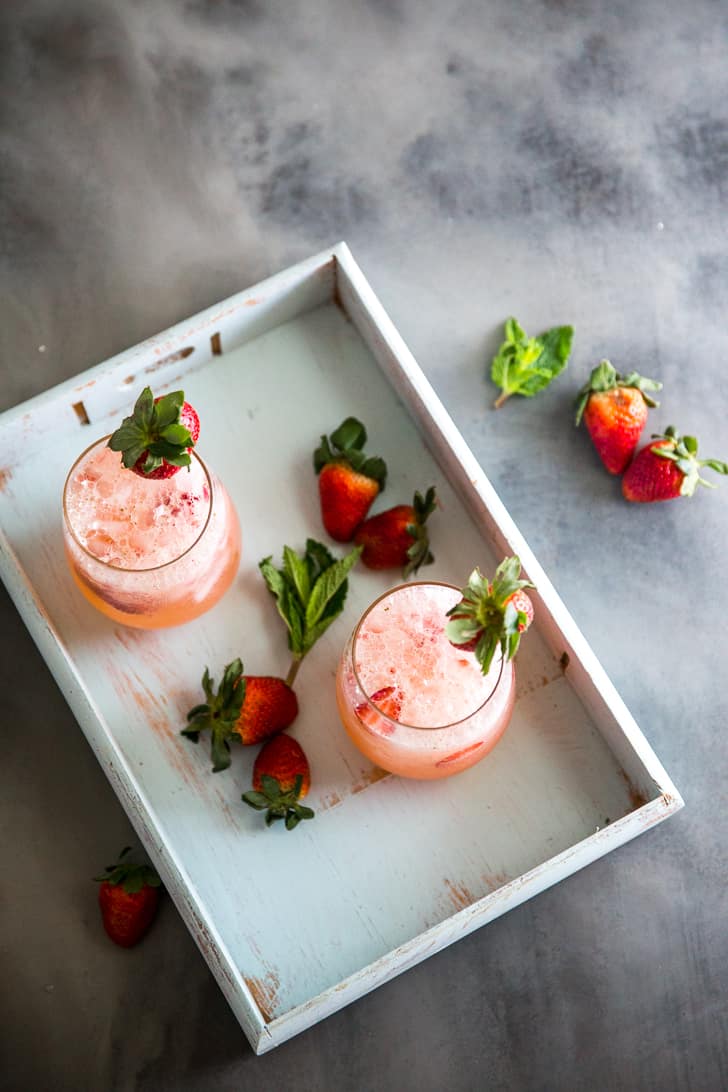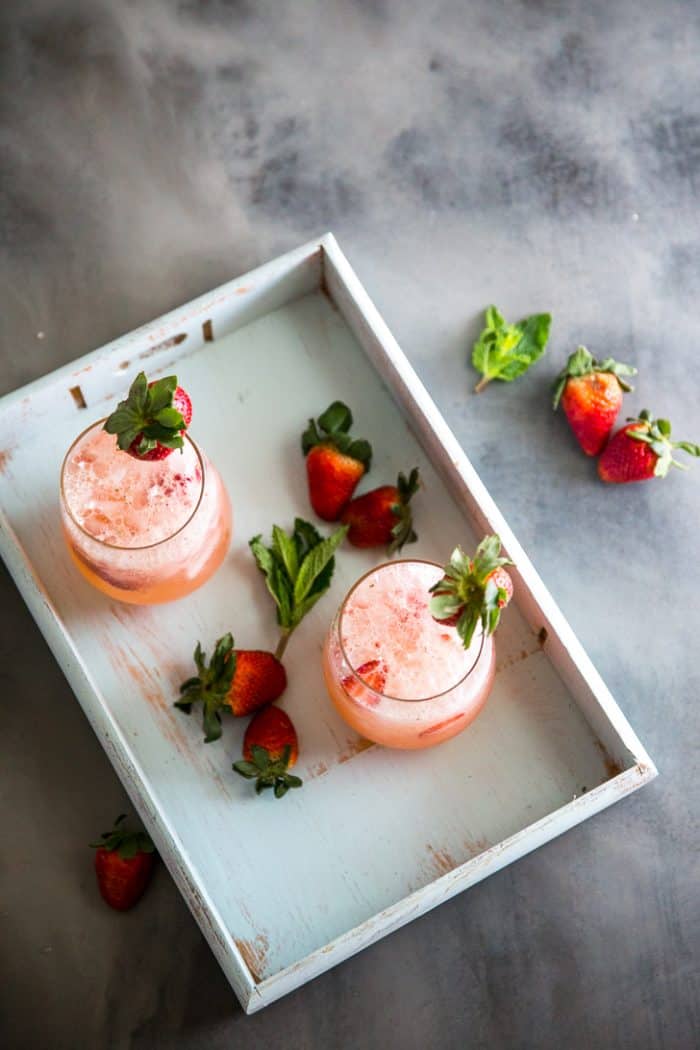 I remember my mom was a fan of the Scarsdale Diet.  I really don't know what it involved, but I do know it involved grapefruit and foods with zero flavor.  See, when mom went on these diet kicks, she tended to take the whole family with her. Man, I hated grapefruit back then.  It took me years to recover and give grapefruit a fighting a chance.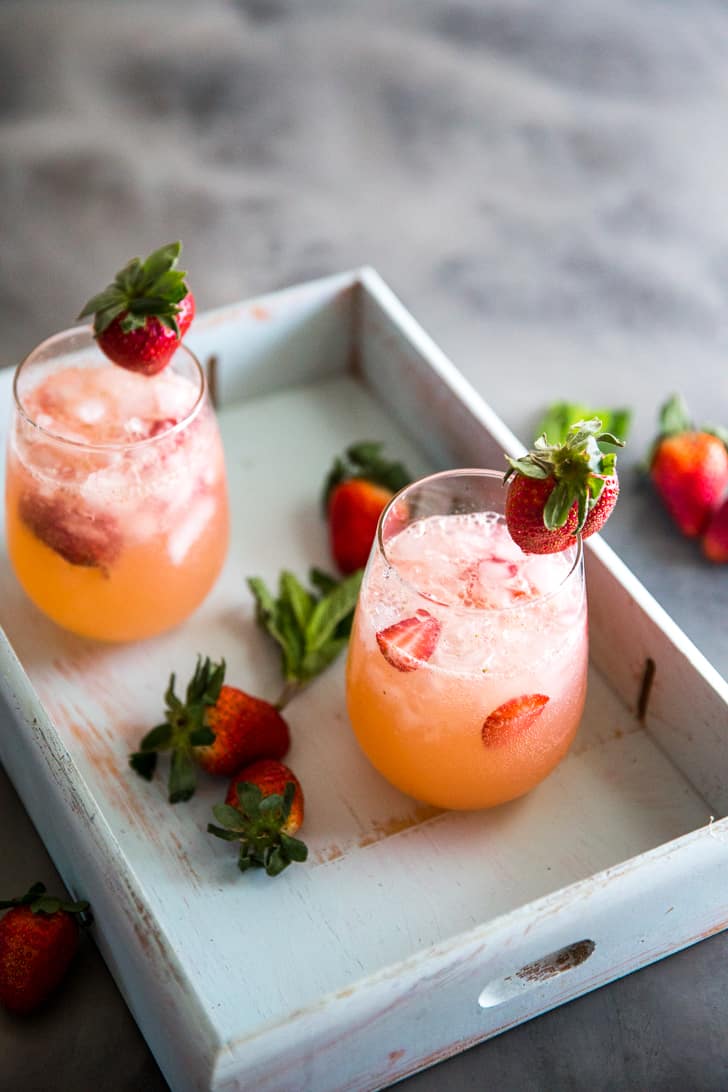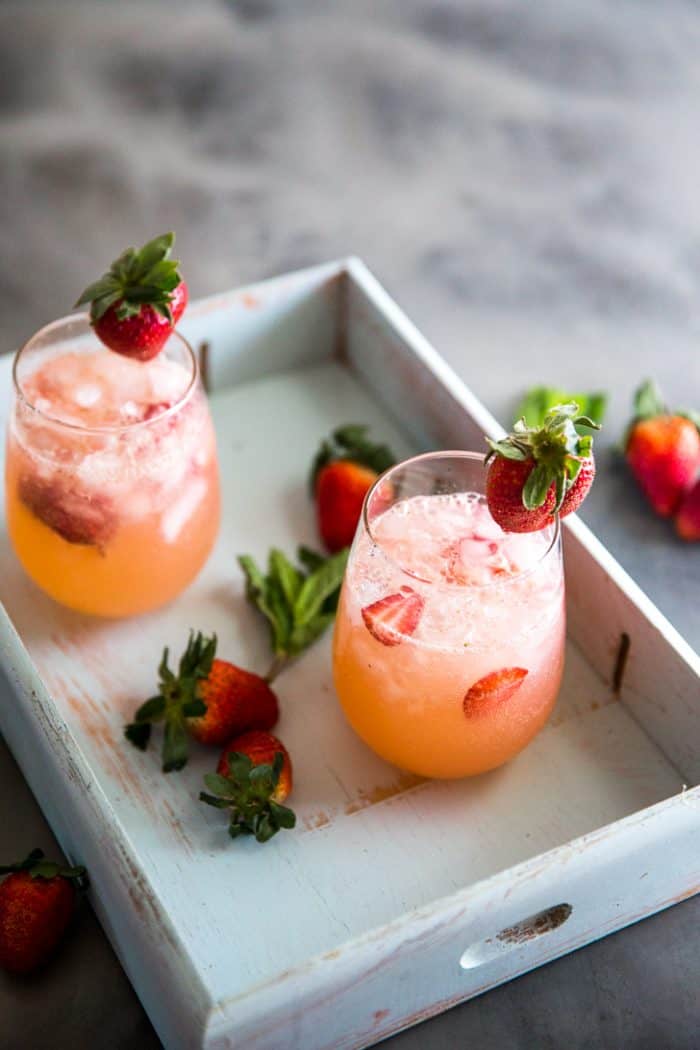 Strawberry Grapefruit Cocktail
I happened to overhear a friend at the gym describe this amazing cocktail she had while on vacation.  All I got from the conversation was that it had vodka, strawberries, and grapefruit juice.  I was intrigued, as I rarely think of using grapefruit juice in cocktails as it can be quite bitter.  So I began experimenting.  The first batch I made did not have enough vodka and it needed to be a lot sweeter.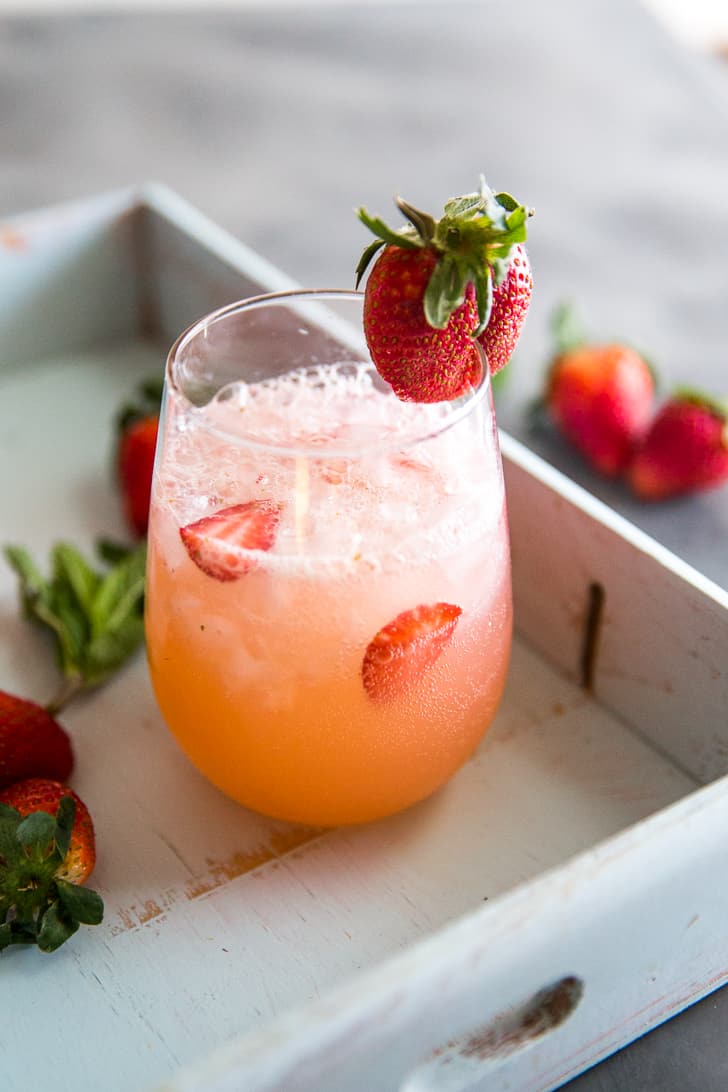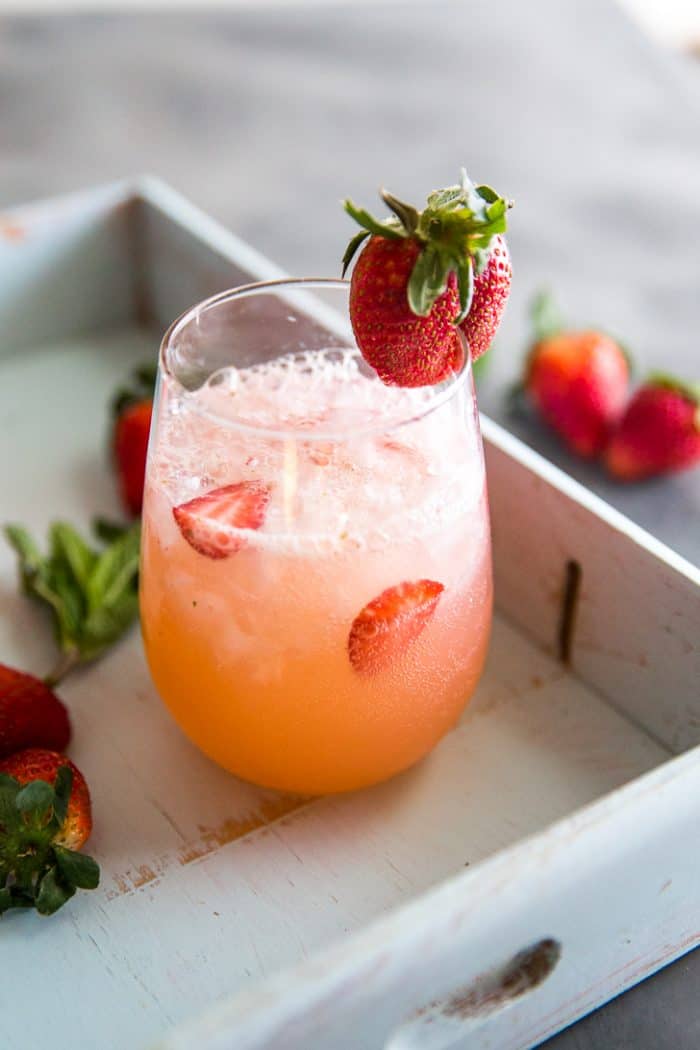 The second batch was absolutely perfect!  The key to this strawberry grapefruit cocktail is SYRUP!  I use honey syrup in this Gold Rush Iced Tea Recipe and simple syrup in this Key Lime Vodka Collins Recipe. This syrup is extra special as it is made with strawberries (save the leftover syrup for this Strawberry Lemonade Bourbon Cocktail!)  Strawberry syrup starts with equal parts sugar and water boiled and reduced until it becomes a thick syrup.  I added a handful of chopped strawberries which intensifies the berry flavor much more than muddling fresh strawberries. As usual, adjust the quantity of vodka and juice to your liking.  Serve up this summery sensation with fresh strawberries and enjoy!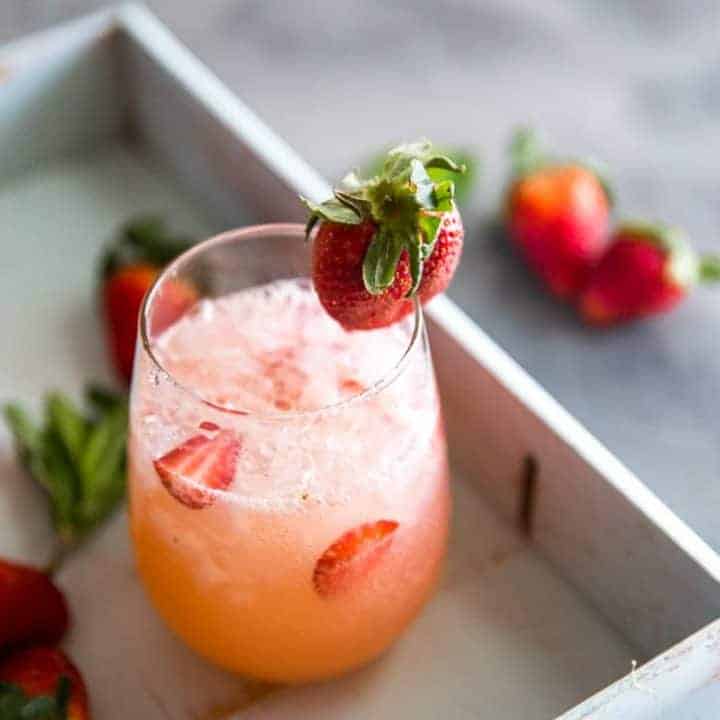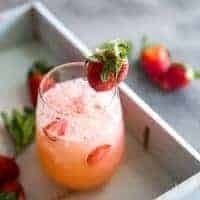 Strawberry Grapefruit Cocktail
This sweet and tangy cocktail has a crisp refreshing taste! This citrusy cocktail takes summer sipping to new heights!
Ingredients
2 oz vodka
1 ½ oz strawberry simple syrup
4 oz grapefruit juice
Club soda
Strawberries
Instructions
In a shaker, combine the vodka, simple syrup and grapefruit juice; shake. Pour mixture over ice. Top with club soda.
Notes
To make simple syrup, combine equal parts water and sugar in a saucepan, bring to a boil so the sugar dissolves. Add chopped strawberries (half of the amount you used for the sugar and water) and continue to boil on medium-low until mixture is thick and syrupy. Strain out strawberries and allow syrup to cool
Nutrition Information
Amount Per Serving
Calories

0
Total Fat

0g
Saturated Fat

0g
Cholesterol

0mg
Sodium

0mg
Fiber

0g
Sugar

0g
Protein

0g